Hide Bonus Offers
| | | | | |
| --- | --- | --- | --- | --- |
| #1 | Bovada Sports | 50% Up To $250 | Visit Site | Bovada Sports |
| #2 | BetUS | 125% Up To $2,500 | Visit Site | BetUS |
| #3 | MyBookie | 100% Up To $1,000 | Visit Site | MyBookie |
| #4 | Everygame | 100% Up To $500 | Visit Site | Everygame |
| #5 | BetOnline Sports | 60% Up To $1,000 | Visit Site | BetOnline Sports |
Analyzing Potential First-Round Pick Surprises in the 2018 NFL Draft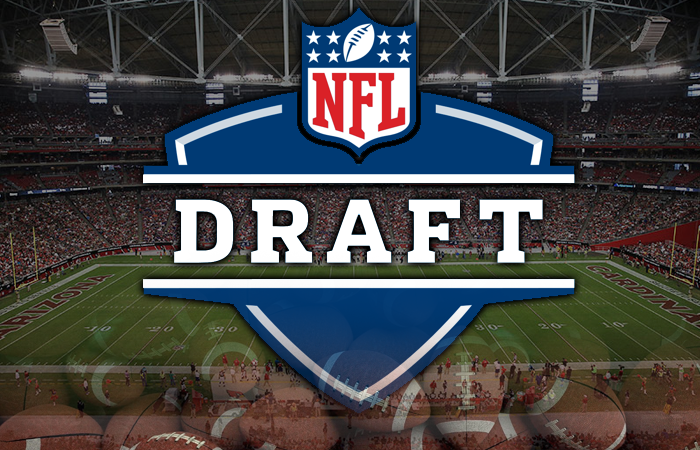 April is here, which means the 2018 NFL Draft is officially less than a full month away. There has been a lot of hype swirling around the top pick for this year's draft, as well as some of the top prospects that could come after.
For now, Sportsbetting.ag and most of the top NFL Draft betting sites seem to agree that USC quarterback Sam Darnold (-250) is the most logical pick for the Cleveland Browns.
Wyoming's Josh Allen (+175) is quickly shaping up as an elite value bet, however, both because some feel he's the guy the Browns really want and because it's still possible Cleveland trades out of the top spot.
If that happens, Allen could go first overall, or this entire process could get blown up.
Either way, the first round of the 2018 NFL Draft still seems to be rather fluid. If draft experts and bettors can't be sure who the top overall pick will be just yet, then they can't cement the first 32 picks, either.
Needless to say, depending on the NFL Draft prop bets that come out over the next few weeks, there could be a lot of money to be made if you can nail the right risers.
There are several interesting prospects that continue to dance between being late-round steals and second-round picks.
Where they ultimately go could impact prop bets dealing with player-specific draft range, as well as wagers for position and school pick counts.
Everything is still undecided, but here are seven prospects that could greatly change the way you bet on the first round of this year's draft.
All odds that are referenced in this article were taken from Sportsbetting.ag at 9:23 am CT on 4/9/2018. These odds may have changed since the time of this writing.
Connor Williams, OT, Texas
Once regarded as a lock to go inside the first round, numerous mock drafts have had Williams dip due to a ton of talent at other positions.
The lack of a pressing overall need for tackle help could also push Williams down a bit, but it still feels like a reach to suggest he won't be selected in round one.
Need and overall talent depth aside, Williams could potentially slide due to a lack of length, which may make him a better fit on the inside at guard. Regardless, Williams is a strong run blocker and has the versatility to play across the o-line.
Williams may not be the first-round pick lock he once was, but it'll be surprising to see him fall outside of round one altogether.
If he does work his way into round one, he could potentially push a rising running back out of the bottom of round one, impacting wagers involving how many rushers will be selected.
Nick Chubb, RB, Georgia
Once seen as a truly special running back, Chubb has struggled to overcome a 2015 knee injury. While his Georgia game tape hasn't shown the same guy, Chubb still gives his NFL team an athletic, one-cut runner who can carry a full offensive workload.
The beauty with Chubb is that he was a dynamic threat just a few years ago, and he's only getting healthier as time goes on. It's entirely possible to imagine him getting stronger and more explosive as he prepares for the next level, which could make him a steal late in round one.
The odds are decent that someone gets value with Chubb in round two or three, but the infatuation with franchise running backs in recent years is going to beef up his stock.
If someone sees Chubb's natural talent and buys into his long-term upside, they could shock everyone and make him the second running back (+700) selected in the 2018 NFL Draft.
James Washington, WR, Oklahoma State
Washington's main knock from pro scouts is the fact that he doesn't "look" like an NFL wide receiver. That isn't entirely inaccurate, as Washington is more compact than true burners normally are, and he seems to have the makeup of a running back.
That may be true, but there is no getting around Washington's overall athleticism, deep speed, and ability to flat-out make explosive plays down the field.
There are questions about his build and route knowledge, which could easily have some teams grading Washington below some other receivers that offer a more complete package or appear to have more upside. It's going to take the right team to take a chance on him in round one, but his college numbers (226 receptions, 4,471 yards, 39 TD) speak for themselves.
If a team wants a playmaker who can track the ball down the field, Washington will be a threat to be taken at the end of the first round.
I certainly don't think he's a threat to be the first wide receiver drafted this year (+1000 at Sportsbetting.ag), but he could help bettors push for the over (2.5, +120) for the wide receiver count in round one.
Ogbonnia Okoronkwo, DE/OLB, Oklahoma
There is always a huge need for explosive, effective pass rushers, and I think that keeps Okoronkwo in play as a late first-round draft choice this year.
Bradley Chubb is the top edge rusher coming into the 2018 NFL Draft, and it's really not close at all. There are still other pass rushers worth a look in round one, though, and Okoronkwo (17 sacks over the past two years) is certainly one of them.
A lack of ideal size or freak athleticism are what push Okoronkwo down the list for many, but this kid is a natural pass rusher and is relentless in pursuit.
If NFL teams value aggressiveness, a high motor, and solid athletic ability, Okoronkwo is a very real threat to work his way into the bottom of round one.
D.J. Chark, WR, LSU
James Washington is a solid threat to be selected in the first round of the 2018 NFL Draft, but if he's got a chance, then Chark feels like a lock.
The former LSU star blew scouts away with a staggering 4.34 time in the 40-yard dash at this year's scouting combine, while he already possesses the size and overall athleticism of an every-down next-level starter.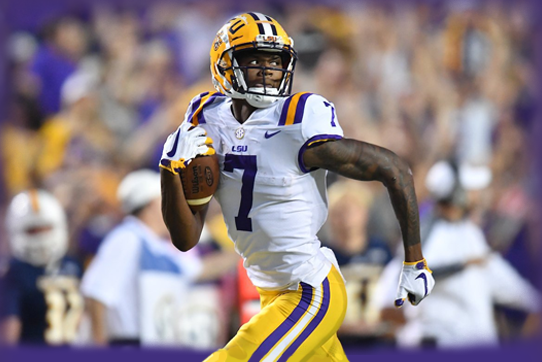 NFL evaluators know this kid is a size/speed beast right out of the gates, and he has the ability to be special.
He's above Washington in the wide receiver rankings, so betting on him as a "field" option for the top wide receiver drafted (+1100) may not be all that crazy.
Malik Jefferson, LB, Texas
Jefferson is a very interesting pro prospect in that he passes with flying colors from a purely physical perspective.
If scouts want a stud inside linebacker that has the size, speed, and overall athleticism to man the middle of a field, Jefferson has all the tools you could ask for.
The problem? Jefferson has yet to really consistently prove he can be a menacing presence for the opposition to deal with. That's all about instinct, which may require anyone who drafts him to direct him more than they'd like.
Nobody wants a defensive player who can't figure things out on their own and destroy ball carriers, but Jefferson is so close it's painful. Everything else is there, so using Jefferson in the right way may be the trick to unlocking an elite defender.
I can see why Jefferson's lack of natural instincts could have him slide into round two or later, but his undeniable upside may make him a first-round pick.
Mason Rudolph, QB, Oklahoma State
Lastly, I think anyone planning on betting on the 2018 NFL Draft needs to take a look at Mason Rudolph.
Obviously, the league has fallen in love with an extremely deep quarterback class this year, but a top-heavy draft class may be taking some attention away from guys like Rudolph who offer plenty of upside in their own right.
Rudolph doesn't have quite the flash or upside of the top passing prospects, but he's an adept pocket passer who has the size and downfield throwing ability to be a beast in the right setting.
This could be your classic system quarterback that has all of the natural tools you need to succeed but simply needs to be brought along slowly in a traditional environment. A team like the New England Patriots would make a lot of sense here, as Rudolph's main strengths align with those of a certain 40-year old superstar.
The point here isn't that Rudolph is some stud as he stands.
He's plenty talented, and he has some upside to his game, but he plays from within the pocket, can read defenses, and can take shots down the field. For a team looking for a viable franchise passer at the back end of round one, he is very much in play.
Summary
Ultimately, it's tough to say with a straight face that all seven of these guys will find themselves picked inside of the first round of the 2018 NFL Draft.
They all have talent and compelling arguments to hear their name called that early, however.
Each of these players has a glaring weakness that is currently leaving them out of round one on numerous mock drafts, but if the right team sees what I'm seeing, they could easily crack the first 32 picks.
Should that be the case, some of these guys (as well as others) could impact some NFL Draft prop bets.
If you plan on wagering on any of those bets, just be sure to keep tabs on some of the fringe first-round talent and how teams appear to be mapping out their first-round moves.