Hide Bonus Offers
| | | | | |
| --- | --- | --- | --- | --- |
| #1 | Bovada Sports | 50% Up To $250 | Visit Site | Bovada Sports |
| #2 | BetUS | 125% Up To $2,500 | Visit Site | BetUS |
| #3 | MyBookie | 100% Up To $1,000 | Visit Site | MyBookie |
| #4 | Everygame | 100% Up To $500 | Visit Site | Everygame |
| #5 | BetOnline Sports | 60% Up To $1,000 | Visit Site | BetOnline Sports |
The 2018 Ryder Cup – Initial Preview of What's in Store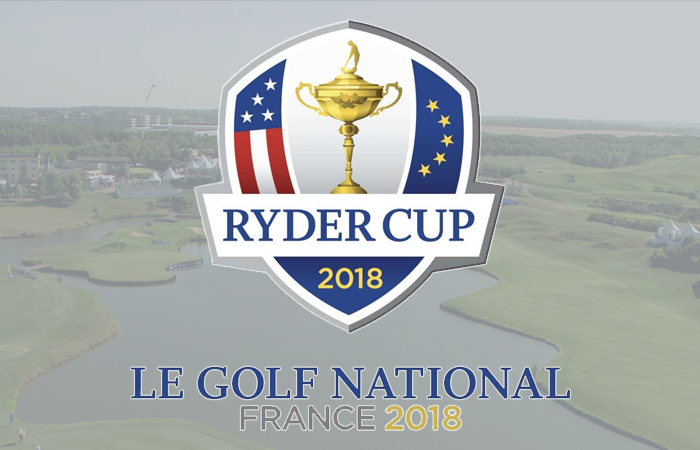 The 2018 PGA Tour season is flying by, and the summer months are upon us. Before you know it, it's going to be September, and the year's four majors will be in the rearview mirror. Then it's time for a few FedEx Cup Playoff events, culminated by the coveted TOUR Championship.
The best part about all of this is what's in store for the final weekend of September when all of that ends. I'll give you a couple hints. Think "even-numbered year" and think team event. You know what that adds up to?
The answer is the 2018 Ryder Cup! It's the golf tournament that American and European professional golfers dream of competing in, and it's the event that all of us golf fans are addicted to watching.
Believe me, the players in position to claim roster spots already have this thing circled on their calendars. It definitely isn't too early for me and you to start getting amped up for the festivities.
It's all set to go down from September 28-30 at Le Golf National's Albatros Course, just outside the city of Paris.
From now until then, I'll be checking in with some posts that keep all of us in the loop as the tournament approaches. Any news or major shakeup in the projected rosters, and I'll be here to talk about it.
Once the teams are confirmed and the betting sheet has been released, you can bet your bottom dollar I'll be breaking it all down so that I can spot any odds and lines that are offering good value.
If you aren't absolutely stoked for the 2018 Ryder Cup, perhaps you fail to recall what happened the last time the 12 best from Europe clashed with their American counterparts.
Remember Last Time!
If the drama that unfolded last time out is any indication of what we can expect to see this time around, we'd better be glued to our seats.
It's impossible to forget what transpired in 2016 at Hazeltine National Golf Club, site of the Americans ending their drought of three straight losses.
The quality of golf was incredible, and the atmosphere was raucous, to say the least.
Remember when Rory McIlroy and Patrick Reed traded jabs and fist pumps in a singles match for the ages? Or how about when Sergio Garcia and Phil Mickelson matched each other with blistering rounds of 9-under-par in their Sunday duel, each earning a half-point for their respective squads?
As ridiculously good as the golf was in 2016 in Chaska, Minnesota, I think the 2018 Ryder Cup might produce even better television.
I'm saying the stage is set to be even more electrifying and magical when the action gets underway less than an hour away from "La Ville Lumiere." For our non-linguistic majors, that translates into "city of light" and is the well-known nickname of Paris.
A Look at This Year's Ryder Cup
For a detailed preview on what to expect this year at the Ryder Cup, all you have to do is follow along. I want you to be hungry for that first ball to get in the air when the final Friday in September arrives.
I am going to start by discussing the outlook of each roster – which faces can we be sure to see, and which players are thrusting themselves into the conversation.
I am also going to talk about the event's format so that you are completely "on par" with what each day of the tournament looks like.
The Ryder Cup isn't like every other golf tournament, nor is it even close. Golfers are playing not just for themselves but for 11 other teammates, a handful of coaches, and millions of fans who are cheering them on.
As significant and acclaimed as the major championships are, the stakes are even higher at the Ryder Cup.
The pressure, the nerves, the emotions – it's all magnified. And that leads me right into the arrangement of the 2018 Ryder Cup. Let's set up the structure of the event so that you know exactly what will be taking place.
Before we look at the format, let's look at the two squads.
The United States Team
Captain Jim Furyk has already announced three of his vice-captains.
Davis Love III, Steve Stricker, and Tiger Woods will all be repping blue and red for Captain Furyk, and he will likely name another assistant captain in the near future.
Given the nature and uptick of Tiger Woods' recent performances, there is a good chance that Tiger will be on "double duties" for the week.
Adding an additional vice-captain or two seems to make a lot of sense because we all get the feeling that Woods will be "one of the 12."
As far as the players that will be part of the team go, it's fairly simple. The top eight from the Ryder Cup points list after the conclusion of the PGA Championship will be a lock to be on the squad. Captain Furyk will then select four additional players to fill out his roster.
When glancing at the current makeup of the team, I see plenty of firepower and plenty of household names. Here is what the points list (top 15 names) looks like heading into the FedEx St. Jude Classic.
| Rank | Player | Points |
| --- | --- | --- |
| 1 | Patrick Reed | 6,785.090 |
| 2 | Justin Thomas | 6,592.573 |
| 3 | Dustin Johnson | 5,401.897 |
| 4 | Jordan Spieth | 4,795.306 |
| 5 | Brooks Koepka | 4,479.348 |
| 6 | Rickie Fowler | 4,172.647 |
| 7 | Bubba Watson | 4,128.024 |
| 8 | Bryson DeChambeau | 3,888.316 |
| 9 | Phil Mickelson | 3,812.265 |
| 10 | Webb Simpson | 3,622.307 |
| 11 | Matt Kuchar | 3,386.946 |
| 12 | Brian Harman | 2,910.265 |
| 13 | Aaron Wise | 2,378.567 |
| 14 | Kevin Kisner | 2,274.086 |
| 15 | Jimmy Walker | 2,239.348 |
The big mover this past week was Memorial Winner Bryson DeChambeau. The 24-year-old SMU grad might be known for his "same-length" golf clubs and his fondness of physics, but let's set the record straight.
Only three men who have won the United States Amateur and the NCAA Individual Championship have gone on to capture the Memorial Tournament on the PGA Tour. Their names are Jack Nicklaus, Tiger Woods, and Bryson Dechambeau.
The Clovis, California, native has not only elevated himself into some pretty heady company, but he's also vaulted himself all the way into the number 4 position in the 2018 FedEx Cup race.
Bryson looks like he will be a force to be reckoned with for the remainder of the season and appears to be on the verge of solidifying his spot on the Ryder Cup team. If his reaction to his winning putt at Jack's Place is any sign of what the game of golf means to him, it's safe to call this kid one of the ultra-competitors out there.
Missed Bryson's final stroke from Sunday? Here it is!
Pretty cool stuff from an unbelievably passionate player. A bonus for team USA is that DeChambeau isn't the only young, up-and-coming player who has been on the move as of late. He isn't the only "new kid on the block" catching the attention of Captain Furyk.
Former Oregon Duck star Aaron Wise parlayed his runner-up finish at the Wells Fargo Championship into a dominating victory at the AT&T Byron Nelson just two weeks later.
Wise plays the game without fear and hits it a mile. At the number-13 slot this week in the standings, Aaron finds himself squarely on Furyk's radar.
The good news for players who aren't currently inside the top 8 is that there is plenty of time to gain some ground. With three majors yet to be played before the teams are finalized, the points list come August could look a quite a bit different than it does now.
As for their opponents?
The European Team
The European team will be led by former Ryder Cupper and Denmark's own Thomas Bjorn. The 47-year-old who has won 15 times on the European Tour is no stranger to Ryder Cup competition.
"The Great Dane" played on the 1997 and 2002 European winning Ryder Cup teams and knows what it's like to be on the winning side of this battle.
Bjorn's biggest challenge starting out will be having to say no to some really talented golfers. He will no doubt have his hands tied when trying to choose his captain's picks, as so many guys have thrown their hats into the ring. The way the Euro's roster will be determined is as follows.
The top four players on the European Points List are automatically included
The top four players on the World Points List (excluding those already qualified) are automatically included
Captain Bjorn will select four captain's picks
The players have until September 3rd to accumulate points, so a lot can still happen for the European side.
As it currently stands, there six players who are inside the top eight on both lists. So long as these men continue playing stellar golf, they can essentially be fitted for team uniforms already.
Justin Rose
Tyrrell Hatton
Jon Rahm
Tommy Fleetwood
Sergio Garcia
Matthew Fitzpatrick
Rory McIlroy will be part of the team – that, we can count on. I think it will be nearly impossible to keep Swedes Henrik Stenson and Alex Noren off as well. Their games are just too solid and too consistent day in and day out for Bjorn to ignore.
So, that's nine guys right there with only three spots remaining. That leaves a host of world-class players I haven't even brought up yet on the outside looking in.
I'm talking names like Paul Casey, Ian Poulter, Rafa Cabrera-Bello, Francesco Molinari, Lee Westwood, Martin Kaymer, and Ross Fisher, just to name of few. Do the math, and you'll see that at a minimum, four of these guys won't be part of the team this go-around.
Clearly, Captain Bjorn will find himself in a predicament. If you are asking me, I think it's a darn good problem to have!
The Format
The 2018 Ryder Cup will feature three days of competition, and the format will look like this.
Friday, September 28th
The first day of the competition will be comprised of a quartet of four-ball matches followed by a quartet of foursome matches.
This means that each captain must bench 4 of his players per session, adding another element to the decision-making process. The order of which format (four-ball and foursomes) will be played first is up to the "home team," which is the Euro squad in this case.
If they choose to reverse the order and start with foursomes, the second day will mimic the proceedings.
Saturday, September 29th
Just like on the first day, each captain will have to choose which four players to rest each session. They will play four four-ball matches and another four foursomes matches.
At the end of Saturday's play, exactly 16 of the 28 available points will have been divvied out.
Sunday, September 30th
After the team play on Friday and Saturday, Sunday is designated for 12 singles matches. Each Ryder Cup player will face off in a mano a mano duel with a player from the opposing team.
The winning player gets to tack on a full point for his team and a half-point if they wind up tied after 18 holes. As the final session of the Cup, this will inevitably be where the drama leading into "The Final Act" takes place.
I anticipate seeing a relatively close score by the time the captains are choosing the "batting order" for Sunday's singles.
As I look ahead, these two rosters are simply going to be too stacked and too skilled for it to go any other way. At least, that's the way I see it as I look ahead to the action in just a few months' time!
What's Next?
With plenty of time until the players gather at Le Golf National in Saint-Quentin-en-Yvelines, I will be adding more posts to keep you up to date and fully informed. My next order of business will be to properly introduce the Albatros Course at Le Golf National.
I'll talk about the features and characteristics of the track so that you know what to expect by the time the end of September is staring us in the face.
What many don't know is that the Le Golf National is actually the home of the Open de France, an annual event on the European Tour's schedule.
I'll mention if and how much of an impact that will have on the eventual outcome of this year's Cup.
The Ryder Cup might not be the next event on the schedule, but it's never too early to start getting prepped!