American Idol Betting Guide for Season 19 (2021)

Season 19 of American Idol is officially here, as the first batch of auditions hit your TV screen on February 14th.
Before long, the best reality TV singing competition in the world will be knee-deep in live shows, and everyone will be one step closer to crowning the next American Idol.
Last year it was Just Sam that stole the hearts of people all over the globe, and it's anyone's guess who the big winner will be in season 19.
You can start guessing with the first round of auditions in the bag, but the real hope is that the top entertainment betting sites will eventually allow you to bet on it.
That isn't the case every single year, but when you are allowed to bet on who will win American Idol, it's my job to make sure you're ready to make the right call.
To get you geared up for the rest of the way, let's break down how and where to bet on American Idol season 19.
Best Sites to Bet on American Idol 19
The first part is always the hardest; deciding where to bet on American Idol. It's honestly a lot easier said than done, largely because there are so many American Idol betting sites out there.
You also have to concern yourself with a litany of things, such as which sites offer the best bets, who had the best odds, and which sites are too risky.
Luckily for you, the sites above all pass the eye test and will give you some peace of mind.
It's always going to be up to you when it comes to which site you call home for betting on American Idol, but the sites above check all of the important boxes.
If you're unsure what to look for, keep the following in mind.
Safe and reputable
Good customer service
Ease of use
Wager selection
Site bonuses and promos
Competitive pricing
Rule number one when picking any site for any kind of betting is making sure it's a safe and reputable site.
Check out site reviews, hit up betting forums – you name it – just make sure that the American Idol betting site you choose isn't going to scam you.
That's the most important thing when hunting for American Idol betting sites, but the other criteria aren't meaningless. You also want to maximize your earnings with good bonuses and competitive odds, and you also don't want a site that's impossible to navigate.
On top of that, a site can offer the best bets and great odds, but what if the customer service stinks or the site has super slow payouts?
That's no good, so try to make sure the sites you bet on American Idol at checkoff as many of these boxes as possible.
You can do the hard work yourself or trust our vetted list of reliable American Idol betting sites above.
American Idol Season 19 Overview
Before you dive into your first American Idol betting experience, you may want to familiarize yourself with the show or at least gain some specifics on the current season.
Looking at past winners can potentially give you an inside track on who might win this year, while it can just be helpful to know what to expect for season 19.
Who Won Last Season?
Beyond betting on specific artists to win American Idol, some novelty betting sites allow you to bet on the sex of the winner.
If you targeted that bet last year, hopefully, you bet on a female winning, as the season 18 winner was Just Sam.
This was a somewhat controversial winner, as it was pretty arguable that Arthur Gunn was the runaway favorite throughout the season. Gunn did finish as runner-up, of course.
Controversy aside, Just Sam had a terrific backstory, and she also had a flawless voice.
Last season was a reminder of how important supporting narratives can be and that the most obvious pick is not always the one that wins.
Just Sam was a surprise pick, but if you look back at her performances, it's actually pretty remarkable to see how effortless she made things look. In a weird way, that could have played into why some didn't come away impressed by her takes on songs.
In reality, Just Sam was a very deserving winner, and I wasn't too upset with the call. My only annoyance, of course, came from touting Gunn as the "obvious" pick to win throughout the season.
Who Are the Judges for Season 19?
Nothing has changed when it comes to the American Idol judges in season 19. It's still a three-pronged effort, with Katy Perry front and center as the emotional anchor to this panel.
Katy Perry is the "firework" that keeps the party going in this elite judge trio, as the pop star brings her new motherly love to the table.
Luke Bryan is good comic relief, and Ritchie drops his jaw (as well as well-timed eloquent praise), all three of these immensely successful recording artists offer expert insight once again for season 19.
Along for the ride is audition sidekick and show host Ryan Seacrest, while the talent will be assisted every step of the way by friendly TV and radio personality Bobby Jones.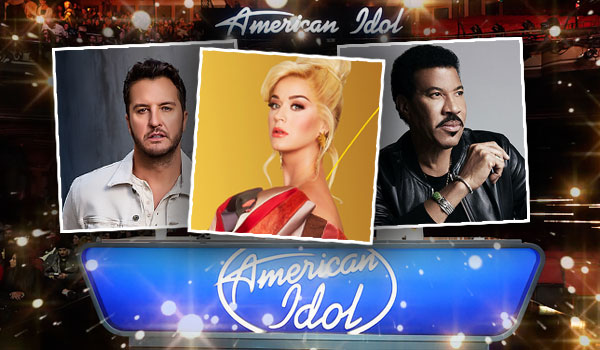 How to Bet on American Idol Season 19
Not much has changed for American Idol going into season 19, but bettors will still be wondering how to bet on the show so they can win big.
Before you lean on any American Idol betting strategy, here's a quick guide to actually placing a bet online.
Step-By-Step Guide
Betting on American Idol (or anything) is pretty quick and simple, but sometimes it doesn't come as naturally to some people, or maybe you've just never bet on anything before.
Let me walk you through the process real quick with a step-by-step guide.
Find a Site to Bet at
Using the list of American Idol betting sites above (or any you find on your own), find a site that offers American Idol props.
Sign Up
Once you find a site, you feel good about, just sign up. Usually, this takes just a couple of minutes and includes handing over some personal information.
Make a Deposit
You might be asked to enter some financial information upon signing up, but here you'll choose your preferred method to make a deposit. Decide how much money you want to bet with, choose the deposit method, and hit click!
Access Bonus or Promo
Most American Idol betting sites will offer some type of special promotion or sign-up bonus. Make sure you use the code if you need one, and claim your bonus before placing any bets.
Find Your Bet
Once you're signed up and have money to work with, go on the hunt for the perfect American Idol bet. Filtering through multiple sites can allow you to find the best odds, but wherever you bet, you can hit up the lobby and find the "entertainment" tab to place a bet.
Collect Your Winnings
Once your bet is placed, you can look forward to cashing out whatever money you win. Betting on American Idol is a long-term bet, usually, though, so be prepared to wait until the season ends to get paid.
American Idol Betting Advice
There's the actual process of betting on the show, and then there are American Idol betting tips and strategies to consider.
Finding a good site and placing a bet shouldn't be too difficult, but placing a good bet that ends up winning isn't always so easy.
Here are a few things to consider to help maximize your earning potential when betting on American Idol season 19.
Wait Until the Auditions Are Over
This probably goes without saying, just because most sites where you bet on American Idol won't even release names to be wagered on until the auditions end.
In fact, you often can't place any specific bets until the live shows begin.
There is always merit in placing early bets, but the best practice is to wait for a finalized list of names for the live shows before betting on who you think will win.
Find the Top Contender Early
In that same breath, it's good practice to hop on elite betting value whenever you can.
Keeping a running list of the singers you deem to be the top contenders to win is a good idea, and if sites offer bets early, you can consider going with your gut.
Usually, those bets aren't available right away, but it's still beneficial to nail the eventual winner as soon as possible.
Initially, even the favored singer isn't going to carry insane odds, so betting on a singer to win at +325 is obviously insanely different than betting on them a few weeks later at -150.
Betting early is risky, but the old adage "when you know, you know" applies here.
Listen to Judge Praise
This is a double-edged sword, to be sure. The judges usually throw heaping praise on all of the contestants, but if you go back and look, you can tell when they see something truly special with a lot of contestants.
The final voting won't always reflect that, but the singers the judges are enamored with early on almost always go far.
Bet on Male Singers
I don't think you can go into every single American Idol season with the mindset that you're only going to bet on a male singer to win, but it's worth noting that a guy has won this show 11 times (61%).
Just Sam was the second female to win in the last three seasons, of course, but male singers have had the upper hand in this competition throughout its existence.
Here's a quick rundown of the winner and sex of each of the previous 18 seasons.
| | | |
| --- | --- | --- |
| Season | Winner | Sex |
| 1 | Kelly Clarkson | Female |
| 2 | Ruben Studdard | Male |
| 3 | Fantasia Barrino | Female |
| 4 | Carrie Underwood | Female |
| 5 | Taylor Hicks | Male |
| 6 | Jordin Sparks | Female |
| 7 | David Cook | Male |
| 8 | Kris Allen | Male |
| 9 | Lee DeWyze | Male |
| 10 | Scotty McCreery | Male |
| 11 | Phillip Phillips | Male |
| 12 | Candice Glover | Female |
| 13 | Caleb Johnson | Male |
| 14 | Nick Fradiani | Male |
| 15 | Trent Harmon | Male |
| 16 | Maddie Pope | Female |
| 17 | Laine Hardy | Male |
| 18 | Just Sam | Female |
That doesn't mean you should only bet on male singers, but history can be helpful. If it's a close call, it may pay off to bet on the male singer to win.
Consider the Trends
History only gets you so far, of course. If you blindly bet on guys winning lately, you'd have lost two of the last three seasons.
Each season of American Idol is different, and you can't ever fully buy into odds, what the judges say, history, or even how the singers perform.
The fate of the contestants is in the hands of the people (supposedly), so one of the best ways to track potential swings is keeping an eye on trends in social media.
Twitter is good about clueing society into what is hot, so tracking which singers blow up the most can be a great way of projecting how votes will turn out.
Summary
There are other ways to bet on American Idol, depending on which entertainment betting sites you call home.
Some sites will offer props dealing with then judges, TV ratings, sex of the winner, singer vs. singer face-offs, singer eliminations, and so much more.
No matter what you bet on, though, the main message is the same; find a site you can trust, get the best odds you can find, and consider timing with your bet.
Hopefully, this American Idol season 19 betting guide helps you find a site to bet on and nudges you in the right direction as you prepare to bet.
I'll be pushing out updates, odds, and predictions as the season progresses, so be sure to bookmark our entertainment betting blog for the latest on season 19 of American Idol.
For some more entertainment betting markets to bet on, check out the posts below.