Hide Bonus Offers
| | | | | |
| --- | --- | --- | --- | --- |
| #1 | Bovada Sports | 50% Up To $250 | Visit Site | Bovada Sports |
| #2 | BetUS | 125% Up To $2,500 | Visit Site | BetUS |
| #3 | MyBookie | 100% Up To $1,000 | Visit Site | MyBookie |
| #4 | Everygame | 100% Up To $500 | Visit Site | Everygame |
| #5 | BetOnline Sports | 60% Up To $1,000 | Visit Site | BetOnline Sports |
Amanda Nunes vs. Holly Holm at UFC 239 – Betting Preview With Odds and Predictions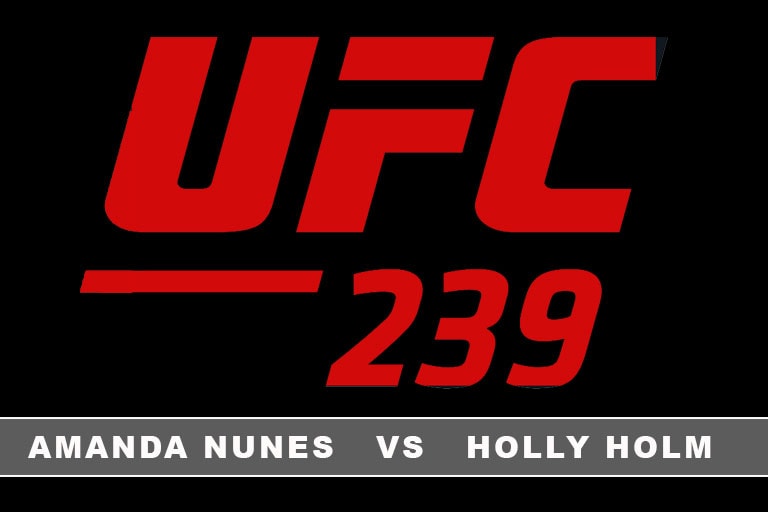 Many of us wondered what the next step would be for Amanda Nunes after beating Cris Cyborg. That win made her arguably the best female fighter in the history of UFC and MMA.
It seems that we have our answer now. There is a verbal agreement for the Lioness to meet Holly Holm this July.
The bout would be part of UFC 239, and I honestly can't wait for July 6th to come. Despite some recent struggles, the American is one of the few contenders that could trouble Nunes with her stand-up abilities.
The bantamweight title will be on the line, so that's some extra motivation for Holly. She did recently say that she would prefer to meet Nunes at 135lb, so both fighters will be in their comfort zone for this clash.
Since the leading UFC betting sites have already released their Amanda Nunes vs. Holly Holm betting odds, I think it's time for an early preview and prediction for this bout.
Amanda Nunes vs. Holly Holm Odds
The following odds are courtesy of BetOnline.ag.
I can't say I'm surprised to see Nunes as the favorite here. She's dispatched some of the best UFC fighters in the past couple of years, and her win against Cyborg proved that she's the one to beat right now.
Holly Holm did surprise the world once, putting an end to Ronda Rousey's reign, but she has failed to reach the heights of that fight again.
And yet, the Preacher's Daughter was able to last the distance against Cris Cyborg and has a counter-attacking style that could punish every single mistake. She certainly has a chance against Nunes, but let's dig a bit deeper before making any predictions.
Holly Holm Analysis
If you're looking for a person that's born to fight, that's Holly Holm. She has a background in both boxing and kickboxing, before joining the MMA world in 2011. The American has held championships and titles in every sport, so she is a natural winner and a tough competitor.
Fighting Style
With such a history, it's obvious that Holly Holm is a specialist on her feet. She is capable of launching powerful strikes with both her legs and her hands. She has a nice reach and uses it well to control the distance.
Holm has impeccable timing and precision that make her lethal on the counter. She is not used to being the more aggressive fighter and prefers to capitalize on her opponents' mistakes.
Many believe that the Preacher's Daughter is one of the best in the UFC when it comes to feet movement. She stays active all the time, working on angles and finding the best position in the Octagon. It helps her both avoid damage and strike fiercely.
As we saw in her last fight against Megan Anderson, Holm is certainly not hopeless on the ground either. She has trained in Brazilian Jiu Jitsu since joining the MMA world and currently holds a blue belt in the discipline.
Record and Recent Form
The beginning of Holly Holm's MMA career was absolutely stunning. She won nine fights in a row to earn a championship bout against the unbeaten sensation Ronda Rousey. We all know what happened next; I still remember the soul-crushing knockout as if it was yesterday.
Holm was the woman who derailed Rousey's career, and she never recovered. The problem is, Holly hasn't been doing that well herself since, either.
She registered three losses in a row after that bout but managed to recover and earn a title shot against Nunes with victories against Bethe Correia and Megan Anderson. Holm fought Cris Cyborg in between those two and managed to last the distance but was far from winning.
Her recent form suggests she might be back to her best, but at 37, Holm could be on the verge of a decline. The good news is that she was finished only once in her MMA career so far and knows how to stay in a fight.
Mentality
I think that Holly Holm has an interesting mentality and sometimes plays it too safe. When she's fully focused, like the bouts against Rousey and Anderson, she is not afraid to take risks and push her opponents to the limit.
In other cases, she seems too content to prevent damage and is not aggressive enough. The best examples are the bouts against Cyborg and Correia. A too adventurous approach could be suicidal against Justino, of course, but Holm was way too cautious.
The same happened against Correia, and despite the win, many believed the American was far from her best.
The big question here is what her attitude would be against Nunes. If it's to avoid a finish, the best Holm could hope for is a respectable loss. I expect a different mentality, though, and we might see her ruthless side in this one.
Amanda Nunes
Not many expected a win against Cyborg, but Amanda Nunes proved she's the best in the world right now and probably in history. There are not many challenges left for her out there, but Holly Holm is certainly among the few worthy contenders, so the Lioness should be motivated for this bout.
Fighting Style
You'll struggle to find a more complex fighter out there than Amanda Nunes. The Brazilian is a master in both striking and grappling. The endless arsenal of weapons at her disposal is one of the main reasons behind the Lioness' success.
She has a black belt in BJJ and a brown belt in judo, so you can rest assured that Nunes is lethal on the ground.
And yet, most of her fights would end on her feet because she has explosive power and some of the strongest punches you would ever see. Just ask Cris Cyborg and Ronda Rousey if you don't believe me.
The source of her striking abilities is her training in karate, boxing, and capoeira. Thanks to her hard work in those disciplines, Nunes has both the power and precision to bring any opponent down.
She's capable of relentless aggression and pressure that few can withstand.
Record and Recent Form
Amanda Nunes' record features four losses, but most of them came early in her career. The Brazilian hasn't tasted defeat since 2014 and was able to beat Cris Cyborg, Valentina Shevchenko (twice), Ronda Rousey, and Miesha Tate, among others.
You'll struggle to find such an impressive record anywhere else. What's even more remarkable is the fact that only two of her 17 victories have gone the distance, both against Shevchenko. Nunes has registered 12 knockouts and 3 submissions in her other wins.
Still, the second bout against Shevchenko was a split decision, and the Russian fighter really put up a fight against Nunes. This gives Holm hope, as the styles of the two are similar.
Mentality
Most UFC champions are somewhat cocky outside of the Octagon, but not Nunes. She is a modest and hardworking fighter who prefers to do her talking on the ring. The Brazilian is always trying to improve and doesn't underestimate any of her opponents.
She has a burning desire to be the best in the world, which pushed her to challenge Cris Cyborg. It was a bold move, and many expected to see it backfire, as Justino is an absolute monster and had the size advantage over Nunes.
In fact, a lot of people didn't believe that the Lioness had the power to put Cyborg down. Boy, were they wrong. Nunes is the best, and she is not afraid of anyone.
Holly Holm vs. Amanda Nunes Prediction and Betting Pick
The obvious favorite here is Amanda Nunes. The Brazilian has beaten pretty much everybody, except for Holly Holm, and she is an absolute beast in the Octagon. She has the punches and the ground game to overcome almost any obstacle.
However, her American opponent is a natural-born champion that has defied the odds in her career already. Holm has a strong-counter attacking game on her feet, which is exactly the approach that almost brought success to Valentina Shevchenko against Nunes.
The Preacher's Daughter is also close to impossible to finish and has the stamina to keep moving her feet well throughout the entire bout.
I think that we will see Nunes win this one, but I don't expect a finish. Holm is too good at controlling the distance and has a solid chin. As it stands, I don't see good value in the odds for a straight win for either of the two fighters, but I'm looking forward to seeing what prop bets the bookies will offer.
I would probably explore the option for this fight to go the distance and check if there are other interesting betting markets.
Final Words
I honestly feel that Holly Holm might be one of the tougher match-ups for Nunes, as styles make fights in the MMA. The old cliché is certainly true in many cases, so let's hope we see an exciting bout.
What do you expect to happen when these two meet in July? Can Holly upset the odds once again and get the belt back?