Hide Bonus Offers
| | | | | |
| --- | --- | --- | --- | --- |
| #1 | Bovada Sports | 50% Up To $250 | Visit Site | Bovada Sports |
| #2 | BetUS | 125% Up To $2,500 | Visit Site | BetUS |
| #3 | MyBookie | 100% Up To $1,000 | Visit Site | MyBookie |
| #4 | Everygame | 100% Up To $500 | Visit Site | Everygame |
| #5 | BetOnline Sports | 60% Up To $1,000 | Visit Site | BetOnline Sports |
Alliance of American Football Players That Could Head to the NFL in 2019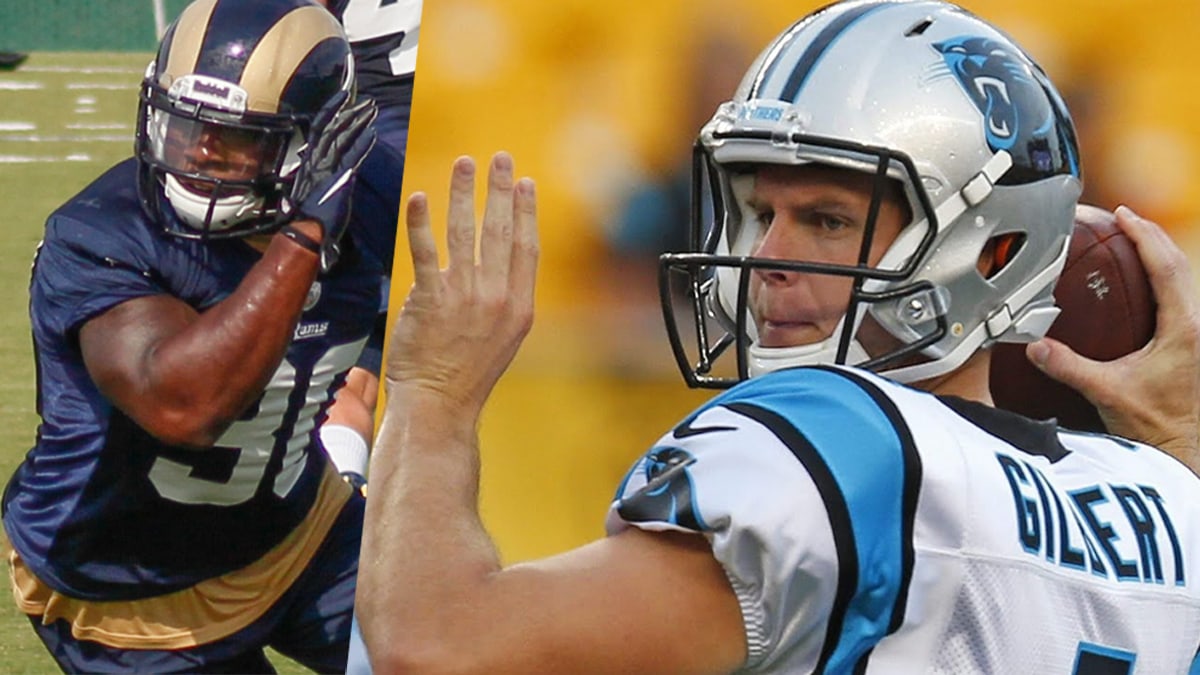 The first season of the Alliance of American Football has gone pretty well so far. Part of that is thanks to strong investing and better-than-expected production.
Aesthetically, the AAF looks like a legit pro football league, and it's got everyone talking.
AAF DFS, AAF betting, and just general interest are collectively buzzing. It's been surprisingly strong from a talent and competitiveness perspective, too, which has caused many to forget about the NFL.
Well, not really.
Still, the AAF isn't the joke many pegged it to be, and while this is being seen largely as a developmental league for the NFL, a lot of the players here look like more than mere placeholders.
Instead, some of the top AAF stars just might be playing their way into a big opportunity at the next level.
Which AAF Players Can Play in the NFL?
Most people tuning into the Alliance of American Football league are betting on it, finalizing their AAF DFS picks, or just have nothing better to do.
Those are all fine reasons, but if you actually take the time to watch these games just out of sheer curiosity, you'll quickly be pleased to learn it's simply a strong product.
That was a concern coming into the inaugural AAF season, but what's really going to need answering is what happens when the top AAF players get poached by the NFL this summer.
The AAF season lasts ten regular-season games and then has a playoff tournament, but before long, the better-performing players are going to garner outside interest.
That could feasibly cause them to break their AAF contracts, sit games out, and/or ultimately bolt for another chance at stardom in the biggest football league in the world.
Time will tell who earns the mother of all call-ups, but these six stars appear closest to making the leap to the NFL as we head into AAF week 3.
Garrett Gilbert
John Wolford
Zac Stacy
Justin Stockton
Charles Johnson
Rashad Ross
Let's take a look at each of these players in detail.
Garrett Gilbert, QB, Orlando Apollos
At least statistically speaking, Gilbert has been the best quarterback in the AAF through the season's first two weeks. It's a small sample size, but he has the Apollos at 2-0 and standing in with the second-best AFF title odds (+220 at Bovada).
They look like a fine challenger to the favored Arizona Hotshots (+185), and Gilbert has been a huge reason why. The former Texas quarterback went off in week 2, leading Orlando to a come-from-behind win over the San Antonio Commanders and dropping bombs in the process.
Gilbert's always had the size, arm, and unrelenting ability to attack down the field, but it wasn't until this past season that he tasted his first NFL regular-season game. While unproven at the highest level, Gilbert is absolutely shredding the Alliance of American Football (4 touchdowns, 620 passing yards) through two weeks.
There's more work to be done, and upsetting Arizona for the first-ever AAF championship could push him over the top. But NFL teams looking for quarterback help have to be paying attention to what he's doing.
John Wolford, QB, Arizona Hotshots
I'll actually follow up that last point with a "duh." There are several elite passers of the football in the NFL, but there's also a good number of pedestrian or flat-out bad quarterbacks.
Opportunity is pretty key in a sport like pro football, and guys like Gilbert simply haven't gotten it yet. Teams have a great need for quality decision-makers under center, and I think there could be room for another AAF quarterback to get a long, hard look from the pros.
Arizona is the odds-on favorite (+185) to win the league title, largely thanks to stellar quarterback play from John Wolford. Wolford leads the league with six passing scores and has moved the ball at will (469 passing yards) while keeping the Hotshots undefeated.
Wolford hasn't been waiting for his chance quite as long as Gilbert, but he's technically been the better passer so far in the AAF. If Pro Football Focus says it, you generally can assume it's true.
Wolford previously didn't get much of a look due to less than ideal size, but he's showing improvement in the pocket, a lively arm, solid athleticism, and a penchant for the long ball. All of that makes him an exciting player to watch in the AAF and perhaps a name to target this summer for a leap to the NFL.
Zac Stacy, RB, Memphis Express
Trent Richardson leads the AAF in rushing attempts and touchdowns, but he isn't really on my radar yet for a call-up to the big time. T-Rich was a great rusher at Alabama and has an amazing pedigree, but his ghastly 2.4 yards per carry suggests he's the slow plodder he always has been.
Maybe Richardson can prove me wrong over the course of the season, but what he's put on tape so far won't do. Teams also normally want running backs who can fill several roles, and Richardson can't even effectively dominate as a featured rusher.
It's a mild stretch to assume Stacy can, but he's looked extremely fresh and determined in the AAF. The former Rams rusher looked solid as a rookie back in 2013 but fizzled out after that. He's on comeback alert now, though, as he's displayed a renewed burst, solid drive, and better than expected power.
There are going to be questions about Stacy's time away from football, his previous NFL production, and his general versatility, while it's also going to be difficult to get exposure for a bad Express team (+4000 AAF title odds at Bovada).
Still, Stacy is playing well and delivering top-shelf production. NFL teams might take notice.
Justin Stockton, RB, Arizona Hotshots
I'm honestly impressed with several running backs in the Alliance of American Football. The explosive Akeem Hunt is one, and quite a few have managed to be productive.
Not everyone can get called to the big stage, though, so I'll try to be selective and focus on Stockton, who was pretty explosive at Texas Tech and seems to have continued that trend here in the AAF.
The kid can make plays.
Stockton is not being handed monster volume out of the gates, but his athleticism and vision are both on full display, with the Arizona rusher turning 11 carries into 100 rushing yards and a score.
There's a lack of elite size and feature-back ability at the next level, but teams want explosion, speed, and versatility. Stockton gives them all of that, and if he can keep this up, it'd be someone like him — and not Trent Richardson — that pro teams will gravitate towards.
It'll only be easier for Stockton to get his name out there given Arizona's strong AAF championship odds.
Charles Johnson, WR, Orlando Apollos
Speaking of guys who can make plays, no AAF wide receiver has made a louder splash than Orlando speedster Charles Johnson.
It can't hurt that Johnson has teamed up with one of the best quarterbacks in the AAF in Garrett Gilbert, but he's making plays regardless. Johnson has always had a beautiful blend of size and athleticism, but for some reason, it never clicked in three years in the NFL.
My guess is that might change, though.
It's early, but Johnson is wrecking in the AAF, and something tells me he won't be stopping anytime soon. The 29-year-old is on his last leg as far as earning a legit shot at the highest level of pro football goes, but tearing up the Alliance of American Football should get him one last chance.
Rashad Ross, WR, Arizona Hotshots
Charles Johnson has been so impressive that people have quickly forgotten about Ross, who has been the most consistently dominant AAF receiver through two weeks.
Ross has always been seen as an extremely athletic receiver, but in two tries in the NFL, his impact was minimal. To be fair, though, the opportunities have really never been there.
The league has caught glimpses of how special he can be, however. Ross averaged 23 yards per catch on eight grabs in 2015 and went nuts with spares under center during the preseason.
During the 2015 and 2016 NFL preseasons, Rashad Ross posted 36 catches, 394 yards & 7 TDs on just 310 snaps. In two AAF games, Ross has posted 9-170-3.

— Adam Levitan (@adamlevitan) February 20, 2019
Ross seems to be taking this last chance and running with it. It's led him to nine catches, 170 yards, and three receiving scores through the first two weeks, all ranking inside the top-two so far this year.
This is just another reason why betting on the Hotshots to win the AAF title (+185) makes good sense.
Summary
There are even more AAF players that could play their way into the NFL. Through two weeks, both statistically and performance-wise, though, these six players stand out the most to me.
The top two quarterbacks and Charles Johnson probably lead the way for most people, but I actually love Rashad Ross and Justin Stockton as the best bets to crack an NFL roster in 2019.
Versatility and speed play in the NFL. Quarterbacks Wolford and Gilbert look good in the AAF, but torching NFL defenses and excelling in pro systems is going to be far more difficult.
That isn't to say guys dropping bombs in the AAF or any other semi-pro league can't hack it at the highest level. Kurt Warner did it, and others have come from the CFL to have success in the NFL, too.
I won't write those guys, Johnson, or even Zac Stacy off. Heck, if you want to argue Trent Richardson or go to bat for any number of viable candidates I haven't touched on, I'll hear your argument.
But today's modern NFL games demand athleticism, speed, explosiveness, and versatility out of players. Stockton might not be a true feature back when you look at his size and strength, but the guy can flat-out make plays with the ball in his hands.
Ditto for Ross. He might not be the biggest guy or be the most polished, but he's at worst a special teams ace who can be used on gadget plays or have touches manufactured for him.
All of the guys listed here have a shot at the NFL, but only a few are actually going to use the AAF as a springboard to that kind of success. Right now, my money is on Ross and Stockton, but hopefully all the guys excelling now can turn that into success in 2019 and beyond.