Ajax vs. Tottenham Hotspur – Champions League Semi-Final Second Leg Betting Preview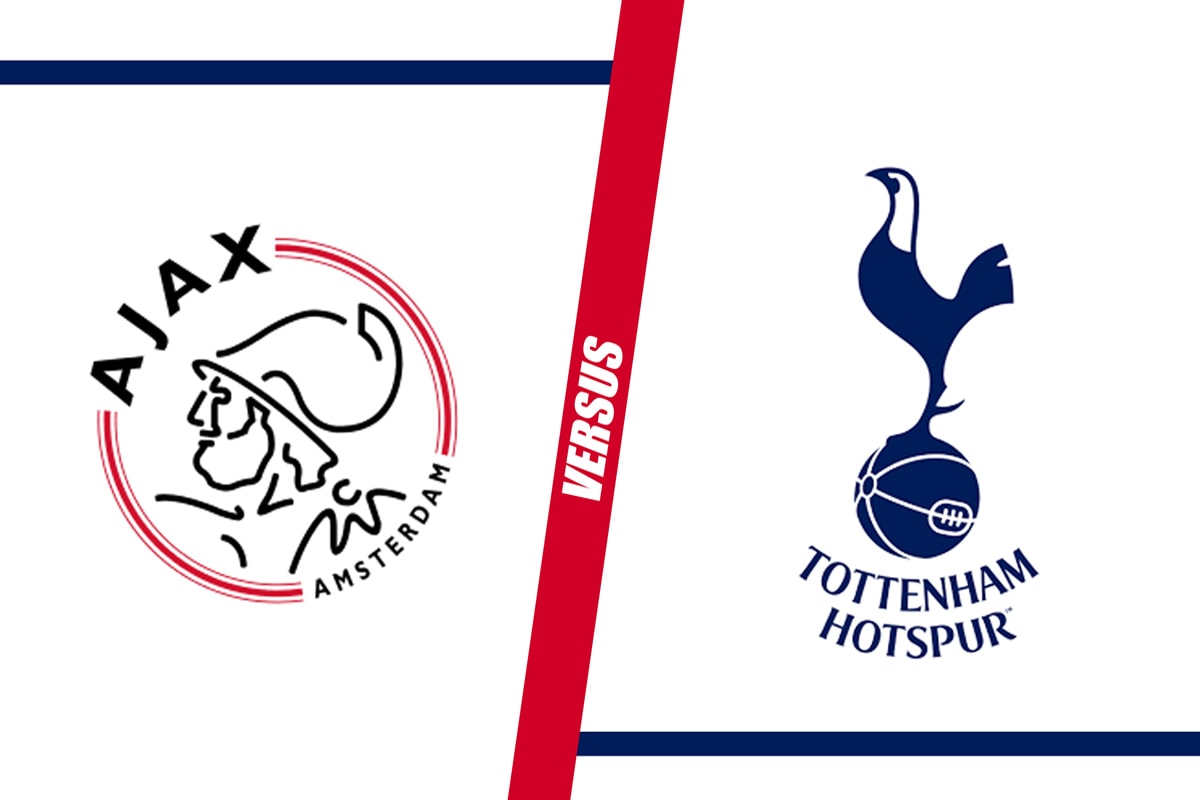 Okay, while they are one goal down heading to Amsterdam, it is hardly a case of panic stations for Tottenham Hotspur.
Mauricio Pochettino's men were humbled at home by the excellent young guns of Ajax but will be confident of making it count in the Netherlands on May 8. With the return of South Korean star Son Heung-min, they should look like a different team.
While Pochettino's tactics were perhaps a little too negative on April 30 in London, the Argentine coach will have no choice but to adopt a more attack-minded approach for the return leg.
At times, it seemed as though the respect given to Ajax was a little too much in the first leg, which was exploited by Erik ten Hag's youthful band of stars. This time around, Spurs will need to buck up and show everyone what they are capable of.
After all, the team that lost 1-0 to Ajax at the Tottenham Hotspur Stadium knocked the tournament favorites Manchester City out of the Champions League. They are a quality outfit that can cause damage to anyone on their day.
Was it a case of a lack of ideas for Tottenham the first time around, or will Ajax prove, once again, that they are not a team to be underestimated?
To start this Ajax vs. Spurs betting preview, let's see what the oddsmakers have to say.
Latest Ajax vs. Tottenham Hotspur Odds
Tottenham Hotspur to Win
+220
Ajax comes in at +115 to win the second leg of their Champions League semi-final against Spurs. Having wowed soccer fans with their exploits in Europe this season, there are many who would love to see Ajax making the final.
Of course, in order to do that, they will need to get past Spurs, who come in at +220 to spoil the party in Amsterdam. Any win over 1-0 will see Pochettino's stars make the final, while a 1-0 win will take them to extra time.
It is not difficult to see why Ajax is favored for this one. They took the game to Spurs in London and played with the same level of confidence that has propelled the team to the dizzying heights they occupy in this season's Champions League.
Spurs, on the other hand, looked a little flat in the first leg and will need a big performance to take anything away from a hostile Johann Cruyff Arena. As they showed against Man City in the quarterfinals, they, too, are not to be written off by anyone.
Please note that the odds above were taken from Bovada, one of our recommended online betting sites for US bettors. If you live outside the US, please take a look at our list of top online betting sites for localized recommendations.
How Ajax Beat Tottenham 1-0 in London
Ajax dispatched Spurs with a solitary goal in London, which takes them within touching distance of their first UEFA Champions League Final since 1996.
With just 50% of the job done, Europe's most exciting young team in quite some time will be more than aware that they still have serious work on their hands. After all, this Spurs team is no joke and can beat anyone on their day.
The manner of how Ajax won, however, should certainly be considered if you are planning to bet on Ajax vs. Tottenham in the second leg. After all, there are a few things that could influence the game on May 8 that played into Ajax's hands in London.
For example, it was hard not to notice just how convincingly Ajax started the game in the first leg. For the first half hour, the team was absolutely dominant and prevented Tottenham from finding anything resembling rhythm.
As the much faster team, Ajax found inventive ways to pile the pressure on Spurs, looking very assured while on the ball. A visibly shaken Tottenham side was lacking in defense and paid the price when Hakim Ziyech played in the underrated Donny van de Beek to feint before rolling the shot into the bottom corner.
The finish almost poetically summed up the confidence and craftiness of this team. Despite being the youngest side in the competition, Ajax is far from naive or shakeable.
Following the only goal of the game, Ajax continued to push and press Spurs, forcing mistakes and looking increasingly likely of adding more goals.
Then, an accidental injury changed things.
Spurs Forced to Adapt
Jan Vertonghen's injury after 30 minutes was an accidental blessing for the home team.
What happened was that Spurs won a freekick into Ajax's box, and André Onana rushed out to challenge Vertonghen and Toby Alderweireld, accidentally colliding with the former.
It was a pure accident, in every sense of the word, but one that meant Pochettino had to tinker with the team when replacing Vertonghen. A change in formation brought Moussa Sissoko into midfield, which changed the game.
With the extra man in the center of the park, Spurs began to see more of the ball. Ajax was now matched, and with power behind Lucas Moura and Fernando Llorente, it looked as though Spurs were going to claw a goal back.
Spurs looked strong in the setpiece, and this is where they appeared to have something of an upper hand on the defending team. However, two clear-cut chances for Llorente and Alderweireld were not converted.
Aside from their inability to hit the back of the net, failed passes and poor attacking verve frustrated the home team's fans. Potential Manchester United signing Kieran Trippier lost possession 28 times alone.
Simply unacceptable from a team playing at this level.
Ajax Rue Their Spurned Chances
With Liverpool losing 3-0 in Barcelona, we could have had two Champions League semi-final second legs with both English clubs trailing by the same score.
If Ajax would have converted two excellent chances, that is.
Ajax's goalscorer, van de Beek, had a chance to play in David Neres not long after hitting the back of the net for the first time. The second opportunity was spurned, however, and should have been squared to the Brazilian for a tap in.
In the second half, Ajax once again showed why they are considered by many as the team who plays the best soccer in Europe right now.
One particular example of their smart interlinking play and pace came with just over ten minutes to go before the final whistle. Sadly for the Dutch, Neres struck the bottom of the post when he really should have scored.
So, while Ajax has a decent lead heading back to the second leg in Amsterdam, one Spurs score levels the tie. With the English club traveling, away goals might come into this one, which is not good news for Ajax.
With the impressive Son Heung-min back in the team in following his suspension in the first leg, Tottenham will have a more dynamic and troublesome forward capable of rescuing the tie.
Five Factors That Could Influence the Second Leg
Son Heung-min
Let's be honest here — one shot on goal in a home Champions League semi-final is dreadful.
Now, while Harry Kane was a huge miss for Spurs — and with Eriksen and Dele Alli both underperforming — there are worries ahead of the second leg. However, with Son Heung-min coming back into the fore, Spurs fans can feel a little more confident.
Eriksen and Alli cannot surely play as bad next time around. If they can raise their respective games with Son leading the attack, feeding him quality ball and creating the right opportunities for him, Spurs can cause major damage to Ajax.
The South Korean will be bursting with excitement for an opportunity to turn this tie around in Amsterdam.
The Dutch Cup Final
Spurs travel to Bournemouth on Saturday in the EPL knowing that they are pretty much guaranteed a top 4 spot. As such, it is unlikely that Pochettino will be throwing the majority of his star players at that game with much fervor.
However, Ajax has a much more important game to play on Sunday — the Dutch Cup Final.
Ajax will contest the final against Willem II just three days away from their crucial Champions League semi-final second leg against Spurs.
It remains to be seen how much Erik ten Hag invests in this cup final, but it might be enough to give Spurs a little advantage.
Remember, the Dutch FA canceled matches the weekend prior to the first leg. This gave Ajax time to rest before their 1-0 win in London. They won't have this privilege ahead of the second round.
An Attacking-Minded Spurs
When Vertonghen went off and Spurs added more meat to midfield, the changes were apparent.
In Amsterdam, Pochettino will know that a conservative approach will be useless. In order for Tottenham to get back in this tie, they will need to take the game to Ajax.
With Son back, as previously mentioned, Spurs will make an attacking strategy easier to pull off.
Matthijs de Ligt
Ajax's superstar center back has all the makings of a legend of the sport.
At just 19 years old, de Ligt's rapid ascent has been nothing short of incredible. He is, both physically and mentally, years beyond his age.
There is no doubt that de Ligt is the most in-demand center back in the world right now and could very likely be lining out against Spurs next season in the EPL. Teams including Manchester City, Liverpool, Manchester United, Barcelona, and Real Madrid are vying for his services.
If de Ligt is on form against Tottenham in the second leg, the English club's prospects of making the final will be slimmer.
Ajax's Momentum
You cannot underestimate how important confidence and momentum are in soccer.
Ajax has both in abundance, having knocked out some of the best teams in this tournament on their way to the semi-finals.
With a win in London, this band of young stars will be looking to gift a home crowd the joy of seeing their heroes make it to the final.
We have watched this side change from upstart outsiders into viable winners in just a few months. They have arguably gotten better with every game and can feasibly improve more. With just one last push, Ajax will make the final of the Champions League.
Ajax vs. Tottenham Prediction
From the perspective of Ajax supporters, there is a license to be very optimistic. At the same time, there is still a lot of work to do.
With Tottenham heading to Amsterdam with nothing short of a convincing win on their minds, de Godenzonen will need to raise their game even more. Spurs may have looked limp in London, but they are not going to put two poor games together at this stage of the competition.
Pochettino's men will be boosted by the inclusion of Son, who offers multiple dimensions in attack when compared to Llorente. His speed, intelligence, and ability to score goals were sorely missed in the first leg.
Just how much of an inspiration the South Korean will be to the English club remains to be seen, but the general consensus among pundits is that he is sure to improve their frontline.
At the time of writing, Ajax will be at full strength ahead of this tie. However, with the Dutch Cup Final coming up on Sunday, May 5, there is no guarantee that they will be able to call upon 100% of their stars on May 8.
As previously mentioned, Ajax's commitments to the Dutch Cup Final could prove costly. With just a three-day turnaround, you have to think that Erik ten Hag might sacrifice this one for the greater good.
With that unknown at this time, let's imagine that he does, making this game a 50/50 shootout between Ajax and Spurs.
The Midfield Battle
This game will likely be won in the center of the park.
When Spurs took the emphasis off shoring up their defense and instead added Sissoko to midfield, we saw the English team win more ball and have greater chances of creating opportunities as a result.
I believe Eriksen and Alli can get the upper hand against de Jong and van de Beek, providing they have the type of support that Sissoko offered in the first round.
That's not to say that Spurs' midfield is better than Ajax's.
I think Ajax benefitted massively from the additional rest that came from their league fixture being canceled prior to the Spurs match. This time around, tiredness might be a problem.
Although I am a huge fan of this young Ajax team and would love to see them win the competition, I believe Spurs are good enough to spoil the party.
It is hard to bet against a team that can beat Man City at home and score four goals across two ties against them to send them crashing from the tournament. I believe their experience will come to the fore and that they will scrape by the Dutch team by a goal on the night.
At a push, I will say Spurs to win 2-1, and break the hearts of Ajax fans all over the world.
PICK
Tottenham Hotspur to Win
+220
Final Thoughts
Do I feel awful predicting that every neutral's favorite team this year will lose?
Yes, of course I do! However, this is business and nothing personal at all. In fact, this is one prediction that I wouldn't feel too disappointed in seeing blow up in my face.
Naturally, I would prefer to have a 100% record when it comes to providing picks for my readers, but the nature of gambling is that things don't always go according to plan.
When it comes down to this game, remember that a place in the Champions League Final is at stake. Both teams will be fired up just as much as they will be capable of messing up under pressure.
In my opinion, odds of +220 for Tottenham to win are pretty good and should not be scoffed at.
If you've enjoyed this preview, please take a look at my Liverpool vs. Barcelona predictions where I assess the other Champions League semi-final second leg.