After a Fourth Back Surgery, Can Tiger Woods be Great Again?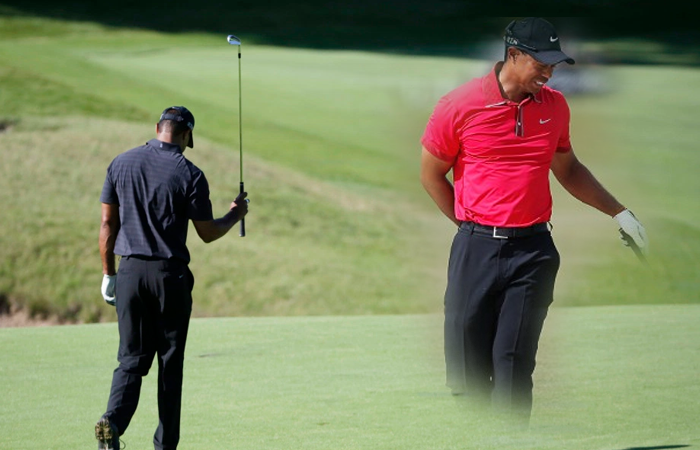 Yeah you know that one guy- Who made the popularity of golf blow up not too many years ago. He was quiet, classy, and a winner. Tiger had the world of golf in the palm of his hands, winning 14 majors well on his way to breaking Jack Nickalaus' record of 18.
In 2009 his life, career, and popularity would be forever changed. Within a couple days in November, his life was in shambles. Woods would crash his Escalade, lose his family, and be caught up in one of the largest cheating scandals in the history of sports. His once quiet and perfect life was gone all in one quick blink.
Not only did Woods lose his perfect life and family, he slowly lost his career and the grasp he once had on the game. He has not been able to win a tournament since 2013, his last Major victory coming in 2008. Winning is the last thing on his mind, just being able to compete again is the biggest goal for Tiger at this point. He attempted a comeback at the Dubai Classic in February, shot a first round 77, and withdrew from the event. As expected, he was not able to compete in the Masters and there is no timetable for his return.
Now on the day after his fourth back surgery, we all want to know how, or if Tiger Woods can be good again.
Will Tiger be Good Again?
The question surrounding Tiger prior to all of his mishaps was "can he take down Nickalaus' record?" For many that is not even a question, the answer is No. Tiger, as freak of an athlete as he is, cannot come back to face off against the young stars on tour now.
So many skeptics think his career is a wash due to too many injuries and believe that he has lost his way. Some believe that winning is not even an option because he will never play again. At the age of 41 and, as of yesterday, on his fourth back surgery he is emotionally and mentally a wreck.
Tiger was infamous for his killer drives and crushing swing, but he can no longer play the game that way and stay healthy. He is not a 20-something year old stud that can swing out of his shoes, he needs to play like the older man he is.
If Tiger can learn to play the game in a new way, he can return. Yes, he could be a good golfer again because greatness never loses their potential. He has never lost that competitive edge, which is some of the cause of his recent injuries while trying to come back way too soon and aggravating his back.
We need to remember- never doubt one of the game's greatest players.
How Can He Return?
If he can perfect his game by improving his accuracy off the tee, possess a money short game, and become an above average putter then he can win again. You do not have to look any further than Phil Mickelson, at age 46. He is still able to compete in every tournament and win them. It was only three years ago Phil was able to reach a career achievement of winning his first Open Championship and continues to compete on a regular basis.
Yes, Tiger can return and play good golf, but he has to learn how to play golf much differently than before. There are so many skills the once considered "greatest golfer ever" still possesses that can make him great again. His skills are still there, but skills at this point are the least of his concerns. The lack of that mental strength and confidence has been all but deflated from Woods.
Can Tiger Make a Comeback?
There are quite a few changes Tiger can make to his game and his life that could change the tumultuous and long road he has been on for eight years and counting now. Here are some of the more important changes Tiger could make for a quick fix, well quicker than previous attempts.
In the game of golf, you have to be mentally prepared and strong if you want success, especially as a pro. So, how can he get through this mental block? Tiger needs to go back to his old roots, stop blaming others, suck up his pride, and put his life back together.
His first step needs to be getting his old caddie, Steve Williams back on his bag. It was with Williams that Tiger had some of the best years of his career. For 13 years, Stevie was his go to man, his confidante on the course, and a friend. Tiger would relieve Williams of his duties in 2011 and he has not been right since. This could be the first step for Tiger to get his game back on track and a boost of confidence with him on the bag again.
Tiger! Please stop trying to change your swing and stick to what used to work. Woods has gone through Butch Harmon, Hank Haney and Sean Foley as swing coaches. Once he feels the methods are not working for him, he leaves. Harmon was his coach until 2004 until a poor year on the tour. Hank Haney took over from 2005-2010 until he started playing poorly again. Finally, Sean Foley was introduced as his latest coach in 2010. That relationship ended 4 years later.
He did well to an extent with each one of his coaches but rather than just finely tune an already sound golf swing, they all tried to change too much. When he was with Harmon Woods was an excellent iron player. Haney's swing was awkward and forced him to need more strength and muscle. With Foley he tried to make way too many changes which caused Tiger to lose any confidence he had in his swing. It is like a never-ending correction to a once beautiful swing.
In 1997, Tiger Woods had one of the best swings on tour. He would also go onto win the Masters by 12-strokes that year. Now 20 years later, Tiger probably couldn't even break 80 at the Masters and his swing looks like an unfolded lawn chair.
He needs to stop trying to "perfect" his swing and worry about getting the ball from tee to green the best way possible. Imagine getting up to the tee box with a million different mechanical worries prior to hitting a ball. It is a constant head game on every shot you take and mentally it has to be draining.
Finally, he needs to end the charades of being a low key, stay to myself type guy. Tiger has attempted his I am sorry spiels that are filled with limited emotion and remorse. There needs to be that moment in his life where he stops being a robot and be human. Start to come to grips with reality and the mistakes he has made but it needs to be heart felt, not some prewritten speech by a publicist.
Golf Fans Still Want to See Tiger Play
Every golf fan wants to see you one-day make a comeback, Tiger. However, we also want to see that you are human just like the rest of us. He brought so much to the game of golf. The players of today are constantly thanking him for what he did to the game.
Would it not be nice to see that once prolific fist pump on the greens of Augusta National, while in in his Tiger red, on a final round Sunday afternoon? I for one would certainly enjoy seeing that once again.