Hide Bonus Offers
| | | | | |
| --- | --- | --- | --- | --- |
| #1 | Bovada Sports | 50% Up To $250 | Visit Site | Bovada Sports |
| #2 | BetUS | 125% Up To $2,500 | Visit Site | BetUS |
| #3 | MyBookie | 100% Up To $1,000 | Visit Site | MyBookie |
| #4 | Everygame | 100% Up To $500 | Visit Site | Everygame |
| #5 | BetOnline Sports | 60% Up To $1,000 | Visit Site | BetOnline Sports |
Africa Cup of Nations Group A Betting Preview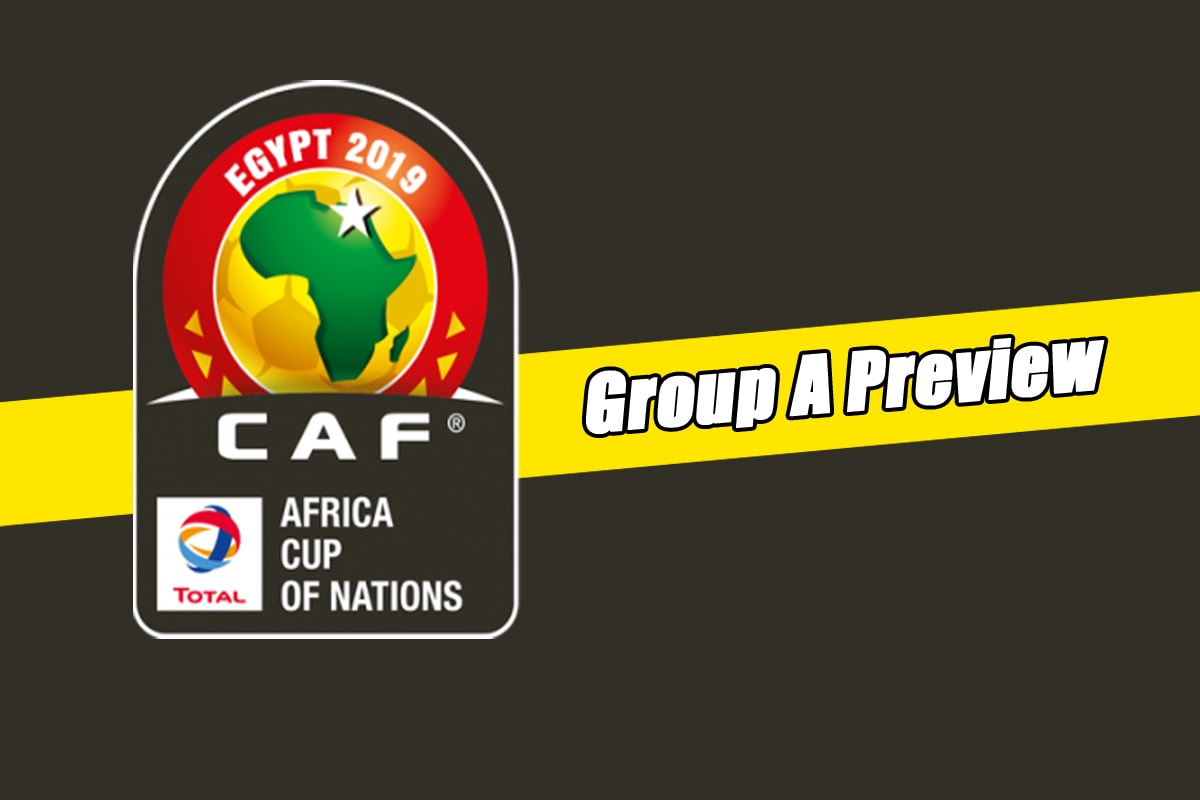 It's time to look ahead to the Africa Cup of Nations, and I'll be starting off with my Group A betting preview.
The group stage draw is now concluded, and the top soccer betting sites have already rolled out some exciting Group A winner odds.
I will go through all four teams in detail and share my Group A predictions and picks.
Let's get the ball rolling with a look at who will be competing in the group and the early odds for the group winner.
Africa Cup of Nations Group A Winner Odds
Below, you will see how things currently stand in the group. The odds for this market are courtesy of Betway.
It's no surprise that Egypt is the bookmakers' clear favorite here. The team has a long-standing tradition in the tournament, having won a record seven titles in past editions. However, things may well end up being a lot tighter than the current odds are suggesting.
The new-look Uganda team had some very good showings in the qualifying tournament. The Ugandans look well-organized, whereas Zimbabwe and DR Congo can pose a significant attacking threat. This was highlighted by how they dominated their qualifying group, scoring a collective total of 17 goals in their six respective games.
Egypt Analysis and Key Facts
The nation's new coach Javier Aguirre is well-known in the soccer community, having managed several Spanish teams in the Primera Division and also the Mexican national outfit. Things got off to a good start for Aguirre, and he currently holds a 66% win percentage with the Pharaohs.
The only loss came against Tunisia at the start of the qualifiers, but the team has been performing superbly since. Aguirre has already announced his preliminary squad for the tournament, and there are some notable entries I'd like to touch on.
It's no secret that the Pharaohs' main weapon will once again be Mohamed Salah. The Liverpool man enjoyed another terrific campaign in the Premier League and was one of the main candidates for the best player award. Salah notched up 22 goals and was a vital cog in Klopp's title bid.
The Merseyside outfit ultimately fell to Manchester City's unstoppable final push, but they have a lot of positives to take from their campaign and still have a chance to win the Champions League. I recommend you keep a close look at how the final against Tottenham unfolds as it may have major repercussions to how Salah sets himself up for the AFCON games.
Another thing to consider is that although his confidence will deservedly be high, he has played quite a lot of games this season. We all know what happened when a half-fit Salah played at the World Cup in 2018. Aguirre must look to get other pieces from the roster to help out with his hopes in attack resting mostly on the top scorer of the Egyptian league Ahmed Aly.
Egypt is looking solid in defense, and the biggest reason for that is the two experienced Ahmeds on the roster — Elmohamady and Hegazi. Both have Premier League experience and were essential for their teams' push for promotion this year. Hegazi and his West Brom were eliminated in the playoffs, but Elmohamady still has a chance to ensure his team moves to the Prem when Aston Villa takes on Derby County in the final.
Another player who is well-known to soccer fans in England is Mohamed Elneny. The midfielder plays for Arsenal and is an ever-present contributor for his national team. Elneny's form at the tournament can be key since Egypt will see a lot of the ball, and distribution will rely heavily on him. The thing to note here, however, is that he has been used very sparingly by Arsenal's new manager Unai Emery and may not be as sharp as Aguirre would want him to be.
DR Congo Analysis and Key Facts
Congo is viewed as the second favorite to top Group A, and there is a good reason for that. The team has plenty of attacking flair that can prove hard to contain even for the most experienced defenses. The key strikers to watch out for are Britt Assombalonga and Cedric Bakambu. Neither of them will be the tallest player in the box, but they bring bags of power, pace, and finishing ability.
Assombalonga has been plying his trade in England for more than eight years now and has been prolific wherever he's played. He is currently with Championship outfit Middlesbrough where he has a record of 30 goals in 92 games and is sparking a lot of interest from Premier League clubs.
Bakambu made a name for himself in Primera where he was among the top goalscorers between 2015 and 2018. Last year, he moved to Chinese league and has since scored 30 goals in just 36 games. Still just 28 years of age, the Africa Cup of Nations is the perfect setting for the striker to unleash his full potential.
The good news for DR Congo fans is that their two star strikers can expect high-quality service from midfield in the form of Yannick Bolasie and Tresor Mputu. Bolasie is the country's talisman and arguably one of the most successful players in their soccer history. He lit up English stadiums playing for Crystal Palace and earned himself a big-money transfer to Everton.
After a few injury problems, the winger is now fit and will be an integral part of the national team. Tresor Mputu is not so well-known, but the guy has been around the team for more than a decade. He was once personally scouted by Arsene Wenger, but the transfer never really materialized.
Both Mputu and Bolasie possess superb technical ability that is a nightmare for defenders. While they will be looking to get things done on the attacking front, they can rely on solid cover by the experienced Youssouf Mulumbu and Aaron Tshibola to break up opposition play in midfield.
It is expected that coach Florent Ibengé will allow the necessary freedom for his attack-minded players to flourish, but the team's big problem is in the defense department. There isn't enough quality there, and Ibenge himself is not exactly viewed as a defensive mastermind. Clearly, the team will rely on scoring more goals than the opposition, and that may well turn out to be the case with all the diverse attacking potential they have.
Uganda Analysis and Key Facts
Uganda is among the most exciting yet mysterious teams to compete in the tournament. The nation's soccer team is neither among the higher-ranked by FIFA nor do they have any significant success in the Africa Cup of Nations. But the Ugandan soccer federation made a huge decision in 2017, and it seems to be paying off — at least for now.
That decision was appointing French coach Sébastien Desabre to lead the nation's soccer team. Desabre has never coached in Europe and was virtually unknown to the majority of fans when he took the job. However, his achievements in the short time he's been in charge have raised a lot of eyebrows.
Uganda breezed through their qualifying group, collecting 13 points from a possible 16. They skyrocketed to a record 77th place in the FIFA World Rankings and were among the five teams nominated for the African team of the year prize for 2018.
So, Desabre is definitely making the right headlines for now, but will he be able to pull off something unexpected on the big stage? Well, it's tough to say, but there are definitely a lot of positive trends he has established.
The team has been very solid at the back, only conceding three goals in their entire qualifying campaign. And all of those came in the last game against Tanzania where Desabre's men were already confirmed as the group winners.
It is clear that Uganda does not have the same quality of players as other teams in Group A, but it is something that their new coach understands very well. That is why his approach has mainly focused on building a unit that is cohesive in both its defensive and offensive duties.
It will be very interesting to see whether the coach and players will be able to replicate their performances once the tournament starts. Although it's looking rosy right now, we have to say that Desabre doesn't have experience in a tournament of such magnitude, and the opponents they have faced so far have mostly been inferior teams such as Lesotho and Cape Verde.
Zimbabwe Analysis and Key Facts
Zimbabwe topped their qualification cycle which also consisted of their Group A opponents DR Congo. The six games saw them score nine goals while conceding only four. Those results saw them move up to the 110th spot in the FIFA Rankings, but they still remain as one of the lowest-ranked teams to compete in this year's AFCON tournament.
The head coach Sunday Chidzambwa is a household name in the country. The former international defender is now enjoying his fourth stint at the helm after he was re-appointed in 2017.
The backbone of the team Chidzambwa has named is comprised chiefly of players from the South African divisions, but there are also some interesting and unexpected additions like Leicester City's young prospect Admiral Muskwe. But since there is still time for the final roster to be re-shuffled, I'd like to focus on who I think will be the main performers.
Explosive duo Knowledge Musona and Khama Billiat are definitely the guys to watch out for. Musona is team captain and can play both as a winger and striker. He was in top form during the qualifiers and notched up five goals in six games, including a devastating hat-trick against Liberia.
Billiat is usually deployed as a second striker, but Chidzambwa likes to use him in a deeper role as he is arguably the most creative all-around player in the team. He is expected to be heavily involved in the team's offensive play and has an eye for goal as well.
Тhe steel in defense will be provided by Billiat's teammate in Kaiser Chiefs — Teenage Hadebe. Although he's only 23, he is considered the country's best defender, and it became evident in the qualifiers that the coach will build his defensive unit around him.
Nyasha Mushekwi is another one to keep an eye on. The striker had not been called up in the national team since 2017, but a return of 52 goals in 86 games proved too hard to neglect. It still remains to be seen whether Mushekwi will make the final squad, but he looks like the most probable alternative to Musona up front.
Prediction and Final Picks
As I mentioned at the start of this page, I expect things to be a lot closer than the odds suggest. It's true that Mo Salah may well be the most gifted and in-form player in the tournament, but he'll be coming off an exhausting season with Liverpool.
Furthermore, he won't be getting the same service he is accustomed to and will be heavily guarded. It will be up to coach Aguirre to muster up a Plan B, and I'm not sure Egypt has the needed flexibility for that. DR Congo is a very serious team, and although they don't have much quality in defense, they can still put on numbers to lock down Salah and also pose a genuine threat when going forward.
Players like Mputu and Bolasie are specialists in beating their man, and that will allow Bakumbu and Assombalonga to move into open spaces and run behind the defense. If they find their goalscoring touch against Egypt and manage to avoid defeat, they will be a real contender for finishing top in my view.
I am surprised to find that Zimbabwe is given such high odds compared to Uganda. It's true that Desabre's team has been impressive, but they've only played against the likes of Lesotho, Cape Verde, and Tanzania in the qualifiers. I doubt they will go through as they lack quality on the offense, but if they can replicate some of their performances, I won't be surprised to see them give a hard time to everyone — even Egypt.
Zimbabwe, on the other hand, has some experienced players who have shown that the big stage does not faze them both at club and international level. I wouldn't go for them to clinch the top spot in the group, but given how the four best third-placed teams also progress to the knockouts, I'm inclined to think that the Warriors may well catch the train.
Taking everything into account, I believe the best value here is backing DR Congo. While Egypt is the clear favorite, the odds for them are too short, and I definitely think it won't be a walk in the park for them. In fact, if they don't manage to win the opening game against Zimbabwe, things can really heat up for Salah and company.
DR Congo's campaign will heavily rely on how effectively their front players will be able to unlock defenses and take their chances. Given that their best forwards are now fit and healthy, I expect they can thrive this year. Getting an early win against Uganda will calm down the nerves, and if Egypt doesn't get a win, this will further motivate Ibenge's men.
On top of that, the value for DR Congo topping the group is extremely good given there's a very realistic chance of them doing it. That's why at this point, it's a no-brainer for me to back them.
PICK
DR Congo to Win Group A
4.33
Wrapping It Up
There's still time for things to change, but barring some unforeseen circumstances, I pretty much expect this to be one of the most contested groups in the tournament.
My thinking is that DR Congo and Zimbabwe will be the happiest teams after the group games are played, but having Mo Salah in your team can always turn things around.
It remains to be seen how the pendulum will swing, but we'll be following all the action, so be sure to pop by our AFCON betting guide for the latest odds, updates, and predictions. Good luck with your betting, and let's hope we see some exciting games in Group A!