Hide Bonus Offers
| | | | | |
| --- | --- | --- | --- | --- |
| #1 | Bovada Sports | 50% Up To $250 | Visit Site | Bovada Sports |
| #2 | BetUS | 125% Up To $2,500 | Visit Site | BetUS |
| #3 | MyBookie | 100% Up To $1,000 | Visit Site | MyBookie |
| #4 | Everygame | 100% Up To $500 | Visit Site | Everygame |
| #5 | BetOnline Sports | 60% Up To $1,000 | Visit Site | BetOnline Sports |
AFC and NFC Championship Betting Odds and Breakdown for 2022 NFL Playoffs

We have gone from eight to four teams in the NFL and what a weekend it was for the underdogs. We saw a clean sweep on Saturday and nearly a sweep on Sunday.
All four games had walk off winners with improbable performances that may never be duplicated again. The NFL never disappoints and all the fans who followed the games were rewarded with the most thrilling finishes in Divisional round history.
Here are your latest betting odds and breakdown for NFL Championship Sunday.
Early NFL Betting Odds for Championship Sunday
Rams (-3.5) +100 vs. 49ers (+3.5) -120
Chiefs (-7) -110 vs. Bengals (+7) -110
What a weekend we have witnessed with nearly all four underdogs advancing from the Divisional matchups to Championship Sunday.
Joe Burrow and the Bengals have been a remarkable story, but the 49ers and Jimmy Garoppolo aren't far behind. They continue to find ways to win every week and their never die attitude has allowed them to keep advancing.
The Rams have been able to stare at the face of adversity and discover new heights they thought they had in them all along.
The expectations on the Chiefs is up there with some dynasties and their ability to pull off a miracle against the Bills could go down as one of the most impressive victories in NFL postseason history.
Here are your latest odds at SportsBetting.ag for the Championship on Sunday.
San Francisco 49ers vs. Los Angeles Rams
49ers (+3.5) -120
Rams (-3.5) +100
Over 46.5 (-110)
Under 46.5 (-110)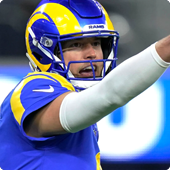 Matthew Stafford entered the postseason without a victory and here he is one win away from hosting the Super Bowl. These two NFC West squads have gone to battle twice, and the 49ers will have to earn a third victory this season to be playing on Super Bowl Sunday.
The Ram signal-caller is making all the throws and has been able to expose opposing defensive backs. The arm strength is among the better ones in the league to connect with Van Jefferson.
The way he has been able to spin the magic bean with consistency is why the Rams can win it all. Cooper Kupp often gets left wide open with blown assignments, but Stafford has been an unstoppable force when he takes care of the ball.
Many have been cheering on the former Detroit passer and he is looking forward to a third matchup with the 49ers. Here were the previous two results as far as production.
Week 18: 238 yards passing, 3 TD, 2 INT
Week 10: 243 yards passing, 1 TD, 2 INT
The Rams are 2-4 ATS as favorites in the postseason, which includes their 23-point victory over Arizona.
The 49ers have been a tremendous underdog due their dominant run game, defense, and special teams. They have struggled as a road underdog prior to the postseason. Prior to this postseason, the Niners
Ironically, it was 40 years ago to the date this Monday where we had the Bengals and 49ers in the Super Bowl. Both franchises have gone through struggles in the postseason over the years.
San Francisco has been able to control the line of scrimmage with Deebo Samuel being used as a running back. The body shots he took at Lambeau Field could be a factor, but he has been clutch for the Niners.
Elijah Mitchell has been a steady runner despite health concerns the past few seasons, but this team has been playing smashmouth football for years under Kyle Shanahan.
Plus, it helps to have a clutch kicker that has never missed in the history of the postseason. A perfect 20-for-20 is impressive, but being good as Gould is something the 49ers have been blessed with over the years.
For the win!!! On to the next! pic.twitter.com/rd2oJ24fpi

— Robbie Gould (@RobbieGould09) January 23, 2022
This divisional matchup is the fourth conference title since 2002 between divisional opponents. The winner of a third meeting between these two likely comes down to the quarterbacks.
The one that can avoid making an ugly turnover that puts their defense in an overwhelming spot should prove to be the difference.
Cincinnati Bengals vs. Kansas City Chiefs
Bengals (+7) -110
Chiefs (-7) -110
Over 53.5 (-110)
Under 53.5 (-110)
The Bengals haven't appeared in the Super Bowl since 1989 and prior to last week they hadn't won a postseason game since 1991.
Cincinnati was 0-7 in all–time playoff road games going into this past weekend, which was the second most losses before a road victory.
Is there a more productive and hotter quarterback to wide receiver tandem than Joe Burrow and Ja'Marr Chase? These two are unstoppable these days and they are making the challenging plays look quite average.
joe burrow and ja'marr chase = best duo in the NFL, PERIOD!#RuleTheJungle #NFLPlayoffs #CINvsTEN pic.twitter.com/qYVIzxaIL1

— SportzStew Ⓥ (@sportzstewcom) January 22, 2022
Burrow has been unstoppable and the number of elite performances we have seen from him down the stretch has been incredible.
They battled with San Francisco, Kansas City, Las Vegas, and now Tennessee in the past month-plus. They dominated the AFC North by sweeping Pittsburgh and Baltimore.
The future is brighter than ever before with the Bengals, and they could be the team to beat in the NFL if they continue to grow and develop on the offensive side.
Burrow's rocket-arm is uncanny for such a young age, but the performances against impressive defenses has put the league on notice.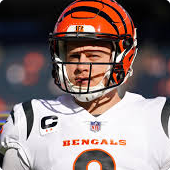 San Francisco (Week 15) – 348 yards passing, 2 Pass TD
Kansas City (Week 17) – 446 yards passing, 4 Pass TD
Las Vegas (Wild Card) – 244 yards passing, 2 Pass TD
Tennessee (Divisional) – 348 yards passing
If the Bengals can keep their core intact, we could be previewing them in the AFC Championship several times before these players get into their mid-30's when their peak is likely over.
The postseason hasn't been kind to the Bengals over the years, but here they are covering the point spread two weeks in a row when it has mattered most.
Including the regular season, they have now covered in five straight with a narrow defeat against the 49ers in overtime as the last time they failed to cover and win.
Cincy will have their work cut out for them after knocking off Kansas City a month ago in a game that came down to the wire. It is crazy that they are here again, with a trip to the Super Bowl on the line.
The Chiefs had no business allowing a fourth and California touchdown to Gabriel Davis, but they also shouldn't have had a prayer of sending the game to overtime with 13 seconds left in regulation.
All the credit goes to Mahomes, Kelce, and Hill for connecting on two crucial pickups to put them in field goal range for Harrison Butker.
The Bills vs the Chiefs is the gift that keeps on giving ?

HARRISON BUTKER sends it to OVERTIME ?pic.twitter.com/3D34iQ9YDO

— ClutchPoints (@ClutchPointsApp) January 24, 2022
Butker had already missed an extra point and a 50-yarder going into halftime that ended up nearly costing them. Four points are huge in the postseason, but Butker was nails in crunchtime.
Having a talented kicker with a big leg almost puts them in scoring range anytime they pick up a first down past the 50.
As far as the numbers, Mahomes has only lost two games in his career (8-2) and both were against Brady. ATS, the Chiefs have gone 7-3 under Mahomes.
Andy Reid hosted a Championship matchup in the NFC three years in a row with the Eagles. He has now hosted the AFC title game four years running.
Plus, he is one game away from becoming part of the fourth franchise to appear in three straight Super Bowls.
Betting the NFL on Championship Sunday
Don't be a fool, check out the top NFL betting sites before making your picks on who will be playing in Super Bowl 56. These matchups look tasty on paper, and it is sad that football is nearly over for the season.
While the year is almost complete, please review the free NFL picks page for the latest analysis, odds, and predictions before the big game arrives.