Hide Bonus Offers
| | | | | |
| --- | --- | --- | --- | --- |
| #1 | Bovada Sports | 50% Up To $250 | Visit Site | Bovada Sports |
| #2 | BetUS | 125% Up To $2,500 | Visit Site | BetUS |
| #3 | MyBookie | 100% Up To $1,000 | Visit Site | MyBookie |
| #4 | Everygame | 100% Up To $500 | Visit Site | Everygame |
| #5 | BetOnline Sports | 60% Up To $1,000 | Visit Site | BetOnline Sports |
AFC Divisional Betting Preview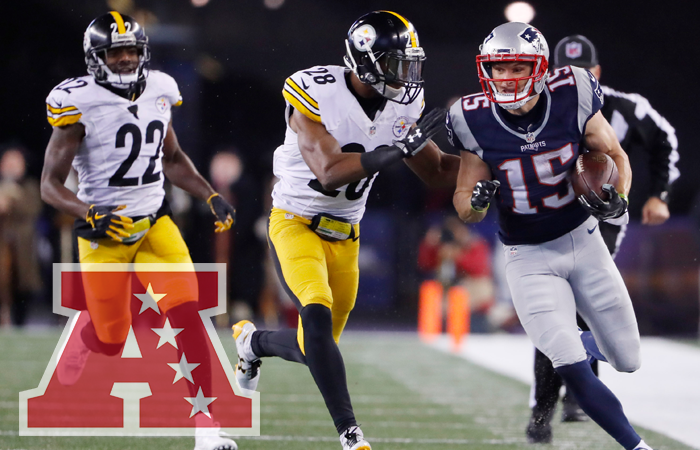 There are a few things in life that seem automatic; death, taxes, sunrises and sunsets, and the Patriots winning the AFC East. This year should be more of the same as the New England Patriots are the easily the most commanding division favorite in the entire NFL. In fact, you can get longer odds on the Jets to win the AFC East (+3300) than you can on the Patriots to go a perfect 16-0 (+3000).
But aside from New England, there are no real easy, automatic division winners in the AFC. Traditional snoozer divisions like the AFC South and the decade-plus run of Colts dominance are now wide, wide open and the AFC West boasts four teams that all harbor legitimate playoff aspirations – even the newly relocated Los Angeles Chargers. And let me save you a few Tweets this season, yes, I KNOW they aren't the San Diego Chargers. I am well aware they moved. And I will still type San Diego at least three times this season in the same way your uncle still occasionally refers to the "Baltimore Colts" and you had to google their franchise history before realizing he hasn't, in fact, lost his mind (completely), he's just had a hard time deprogramming himself even after 35 years. Old habits die hard. And so does Phillip Rivers. Don't write off the Bolts quite yet…
Let's take an early look at the AFC Divisional Odds for 2017-2018.
AFC EAST:
New England Patriots -500
Miami Dolphins +500
Buffalo Bills +700
New York Jets +3300
I've been racking my brain for a reason to bet on anyone other than New England at this price, and I can't think of one. The defending Super Bowl Champs are discernibly better than everyone else and are even immune to one vulnerability that EVERY contending team in the NFL lives with – the fear of losing their franchise quarterback. After last season's Jimmy Garoppolo debut, even THAT concern doesn't dissuade me from being all in on New England. Frankly, unless this line got to -1000, I'd be all Pats, all day. Even if Brady were to get hurt, I think we are looking at another Matt Cassell situation; 11-5 at the worst and still an easy AFC East crown. Are they winning the Super Bowl without Tommy Terrific? Probably not. But the division? I'll roll the dice with Jimmy G head to head against Tannehill and Tyrod Taylor, especially considering the rest of the Patriots supporting cast and coaching staff.
If anyone is going to challenge, I like the Buffalo Bills. The Bills went 7-9 last season and fired Rex Ryan. However, Tyrod Taylor took a nice step forward in his development and they had a strong draft to fill some holes on the roster. However, I can't see them challenging the Pats in earnest. In addition to some talent gaps, they also have a tough schedule with road games at Carolina, Cincinnati, Atlanta, the Chargers and Kansas City. That's pretty brutal, as they will likely be underdogs in all five.
Miami went 10-6 last season and has a decent amount of positive buzz around their franchise. But that 10-6 record might have been a bit of a mirage as they projected statistically as just a 7.5 win team and were very average on both the offensive and defensive sides of the football. They have a similarly difficult road schedule to the Bills with the same trips to Atlanta, Carolina, Kansas City and San Diego (kidding), with the Bengals replaces by the equally, if not more formidable, Ravens. It's a tough year to draw the AFC West as a schedule partner, and I would expect the entire AFC East, aside from New England, to suffer for it. I LOVE the UNDER bet for Miami's season win total. This feels like a 7-9 team.
And as far as the Jets are concerned, it's going to be ugly. They let some quality veterans leave in the offseason including Nick Mangold, Darrelle Revis, Eric Decker and Brandon Marshall. Their preseason quarterback battle is between Christian Hackenburg, Bryce Petty and Josh McCown. The Vegas win total is set at just 5, and that seems about right and possibly even optimistic.
This division is a no-brainer. It is HARD to see anyone other than New England making the playoffs, let alone challenging the mighty Pats throne. Minus 500 is a really good price and a fair value.
THE PICK: NEW ENGLAND PATRIOTS -500
AFC NORTH:
Pittsburgh Steelers +110
Baltimore Ravens +175
Cincinnati Bengals +250
Cleveland Browns +3300
It appears that Bovada has just gone with the arbitrary +3300 as their euphemism for "yeah, they got no chance" so let's leave that as our definitive take on the Browns… As it has been for the past decade, this is a three-team division with all three having relatively equal rosters and merits. Pittsburgh appears the be the strongest; good defense and the most explosive and talented at the key offensive skill positions. But Baltimore is always good and Cincinnati had made the playoffs five straight years before last year's injury-riddled disappointing campaign. So, who is coming out on top in 2017-2018?
Pittsburgh's case starts with their Big Three; Big Ben, Antonio Brown and Le'Veon Bell – as good as any trio in the league. Add in a Top Ten defense, and you can see why the Vegas total for Pittsburgh is an aggressive 11 wins. They also have a nice schedule with road games at Chicago, Indianapolis, Houston, and Detroit – a pretty nice break considering those road games could have just as easily been Green Bay and Oakland.
Baltimore failed to reach the postseason for consecutive years for the first time since 2004-2005 but is looking to make a return to January football. They went 8-8 last year and are steady on both sides of the ball, as long as Joe Flacco can be old-school postseason Joe Cool and not the guy who struggled with interceptions last season. They made some upgrades on offense with the addition of Danny Woodhead and Jeremy Maclin, which will help them battle with the Steelers and Bengals.
Speaking of additions, the Bengals made two flashy offensive upgrades via the draft, adding combine 40-yard dash record breaker, Joe Ross to line up opposite perennial All Pro A.J. Green and the controversial Joe Mixon to bolster a running attack that suffered with Jeremy Hill's subpar season and Gio Bernard's injury-laden campaign. It is easy to overlook the Bengals; old habits die hard and this franchise hasn't won a playoff game in 27 years. But they DID make the playoffs five years in a row before last season, and as much grief as he has taken, Andy Dalton has been to four Pro Bowls. AJ Green is explosive, and when he is healthy (he wasn't much last year) the Bengals offense has been good enough to win 10 or 11 games a year. Their road schedule is a mixed bag; a tough trip to Green Bay and Denver, but very winnable road games at Jacksonville, Tennessee and Minnesota.
I like the sleeper value of Cincinnati at +250. They were 1-5-1 in games decided by a single score, so some regression to the mean is likely, and they enjoyed only three games all season with their two best offensive weapons; Tyler Eifert and A.J. Green in the lineup together.
As far as Cleveland, I like Hue Jackson and think he is a great offensive coach. But he just doesn't have the offensive weapons to compete in 2017-2018. The quarterback position will be an odd hodge-podge of last year's league-worst rated quarterback, Brock Osweiler, DeShone Kizer or some lesser-known career backups. The Vegas win total is set at 4.5, but going over even that modest total would be a mighty improvement on last season's 1-15 nightmare.
I'll take Cincinnati in the AFC North just on the sheer value of the number +250. Pittsburgh is the best team, but at near even money and with all the troubles they've had keeping Big Ben healthy, I'm not willing to lay even money on him playing all 16 games.
THE PICK: CINCINNATI BENGALS +250
AFC SOUTH:
It might not be the most glamorous division, but it could very well be the most interesting wager as every team projects in the narrow seven to nine-win range., with only Jacksonville being more in the six to eight, but still competent, range. It's really up for grabs. No team looks excellent, but that doesn't mean we won't have some excellent late December drama…
Houston Texans +175
Indianapolis Colts +200
Tennessee Titans +225
Jacksonville Jaguars +550
The Texans clock in as the "favorite" with the sentiment being that a healthy defensive duo of JJ Watt and Jadeveon Clowney can be enough to overcome some question marks (QUARTERBACK!) and win a mediocre division. And yes, a great defense can overcome a lot of obstacles, but I find it interesting that the example is usually the Ravens with Trent Dilfer and Buccaneers with Brad Johnson. Both those teams won Super Bowls FIFTEEN YEAR AGO. Sure, you can make the case for Peyton's Broncos winning in spite of the aging Hall of Famer, but not many other Super Bowl teams have won with a quarterback as uncomfortable as the Texans. I love the UNDER on Houston this season, as this feels like an 8-8 team at best. I'm completely out at +175.
I like Indy. Maybe I'm a sucker, but I'm not willing to drop Andrew Luck into the "just a guy" category. He still seems like a transcendent talent who has battled injuries and a terrible supporting cast the past two years. If he can remain healthy, Indy has a legit chance to be the best team in the division. Their schedule has some tricky road game; trips to Cincy and Baltimore, and a pair of staunch NFC West defenses in Seattle and the Rams but home games with the Browns and Niners should provide two free wins, meaning a 4-2 division record would put them most of the way to the postseason.
Tennessee is an intriguing team as well. Some books actually have them as the favorite in terms of win/loss totals, but they clock in third on Bovada at +225. They were surprising playoff contenders last season, finishing 9-7 and losing the division to the Texans on the tie-breaker. The Texans have the bigger name defensive talent, but the Titans were actually the best D in the division last year, ranking 13th in the NFL with no one else higher than 24th. If Marcus Mariota can take the next step forward, the Titans could very well be in the postseason.
Jacksonville was the trendy "team to take a step forward" entering last season. They did not, finishing a disappointing 3-13. Both the Jags and Blake Bortles took a big step backward, making this a do-or-die season for the fourth year starter. If he can play like he did in his sophomore campaign, the Jags could surprise a year behind schedule. Their schedule is beautiful, with their road crossover games including San Fran, the Jets and Cleveland – ALL winnable, and they draw Cincinnati, Baltimore, the LA duo, and Seattle at home. If they can steal the three road games and win three of those aforementioned five home games, a 3-3 divisional clean split gets them to 9-7 and a possible crown.
THE PICK: I like Tennessee, but will go with the value of the JACKSONVILLE JAGUARS at +550
AFC WEST
This division is the most interesting because not only is it up for grabs like the AFC South, but all four teams have legitimate playoff aspirations beyond just stealing a 9-7 divisional crown. There are at least three teams that think they can sneak into a Super Bowl if New England were to falter. Is it a foolish dream or has the best really headed out West??
Oakland Raiders +150
Denver Broncos +225
Kansas City Chiefs +250
Los Angeles Chargers +550
The Raiders dream season had a heartbreaking conclusion that corresponded directly with the heartbreaking breaking of quarterback Derek Carr. The Raiders were still in the hunt for the overall #1 seed before losing Carr in the final weeks of the season and then predictably sputtering out of the playoffs. A healthy Carr? Who knows how last season goes. He is healthy this season and loaded with offensive weapons to spread the ball around to this season. The Defense will need to improve – the ranked just 21st in Weighted DVOA on Football Insiders.com. However, with Khalil Mack leading the charge, it seems very reasonable that will improve in 2017.
The schedule is a fringe benefit of losing the division late to Kansas City after Carr's injury. While Kansas City earns Pittsburgh and Houston, the Silver & Black get to host Baltimore and visit Tennessee (though I am not sure there is a large discernible difference between Houston and Tennessee) The rest of the schedule is manageable with the toughest road game likely at Miami or the aforementioned Titans.
Kansas City is overlooked every year – Alex Smith, man – but Andy Reid and company continue to churn out awesome regular seasons. They are the most anonymous 12-4 team in recent memory, but their offense which already lacked a lot of explosiveness will now need even more magic from Tyreke Hill, who is thrust into the #1 slot after the departure of Jeremy Maclin. I think this team finally takes a step back this year, and I like the +120 UNDER on the Vegas total of nine wins. This division is brutal, and road games at New England, Dallas, New York Giants and Houston, plus home games against Pittsburgh and the tough AFC West is a gauntlet.
Denver has some sneaky value, given their defense that is just a year removed from winning a Super Bowl nearly by themselves, but the quarterback situation leaves much to be desired in a division with MVP-candidate Derek Carr and perennial Pro Bowlers Alex Smith and Phillip Rivers. I'm out on Denver, as this season looks like it has the potential to eerily mirror last year's 9-7 campaign.
Lastly, the Chargers will have some buzz after moving to Los Angeles, but unfortunately for Phillip Rivers, their offensive line moved with him. The old bolo-tie wearing gunslinger was battered and beaten last year, dropping a lot of tough games en route to a 5-11 season. They won't be "bad" this season, but I don't think they'll be good enough to get through a brutal division.
THE PICK: Oakland Raiders +175