Advice for NBA DFS on Wednesday, April 28 (2021)

Things pick back up in a big way on Wednesday, as a 10-game schedule rolls out after just six games hit the hardwood last night.
The madness continues, but it's almost doubled tonight. That means keeping an extra close eye on lineup news and odds movement at your favorite NBA betting sites.
I already took an early look at the betting scene in Wednesday's NBA picks, so feel free to peruse my favorite bets if you plan on betting on the NBA tonight.
For my NBA DFS picks, sleepers, and top lineup, ready on.
Best NBA DFS Picks for April 28th
Russell Westbrook, PG, Wizards ($11.1k)
Tyrese Haluburton, SG, Kings ($7.1k)
Jaylen Brown, SF, Celtics ($8.5k)
Michael Porter Jr., PF, Nuggets ($8.6k)
Nikola Jokic, C, Nuggets ($11k)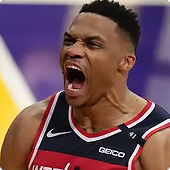 Want to know how reliable Russell Westbrook has been in NBA DFS? He got 40 fantasy points recently, and he was positively dreadful.
That's a terrible game for the price you paid to use Westbrook, but he did bounce right back with 64 fantasy points in his very next game.
There is a lot of value to be had at point guard, but Westbrook never stops and is one of the best raw points producers you can use. It's between him and Nikola Jokic if you're paying up for a stud on this slate.
Haliburton is the easiest lock of this slate. De'Aaron Fox is still out, and he's been starting and crushing in his absence. The price has gone up, but I don't really care.
Brown is certainly viable again no matter what, but Boston could still be shorthanded. Kemba Walker is definitely out again on Wednesday, and it's possible Jayson Tatum will be sidelined for the second game in a row, too.
Celtics are hopeful that Rob Williams (knee) and Jayson Tatum (assorted aches) will be back tomorrow. Kemba Walker is out for at least the next two games with a side strain.

— Mark Murphy (@Murf56) April 27, 2021
With both potentially out, Brown is in line to smash against the Hornets.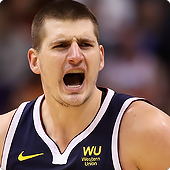 You can pick your Nuggets tonight, as they're taking on a terrible Pelicans defense. MPJ is perhaps the best-priced power forward, but I don't think I can get to any of the studs here, so he's on the table.
I'll ultimately probably pay down at PF, but Jokic feels like the center play. Center is absolutely loaded, but nobody offers his triple-double upside.
Pairing Jokic and Russ has crossed my mind, and if enough value opens up, I won't run from that idea. But if I have to take a side, I'm Team Joker as he faces a Pelicans team that he's put up 64.5 fantasy points against per game across two meetings.
NBA DFS Sleepers for Wednesday
Goran Dragic, PG, Heat ($5.4k)
Lou Williams, SG, Hawks ($4.5k)
Cedi Osman, SF, Cavaliers ($5k)
Chuma Okeke, PF, Magic ($4.9k)
Willy Hernangomez, C, Pelicans ($4.2k)
Miami is really banged up at the guard position right now. Kendrick Nunn and Tyler Herro have missed some time, and it thrust Dragic into major minutes last time out.
He's in play no matter what, but those guys being sidelined again could make him a top priority.
Lou Williams might be the best NBA DFS sleeper to target at the moment, of course. Trae Young is nearing a return, but he's probably still out on Wednesday, and Brandon Goodwin is now questionable, too.
Brandon Goodwin: Dealing with ankle impingement https://t.co/f7DwDddym2

— RotoWire? (@RotoWireNBA) April 27, 2021
Williams can fill it up as a scorer, but if he's looking at 30+ minutes, he's a lock for me at this price.
Cedi's price tag has spiked, but he still has a really nice role for the Cavs. I'll require Collin Sexton to miss a third consecutive game, but if so, we can take solace in Osman logging 37 and 38 minutes over his last two starts.
Nobody affiliated with Orlando is easy to stomach, but hey, Okeke is getting about 30 minutes on a nightly basis, and he's flashed nice ability.
The young Magic big man has bodies to compete with, but he's registered 26 and 31 fantasy points in his last two games. In a palatable matchup with the Cavs, you could do worse.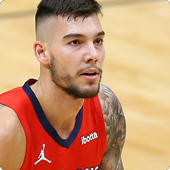 Lastly, I am quite high on Willy Hernangomez, assuming Steven Adams is out again.
Adams sat out the Pels' last game, and Willy started and popped off for 33 fantasy points.
He'd be a risky play against The Joker, but his size would also be needed.
In one of the best games for NBA DFS stacking, I love getting to the other side of that game and Willy is a cheap way to do that. Just make sure Adams isn't playing.
Wednesday's Top NBA DFS Lineup
PG: Tyrese Haliburton – Kings ($7.1k)
SG: Lou Williams – Hawks ($4.5k)
SF: Cedi Osman – Cavaliers ($5k)
PF: Chuma Okeke – Magic ($4.9k)
C: Willy Hernangomez – Pelicans ($4.2k)
G: Facundo Campazzo – Nuggets ($4.8k)
F: Jaylen Brown – Celtics ($8.5k)
UTIL: Nikola Jokic – Nuggets ($11k)
I think it's important to identify the stud(s) you want, go get them, and build from there. The value should take care of itself, and with 10 games on this slate, there will surely be more NBA DFS sleepers to be had.
For now, I'll work with the value that presents itself, and I'll build out this squad under the assumption certain guys will be out.
If Steven Adams, Collin Sexton, and/or Jayson Tatum play, this lineup falls apart instantly
That doesn't mean you could use these guys, but I'd be off of Willy completely, I probably wouldn't use Osman, and Brown would be far less appealing.
There lies the risk of building NBA DFS lineups early in the day, but hey, at least you have a skeleton to work with, and you know where I (and now you) stand on a lot of the best NBA DFS picks.
Hopefully this helps you in some manner. If you want to get some more skin in the game when it comes to making money from the NBA, consider hitting up the best NBA betting sites and placing some bets.