Advice for NBA DFS on Wednesday, April 21 (2021)

Wednesday brings a huge NBA DFS slate to the table, with 12 games schedule to hit the hardwood.
There is a lot to get excited about, too, with a tense clash between the 76ers and Suns getting the action started early, and the Blazers and Nuggets going to war late.
See what to make of things from a betting aspect with a look at our NBA picks, and then join me as I break down the best NBA DFS picks, sleepers, and top lineup for Wednesday night.
Best NBA DFS Picks for April 21st
Stephen Curry, PG, Warriors ($10.5k)
Paul George, SG, Clippers ($9.3k)
Anthony Edwards, SF, Timberwolves ($7.1k)
Draymond Green, PF, Warriors ($7.1k)
Nikola Jokic, C, Nuggets ($11k)
I don't know how you keep fading Stephen Curry at this point. He won't necessarily be the best raw points producer every time out, but he is absolutely slaying right now.
Chef Curry knows he has to crush it to get Golden State to the NBA playoffs, and he's responded with 42+ real points in four of his last five games.
That includes a 49-point gem in his most recent outing.
Curry is ablaze, and he's got perhaps the best matchup on paper tonight against the fast-paced Wizards.
With so many elite options and many of them boasting spiked price tags, Curry feels like a fine priority spend.
Jordan Clarkson also feels like a fairly good building block at $6.6k with Donovan Mitchell out, but how are we to stay away from Paul George?
The price has come up, but PG-13 feels like a good play with Kawhi Leonard out for at least a week.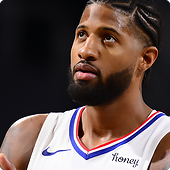 George did play on Wednesday and could always be rested, but if he's good to go, he'll be tough to leave out of NBA DFS lineups.
Anthony Edwards is fairly cheap exposure to that Timberwolves vs. Kings game, which the top NBA betting sites project as one of the more explosive battles of the night.
He also played on Wednesday, but he's a young pup and should be ready to rock for this one.
Draymond Green is very much in play on this slate, too. He's a solid price for a guy who offers triple-double upside, and he's in a smash spot against a bad Wizards defense.
I'm not sure I could hand out NBA DFS picks without vouching for Nikola Jokic at this point. The guy went absolutely nuts in his last game, pouring in 47 real points.
Jokic's final stat line produced nearly 80 fantasy points, and that's the type of ceiling he has with Jamal Murray sidelined. He could go nuclear again as he faces Enes Kanter and a weak Portland defense.
NBA DFS Sleepers for Wednesday
Kendrick Nunn, PG, Heat ($5.3k)
Landry Shamet, SG, Nets ($4.6k)
Luke Kennard, SF, Clippers ($3.7k)
Andre Iguodala, PF, Heat ($3.6k)
Precious Achiuwa, C, Heat ($3.4k)
There are 12 games on this slate, so there is going to be tons of sleepers to consider.
I've compiled a batch of some of my favorites, but just know that there are more, and with news slowly trickling in, even more are sure to follow.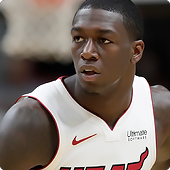 I'll start with Kendrick Nunn, who could be locked into a massive role if Miami is down some key players again.
Jimmy Butler and Tyler Herro are the big guys to watch, but Bam Adebayo and Dewayne Dedmon are also banged up.
Nunn is probably a priority if Butler and Herro are out, as he showed his upside with over 50 fantasy points his last time out.
While I'd be circling Nunn early, I have two other Miami options listed here. Iggy and Achiuwa carry high-risk, but they're dirt cheap, and would be in a pretty good spot against the Spurs.
As far as non-Heat guys go, the Kawhi Leonard news makes Luke Kennard and other Clippers viable.
I'd prioritize Kennard, simply because he can get hot as a scorer, and he's still very cheap.
There's also Shamet, who has a sizable role for a banged-up Brooklyn team.
I like him no matter what (as well as Bruce Brown and Joe Harris), but he'd become an absolute must in the event Kyrie Irving takes the night off after playing last night.
Elsewhere, keep an eye on Damian Lillard's status, as well as who ends up starting down low for a severely depleted Indiana squad.
Wednesday's Top NBA DFS Lineup
PG: Kendrick Nunn – Heat ($5.3k)
SG: Paul George – Clippers ($9.3k)
SF: Luke Kennard – Clippers ($3.7k)
PF: Andre Iguodala – Heat ($3.6k)
C: Precious Achiuwa – Heat ($3.4k)
G: Stephen Curry – Warriors ($10.5k)
F: Oshae Brissett – Pacers ($3.1k)
UTIL: Nikola Jokic – Nuggets ($11k)
It is incredibly early in the NBA DFS lineup building process, but as things stand, this is my favorite lineup.
Fading Joker or Curry right now just feels silly, and I'm not totally sure any other elites are for sure better than them.
I'll ride both of them into the ground, and with Leonard out, PG-13 could be a third stud, and that looks like a mighty fine core.
There is just so much value on this slate, and it'll only get crazier. Kennard makes sense as a nice sleeper with Leonard out, while all the Miami guys speak for themselves, provided the right guys remain out.
The key to all of this, though? Oshae Brissett.
As wild as it may seem, he could be what pieces this all together, as the Pacers will for sure be without Domantas Sabonis and Myles Turner, and possibly more.
Brissett played 25 minutes in his last game, so there could be major upside at this cheap price tag.
Perhaps other values will open, while PG-13 sitting, Jimmy Butler playing, or Curry/Joker resting could all mess this thing up.
That said, you know where my head is at going into Wednesday, and you can adjust from there.