Advice for NBA DFS on Tuesday, May 25 (2021)

After getting a tame two-game daily fantasy basketball slate yesterday, we are in business with three games on Tuesday night.
Not a big difference? Think again. That's extra studs, and perhaps a little more wiggle room when it comes to value.
If you're unsure how to approach Tuesday's slate, I've got your back with my favorite NBA DFS picks and top lineup.
Best NBA DFS Picks for May 25th
Luka Doncic, PG, Mavericks ($10.6k)
Devin Booker, SG, Suns ($8.1k)
Kawhi Leonard, SF, Clippers ($8.3k)
Kevin Durant, PF, Nets ($9.3k)
Deandre Ayton, C, Suns ($6.1k)
This is a great slate if you want to spread things out a bit. There are three studs priced up over $10k, but it's arguable you don't need any of them.
If you must pay for one, though, how is it not Luka Doncic? Doncic came out firing in game one against the Clippers and dropped an awesome 31-point triple double.
That equated to a stellar 71.5 fantasy points, and we have to remember that this dude fared well against L.A. during the playoffs last year, too. I'd expect the Clippers to put the clamps down a bit more tonight, but if I am chasing an elite, Doncic is it.
The rest of the way, the guys priced under $10k are just too appealing to ignore. Shooting guard has a bit more to look at than usual, but Booker is too cheap after sounding off in game one.
I am sure the Lakers will respond with a win in this game, but Booker is clearly motivated, and nobody is stopping him from scoring. Chris Paul (shoulder) isn't 100%, either, so Booker may be needed now more than ever.
Leonard is also way too cheap. L.A. fell to the Mavs in the first game of their series, but not really because of Kawhi, who put up 56 fantasy points.
He shot poorly, but the fact that he was approaching 60 fantasy points despite that fact is incredibly encouraging. PG-13 is also on the table here, but I very much prefer the more stable Leonard.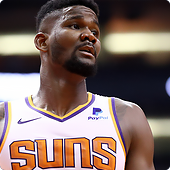 The Nets are loaded with star power these days, but the guy that feels too difficult to fade out of Brooklyn is KD. James Harden makes the offense go, but he went public recently and said he could not care less about his stats.
Durant is still the alpha on this roster, and he reminded us of that in game one against Boston, when he scored 32 points and snagged 12 rebounds.
He has one of the best floors on this slate, and when you factor in price, he is the top Net to target if you feel the need to get exposure there.
Ayton is also going to be a tough fade. He's completely mispriced for his role these days, as his size and scoring are needed down low against a big Lakers team.
He proved he was up for the challenge instantly in game one, putting up a big 21-point and 16-rebound double-double against the Lake Show. I do think the Lakers answer back in game two, but Ayton seems quite ready to do his part, and he's simply too cheap to ignore.
NBA DFS Sleepers for Tuesday
Rajon Rondo, PG, Clippers ($4.5k)
Kentavious Caldwell-Pope, SG, Lakers ($4.4k)
Joe Harris, SF, Nets ($4.8k)
Jae Crowder, PF, Suns ($4.3k)
Robert Williams, C, Celtics ($4.6k)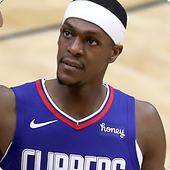 There is a decent amount of viable value on this three-game slate. It might start with Rondo, who got 24 minutes in game one against Dallas.
Given what Rondo can do in limited time (24 fantasy points in that game), that is enough to get me interested. Playoff Rondo is seemingly a thing, so in the off chance the Clippers lean on him even more, he could be one of the best NBA DFS values of the slate.
Some cheap guy on the Lakers is going to go off tonight, I can feel it. The Lakers are going to come in looking a little desperate after going down 1-0 in their series, and one of their rotation guys will answer the call.
KCP is very scoring dependent, but he can get hot from outside, and he will be on the floor for his defense. He logged 35 minutes last game, and he'll keep getting that burn. He just needs to hit his shots and he'll pan out.
Harris is also getting a lot of run. He played 37 minutes in game one against Boston, so it could just be a matter of time before he heats up from long range.
The downside of playing Harris normally is that he doesn't offer monster usage, but he gets open looks playing with three superstars. Even in a tough matchup, he is very interesting given the amount of minutes he's logging.
Crowder also stands out as a solid value. He's going to be needed for his defense and outside shooting, and he was on the court for 29 minutes in game one versus L.A. Expect more of the same, but after an atrocious shooting night, look for him to get back on track a bit.
Lastly, there's Time Lord.
Robert Williams broke the slate last time out, so he won't be sneaking up on anyone. I'd like him to see more than the 23 minutes he got in game one, but hey, this guy just blocked nine shots.
Robert Williams III set a @celtics #NBAPlayoffs record with 9 blocks tonight.

The last player to reach 9 blocks in an #NBAPlayoffs game was Andrew Bynum (10 blocks on April 29, 2012). @EliasSports pic.twitter.com/Gtg1tnPapb

— NBA.com/Stats (@nbastats) May 23, 2021
The odds are good that the Celtics play him as much as possible, as he may be their ticket to extending this series. For DFS, he's just way too cheap, and he offers considerable upside.
Tuesday's Top NBA DFS Lineup
PG: Rajon Rondo – Clippers ($4.5k)
SG: Devin Booker – Suns ($8.1k)
SF: Kawhi Leonard – Clippers ($8.3k)
PF: Jae Crowder – Suns ($4.3k)
C: Robert Williams – Celtics ($4.6k)
G: Evan Fournier – Celtics ($6k)
F: Kristaps Porzingis – Mavericks ($7.8k)
UTIL: Deandre Ayton – Suns ($6.1k)
This could easily come back to bite me, but I really like how things play out with a balanced roster.
Yes, you can pay up for Luka, Harden, LeBron, Brow – anyone up there in that range you love. But why pay up when there are so many potentially elite options at a far cheaper price?
Leonard could be a $10k guy, Booker is probably coming in at a discount, and Zinger can easily sound off.
Even Ayton is too cheap right now, while Williams is probably good chalk. Rondo and Jae are necessary values to piece this all together, while Fournier is just a math play.
Fournier logged 39 minutes in game one against Brooklyn, and this is an up-tempo environment with no Jaylen Brown. I love so many plays on this three-game slate, but instead of cramming in a high-priced stud, I'm just going to stack as many as I can get my hands on.
Porzingis is going to be completely overlooked. The presence of all these other studs should keep the ownership of Booker, Leonard, and Ayton under control, too.
If it is contrarian to keep it cool and balance things out, that's precisely the route I want to take on Tuesday.
Love the NBA, but not finding luck in daily fantasy basketball? Hopefully, my NBA DFS picks can help, but it's always possible you just need to find a different avenue to make money from the NBA.
Try your hand at betting on the games or player props. Just be sure to hit up the best NBA betting sites first.