Advice for NBA DFS on Tuesday, April 27 (2021)

The NBA cools down a bit on Tuesday, with just six games hitting the schedule. Despite the small stature of the slate, it's a star-studded one.
Giannis Antetokounmpo, Luka Doncic, Kevin Durant, and Stephen Curry are just some of the big names figuring to hit the hardwood.
If you want to bet on these guys and their games, get some advice and the latest odds at our sports betting picks page. For the DFS side of things, here's my take on Tuesday's NBA DFS picks, sleepers, and top lineup.
Best NBA DFS Picks for April 27th
Terry Rozier, PG, Hornets ($7.7k)
Kevin Porter Jr., SG, Rockets ($6.5k)
Luka Doncic, SF, Mavericks ($10.9k)
Kevin Durant, PF, Nets ($8.3k)
Giannis Antetokounmpo, C, Bucks ($10.7k)
I love Stephen Curry as much as anyone, but unless he scores 50+ real points, you can get away with fading him. Not only are there other studs I prefer, but I happen to love the value with Rozier at $7.7k.
Scary Terry has seen an increased workload with Gordon Hayward and LaMelo Ball on the shelf, and he's responded with 43+ fantasy points in five of his last seven outings.
In an up-temp date with the Bucks, Rozier feels like a terrific value that could crush his price tag.
KPJ is always in play due to his versatility, but the Houston offense is all his with John Wall recently ruled out for the remainder of the year.
John Wall will miss the rest of the season due to a hamstring injury, per @ShamsCharania pic.twitter.com/huzPvCXrG2

— Bleacher Report (@BleacherReport) April 26, 2021
Porter makes his return after an absence due to the league's health and safety protocols. He owns a sick 27.8% usage rate and averages 1.11 fantasy points per minute with Wall off the floor.
One of my favorite studs is Doncic. Provided he doesn't sit out after playing on Monday (he's dealing with a sore elbow), he looks like a solid stud to get behind in a fast-paced showdown with the Dubs.
Doncic is nearly averaging a triple-double over his last five outings, and he's put up over 57 fantasy points per contest in two previous clashes with Golden State.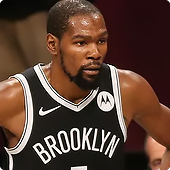 I'm definitely wary of Kevin Durant's playing time, but he looked great in his return from an injury in his last game.
Brooklyn needs their best players on the floor if they are going to hold onto the east's #1 seed, and after logging 28 minutes in his return, he looks like a safe play at this price.
Durant is worth a look as a building block at that price, but I won't fault you for bypassing him to pay up for probably the night's top stud – The Greek Freak.
Giannis Antetokounmpo has the best floor and ceiling of anyone on this slate and should enter the night as the best raw points play.
The Greek Freak has a nice matchup with the Hornets, who he smoked for 74 fantasy points in a previous meeting.
NBA DFS Sleepers for Tuesday
Armoni Brooks, PG, Rockets ($4.3k)
Kenrich Williams, SG, Thunder ($4.2k)
Edmond Sumner, SF, Pacers ($4k)
Oshae Brissett, PF, Pacers ($5k)
Khem Birch, C, Raptors ($4.7k)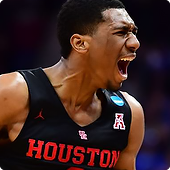 I don't know if Armani Brooks is actually any good, but the guy is getting serious run for a depleted Rockets team right now.
It's hard to ignore these minutes; 43, 30, 35. That's the damage over his last three, and while the production has been subpar, a date with Minnesota makes me forget all about it.
OKC is another team that has been dealing with injuries, and it's led to Kenrich Williams getting some spot starts and solid run.
If Lou Dort is still out, Williams looks like a solid value play again.
Indiana is an even better source of value right now. Edmond Sumner has to be mentioned after scoring 43 points over his last two games, but big man Oshae Brissett's play feels a bit more sustainable.
Had it not been for foul trouble, the latter may have crushed for the third game in a row. With Domantas Sabonis and Myles Turner expected to sit out yet again on Tuesday, both guys could be among the best NBA DFS sleepers on the night.
Birch closes things out, as Toronto will be without big man Chris Boucher. While not always the easiest to trust, Birch got 33 minutes in his last game and should start in a smash spot against Brooklyn.
Tuesday's Top NBA DFS Lineup
PG: Armoni Brooks – Rockets ($4.3k)
SG: Kevin Porter Jr. – Rockets ($6.5k)
SF: Kenrich Williams – Thunder ($4.2k)
PF: Oshae Brissett – Pacers ($5k)
C: Khem Birch – Raptors ($4.7k)
G: Terry Rozier – Hornets ($7.7k)
F: Giannis Antetokounmpo – Bucks ($10.7k)
UTIL: Jusuf Nurkic – Blazers ($6.8k)
You know the NBA DFS value plays I like, but you can pick and choose which ones you use, while news could dictate things a bit.
Brooks and KPJ feel like great cornerstones due to their roles, however, while Williams, Birch, and Brissett should be solid options if lineup news breaks just right.
The Greek Freak is where the fun starts, as he's probably going to carry the highest point projection on this slate. I may play the ownership game here, but he's going to be an awfully tough fade, and I like starting my NBA DFS lineups out with him.
Rozier is an elite play opposite of Giannis. He is capable of getting 50+ with his current role, and he's part of a game I expect will be a lot closer than the top NBA betting sites suggest (9-point spread).
Nurkic is good value despite a mild minute's limit, and he's really the only piece I'd budge on. Some of this lineup just depends on whatever news comes out, but as things stand, I like it quite a bit.
Love or hate my NBA DFS picks for Tuesday? Let me hear it in the comments below. Either way, thanks for stopping by, and I wish you luck. Enjoy the games!