Hide Bonus Offers
| | | | | |
| --- | --- | --- | --- | --- |
| #1 | Bovada Sports | 50% Up To $250 | Visit Site | Bovada Sports |
| #2 | BetUS | 125% Up To $2,500 | Visit Site | BetUS |
| #3 | MyBookie | 100% Up To $1,000 | Visit Site | MyBookie |
| #4 | Everygame | 100% Up To $500 | Visit Site | Everygame |
| #5 | BetOnline Sports | 60% Up To $1,000 | Visit Site | BetOnline Sports |
Advice for NBA DFS on Thursday, May 27 (2021)

Things get interesting when the 2021 NBA playoffs pick back up on Thursday night. Three more games hit the hardwood, with two games looking to break a 1-1 series tie, and the Heat hoping to avoid an 0-3 hole.
The Milwaukee Bucks blew Miami out in game two and can apply serious pressure with a big road win here. Elsewhere, the Suns hope to get the 2-1 edge on the defending champion Lakers, while the Nuggets and Blazers will nudge someone to a 2-1 series advantage.
If you think you know how those games will go, feel free to head over to the top sites for betting on the NBA. For the daily fantasy basketball side of things, check out my NBA DFS picks, sleepers, and top lineup for Thursday, May 27th.
Best NBA DFS Picks for May 27th
C.J. McCollum, PG, Blazers ($7.3k)
Devin Booker, SG, Suns ($8.1k)
Jimmy Butler, SF, Heat ($8.4k)
Michael Porter Jr., PF, Nuggets ($7.1k)
Deandre Ayton, C, Suns ($6.3k)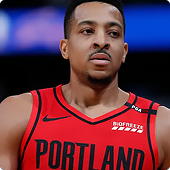 Playoff Dame has been alive and well so far in these 2021 NBA playoffs, but at some point, we need to see C.J. McCollum go off.
The way the pricing and options are laid out, I am not feeling super pressured to pay up on this slate, either.
That has me liking McCollum, who has yet to sniff his season scoring average. Despite that, he's safely cleared 30+ fantasy points in both playoff games so far. That big game is just around the corner, however, and he's just too cheap right now.
McCollum feels like a nice discount and a great leverage play away from Damian Lillard. Devin Booker is something similar. I doubt too many people feel great about rostering a banged up Cp3 these days, but it's clear Booker needs to carry Phoenix right now.
Booker has answered the call through two games, putting up 34 and 31 real points against a good Lakers defense. He can't stop in the face of a tense game three in L.A.
Jimmy Butler and the rest of the Heat were horrendous in a ghastly blowout in game two of their series with the Bucks, but we need a short memory in NBA DFS.
I loved Butler's price going into that game, and it hasn't budged much. The guy can go off as a scorer, and he has triple-double upside. In a huge game three at home, I am happy to go back to the well.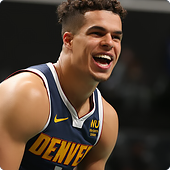 Ditto for MPJ, who felt way too cheap last time out, but failed largely due to Denver coasting in a win over Portland. Porter still logged 33 minutes and had 29.5 fantasy points, but he just wasn't needed as much.
I think he gets back to hise DFS-useful self in a big game three. He can light it up offensively, but he also cleans the glass well, and can tack on some steals and blocks.
The center spot belongs to Nikola Jokic, Giannis Antetokounmpo, and Anthony Davis, but it also is home to some insane value. I'll hear Jusuf Nurkic arguments, but Deandre Ayton is still way too cheap.
Phoenix is rightfully running him into the ground against a big Los Angeles lineup, and he's responded with 44 and 37 fantasy-point outings. He is too good of a price to get into the details. I am just going to play him.
NBA DFS Sleepers for Thursday
Goran Dragic, PG, Heat ($5.1k)
Donte DiVincenzo, SG, Bucks ($5k)
Jae Crowder, SF, Suns ($4.4k)
Robert Covington, PF, Blazers ($4.4k)
Brook Lopez, C, Bucks ($4.7k)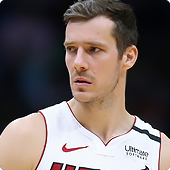 There isn't amazing value on this slate, which should surprise nobody. You can certainly go a bit cheaper than the NBA DFS sleepers listed above, but it comes with inherent risk.
These guys are all relatively safe plays despite their nice prices, and it starts with The Dragon.
Dragic comes off the bench, but he's going to push for 30 minutes in competitive games. He looks for his shot and can create for others, so you know he will be aggressive.
In a huge home game against the Bucks, Dragic should press harder than ever.
The Big Ragu is basically the same price as Dragic and he's on the other side of that same matchup. He has been absent as a scorer so far in this series, but he's an asset defensively, he rebounds well, and he can get some assists.
DiVincenzo is a do-it-all guy that can really pop at this price if he just hits some shots. He averaged over 10 points per game during the regular season, so if he can close in on those numbers, he should be a strong play.
Covey is all about minutes. He is getting heavy run, and we know he can get his hands in a lot of different categories. When you're logging 35+ minutes, eventually the shots will fall, and you will crush. That is the plan with Covey on Thursday.
Jae Crowder is not a guy I normally love using, but he's very similar to Covey. He can get hot from outside, and given the other things he does, when he catches fire, he can crush.
Crowder is one of the best value plays on this slate when you look at price and the fact that he will see 30 minutes each time out. If he can start hitting from long range, he's going to easily pan out.
I don't think I'll go this far down at center, but if you want a punt, Brook Lopez is probably your best bet at $4.7k.
Enes Kanter, Paul Millsap, and Bobby Portis all offer explosive upside if things break just right, but they all lack safety.
Lopez is going to get run in a close game, and he can explode from deep. He really hasn't done that in some time, but he should see plenty of minutes against Bam Adebayo, and he can also help a little on the boards and with blocks.
Thursday's Top NBA DFS Lineup
PG: C.J. McCollum – Blazers ($7.3k)
SG: Monte Morris – Nuggets ($4.2k)
SF: Jimmy Butler – Heat ($8.4k)
PF: Michael Porter Jr. – Nuggets ($7.1k)
C: Deandre Ayton – Suns ($6.3k)
G: Goran Dragic – Heat ($5.1k)
F: Robert Covington – Blazers ($4.4k)
UTIL: Jusuf Nurkic – Blazers ($6.8k)
I am Team Blazers, apparently. That was not intentional, but the guys I'm using are all just amazing prices. You can switch it up by paying for Dame or just going to the Denver side, if you want.
This lineup is studless, but here's the thing; guys aren't really going off quite as much with the intensity of the playoffs, and the value isn't as prevalent.
It makes more sense to have more balanced builds on these small slates. One bad play will crater your lineup, so minimizing those terrible plays is the name of the game.
That said, even appealing midrange guys can also fail. If you're not as high on someone like Butler, an easy change you can make is dropping to Crowder and going and getting Giannis or Jokic over Nurkic.
For me, Nurk can get me 50+. Ayton has proven he can get 40+, and the same can be said for Jimmy, MPJ, and McCollum. All those guys have solid floors and better than advertised ceilings.
You still would need to survive an epic outing from one of the elite options, but with no amazing values staring you in the face, it could still work in your favor.
Like usual, keep tabs on any news, and factor in player projections, as well as expected ownership. Be sure to track any line movement, as well.