Advice for NBA DFS on Monday, June 7 (2021)

In past year's (or just always), the NBA had been quite predictable in the playoffs. LeBron James doesn't lose. If a team goes up 2-0 in a series, it's over, and teams that lose major stars can't survive.
The Nets took game one of their series sans James Harden, while Denver survived two key injuries to punch their ticket into round two. King James finally fell, too, while Trae Young went into Philly and delivered the first blow.
Round two of the 2021 NBA playoffs is underway, and it has been anything but predictable. It still hasn't completely roared to life, of course, as Denver and Phoenix face off for the first time on Monday.
Utah and L.A. will follow suit on Tuesday.
All you can do is work with what's given to you, though. That happens to be a two-game slate on Monday, and I am here to provide some help with my NBA DFS picks, sleepers, and top lineup.
Best NBA DFS Picks for June 7th
Chris Paul, PG, Suns ($6.5k)
Monte Morris, SG, Nuggets ($5.4k)
Kevin Durant, SF, Nets ($10.3k)
Michael Porter Jr., PF, Nuggets ($7.1k)
Giannis Antetokounmpo, C, Bucks ($11k)
Kyrie Irving stands out as the top point guard, especially with James Harden already listed as out for game two against Milwaukee.
James Harden is OUT for Game 2 of Nets-Bucks due to right hamstring tightness.

— Shams Charania (@ShamsCharania) June 6, 2021
That could make Irving chalk, and he could easily smash. I have no issues with going there, but the Bucks will be hard-pressed to even up the series, and Irving could face Jrue Holiday all game.
That, plus the clear value with CP3 makes me want to go elsewhere. Yes, Paul was not great in the series with the Lakers, but he gets a softed matchup against Denver, and he also hasn't been needed in consecutive blowouts.
The last time the Suns had to lean on CP3, he responded with 41 fantasy points. He's a terrific price, and he's done well (45 fantasy points per contest) against the Nuggets this year, as well.
On the other side, I don't see how Monte Morris isn't among the top NBA DFS picks on this slate. Maybe he's not that dude from a pure raw projections' perspective, but he's getting loads of run, and he is flat out producing.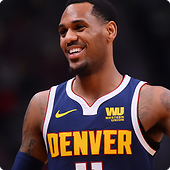 Morris is still too cheap for a guy who is straight up balling with 43+ fantasy points in two straight outings.
I will personally probably fade the chalky Nets, but KD is easily the top spend at small forward. He will be tasked with scoring more than usual sans James Harden, so the upside is obvious.
There should be some concern over the fact that Brooklyn wasn't quite as good without Harden at times, and also that the Bucks should come to play in this one. Durant is also a tad pricey when you compare him to superior studs like Giannis and Jokic.
That said, if you pay up for Durant, I don't think you'll be too disappointed.
KD can be used as your main PF, too, but MPJ takes the cake there. Phoenix will obviously exert most of their efforts trying to contain Nikola Jokic, so the ancillary pieces from Denver need to step up.
One guy is Morris, but Michael Porter Jr. will also be needed for his scoring. MPJ has a low floor, but he also can get hot. He rebounds well, and if he's aggressive, he can approach 50+ fantasy points.
Lastly, there's my favorite spend, The Greek Freak. Brooklyn edged out the Bucks in game one despite losing Harden, but even in a loss Giannis Antetokounmpo dropped 34 real points (57.75 fantasy points).
This is a fast-paced matchup he smashed in routinely this year, too, as few can forget this gem he delivered.
I still think the Nets win this series, but the Bucks should be more focused in this game. That should mean a determined Giannis, and I think that's a player you'll want to own on a two-game slate like this.
NBA DFS Sleepers for Monday
Mike James, PG, Nets ($3.3k)
Austin Rivers, SG, Nuggets ($4k)
Pat Connaughton, SF, Bucks ($3.5k)
Jae Crowder, PF, Suns ($5k)
Blake Griffin, C, Nets ($4.1k)
Now that we know Harden is out for game two, we can do two things; consider targeting Brooklyn's two studs, and/or use them for some savings.
One guy that stands out is Mike James, who logged 30 minutes in game one and generated 26 fantasy points. I'm not sure that type of production is a given here, but the Nets trust him.
At this price, he's just way too cheap to pass up. I am admittedly way less excited about NBA DFS sleepers like Austin Rivers and Pat Connaughton, but you also can't ignore them.
Connaughton is one of many Milwaukee guys that benefits from this up-tempo matchup, as well as the team being with Donte DiVincenzo.
Rivers, meanwhile, has a painfully low floor, but is also on the court relentlessly for his defense. He can do almost nothing when he's out there, but he's logged 40 and 47 minutes in his last two contests, and he's still cheap enough to potentially be worth the risk.
Jae Crowder is just a rock-solid value, and he's a classic 3-and-D guy that can rush if he's connecting from long range. His two 30+ fantasy point games against the Lakers unsurprisingly were the only two contests in that series where he scored in double figures.
I also don't hate Blake Griffin. I mean, before game one, I totally would have, but Griffin stepped up in a big way once Harden went down. He had his best game as a Net, putting up 18 points with 14 rebounds.
He fouled out, but the production was off the charts, and he also logged 35 minutes. Demanding a repeat is a bit much, but the role and upside are there, and he's still just $4.1k.
Monday's Top NBA DFS Lineup
PG: Chris Paul – Suns ($6.5k)
SG: Monte Morris – Nuggets ($5.4k)
SF: Mikal Bridges – Suns ($4.8k)
PF: Giannis Antetokounmpo – Bucks ($11k)
C: Blake Griffin – Nets ($4.1k)
G: Mike James – Nets ($3.3k)
F: Michael Porter Jr. – Nuggets ($7.1k)
Util: Jrue Holiday – Bucks ($7.8k)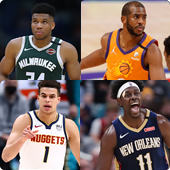 I am torn on how to build my daily fantasy lineups on Monday. There are two obvious studs, and then there are the Nets guys. Devin Booker is a tier lower, but he reminded us of all in his last game (47 real points) that he's also in play.
That said, my big dilemma is deciding whether to force two elite options in, or to just build around one. The low-level value is good enough to seriously entertain a full-blown stars and scrubs build, but that also might be the chalky path in GPPs.
I think just picking one stud is my preferred strategy, and with Jokic running into the toughest matchup on the board, Giannis feels like the easy call.
CP3, MPJ and Jrue all feel like rock solid midrange guys. They all should get 30+, and absolutely could get 40+ or maybe even 50+ in the right setting.
It is a two-game slate, so I'm not sure fading Morris makes sense, while Griffin and James just make too much sense. Mikal is a bit of a throw-in, while like I said, I will entertain forcing guys like Pat, Rivers, and others into my lineups.
Harden is out, so feel free to ignore me and just stack the Nets guys, or maybe even try to cram them in with Giannis. For now, I love this lineup, and will just build around Giannis and a nice three-pace of quality midrange options.
Looking to make money off the NBA in other ways outside of daily fantasy basketball? Look at what the best NBA betting apps have to offer.