Advice for NBA DFS on Monday, June 14 (2021)

The 2021 NBA playoffs rage on with another two-game slate on Monday. These little slates are starting to die out, of course, so fans of NBA DFS or basketball betting may want to take advantage of them while they still can.
For the latter, be sure to use the best sites for betting on the NBA. I have you covered when it comes to daily fantasy basketball, though.
Several players look viable on this slate, but which ones stand out the most? I will do my best to help with Monday's best NBA DFS picks, sleepers, and top lineup.
Best NBA DFS Picks for June 14th
Bogdan Bogdanovic, PG, Hawks ($6.4k)
Paul George, SG, Clippers ($8.6k)
Tobias Harris, SF, 76ers ($8.1k)
John Collins, PF, Hawks ($5.9k)
Joel Embiid, C, 76ers ($10.5k)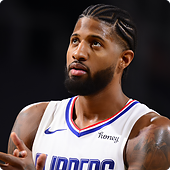 The 76ers can take full control over their series against the Hawks, but I expect some fight from Atlanta. If you agree, Trae Young should be on your radar, but I can't get away from the value associated with Bogdanovic.
Boggy didn't really get it done the last time I touted him, but the minutes and role are there for him to crush. Bogdanovic has logged 36+ minutes and scored in double figures in every game in this series. He just needs to blow up a bit and he's going to crush this price tag.
Kawhi Leonard is going ham to will the Clippers back from yet another 0-2 hole, but Paul George is the one I like for Monday.
To be fair, I like them both. You can pair them, in fact. However, PG-13 might be contrarian with Leonard and Joel Embiid both attracting eyes.
George is constantly slammed for not showing up in the playoffs, but he poured in 31 real points in his last outing. If he keeps that up, he's the better play based on price.
Leonard would be the easy call at SF, but Tobias Harris has an awesome price. I don't know if I'll lock in either of them given the value at forward on this slate, but Harris has wrecked (38+ fantasy points) in every game against Atlanta in this series.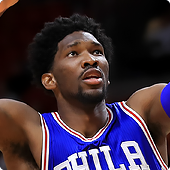 Speaking of Atlanta, it's hard to ignore John Collins at this price. You can also just drop down to Gallo for about $1,000 cheaper but pairing them isn't out of the question.
Consistency hasn't been Collins' bag, but he's still topped 20+ real points twice in this series. If he can put a complete game together, he will be an elite value.
Lastly, there's Joel Embiid, who again feels like the top stud to target. That obviously could make guys like Leonard and/or Trae Young pretty contrarian, but Embiid has smashed in this series.
He feels like an auto lock these days, and if you're fading on a tiny two-game slate, you're taking on some serious risk. In fact, the only reason you don't play Embiid is if you feel Clint Capela or Rudy Gobert can match him.
NBA DFS Sleepers for Monday
Reggie Jackson, PG, Clippers ($5.2k)
Seth Curry, SG, 76ers ($5.1k)
Joe Ingles, SF, Jazz ($5k)
Danilo Gallinari, PF, Hawks ($4.6k)
Ivica Zubac, C, Clippers ($3.7k)
There isn't a ton of value at guard on this slate, but you can play Reggie Jackson, Seth Curry and Joe Ingles all over the place.
Ingles may be the best option of the three, of course, provided Mike Conley continues to miss games.
All three of these guys are viable – and roughly the same price – but Ingles can fit in a bit easier with more positional versatility. He's also been on fire lately, connecting on nine of his last 15 outside shots.
I mentioned Gallinari earlier, and he feels like a lock for me. He's pretty explosive as a scorer, and he seems settled into a nice role with De'Andre Hunter out for the year.
Gallo has to hit his shots, but he's done exactly that (21 and 17 points) in his last two games. If you think he can stay hot, he's a tough fade at this palatable salary.
Zubac is really the lone true punt that stands out on this slate. He's always going to be risky due to erratic run, but we know he has a path to minutes with Serge Ibaka out for the year.
The question, of course, is which Zubac are you going to get? Is it the guy who stepped up in game one, or the one who barely played the last two games?
Monday's Top NBA DFS Lineup
PG: Reggie Jackson – Clippers ($5.2k)
SG: Seth Curry – 76ers ($5.1k)
SF: Joe Ingles – Jazz ($5k)
PF: Marcus Morris Sr. – Clippers ($4.3k)
C: Joel Embiid – 76ers ($10.5k)
G: Paul George – Clippers ($8.6k)
F: Danilo Gallinari – Hawks ($4.6k)
Util: Bogdan Bogdanovic – Hawks ($6.4k)
This slate hinges to what you think about Embiid. I think he's a must, but if you feel like pivoting to Leonard or just using Gobert or someone else at the five is the way to go, you may look at this differently.
Only a couple of guys on this slate can easily get 60+ fantasy points, though, and the guy who has the clearest path to that is Embiid.
I still might opt to play the ownership game if he is going to be crazy chalky, but it might make sense to just try to get different elsewhere.
That aside, the rest of this lineup wouldn't change much. The values all stand out, as Jackson, Curry, Morris, Ingles, and Gallo are all easy to rely on in this two-game setting.
I also love Boggy's value, and PG-13 is a discounted elite in a must-win situation.
Donovan Mitchell and Trae Young are interesting, but the latter has a tough matchup, and Mitchell is playing hurt now. Beyond all of this, check out player projections and expected ownership before making any final decisions.
Hopefully, my NBA DFS picks can at least nudge you in the right direction, though. Good luck and enjoy the games!