Advice for NBA DFS on Monday, April 19 (2021)

Monday gets things going in the NBA with a thick nine-game schedule. As if the sheer volume was not exciting enough for daily fantasy basketball fans, there are also a slew of good games to target.
You can profit from those games in the betting realm, too. Just start your process with my free NBA picks for Monday's slate.
For the fantasy side of things, I'll help you begin building your lineups with my breakdown of the top NBA DFS picks and sleepers for April 19th.
Best NBA DFS Picks for April 19
Russell Westbrook, PG, Wizards ($11k)
Jordan Clarkson, SG, Jazz ($6.4k)
Michael Porter Jr., SF, Nuggets ($7.7k)
Jayson Tatum, PF, Celtics ($10k)
Bam Adebayo, C, Heat ($8.1k)
Russ is the tried-and-true stud. He put up 56 fantasy points in his last outing, which lasted just 30 minutes. Had he played the entire game, and easily topped 60+ fantasy points for the fourth game in a row.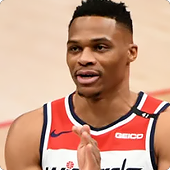 Westbrook has been a staple of my daily fantasy basketball picks, and I see no reason to shy away from him now.
There is a blowout risk against OKC, but it's also a terrific matchup, as well as a revenge spot.
You are likely choosing between Russ or Nikola Jokic on this slate, and I tentatively side with Westbrook.
Clarkson looks like a lock for cash games. His price went up, but that is after dropping 42 fantasy points in 46 minutes against the Lakers.
He's locked into a big role thanks to Donovan Mitchell's ankle injury.
MPJ has been shredding lately. He's only going to be doing more of the heavy lifting on offense with Jamal Murray done for the year, but the guy has scored at least 20 points in nine of his last 10 games.
That won't always translate into elite fantasy production, but he scores well and typically rebounds well, also.
With most gravitating toward Jokic – and avoiding Porter's spiking price tag – he's a contrarian play to build around.
Tatum feels like one of the better studs worth paying up for, provided things break his way. He did remind everyone of how much of a beast he can be, where he dropped 44 points in his last outing.
The role is massive right now, but Tatum could be asked to do even more, as both Jaylen Brown and Kemba Walker are iffy for Monday. If they're out, I don't see much of a way around Tatum in a smash spot against Chicago.
Bam Bam is also in that same conversation, and he's a threat to be busier than usual should Jimmy Butler sit out a second straight game.
Butler was out for Miami's last game, and Adebayo parlayed that into 49 fantasy points. In a tasty matchup with a bad Houston defense, he's a smash play at this price if Butler remains out.
NBA DFS Sleepers for Monday
Payton Pritchard, PG, Celtics (3.4k)
Facundo Campazzo, SG, Nuggets ($4.7k)
Furkan Korkmaz, SF, 76ers ($4.8k)
Andre Iguodala, PF, Heat ($3.2k)
Isaiah Stewart, C, Pistons ($5.2k)
I will also have my eye on Miami guys, should Jimmy Butler sit out. Miami did play yesterday, though, so it'll be interesting to see if any of their ancillary pieces (namely Goran Dragic) also get the night off.
Still, if Butler sits, Miami is going to be a major resource for DFS gamers.
I'll also single out Pritchard, who would potentially be thrust into a pretty big role if both Kemba Walker and Jaylen Brown are out.
Tatum would be the priority, and there's also Marcus Smart, but there would still be minutes to be had here.
Campazzo is a bit safer, as he's probably locked into 30+ minutes as Denver's starting point guard right now.
He already was looking at 20-25 minutes with Jamal Murray down for the count, but he's going to see even more time with Monte Morris banged up.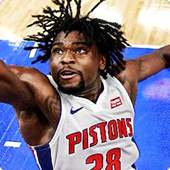 I already touched on potential Heat value plays, but I'll list Iggy here just because he's so cheap.
He'd also help fill in for Butler specifically at the three, and after playing 27 minutes on Sunday, he seems pretty viable at this price.
Kork also looks appealing, should both Tobias Harris and Seth Curry remain out.
Ideally, he's cheaper – and both of those guys probably need to sit – but he did sound off for 36 fantasy points in 38 minutes last time out.
Isaiah Stewart is the easiest play on the board. He's still way too cheap, as he smashed in just 24 minutes in his last outing and put up 50.75 the game before.
Mason Plumlee and Jerami Grant won't play on Monday, which should get you interested in plenty of Detroit players. Stewart tops the list, of course, as he offers double-double upside in a beatable matchup with the Cavs.
Monday's Top NBA DFS Lineup
PG: Russell Westbrook – Wizards ($11k)
SG: Facundo Campazzo – Nuggets ($4.7k)
SF: Furkan Korkmaz – 76ers ($4.8k)
PF: Andre Iguodala – Heat ($3.2k)
C: Isaiah Stewart – Pistons ($5.2k)
G: Kendrick Nunn – Heat ($4.3k)
F: Jayson Tatum – Celtics ($10k)
UTIL: Jordan Clarkson – Jazz ($6.4k)
This is my favorite NBA DFS lineup for Monday as things stand. There are nine games on this slate and a ton of pending information; not to mention random news we don't even know about yet.
I think you can start your builds with Russ or Jokic, and for now, I choose Westbrook. You could easily pair them with the value I'm already seeing, but if Tatum is going to be handed the biggest role he's seen all year, I don't mind paying to see what that looks like.
Campazzo, Korkmaz, Iggy, Stewart, and Nunn could all be looking at about 30 minutes (if not more) due to injuries. Campazzo and Stewart are my priorities in that group, but I think all look viable right now.
Clarkson is a bit of a priority for me with Mitchell sidelined, but Utah could stretch things out, which could give added value to a lot of their guys.
There are so many viable plays on this slate, and this lineup may not be the best rendition with the number of changes that can come before lock.
Hopefully, my NBA DFS picks, sleepers, and top lineup at least contribute to a winning process.
Should you be interested in taking your NBA fandom (and desire to win cash) to the next level, check out the best NBA mobile betting apps to place some bets.