Hide Bonus Offers
| | | | | |
| --- | --- | --- | --- | --- |
| #1 | Bovada Sports | 50% Up To $250 | Visit Site | Bovada Sports |
| #2 | BetUS | 125% Up To $2,500 | Visit Site | BetUS |
| #3 | MyBookie | 100% Up To $1,000 | Visit Site | MyBookie |
| #4 | Everygame | 100% Up To $500 | Visit Site | Everygame |
| #5 | BetOnline Sports | 60% Up To $1,000 | Visit Site | BetOnline Sports |
Advice for NBA DFS on Friday, May 7 (2021)

The stars come out to close out the week on Friday, with Giannis Antetokounmpo, Luka Doncic, and Nikola Jokic among the biggest names in action.
This could profile as a classic "stars and scrubs" build, which could put quite the onus on value. It may also be a decent slate to just pick a stack and attack an entire game.
Several games stand out, while some lopsided situations (Bucks vs. Rockets) could make it a little easier when picking among the elite options.
You can get your process started with Friday's NBA predictions, and then I'll do my best to dissect the night's best NBA DFS picks, sleepers, and top lineup.
Best NBA DFS Picks for May 7th
Delon Wright, PG, Kings ($6.8k)
Alex Caruso, SG, Lakers ($4k)
Luka Doncic, SF, Mavericks ($10.9k)
Marvin Bagley, PF, Kings ($5.9k)
Mo Bamba, C, Magic ($6.1k)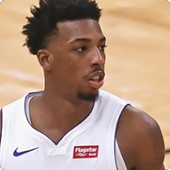 Tyrese Haliburton is done for the year and it is unclear if De'Aaron Fox will be back for this one, so all eyes will remain on Delon Wright.
Wright has been a godsend for the Kings, as he's gone off for 50+ fantasy points in two straight games. His price has come up, but based on his current role and production, it's not high enough.
Caruso stands out as a solid value, as LeBron James and Dennis Schroder are still on the shelf. He's not a high usage guy with major upside usually, but he's a rock-solid player being thrust into about 30 minutes of action.
In a plus matchup against the Blazers, Caruso looks like one of the better NBA DFS sleepers on this slate.
Doncic is one of the top spend ups on this slate, but more than anything, he's just my favorite SF option. I find myself gravitating more toward Jayson Tatum or Nikola Jokic, but if you're paying up at SF, Doncic is king.
Bagley is right up there with Wright as a core play. He's way too cheap now that he's playing 30+ minutes and crushing. He finally flashed his immense upside with a big 31-point outing in his last game.
Tonight, he gets a beatable Spurs team, and when you factor everything in, he's just too cheap.
Like I said, I do love Nikola Jokic, and he is probably my top center play among the elites, but how can I not write about Mo Bamba?
Both Wendell Carter Jr. and Chuma Okeke remain out, so he's a lock to start and get solid run. He has smashed in each of his last two games (53 and 46 fantasy points), and it's starting to look like Orlando has unleashed a stud.
The price is rising but he's still too cheap if his recent games are showcasing who he's going to be.
NBA DFS Sleepers for Friday
Armoni Brooks, PG, Rockets ($3.9k)
Terence Davis, SG, Kings ($4.8k)
Jalen McDaniels, SF, Hornets ($5.2k)
KJ Martin Jr., PF, Rockets ($4.7k)
Willie Cauley-Stein, C, Mavericks ($3.3k)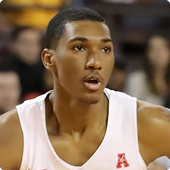 I'd keep an eye on that Rockets vs. Bucks game. Houston only has four healthy bodies and everyone else is on the injury report.
There is a distinct possibility this game ends up being cancelled due to this issue, but if Houston can field enough guys, they will undoubtedly be very shorthanded.
Kevin Porter Jr. and John Wall are already out, which instantly puts Armoni Brooks in your player pool. He's not all that good, but he's dirt cheap and could seriously push for 40 minutes if things break just right.
In his defense, Brooks did score 20 real points in his last game. He may be blowout-proof in an up-tempo game against the Bucks, too. Provided he's one of just 8-9 guys, I love him.
KJ Martin Jr. is in that same conversation and popped off for 50+ fantasy points in his last game. He's a better player than Brooks, but due to the circumstances, he really doesn't need some big sales pitch, regardless.
Terence Davis could be a nice pivot off Delon Wright, or he could be paired with him and Bagley. I'd just make sure De'Aaron Fox is still out.
Jalen McDaniels could be cheaper, and P.J. Washington is back, but Charlotte is still shorthanded enough for him to be viable. If he starts, I think he's a fine enough value to use if nothing else opens up.
Lastly, there's Trill, who played well against the Nets. If he gets the start at this price, he'll be hard to ignore. Just keep an eye on the Dallas starting lineup, as Rick Carlisle likes to throw us for a loop basically every time out.
Friday's Top NBA DFS Lineup
PG: Armoni Brooks – Rockets ($3.9k)
SG: Delon Wright – Kings ($6.8k)
SF: Luka Doncic – Mavericks ($10.9k)
PF: Marvin Bagley III – Kings ($5.9k)
C: Mo Bamba – Magic ($6.1k)
G: Alex Caruso – Lakers ($4k)
F: KJ Martin Jr. – Rockets ($4.7k)
UTIL: Kemba Walker – Celtics ($7.6k)
I think there is an obvious core here, and that's Wright, Bagley, Bamba, Caruso, Martin, and Brooks.
Provided the Houston game plays and most of their guys sit (and Fox is out), this just seems to be a "don't get cute" situation.
Beyond that core, I think you just need to track projections, and manipulate ownership a bit. This core is going to be owned for the most part, but where will the masses flock?
Are they all eating the Jayson Tatum chalk? Is everyone on Nikola Jokic? For now, I will pay for Doncic to be my stud, and use Kemba as a leverage play against Tatum.
I am totally open to changing that up, but this amounts to a 2v2 situation, where I love the main core, and I may just play around with those two spots.
One stud still feels necessary here, but due to the value at hand, that may be as bold as you need to get. Of course, as things change, keep your process fluid, and have an open mind.