Advice for NBA DFS on Friday, June 11 (2021)

The Denver Nuggets were accused of quitting in a game two blowout loss to the Phoenix Suns. On Friday, DFS gamers and sports bettors await their response.
That is one compelling storyline in a two-game NBA playoff slate, with the other being whether or not the Hawks can take a 2-1 series lead in Philly.
These narratives can mean nothing, but on short slates, predicting blowouts can be the difference between cashing and winning it all. Guys at the end of the bench that you'd never consider can get run, and/or would-be studs fail miserably.
I'll help you cover all the bases with Friday's NBA DFS picks, sleepers, and top lineup.
Best NBA DFS Picks for June 11th
Chris Paul, PG, Suns ($7.1k)
Bogdan Bogdanovic, SG, Hawks ($6.4k)
Michael Porter Jr., SF, Nuggets ($6.9k)
John Collins, PF, Hawks ($5.8k)
Joel Embiid, C, 76ers ($10.3k)
Point guard is simple for me. Trae Young is still palatable at $9.3k, but his price has elevated – and the matchup isn't ideal – to the point where he's not a must.
Ben Simmons ($7.7k) is in play, but CP3 is $600 cheaper, and is clearly feeling it right now. The dude is fresh off a sick 15-dime game.
With Paul dialed in, he's a great way to start off tonight's NBA DFS picks. He's just too cheap for the way he's playing, and nothing about his matchup with Denver is scary.
Unlike Trae, Boggy's price has come down. He is now way too cheap to ignore, especially at a weak shooting guard position.
There are some decent value plays at SG, but Bogdanovic may be my favorite play at the position. He routinely tops 30+ fantasy points, and Philly's defense is largely focused on slowing down Young.
Boggy has a clear path to 15+ shots, some rebounds, and some dimes. I think he can push for 40 fantasy points tonight and crush this salary.
Two other guys that are even better values are MPJ and John Collins. Both can have low floors, but they offer upside, and are just too cheap right now.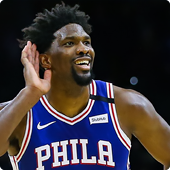 Nobody on the Nuggets played well in game two, but it's arguable they bounce back a bit after head coach Michael Malone publicly suggested they quit.
Porter can explode as a scorer, and Collins can get you a double-double. The former just needs to stay aggressive, and Collins needs to avoid foul trouble.
This slate is ultimately all about which star center you pay for. Nikola Jokic is in play, but Joel Embiid has been better so far, has similar upside, and has the softer matchup.
In a big game at home, I trust Embiid more. You can pair the two or just chase lower ownership, but in terms of raw points, Embiid stands out to me.
NBA DFS Sleepers for Friday
Monte Morris, PG, Nuggets ($5k)
Kevin Huerter, SG, Hawks ($4.7k)
Danny Green, SF, 76ers ($4.5k)
Danilo Gallinari, PF, Hawks ($4.8k)
Paul Millsap, C, Nuggets ($3.4k)
All bets are off when it comes to the Nuggets guard rotation right now. Monte Morris still feels like the most reliable play, but he, Austin Rivers, and Facundo Campazzo all have to contend with the return of Will Barton.
Welcome back, Will Barton ? pic.twitter.com/LYzyY3pFIK

— Bleacher Report (@BleacherReport) June 10, 2021
I don't trust Barton's role yet (18 minutes in return), so if you're looking for value here, Morris stands out. His shot hasn't fallen yet in this series with Phoenix, but it could in game three.
Atlanta is perhaps a better source of value, of course, and I'll just pair Kevin Huerter and Danilo Gallinari together here.
That's because forward De'Andre Hunter was ruled out for the remainder of the year recently.
Hunter usually pushes for 30+ minutes when healthy, but he's not available anymore. That cements a key role for Huerter, and it also could mean more run for Gallo off the bench.
I like both guys at their current price points, but recency bias may inflate Gallinari's ownership a bit.
Danny Green is a viable throw-in, while Matisse Thybulle isn't the worst punt out there. I also don't mind Seth Curry, although he's less of a sleeper, and a borderline core play in the eyes of many.
As for center punts, you can look to Paul Millsap. He's going to get about 12-15 minutes off the bench, but it's anyone's guess what he does with it.
I don't feel good about going that cheap at center, however. I think you're paying up once or twice at C, but punting the position feels too bold.
Friday's Top NBA DFS Lineup
PG: Chris Paul – Suns ($7.1k)
SG: Bogdan Bogdanovic – Hawks ($6.4k)
SF: Michael Porter Jr. – Nuggets ($6.9k)
PF: Jae Crowder – Suns ($5.1k)
C: Joel Embiid – 76ers ($10.3k)
G: Kevin Huerter – Hawks ($4.7k)
F: Danilo Gallinari – Hawks ($4.8k)
Util: Danny Green – 76ers ($4.5k)
I see no reason to fade both stud centers tonight. You can try to pair them, but after looking over the player pool, I think you just need to pick one stud to build around.
Joel Embiid may be the chalky play, but he feels like the right pick.
From there, I am just snagging value. There are cheap plays like Jae, Gallo, Danny, and Huerter that just make sense. Discounted options like CP3, MPJ, and Boggy are also tough to ignore.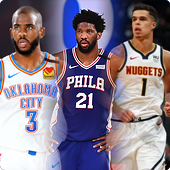 You can absolutely switch things up and pay for Trae, go get Devin Booker, or use the other Sixers guys (and/or Jokic) instead of Embiid. If this team is crazy chalky, I will personally adjust and tweak 1-2 guys here.
That said, my core right now is Joel, CP3, and MPJ. I don't think I'll be going away from any of those guys, and I'd likely just try to get different elsewhere.
Hopefully, these NBA DFS picks treat you well. Either way, these tiny slates can be hard to navigate.
If you think it might just be easier to use any of my insight to bet on these games, consider checking out the top NBA betting apps.