Advice for NBA DFS on Friday, April 23 (2021)

Friday is already laid out for us a bit. If it feels like Russell Westbrook and Stephen Curry are on every slate, you are not alone. But hey, at least we do not have to deal with Trae Young or James Harden.
The latter two won't be playing on Friday, and that not only simplifies things as far as who you need to pay up for, but it should open up some clear value plays.
Friday's seven-game slate is honestly straightforward, as other big names like Jonas Valanciunas, Gordon Hayward, and Kawhi Leonard are already out.
Others like Kevin Durant, Clint Capela, and Jaylen Brown need to be monitored.
This is still a slate where you'll need to track news up until lock, but I think things can get started off on the right foot. With that, let's dive right in with Friday's NBA DFS picks, sleepers, and top lineup.
Best NBA DFS Picks for April 23rd
Russell Westbrook, PG, Wizards ($11k)
Bogdan Bogdanovic, SG, Hawks ($7.8k)
Luke Kennard, SF, Clippers ($5.2k)
Jayson Tatum, PF, Celtics ($10k)
Nikola Jokic, C, Nuggets ($10.9k)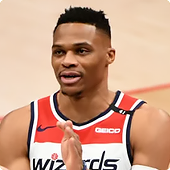 If it isn't broken, don't fix it. There are a lot of quality options to turn to on Friday, but why should we fade Westbrook?
The guy isn't even shooting well (28% over his last two games), and yet he's generated 59+ fantasy points both times out.
When his shot falls, all of the gaudy peripherals combine with his insane floor to make him the guy you just can't fade.
I'm fine with Curry, Irving, and so many others, but Russ just has one of the best floor/ceiling combinations this slate has to offer.
Can we pay $7.8k for Bogdan Bogdanovic and feel good about it? If we ignore the name and the DFS player he was in Sacramento, I don't see why not.
Boggy's ceiling hasn't been absurd, but he's been getting it done with 39+ fantasy points in five of his last six games. That has my interest, plus he's going to have a big workload on his hands with Trae Young taking the night off.
You can save a little more cash and use Luke Kennard at SG, or you can slide him to SF and pair them together.
Kennard has a clear path to minutes and production, and he just got done going ham with 28 points in a comeback against Memphis.
Leonard remains out, and Kennard could be in for a ton of run in a tasty matchup against the horrible Rockets.
Tatum isn't necessarily a priority for me due to the elevated price tag and a number of other viable studs on this slate, but he's still one of the better options out there.
Jaylen Brown is questionable after sitting out on Thursday, and Boston could always rest Kemba Walker after playing last night.
If both sit, Tatum would certainly be a difficult fade in an awesome matchup with the fast-paced Nets.
Jokic rounds out the top NBA DFS picks for Friday, as he's far and away the top center play.
No Jamal Murray puts further onus on his playmaking and scoring, and a date with the Warriors (61 fantasy points per game in two meetings with them) looks rather enticing.
The Joker can slay anyone, but if this game stays close, this feels like a night where he pushes for 80.
NBA DFS Sleepers for Friday
Brandon Goodwin, PG, Hawks ($3.4k)
Romeo Langford, SG, Celtics ($3k)
Kenrich Williams, SF, Thunder ($4.9k)
Davis Bertans, PF, Wizards ($4.3k)
Xavier Tillman, C, Grizzlies ($4.6k)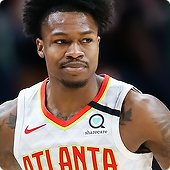 Trae Young being out could be massive for Goodwin, who did put up two straight 32+ fantasy point outings earlier this month.
The presence of Lou Williams and Boggy's enhanced role keep him from being as safe as I'd like, but at this price, I don't think we should care. Just make sure Goodwin gets the start.
I am here to tilt, and mildly suggest a play. That's none other than Romeo Langford, who I rostered last night once I saw he was starting in place of Jaylen Brown.
He was the same $3k price he is tonight, and he ended up getting 31 minutes. Smash play, right? Not so much, as he ended with just five fantasy points.
Yeah, that's the gross floor you're looking at here, but hey, if Brown (and perhaps Kemba, as well) sit out, we can look here. Payton Pritchard would also have some appeal, but the bare minimum price tag is hard to shrug off.
OKC has been a nice resource for NBA DFS sleepers all year, and on Friday you may be able to turn to them once again.
Kenrich Williams is one value play that stands out, as Lou Dort is questionable to suit up.
Williams has logged 28+ minutes with 28+ fantasy points in two straight games. Dort sitting out another game would make the versatile Williams one of the better value plays on the slate.
I'm not in love with a scoring dependent big man like Bertans, but I also can't ignore him given the fact that Deni Avdija is likely done for the year.
X-Rays on right ankle of Wizards rookie F Deni Avdija reveal a hairline fracture, source tells ESPN. MRI tomorrow. Season over, but no surgery expected to be needed.

— Adrian Wojnarowski (@wojespn) April 22, 2021
Bertans doesn't do much beyond score, but he can get hot from long range, and he's been solid lately with 27+ fantasy points in each of his last three contests.
Tillman caps things off for me as a nice, cheap center option. He's looking at a sizable role with JV still sidelined, and Jaren Jackson Jr. on a minutes cap.
I'd need him to start and JJJ to still be capped, but he figures to get plenty of work for as long as JV isn't out there.
Friday's Top NBA DFS Lineup
PG: Russell Westbrook – Wizards ($11k)
SG: Facundo Campazzo – Nuggets ($4.4k)
SF: Kenrich Williams – Thunder ($4.9k)
PF: Davis Bertans – Wizards ($4.3k)
C: Nikola Jokic – Nuggets ($10.9k)
G: Brandon Goodwin – Hawks ($3.4k)
F: Darius Bazley – Thunder ($6.4k)
UTIL: Xavier Tillman – Grizzlies ($4.6k)
It all starts up top with Russ and Jokic for me.
One of my daily fantasy basketball strategies is to find one or two studs I want to build around, ideally one that isn't very owned, and then see how the rest of the lineup fills in around them – not the reverse.
This way you're not putting too much of an onus on values, and you're not forcing it too much.
Russ and Jokic are easy to get to, so I'll absolutely consider pivoting to guys like Curry, Tatum, and/or Kyrie if I think they project well, and they're projected to be less owned.
From a raw points perspective, Russ and Jokic just stand out the most, and I think I should be able to differentiate plenty with my supporting cast.
Barring something crazy, values like Facundo, (no Jamal Murray or Monte Morris), Goodwin (no Trae), and Tillman (no JV) all look like "good chalk" that I don't mind eating.
Bertans is a likely lower-owned guy that I think could pop, and Bazley is on the other side of that game and has a massive role right now. Williams is part of that, too, and if Dort is out, both of these guys look really good to me.
I'd keep an eye on the Clippers to see how things play out with them, and like usual, monitor any incoming change in general.
Hopefully, Friday's NBA DFS picks serve you well. If you're game for taking your plight to profit from the NBA to another level, hit up the best NBA betting sites to bet on some of the games.