Adrian Peterson Rumors: 5 Realistic Destinations For the Former Vikings Running Back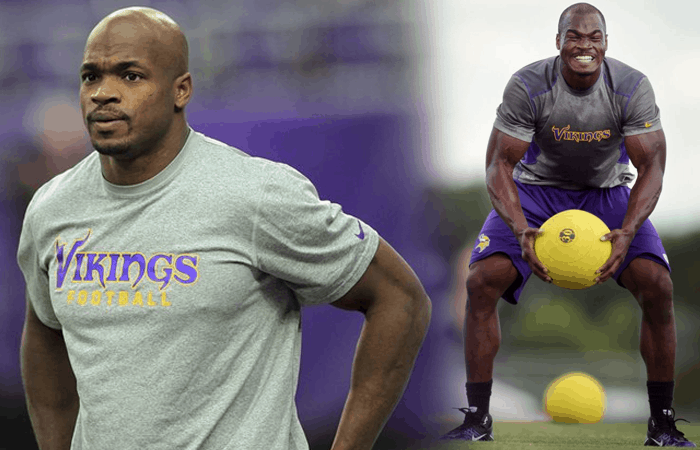 The Minnesota Vikings have officially moved on. The Oakland Raiders are taking a hard look at retired running back, Marshawn Lynch. Would-be options like the Houston Texans and Tampa Bay Buccaneers never made any sense.
Slowly but surely, aging star running back Adrian Peterson is running out of options if he wants to resume his NFL career.
Minnesota has gone public about moving on from Peterson. They just signed former Raiders running back Latavius Murray to a three-year deal. Oakland is probably replacing him with Beast Mode. And a report coming out of Green Bay suggests the Packers "mulled" bringing in Peterson for a visit, but it never even got that far because his asking price remains far too high:
Said on @SportsCenter two NFL sources believe Adrian Peterson is still free agent b/c initial price too high. GB mulled visit but passed

— Jeremy Fowler (@JFowlerESPN) March 24, 2017
That will happen when an NFL legend is 32 years old and coming off a lost season. Still, Peterson is seemingly marketing himself as a phenom in his prime, a legend that shouldn't be getting this much disrespect.
Sadly, Peterson seems to be confusing a lack of respect with a harsh reality: running backs aren't valued like they once were, offensive systems in general are demanding more versatility out of their rushers and 32 year old running backs who are showing steep signs of regression are rarely given the benefit of the doubt.
It's arguable Peterson should be, of course. Just two years ago he showed he was still a dominant force, and even a Peterson dropping down to 75% is probably better than most options in the league. But Peterson's injury vulnerability and effectiveness have dipped and he needs to realize that.
Perhaps that leads Peterson to sitting out a year. Maybe this marks the end of an amazing career. Who knows? Odds are, however, Peterson still wants to play. He wants to win a Super Bowl and there are records to be had. He's too great of a runner to go out like he did in 2016, either.
If all of that holds true, Peterson will at some point swallow his pride and take a smaller deal to latch on somewhere where he can prove he's still got it, while hopefully helping someone push for a Super Bowl run. Where could that be? Let's take a look at five truly realistic options for 2017:
Green Bay Packers
Why not start with the team that has most recently been connected to Peterson? Ted Thompson and co. bypassed a Peterson visit because of money, but what if the asking price comes down?
A discounted Peterson will be tempting to anyone, but the Packers should be especially interested. Not only did they lose Eddie Lacy to the Seahawks in free agency, but all they have at running back right now is a former wide receiver in Ty Montgomery and a guy they barely used last year in Christine Michael.
Needless to say, they're about where they were a year ago – if not worse off – and if they want to take the next step and move on to the Super Bowl, they'll either need to draft a new running back or bring in another free agent.
Heck, they probably should do both. Adding Peterson at a lower price certainly makes sense for both sides, as the Packers potentially upgrade a lethargic running game, while Peterson gets two revenge games versus the Vikings and a realistic shot at a Super Bowl run.
There is a lot to be said about Peterson's age, injuries, fumbles and inability to thrive out of the shotgun, but just imagine how good he and Aaron Rodgers could be with defenses having to respect them both? Peterson really only had that dynamic for one season back when Brett Favre was in Minnesota and he thrived that season. He's thrived pretty much every season, but you get the idea.
New York Giants
The Packers could be an option, but the G-Men also make sense for two reasons: they don't have a reliable answer right now in their offensive backfield and there have been ties between Peterson and the Giants.
New York has really struggled to formulate a reliable rushing attack for years behind Eli Manning. It was so bad last year that they finally cut the under-performing Rashad Jennings and seemingly are ready to hand the backfield touches to the unproven Paul Perkins.
Perkins flashed upside as a rookie, but New York is taking a gamble by making him the "clear-cut" top running back, with just an oft-injured Shane Vereen and Shaun Draughn behind him.
The good news is New York doesn't seem afraid to take chances and they realize their title window is slowly closing. The G-Men have admitted Eli Manning probably only has roughly three good years left and they even went out on a limb to upgrade their passing attack by bringing in veteran pass-catcher, Brandon Marshall.
Could they do the same at running back by signing Peterson to a cost-effective deal? Perhaps, and where's the risk here? Worst case, they give Perkins the job like they planned all along, and if it works out, Peterson returns to a dominant level of play and New York is suddenly one of the most dangerous teams in the league.
Oakland Raiders
The Raiders let Latavius Murray walk, which means one of three things: they are perfectly content with the running backs they currently have, they know they're signing someone and/or they are eyeing a rookie rusher heading into the 2017 NFL Draft.
I doubt the first one is true, but DeAndre Washington and Jalen Richard do both provide interesting upside. Their courtship with Marshawn Lynch has been pretty public, too, while several mock drafts have them eyeing someone like Christian McCaffrey as early as round one.
Maybe it all happens, or maybe what does or doesn't happen with Beast Mode answers this question. However, if Lynch doesn't land in Oakland, the Raiders are down a starting running back and forced to ask themselves what the best course of action is.
For a team that was 12-4 a year ago and is quickly heating up as a realistic Super Bowl threat, bolstering their offense with a proven commodity like Adrian Peterson may not be the worst idea.
Detroit Lions
If Green Bay won't bring in Peterson, perhaps the Lions will. It's true they may still have their guy in either Zach Zenner or Ameer Abdullah, but who could hold it against them if they didn't feel like waiting for those guys to develop into the rusher they need them to be?
They could allow both to continue developing while possibly competing at a higher level right now. Adding a hopefully healthy and effective Peterson could do that, as the Lions already displayed a healthy offense last year. With a more balanced offense they could take some pressure off of Matthew Stafford, as well as an often tired out defense.
Peterson would get his two cracks a year at the Vikings and with the Lions getting back to the playoffs just last year, perhaps he could be the piece that pushes them to their first ever Super Bowl appearance. It's not overly likely, but maybe Peterson would take honor in trying to accomplish the impossible, especially while doing so in the division of the franchise that spurned him.
New England Patriots
Last, but certainly not least, we can't write off the Patriots. New England just won the Super Bowl and judging by their insane moves so far this offseason, they're not embracing the idea of a Super Bowl hangover going into 2017. Because of that, most Super Bowl betting sites are already handing them the top odds to win it all again next year.
Peterson has to note that, while LeGarrette Blount potentially pricing himself out of town could open up a need for early down work in New England. The Pats have a slew of scat-back types to work with, but unless they keep Blount or draft someone else, there still need that early down rusher.
On top of all of that, Bill Belichick and co. love taking on reclamation projects. Peterson would certainly qualify, as he's coming off of a lost season and with nobody meeting his initial asking price, it was would be hilarious if the defending champs picked him up at a discount and he proceeded to crush the league out of sheer annoyance.
Where Will Adrian Peterson Play in 2017?
Out of these options, the two most likely scenarios reside in Green Bay and New England. Peterson is a risky pick up at this stage of his career. He has always had a few flaws to his game and it's not that crazy to wonder if he's totally toast after how he performed in three appearances in 2016.
Even so, Peterson also has quite the track record as one of the most explosive (and productive) rushers the league has ever seen. He's 32, but anytime you can get Peterson to play for you with a massive chip on his shoulder, well, I'd hate to be the rest of the league.
The only trick here is the price has to first come down. The Pats and Packers still need an early down rusher and their current backfields still have some question marks. Adding Peterson doesn't automatically fix them, but it certainly could. On the flip side, they do have options in place – as well as elite passing games – should Peterson's acquisition fail.
Ultimately, the Packers are probably the more interesting spot, simply because they're clearly at least somewhat interested and Peterson probably wouldn't mind staying in the NFC North. They remain a very close #2 option here, but if the price drops, why would Peterson go anywhere but New England? The role is there, the pedigree of winning is there, he'd get to play with Tom Brady and the shot at a title is probably greater than any other spot he could think of.
We've been liking Peterson to the Patriots for a while and although there isn't a clear connection between the two sides just yet, we wouldn't be shocked if one popped up in the not too distant future.