Adrian Peterson Rumors: 5 Landing Spots For the Vikings Star Running Back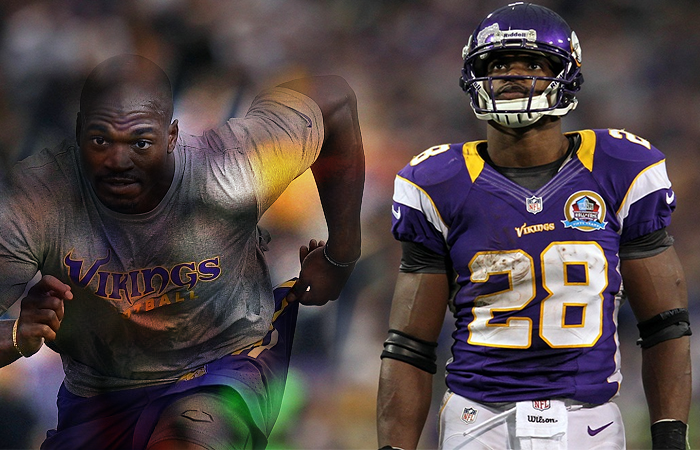 The Minnesota Vikings and star running back Adrian Peterson finally seem ready for a split. Vikings owner Mark Wilf admitted it could be tough to envision Peterson fitting into the team's plans in 2017 and that the process could require some "tough analysis".
In other words, after a terrible, injury-plagued 2016 run, the Vikings aren't so sure Adrian Peterson is the answer anymore, and they're even less sure they want to pay him to find out.
That's fair, too, as Peterson did not look to be in top form in 2016, when he ran for just 72 yards on 37 carries in three appearances. A meniscus injury robbed him of 13 starts and could have explained away his third and final poor performance, but Peterson wasn't getting it done even before injuring his knee in a game against the Green Bay Packers in week two.
On the year, Peterson failed to score, lost a fumble and averaged just 1.9 yards per carry. That is simply brutal production, even when you erase Peterson's injury and small sample size.
The question is very real:
Can Adrian Peterson be Adrian Peterson again in 2017?
It's understandable if the Vikings don't believe he can be. Peterson was not good in 2016 and will be 32 years old when the 2017 season rolls around. Most running backs experience serious drop-offs in play well before age 30 and Peterson will be one of the older running backs in the NFL.
It's also completely understandable if he Vikings just don't care. Paying for an aged and likely regressing Peterson doesn't make much fiscal sense. Peterson currently costs $11.75 million for the 2017 season, as well as an additional $6 million roster bonus due early in March.
Minnesota is a team that needs help at running back, but they may opt to move on from Peterson. Trading his bloated salary doesn't seem likely, so we're left to wonder where he could go once inevitably released. Here are five realistic options:
Dallas Cowboys
Adam Schefter recently pointed to the Dallas Cowboys as an option for a released Adrian Peterson. Peterson would have to suck it up and play as a backup behind Ezekiel Elliott in hopes of a title run in his home state, but we know he likes the idea to some degree and he and Jerry Jones have had past conversations about the possibility.
This would take some serious humility, of course. Adrian Peterson Cowboys rumors probably don't have any legs, based on the financials alone. Then you look at role and Peterson will have to admit he no longer has it and isn't worth another team's cash.
One of the best running backs in league history may find it difficult to admit that he won't be the difference-maker for his new team. If he can, however, he'd returned home and play for the Cowboys as he spells Zeke during a title run.
New York Giants
Back in January Peterson was asked where he'd consider playing in 2017 outside of Minnesota, and he gave the Texans, Giants and Buccaneers as his top options:
On ESPN, Peterson tabbed his hometown Texans, Bucs and Giants as teams he has interest in. Currently under contract for unrealistic $18M

— Andrew Krammer (@Andrew_Krammer) January 19, 2017
We're not seeing much wiggle room there. Tampa Bay just invested a ton of cash in Doug Martin and also has Charles Sims and Jacquizz Rodgers to lean on. Their interest is unknown, but it wouldn't be shocking to learn they'd take a hard pass.
Ditto for Houston, who could make waves in the PR department my bringing on such a big hometown product, but they just signed Lamar Miller last offseason. Miller was fantastic in a featured role, too, and Houston's running game (one of the best in the league in 2016) isn't their problem – quarterback is.
The only team on Adrian Peterson's wish list – at least as seen here – is the Giants. New York doesn't have a clear cut option at running back, as Rashad Jennings never stepped up in a featured role and Paul Perkins may be tough to trust as the main man.
Peterson would be an arguable upgrade over what the Giants currently have, so those Adrian Peterson Giants rumors don't feel so crazy. After all, New York's defense saw marked improvement in 2016 and their passing game has plenty of upside going into 2017. Their running game remains their truly suspect area and Peterson could still potentially rectify that.
New England Patriots
There are no direct ties here, but this could easily end up being the perfect spot for Adrian Peterson to wrap up his career. The Patriots are obviously a great place to chase a title, as they just got done winning Super Bowl 51 and have won two titles in the last three years.
The title dream would be alive and well here, but the needs also exists for New England. LeGarrette Blount enjoyed a monster season and could easily return, but he's an unrestricted free agent and could chase cash elsewhere. Even if he doesn't, the Pats could see Peterson as an upgrade and if the price is comparable, the choice might be easy.
Lastly, the Pats do this all the time. They're notorious for taking on reclamation projects and getting stars from bad teams to come chase a championship with them. Chris Long joined them for a title run this year, while in past years the Pats have added big names like Chad Johnson, Randy Moss, Corey Dillon and so many others.
Minnesota will move on from Peterson and as he sees his market dry up, he'll put winning ahead of money. That could ultimately find him playing behind Tom Brady in New England.
Baltimore Ravens
Another logical Adrian Peterson destination is Baltimore. The Ravens have been public about wanting to get a true feature back, as well as getting back to establishing their identity as a bruising, run-first offense.
They lost their way after the wheels fell off of Justin Forsett last year and really haven't had a consistently reliable presence in the offensive backfield ever since they cut ties with Ray Rice.
Peterson could be done and his asking price could be steep, but the Ravens need a legit starting running back and it's pretty arguable that they don't currently have one. Terrance West, Kenneth Dixon and Buck Allen are all solid, but to this point they've appeared to be more complementary than individually dominant.
Peterson may be aging, but he'd give the Ravens a better, more intimidating presence in the running game. If that worked out, Peterson could then chase a title with a Baltimore team that has the defense and quarterback to go back and win the big game again.
Oakland Raiders and Others
The Raiders proved they are a team on the rise last year, as they went 12-4 and for a second there had the AFC West title and #1 seed in the AFC within grasp. A Derek Carr leg injury ruined everything and led to a quick playoff exit, but this is a team to fear and adding Peterson could make them even better.
Latavius Murray has been fairly erratic during his time with the Raiders and with his scheduled free agency looming, it's possible the Raiders could opt to pay a veteran like Peterson a little less to come in and get the job done at a more consistent level.
Oakland arguably ties with a lot of interesting options, as several teams could be a steady running back from making a leap. The Colts and Seahawks come to mind, while the Lions and Packers could be fun NFC North options for Peterson.
Even the Atlanta Falcons can't be ruled out. Devonta Freeman is scheduled to hit free agency and will command major cash. With Tevin Coleman waiting to take over, the Falcons could use a two-back pairing of Coleman and Peterson and save loads of cash in the process.
Where Will Adrian Peterson Play in 2017?
Ultimately, it's likely Peterson is released by the Vikings at some point before this year's NFL Draft and from there, the possibilities feel endless.
Once that happens, our personal favorite landing spot is New England. The need is there, it's a winning environment and the Patriots are notorious for taking on fallen stars and squeezing one last bit of value out of them. If Peterson is smart and the Pats don't pay up to bring Blount back, that is the spot that makes the most sense, across the board.