Aaron Rodgers Contract Discussions – How Can the Packers Keep Him?

Things are going according to plan for the Green Bay Packers.
They signed franchise quarterback Aaron Rodgers to a massive extension, they've gone to two straight NFC title games, they drafted his successor, and now he's trying to force his way out of town.
Things are, in fact, going according to plan. Wait, what?
It sounds crazy, but the Packers probably planned on being here. They wanted Jordan Love to be their guy in 2022, and they expected an aging and regressing Rodgers to limp out of Green Bay following the 2021 season.
That's when his contract would become tradeable, and after Rodgers showed more signs of decline, that's when the public would fight the decision a little less.
The problem? Rodgers turned back the clock and unleashed an MVP campaign on the NFL, and gained himself some leverage.
Now reports are raging throughout the media that Rodgers is demanding a trade and hates GM Brian Gutekunst. Those things could be true, but I still believe A-Rod prefers to stay in town long-term, and there's still a clear path to make that happen.
Whether it's one or several things, here's a list of things that play into how the Packers can keep Aaron Rodgers.
Give Aaron Rodgers the Contract He Wants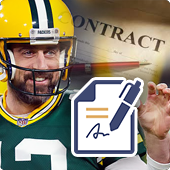 This isn't a money grab. Aaron Rodgers has loads of cash, both from past contracts, his current deal, and endorsements.
Rodgers would get more money if he forced the Packers into a new extension, but that's not really what he's after. He wants respect, and he wants commitment.
Former Packers fullback John Kuhn revealed this as a potential stance from Rodgers after speaking with him recently.
They're one and the same, really, as not committing to perhaps the most talented quarterback of all-time, and showing a lack of respect isn't showing commitment.
Green Bay already played their hand a bit prematurely by drafting Rodgers' successor (Jordan Love) before he was done. This, after Rodgers has repeatedly voiced his desire to both stay in Green Bay long-term and play into his 40s.
The money would be part of it (the guy did just win the NFL MVP, after all), but what Rodgers really wants is recognition for his play, and a public backing by the franchise.
Green Bay planned for the future a little early, and Rodgers wants to ensure he's the present and future until he decides to retire. If Green Bay can bend enough to make Rodgers feel "safe" in Titletown, I think the tension begins to die out.
Fire GM Brian Gutekunst
This might not be avoidable at this point, based on all of the wild rumors, and apparent hate between Rodgers and GM Brian Gutekunst.
I don't think Gutekunst did anything wrong by looking ahead to Green Bay's futute. He's the GM, and that's his job. He went out and got a prospect he liked, and everything else he's done for the roster suggests he's trying to balance winning now with sustaining a winning environment moving forward.
But he failed in communicating any of his plans with Rodgers, and he also hasn't been very forthright in a lot of other personnel decisions that supposedly haved rubbed Rodgers the wrong way.
It's gotten so bad that reports leaked such disdain for Gutekunst that Rodgers compared him to Bulls GM Jerry Krause.
Aaron Rodgers reportedly mocked Packers GM Brian Gutekunst in team group chats by calling him Jerry Krause, per @BobMcGinn ? @brgridiron pic.twitter.com/1CNS0Cw580

— Bleacher Report (@BleacherReport) May 5, 2021
Rodgers is referring to the revealing documentary The Last Dance, which featured the shocking dismantling of Michael Jordan's dynasty with the Bulls.
It's pretty arguable the situations aren't so dissimilar, as Rodgers may feel that Gutekunst is putting an expiration date on this current rendition of the Packers.
Considering how successful the team has been – and their clear aspirations in 2021 and beyond – Gutekunst may have dropped the ball here. The reach of Love, the lack of ambition with moves to acquire offensive weapons, and burning a bridge with his iconic quarterback could all equate to grounds for dismissal.
The rumors that Rodgers has put his foot in the ground with the classic "him or me" stance seem relatively unfounded. Beyond what Rodgers may or may not want, the quickest way to clean up this mess may be a changing of the guard in the front office.
Trade Jordan Love Away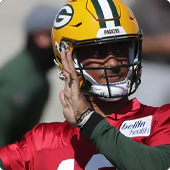 It's quite possible Aaron Rodgers wants a new deal and Gutey gone. Maybe he wouldn't be done there, and he'd prefer for Jordan Love to be traded away, as well.
Perhaps dealing Love alone would appease Rodgers. Either way, this is certainly a move that could be part of the solution in trying to keep Aaron Rodgers in Green Bay.
But why would the Packers do this? They traded up to acquire a kid they clearly were high on, they invested a first round pick in him, and Rodgers is pushing 38.
The objective for 2021 has to be to take advantage of the current roster and the position the Packers are in. Love doesn't help them this year, and it's possible he never does.
Nobody knows how good Jordan Love is right now, and most draft experts viewed this pick as a colossal mistake.
Colin Cowherd may have summed it up best.
"There have been more UFO sightings in the last 7 days than Jordan Love sightings in the last year".
It was regarded as a mistake based on Love's talent, the value of the pick, and the fact that Green Bay already had a legend in place that had no plans of walking away from the game.
Rodgers has doubled down on that stance. He wants to be here until at least 40, and perhaps longer. Provided his playing doesn't drop off, it isn't that crazy to consider him eyeing Tom Brady-type longevity.
If Aaron Rodgers can play at this level for even the next 4-5 years, what good would Jordan Love do wasting away on this roster? To appease Rodgers or not, it makes little sense to hang onto Love, so if Rodgers is convinced to stay, trading Love makes a lot of sense.
Go All-In to Win Super Bowl 56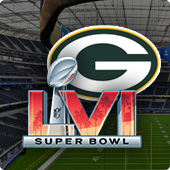 One could argue Green Bay has been doing that already, and they also happened to enjoy a pretty underrated draft.
But while the Packers returned basically all of the key starters from their NFC title game run of a year ago, they didn't go out and acquire outside help.
Rodgers has to see this, especially since Tom Brady left New England and got an even better backing with the Tampa Bay Buccaneers. The Bucs went above and beyond to accommodate Brady, and it led to a title.
If the Packers and Rodgers can't agree to a contract extension, and moving Gutey or Love isn't on the table, one last option could be committing to winning it all this year.
Rodgers could be dug into "meet my demands or I won't play", but Green Bay could level with him and say 2021 is it, and we can part our ways. The olive branch could be for the Packers to convince Rodgers to give it one last go by going out of their way to bring in some help.
Maybe that would mean they trade for someone like Julio Jones, and/or move money around to bring in some free agents.
Whatever the case, the Packers and Rodgers could agree to disagree here, and if Green Bay at least commits to doing everything they can to win in 2021, Rodgers could bend the knee and give it a go.
Will Aaron Rodgers Stay With the Packers?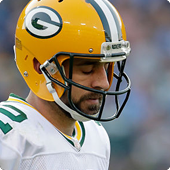 The big question is still if Aaron Rodgers will be a member of the Green Bay Packers in 2021. You can bet on that at the top NFL betting sites, and right now the odds still favor he stays in Wisconsin.
Ultimately, I do think Rodgers can still finish his career in the green and gold. It feels like an impossible goal as things stand, but Rodgers isn't demanding a trade – not really.
He's using the leverage he has to force his team to commit to him.
That brings us two questions; do the Packers want to fix this, and what will it take to actually mend the fences?
The options above – whether individually or collectively – are how Aaron Rodgers stays in Green Bay.
The desire to make it happen is presently fairly one-sided, but the head coach wants Rodgers, Green Bay is within striking distance of a Super Bowl, and the Packers don't even know what they have in Jordan Love.
If they're smart, the Packers will wiggle enough to let Rodgers "win" this battle, and they'll hold onto perhaps the best quarterback in the league.
Right now, the best path is to trade Jordan Love and to give Rodgers the deal he wants. Firing Gutekunst isn't necessary if the GM can admit his mistake, and undo it.
Of course, this all takes sacrifice and humility from an organization that has refused to break tradition in the past. That, and we need to believe Rodgers isn't so far gone that the options to keep Rodgers in Green Bay above are even feasible.