Aaron Jones and 9 Other Sleepers for Your 2018 Fantasy Football Draft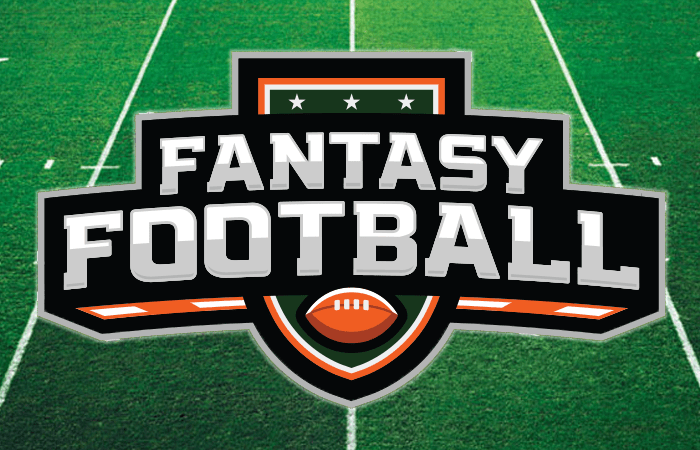 Every year, I find two things to be difficult for fantasy football league managers: defining what a fantasy sleeper is and actually being able to draft them.
It's one thing to just label a guy a sleeper. By definition, this is an under-the-radar option that is either being overlooked or passed over in drafts for some reason – usually lasting until the middle or late rounds.
If you think a guy that most people aren't rushing to draft could be special, he's technically a sleeper. Of course, I wouldn't say someone like Andrew Luck or Jordan Reed is a true sleeper.
They are elite late-round value picks. They are potentially massive steals. They could even be voted as the 2018 Comeback Player of the Year.
All of that is true, but a real fantasy sleeper typically hasn't fully broken out yet. They're off your draft's radar not just because of their low average draft position but because nobody really has reason to trust them.
I don't include rookies in the sleeper pool, either. First-year players haven't had the chance to live up to the hype or defy criticism. They are what you think they are until they prove to everyone that they're not.
What I'm interested in here is legit fantasy football sleepers that not everyone is getting excited about but absolutely should.
I'll also attach a value to my version of what a fantasy sleeper should be: nobody here is being taken before round 8 in fantasy drafts.
That ensures everyone has a chance to get these guys, and that risky or not, you're not really losing much in way of draft pick value by rolling the dice. They all have upside and represent elite value, though, and could potentially live up to that "true" sleeper label.
With that, let's take a look at some of my favorite sleepers for the 2018 fantasy football season.
Note: All ADP data is taken from FantasyFootballCalculator.com with a look at 12-team PPR leagues.
Patrick Mahomes, QB, Kansas City Chiefs (Round 11)
Mahomes is the worst-kept secret of the 2018 fantasy football draft season, but that doesn't mean people still aren't hesitant to confide in him as their QB1.
The Chiefs moved on from Alex Smith to make room for Mahomes, who hypothetically makes the Chiefs an interesting Super Bowl 53 flier bet (+2500 at SportsBetting.ag).
I personally am eyeing Andrew Luck and Philip Rivers a few rounds earlier, but waiting on Mahomes isn't a bad plan.
There are sure to be growing pains, but Mahomes is a good athlete with a huge arm, while he's also blessed with a great system and a litany of useful weapons.
Travis Kelce, Kareem Hunt, Tyreek Hill, and now Sammy Watkins headline an absolutely stacked passing attack, and while turnovers and inefficiency could be recurring issues, I can't buy Mahomes not putting up solid numbers.
Alex Smith rose to 5th overall amongst fantasy passers in 2017, so a higher-upside talent like Mahomes has to have that same potential. Even if he doesn't go quite that high, you could still be getting a top-10 fantasy quarterback for the price of a total spare.
If you want a deep fantasy quarterback sleeper, consider Chicago Bears quarterback Mitch Trubisky. He flashed brilliance as a rookie in 2017 but may be ready for a huge leap this year.
Trubisky is a fine athlete with dual-threat ability, but he's also got a nice supporting cast with Jordan Howard, Tarik Cohen, Allen Robinson, Trey Burton, and rookie Anthony Miller around him. A top-15 finish isn't out of the question.
Aaron Jones, RB, Green Bay Packers (Round 9)
One of my favorite running backs to draft this year is Aaron Jones. He really maximized his touches as a rookie in 2017, turning just 81 totes into 448 rushing yards (5.5 yards per carry!) and four scores.
Jones was not supposed to be this good, but he's suddenly Green Bay's most complete and most explosive rusher. Instead of soaring up draft boards, however, he's routinely the third Packers rusher selected in fantasy leagues.
Why? Because Green Bay seemingly still plans on feeding both Ty Montgomery and Jamaal Williams, while the impressive Jones also starts 2018 off with a two-game suspension:
Suspensions galore today. Two games for Packers RB Aaron Jones, league announces. Violation of the substance abuse policy.

— Mike Garafolo (@MikeGarafolo) July 3, 2018
That's a bummer, but here is the harsh reality: Williams is a plodder with a low ceiling, and Montgomery proved last year that he's at best a scat-back who can't handle a feature back's workload.
Once Jones is back, he could very well slide into a prominent role.
That's no guarantee, but fortunately, your risk is minimal here. Thanks to that two-game ban, nobody wants to touch this guy. You can snatch up Jones and one of his teammates and immediately own 66% of Green Bay's backfield touches.
Should Jones or the other guy you pluck off the board emerge as a fantasy stud, you will have invested mild equity in terms of draft picks and potentially nabbed a massive steal.
Chris Carson, RB, Seattle Seahawks (Round 9)
Another situation where it seems the fantasy football community has prematurely crowned someone is in Seattle.
I get that the Seahawks spent a first-round pick on Rashaad Penny, but so far, this running back competition is fairly wide open and may only be settled with preseason play.
I'm sure the Seahawks prefer their big investment to pan out early, but what if Penny struggles or gets hurt? Either could feasibly happen, and given Seattle's running game woes over the past couple of years, they wouldn't want to waste much time finding success on the ground.
That doesn't mean Carson would immediately turn into a stud, but the role could be there for the second-year back to eventually prove himself.
Seattle's coaching staff has hyped Carson up all summer, and after he tacked on mass to handle a bigger load, it's not crazy to think he snags the starting gig from Penny or at least pushes for a split.
Even as a handcuff to the inexperienced Penny, though, he feels like a solid steal to target in round nine or later.
Devontae Booker, RB, Denver Broncos (Round 11)
If you want even more value, consider ignoring rookie rusher Royce Freeman in the middle rounds and waiting on Devontae Booker come round 11.
Booker has thus far admittedly been a bust for the Broncos, but with just 79 carries a year ago, it's also pretty fair to say he hasn't gotten much of a chance to prove himself.
That changes this year, as C.J. Anderson fled for Carolina, and only Freeman really stands in Booker's way. The talent has always been there for Booker to figure things out, while a steadier hand under center (Case Keenum) could allow for bigger running lanes.
None of this guarantees Booker to be the stud Denver thought they were drafting out of Utah in 2016, but he's presently listed as the team's top running back:
Quick notes, Yiadom ahead of Langley, Chubb listed as starter at OLB. Booker first at RB followed by Freeman and Henderson. DaeSean Hamilton and Cracraft on WR depth chart ahead of McKenzie. #Denver7

— Troy Renck (@TroyRenck) August 7, 2018
When you look at the depth chart and his natural talent, Booker might be coming off of draft boards too late going into 2018.
Dont'a Foreman, RB, Houston Texans (Round 11)
One other running back sleeper I have my eye on is Houston's Foreman.
I know he's coming back from a devastating Achilles injury and may not be ready to start the season, but the upside is impossible to ignore.
At 22, Foreman is young and athletic enough to potentially overcome such a nasty injury, while the middling Lamar Miller may not be able to fend him off all year.
I actually prefer Foreman to sit out the first few weeks, as it could ensure he'll be returning at full strength. Even if he's only 75% of the player he showed he could be as a rookie, he is a very interesting stash pick late in drafts.
The Texans promise to run an explosive offense, and if Foreman can be part of that and completely healthy, he could be an incredible steal.
DeVante Parker, WR, Miami Dolphins (Round 9)
Shifting my focus to the wide receiver position, there is just a ridiculous amount of value later in fantasy football drafts in 2018.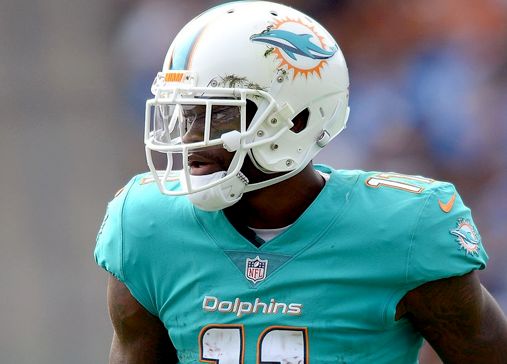 I think it starts with Parker for me, as he has been bursting with upside ever since Miami drafted him back in 2015. Obviously, he's been living off of his immense potential for the past three years, but he's flashed big play ability, nice athleticism, and elite ball skills during that time.
Parker endured the 2017 season with Jay Cutler with the rest of the Dolphins, while he's also dealt with nagging injuries for parts of his career. With Ryan Tannehill (torn ACL) finally back in the saddle, though, 2018 may be Parker's first real shot at meeting expectations.
The departure of Jarvis Landry (112 receptions in 2017) opens up a lot of targets, so Parker should not be wanting for a role.
Miami is counting on him to step up and produce, so in round nine, I think fantasy owners can roll the dice and bet on the combination of role/talent finally delivering.
Mike Williams, WR, Los Angeles Chargers (Round 11)
Another talented wide receiver I have my eye on this year is LA's Mike Williams.
The Clemson product boasts elite size and ball skills, and after spending the 7th overall pick on him a year ago, one has to think the Bolts will do all they can to actually, you know, use him.
That wasn't really possible in 2017, as Williams dealt with injuries and remained buried on a surprisingly deep Chargers depth chart.
I'm not sure that will be the case this season, as the Chargers lack size in the red zone and specifically are missing out on it with star tight end Hunter Henry being lost for the year with a torn ACL.
That didn't seem to hurt the Chargers' odds to win the AFC West, but it could easily force them to rethink how they operate within their passing game.
One way or another, the Chargers are going to need to put some size on the field, and Williams has too much talent and upside to ignore. I'm down for rolling the dice on him in round 11.
Geronimo Allison, WR, Green Bay Packers (Round 11)
There are other wide receiver sleepers to note, but the last one I'll touch on is Geronimo Allison.
To be fair, the Packers drafted three wide receivers this offseason, and undrafted product Jake Kumerow has also impressed the coaching staff.
The number-three gig still seems like it is Allison's to lose, though. He may be best remembered for fumbling away Green Bay's playoff chances last year, but he's actually turned into a solid receiver.
Blessed with nice size and an uncanny ability to get open, he's a quiet favorite of Aaron Rodgers, and everyone knows that if A-Rod likes you, you have a chance to succeed.
I won't be taking a shot on Allison in every single league, but any Packers players that could be featured offensively are worth a look.
Trey Burton, TE, Chicago Bears (Round 8)
If you're not drafting Rob Gronkowski or Travis Kelce early this year, it may make sense to wait at the tight end position. Elite late-round sleepers like Burton are one reason why that's a realistic option.
Burton has never been handed a full-time role, but he's flashed over the years with the Eagles and may be featured in Chicago's passing game in 2018.
I briefly touched on Mitch Trubisky possibly breaking out this year, and Burton and the rest of his supporting cast are a huge reason why. Burton is a solid athlete and proved last year (5 touchdowns in a small role) just how effective he can be.
Now with a feature role on a team that may end up having to throw the rock a good amount, Burton could be in for a massive breakout campaign. He's worth a roll of the dice in round 8 or later.
George Kittle, TE, San Francisco 49ers (Round 10)
There are actually a few tight end sleepers to consider waiting on in fantasy football drafts in 2018. Kittle is another one I have my eye on, as he already handed in a solid 43-515-2 line as a rookie.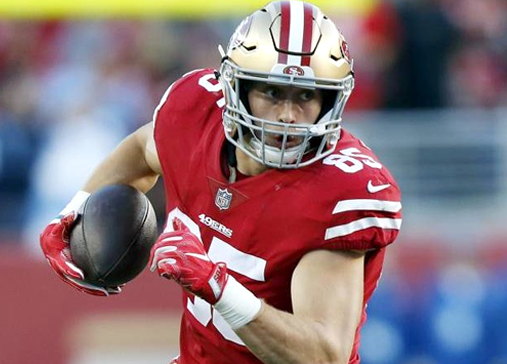 Those numbers don't jump out at you, but Kittle was a first-year player, and rookie tight ends tend to struggle to adapt, whether it be due to routes, defensive schemes, or blocking assignments.
Year two is a good time to try spotting tight ends ready to make a leap, and Kittle could potentially thrive in Kyle Shanahan's dynamic offensive system.
Tight ends haven't exactly gone nuts in Shanny's offense in the past, but Jimmy Garoppolo knows how to utilize the position, and the value here may be too good to ignore.
Summary
These are not the only fantasy football sleepers you should track or draft in 2018. However, they stand out due to their natural talent, role, upside, and ADP.
It is important to know which sleepers you like the most going into the latter stages of your draft, as you simply won't be able to get your hands on all of them.
Rank them as best you can and map out some type of fantasy draft strategy so that you can try to project things and appropriately adapt on the fly.
You're not going to get every single player you covet, but going in with a long list of players you feel really good about gives you ammunition to not just survive your draft, but to dominate it.