A Beginner's Guide to Getting Comped in the Casino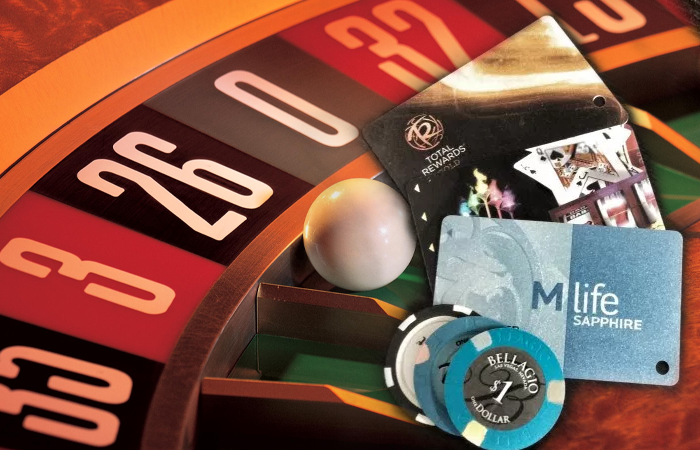 We all like to feel like high rollers when we go to the casino. However unless you actually are a high roller the casino can be pretty stingy with giving out comps. Today I will go over how the comp system works and what you can do to get casino to treat you like the VIP you think you are!
What is a Comp?
A complimentary, or comp as they are commonly referred to in the business, is what the casino gives a player in exchange for their play. It is their way of rewarding you for putting your hard earned money on the line, and oftentimes losing. This is one way the casino can entice players to keep coming back and trying to buck the odds!
What do Comps Look Like?
A comp can be anything from free slot play, table game play, dining credit, hotel stays, slot tournament entries, and even cash. Casinos are always coming up with new and inventive ways to comp players. As casino gambling has spread all around the world in the last decade the casinos now have to work that much harder to compete with each other for your business. This can create great value for a player like you!
Get a Player's Card
The first and most important thing you must do when trying to get comps is get a player's rewards card. Nowadays almost every casino has some form of formal player tracking card. You shouldn't do any gambling whatsoever before you get signed up for this card. You want to make sure that every penny you spend on property is tracked and you get full credit.
As the demand for a player's action has increased the casinos are now willing to give you credit for spending money almost anywhere on property. Buying a drink at the sport's bar? Show them your card and get credit. Buying a pack of gum at the gift shop? Show them your card and get credit. Going to go see the hot new headliner show? Show them your card and get credit. Even though these purchases might seem small and inconsequential at the time they all add up and we want credit for everything!
How the Player's Card Actually Works
For every transaction you have, whether it be gaming play or hospitality spend, you will gain credits. Each of these credits can be used later to redeem free things! The more credits you get the more comps you will be able to use.
Not every game is the same. The casino is smart, they aren't going to give you a lot of credit for playing games that they don't hold a significant edge. I will break down in simple terms how each game in the casino relates to comp credits.
Table Games
Tables games ratings are by far the most complicated algorithm for gaining rewards credits. Each casino has its own proprietary formula for comping players on table games, however several things are standard. The main things that the casino is going to look at for a table game rating is your average bet size, the length of your play, and what game you are playing.
Even today with all of the advanced casino technology this is still somewhat of a guessing game and you can take advantage of that. Make sure when you buy in at the table that the pit boss in charge of your area gets your rewards card right away. This may take a minute or two as they are usually pretty busy but we don't want to make any bets that aren't being tracked.
This next tip sounds like it shouldn't work but it actually does. The pit bosses in charge of tracking your play will periodically stop by your table to watch the game. This is when you should bet bigger amounts, and make sure that the pit boss notices it when you do. If you are a $25 a hand player, bump it up to $50 or $75 when the pit boss is watching. The only tracking system they have in place is the pit boss's eyes watching what you are betting, and by betting more when they are around you are going to get more credit for your spend. When the pit boss walks away we can drop the bet back down.
The games with the lower casino hold, the amount of money that the casino can mathematically expect to win from each bet, will comp less than the ones where the hold is higher. Blackjack, craps, and baccarat? Those are very small edge games for the casino so don't expect to get much credit betting on these types of games.
Carnival games on the other hand can have casino holds of up to 30% and the casino will gladly comp your brains out to play these games because they know they are going to win. Carnival games are defined as pretty much any other table game besides your standard games of blackjack, craps, roulette, and baccarat. 3 card poker, 4 card poker, Caribbean Stud, Let it Ride, these are all examples of popular carnival games. Generally a carnival game will feature large odds based payouts to distract you from the fact that the casinos hold can be outrageously high. That being said these games can be a lot of fun and you can hit it big and the casino will give you lots of rewards credits for playing them.
Specialty Gaming
Specialty games are usually any game that isn't a table game or a slot machine. Poker, sports betting, bingo, keno, and horse racing are all common specialty games. These are games that can be beaten, specifically poker, sports betting, and horse racing and the casino does not make much money off of them so don't expect many credits for playing these games.
Slots
Slots, the holy grail of casino comps. Slot machines are where most casino make the most of their money so it would make sense this is also where they comp the players the most for playing. That being said not every slot machine is going to offer the same comp value.
Penny machines that have giant HD screens and loud music playing? You are going to get a rewards credit for every $5 you cycle through these machines. This can add up very fast. Why does the casino comp so heavily on these type of games? Well for the same reason they comp you better on carnival games, it is really hard to win. These machines trade the chance of consistently winning money for being entertained by the machine. These machines can be very fun and offer great comp opportunities just make sure you don't spend too much time at them or you or going to be headed home broke!
Video poker is a much better value as far as casino hold is concerned. Many casinos offer video poker games that payout up to 99% of all the money they take in back, this can provide some great value for a player. For this reason, the casino wont comp you nearly as much for playing them. You can expect to get one reward credit for every $10 cycled through these machines.
The last type of machine we are going to talk about is the virtual craps, blackjack, or roulette tables. These games are basically exact copies of tables games except in a digital form with no dealer. These games offer the same low casino hold as their table game cousins, they also share the same low comp rate. Depending on the machine you could have to cycle $200 through the machine before getting a reward credit! These are not the best machines to play if you are looking for lots of comps!
Just ASK!
One of the best ways to get free things in a casino? Just ask! Be the squeaky wheel that gets a little extra grease. Ask the rewards center, ask to speak to the casino host on duty, ask the pit bosses in the pit you are playing in. All they can do is say no and if you ask nicely you might be shocked at what they will give you.
Always make sure when you first get to the casino to go to the players club booth. Many times the casino will be doing giveaways. Free slot pulls, free slot tournaments, coupon books, show tickets, match play for table games. Casinos are constantly running promotions and a lot of them just require you to sign up for the rewards card or many times just ask!
How to Use Your Comps
Most casinos will let you use your earned rewards credits for anything you want. Want to go to the fancy steakhouse for dinner to use your points? Fancy bottle service at the nightclub? You want free slot play so you can try and win your money back? The casino is usually fairly flexible with how you can use your points. And if they aren't being flexible we can go back to the just ask technique and speak to the rewards center or a host and they might be able to give you what you want.
Go Play!
Now that you know how to get a card, how all the ratings work, and what you can do with your points, there is only one thing left to do. Go play! Good luck!