Hide Bonus Offers
| | | | | |
| --- | --- | --- | --- | --- |
| #1 | Bovada Sports | 50% Up To $250 | Visit Site | Bovada Sports |
| #2 | BetUS | 125% Up To $2,500 | Visit Site | BetUS |
| #3 | MyBookie | 100% Up To $1,000 | Visit Site | MyBookie |
| #4 | Everygame | 100% Up To $500 | Visit Site | Everygame |
| #5 | BetOnline Sports | 60% Up To $1,000 | Visit Site | BetOnline Sports |
9 Tips to Win Big Betting on NHL Games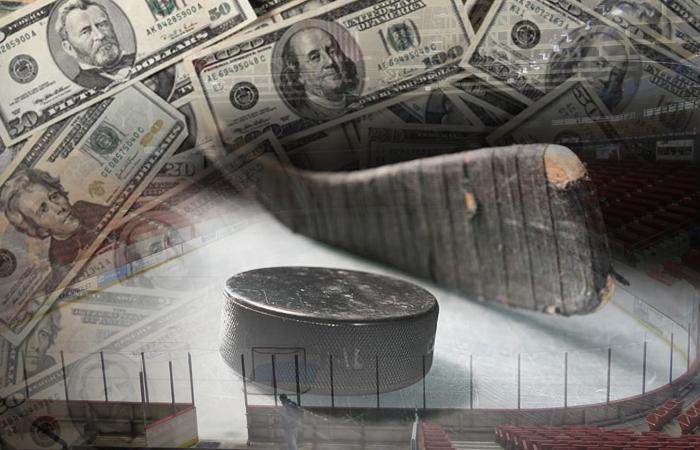 Even for the most seasoned gambler, betting on NHL hockey can be a different animal.
Unlike basketball and football, you don't have the luxury of betting point spreads at close to even odds. Instead, you're left with moneylines that can range from -300 to +250, similar to baseball.
At least in baseball, you have the -1.5/+1.5 run line that can turn a -150 favorite into a pick'em. Hockey's +1.5/-1.5 puck line is similar to the run line, but with so many games in the NHL decided by 1 goal, laying -1.5 with the favorite is risky and taking the underdog at +1.5 goals can still be pretty pricey.
Often times, puck line bets are decided in the final minute as the losing team pulls its goalie for an extra attacker, opening the door for the favorite to score an easy goal and win by 2.
That's just one of the things you have to take into consideration when betting on NHL hockey. Here are 9 other tips to help you win big betting on NHL games.
1. Do Live Betting
Once the puck drops, everything can change quickly. Live betting is a great way to capitalize when you notice a team isn't playing that well, a goaltender is struggling, a key player gets injured or the big favorite gives up an early goal.
On a busy night in the NHL, there can be as many as 14 games at once. That makes it virtually impossible for oddsmakers to post sharp live odds on every contest. Single out a game that you want to bet on, pay attention to what's going on, and pounce as soon as you think the live odds aren't quite what they should be.
2. Ride the Streaks
Like it is in any professional sport, confidence is a big factor in hockey.
When teams are on a long winning streak, nothing fazes them. They can go down a goal or two early in the game and never lose belief that they're going to come back to win.
When teams are in a losing skid, however, it feels like nothing will ever go their way again. Players will try to put the team on their back to turn things around, but that often makes things worse as they get away from their system that they need to play to be successful.
The 2016-17 season was a textbook example of how streaky the NHL can be. 4 different teams went on winning streaks of at least 10 games, including a 17-game run by the Columbus Blue Jackets. Even the Philadelphia Flyers, who missed the playoffs, won 10 straight games at one point.
You're much better off to ride the streaks than to try to be the smart guy who predicts when they'll end.
3. Pay Attention to Special Teams
With the decrease in scoring in the NHL over the past 25 years, special teams have become a huge factor in the outcome of games.
It's hard to generate much offense playing 5-on-5, so a power play is often a team's best chance to strike. A good power play converts around 25% of its opportunities, so it's not uncommon for a team to score 2 or even 3 goals with the man advantage in a single game.
Just like you want to back teams with strong power plays, you also want to look for teams with solid penalty killing units. Ideally, you want to back teams whose special teams are clicking, especially when they're facing teams that are struggling on the power play, penalty kill or both.
4. Look at Home / Road Records
Home ice can be a real advantage in the NHL for a variety of reasons. Coaches get to make the last line change after a whistle, allowing them to get the matchups they want on the ice, and players can benefit from being in familiar surroundings, having the support of the crowd, and even getting to sleep in their own bed.
But not all home ice advantages are equal. Some teams press a bit when playing at home, trying to please their fans a bit too much, and fare better on the road when they relax and stick to their system. Other teams don't have as supportive of a fan base, negating the advantage of having the crowd behind them.
Success at home or on the road can become a season-long trend, as can a lack of success in either situation. You can find each team's home and road records on pretty much any website that shows the NHL standings, and you need to be aware of them.
5. Explore Alternate Markets Like Period Betting and Team Totals
The moneyline, over/under and puck line get a lot of attention in NHL betting. Just make sure you don't forget about the alternate markets as well.
Alternate markets include team totals (similar to over/under, but just one team's total goals instead of both) and first period lines. Sometimes the odds on those types of bets won't be as sharp and you can cash in.
A great example from 2016-17 was the Pittsburgh Penguins. They were almost always a significant favorite when playing at home, and oddsmakers listed them as pretty big favorites on the first period lines as well. But the Pens were actually outscored in first periods at home throughout the entire season, opening up some great opportunities for anyone betting their opponents on the first period moneylines.
6. Limit Parlays and Heavy Favorites
There are no sure things in hockey. Just look at what happens in the Stanley Cup playoffs, when No. 8 seeds like the Predators can sweep the top-seeded Blackhawks in the first round and make a run all the way to the finals.
With so many games decided by 1 goal and the majority of games featuring 5 goals or less, there's not much separating even the best of teams from the worst. All it takes sometimes is a fluky bounce off a skate, a bad penalty or a shootout for the big underdog to pull off the upset.
It can be hard enough to win one game at a time. Betting lots of parlays is a quick way to the poor house in NHL betting. So is consistently laying the big prices with the heavy favorites. There will be times that favorites are worth the hefty price tag, but try not to make it a habit.
7. Be Aware of the Schedules
Intensity, motivation and focus play huge roles in a contact sport like hockey. Over a long 82-game season, there will be times when these intangibles will be at a low for teams, and there will also be times when teams are at their peak.
Teams playing their 4th road game in 6 days could be banged up and prime for the picking, especially against a rested team playing at home. Teams playing their final game of a long road trip might look past their opponent and be eager to get back home. Teams coming off a lopsided embarrassing loss will be motivated to redeem themselves in their next outing.
And while being the more rested squad in a matchup is generally a good thing, there can also be times when teams have had too much rest. We saw that in 2016-17 with the new "bye week", when the first 26 teams to take the mandated 5-day break were a combined 8-14-4 in their first games back from vacation.
8. Project the Goalie Matchups
Being aware of the schedules will also help you with this next point – projecting when backup goalies will be playing.
Most coaches don't like playing their regular goalie on back-to-back nights. So if the #1 guy plays the first night of a back-to-back, you can pretty safely assume that his backup will play net the following game. If you can make your bet before the backup is officially announced in goal, you can get better odds on your wager than after everyone knows the second-string net minder will be playing.
Also, make sure you're aware of the difference in caliber between a team's starting and backup goalie. If the backup isn't that much worse than the starter (Capitals backup Philipp Grubauer actually had a better goals-against average and save percentage than starter Braden Holtby in 2016-17), you'll probably get really good value betting on teams playing their backup goalie.
9. Line Shop
An underrated but important part of making money betting on any sport is to make sure you always get the best possible odds.
5Dimes is a great sportsbook to use for hockey betting because they offer reduced juice odds, meaning you'll usually get at least 5 extra cents of value on every bet you place before puck drop. Other books specialize more in live betting, giving you the most in-game betting selection and at the best prices.
Being a member at multiple sportsbooks enables you to get the best odds every time. You may not think getting -105 instead of -110 on an over/under bet is a big deal, but winning $5 more for every $100 bet can quickly add up. It can even be the difference between a profitable NHL betting season and a losing one.