Hide Bonus Offers
| | | | | |
| --- | --- | --- | --- | --- |
| #1 | Bovada Sports | 50% Up To $250 | Visit Site | Bovada Sports |
| #2 | BetUS | 125% Up To $2,500 | Visit Site | BetUS |
| #3 | MyBookie | 100% Up To $1,000 | Visit Site | MyBookie |
| #4 | Everygame | 100% Up To $500 | Visit Site | Everygame |
| #5 | BetOnline Sports | 60% Up To $1,000 | Visit Site | BetOnline Sports |
9 Biggest Myths Surrounding Casino Comps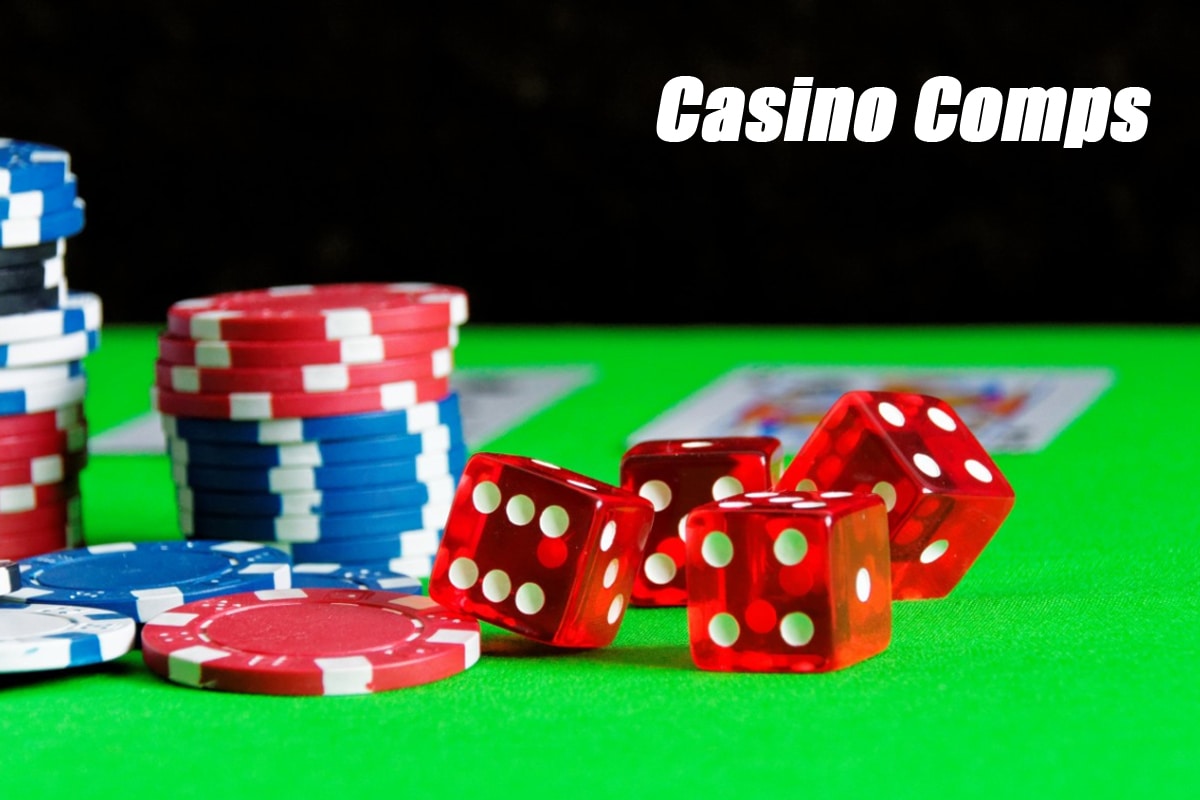 Most gamblers only have a vague understanding of how casinos award comps.
They know that playing longer and making larger bets will lead to more rewards.
What they don't know, however, is the exact methods used to determine their comps. This lack of knowledge has created a number of myths regarding how casinos dole out freebies.
It wouldn't be so bad if these misbeliefs were harmless and didn't cost gamblers money. The problem, though, is that many of these myths do cause players to lose more and/or not receive as many rewards.
You definitely don't want to fall into the trap of losing money in pursuit of freebies. Keep reading so that you know what myths to watch out for.
1 – It's Worth Playing Longer to Get Better Comps
The most damaging casino comp myth is that it's worth extending a session just to upgrade your rewards. Many gamblers continue playing longer than they originally planned just to get the next-best reward.
That might look something like this.
A player thinks that they've gambled long enough to get a free buffet pass
However, they believe that they'll receive a free hotel room if they keep playing
The gambler plays four more hours just to go for the hotel stay
Earning a great comp like a free steak dinner or hotel room is fine when done naturally, but it's never worth playing longer for rewards alone.
Casinos set up their VIP program to ensure that they still profit handsomely, even with comps included. Playing longer just to get a better deal won't benefit you in the long run.
Here's an example of why.
You're playing a slot machine
The game has a 6% house edge
You bet $2,000
2,000 x 0.06 = $120 in theoretical losses
The comp rate is 0.1%
2,000 x 0.001 = $2 in comps
120 / 2 = 60
Your theoretical losses are 60x greater than the rewards
It's far easier to just buy whatever you're aiming for than to win it through comps alone. This is especially the case if you're only getting rewarded $1 for every $60 in losses.
You're not guaranteed to lose $60 in this situation; in fact, you might even win profits with some luck. But it's still important to understand the reality of the situation.
2 – You Automatically Earn Comps for Playing
Many beginning gamblers are surprised when they play casino games and don't get any serious rewards. They may earn a free drink or two, but they're not approached by a casino host who wants to offer them meals and more.
The truth is that land-based casinos don't start offering any serious comps until one of two things happens.
You win lots of money, at which point the host approaches you about the comp program
You sign up for the player's club
The first point requires luck. The second point is the more feasible option, given that anybody can sign up.
All you need to do is visit a casino's website or go to their brick-and-mortar location to get started. You'll be a member of their rewards program once you complete the signup and are approved.
Doing so allows you to get a player's club card, which can be used at slot machines and table games. You can insert the card into a slot or video poker machine so that it tracks your comp points.
Getting table game rewards requires you to give the dealer your player's club card and ask to be rated. They'll then call over the pit boss so that they can begin monitoring your first few bets.
Online casinos are the one place where you can count on earning rewards automatically. Their software begins tracking your real money bets immediately.
But this isn't the same case with land-based casinos. You need to sign up for the comp program before picking up freebies.
3 – You Have to Be a High Roller to Get Anything Beyond Free Drinks
Many low-stakes gamblers are resigned to only getting free drinks through casino rewards programs. They may not even bother signing up for the player's card because they don't expect to receive anything good.
The truth, though, is that you don't need special high roller status just to begin benefiting from gambling rewards. You can instead get some nice deals just by continuing to play at the same establishment or casino chain.
Casinos want to reward you for loyalty, and they're willing to offer better comps when you do play a lot with them.
Many gambling operations — especially the big chains — discuss their rewards program on their website. I suggest checking out this information to see exactly what you stand to earn from a specific casino's program.
4 – Casinos Will Continue Feeding You Drinks While Playing
Las Vegas casinos set a standard where you could expect to receive plenty of free drinks while playing casino games. But Vegas is now setting a new trend where you truly must earn all of your free drinks.
Sin City casinos are experimenting with drink monitoring systems, where they track your slots and video poker play to determine when/if you deserve a drink.
This differs from the traditional method, where cocktail waitresses simply walk around casinos and look for gamblers. Anybody who's been faithfully spinning the reels receives a free drink every hour or so.
Unfortunately, American casinos started becoming tighter with comps following the recession of 2008. Drink monitoring systems are the culmination of this movement a decade later.
Now, cocktail waitresses don't always walk around gaming floors and look for drink-worthy players. They instead pull out casino-based tablets to check which slot/video poker machines have earned their beverage.
5 – Casinos Hand Free Buffet Passes Out Like Candy
Another thing that Las Vegas did was create the impression that free buffet passes are the norm. I remember thinking on my first visit in 2008 that I'd be eating all sorts of free buffet food.
The reality is that buffet passes are getting rarer and rarer. Sure, you can still get into all-you-can-eat places for free under certain circumstances.
Don't, however, believe the notion that you'll be chowing down immediately after playing blackjack for two hours. Vegas and other gambling locations are stingier with everything these days, including buffets.
Your best bet for free food is to Google whatever casino destination you're interested in along with the term "free buffet." Doing so will bring up coupon offers that you can use to get a free pass, or at least 25% to 75% off at certain casinos.
6 – It's Worth Playing Games With a Higher House Edge for the Comps
Gambling establishments factor in games' house edges when determining comps. After all, a player who's facing a larger house advantage will likely lose more money.
Some players take this to mean that they should purposely brave a higher house edge just to get better rewards. This leads to doing everything from playing Big Six (11.11% house edge or higher) to making risky craps prop bets (up to 16.67% house advantage).
Butting heads with a higher casino edge doesn't work out well in your favor, no matter how great the comps. Check out the example below.
You're playing Big Six
The house edge is 11.11%
You bet $1,000
1,000 x 0.1111 = $111.10 in theoretical losses
Casino offers a 0.5% comp rate
1,000 x 0.005 = $5 in comps
1 / 5 = 22.2
Your theoretical losses are 22.2x greater than the rewards
Even with a better rate for playing a tougher game, the comps don't come anywhere close to meeting theoretical losses. Never play games with a higher house edge just to pick up more freebies.
7 – You Can Easily Fool the Pit Boss
Fooling the pit boss is one of the most famous methods of earning additional comps. Given that the pit boss normally only watches your first few bets, you can potentially trick them by making larger wagers right away.
The idea is to sell that you'll be betting more throughout the session than you really are. Once the pit boss leaves, you can then switch to lower stakes.
Here's an example of how this can improve your rewards.
You're playing baccarat
The comp rate is 0.05%
The table is seeing 100 hands per hour
You normally make $10 bets
100 x 10 x 0.0005 = $0.50 in comps
You raise your bet to $100 when the pit boss is watching
They think that you're a $100 player
1,000 x 100 x 0.0005 = $5 in comps
You can see that fooling the pit boss is worth it in this example, considering that you're receiving 10x the rewards. But don't assume that it's so easy to pull one over on them.
They could come back around when you're not expecting it and see you wagering a lower amount. This gives them grounds to change your rating. The dealer could also tell on you, especially if they're not satisfied with their tips.
Of course, it's still worth trying to fool the pit boss, especially if you're intrigued by the prospect of more rewards. Just don't expect it to work every time.
8 – Slot Machines Pay Less When You Use a Player's Card
Some slots and video poker players avoid using their player's club card out of fear that games will pay lower. Their thought process is that casinos program machines to pay lower to counteract the comps.
This myth is grounded in a lack of understanding of how slot and video poker machines work. These gamblers think that casinos change return to player (RTP) whenever they feel like it, such as when a player is earning rewards.
This misbelief is also based on the assumption that casinos have to recoup the money they're losing through rewards. But as I've covered in multiple examples, they don't need to compensate for the freebies.
Your theoretical losses will be much higher than any rewards you receive. A gambling establishment doesn't need to worry when they're winning $50 off the average player for every $1 in comps they give.
Casinos thoroughly understand the math on rewards and theoretical losses. They treat their VIP program as an expense that's already factored in and don't need to change RTP to win more off players.
9 – Using a Player's Club Card Means the Casino Reports Your Big Wins to the IRS
Another reason why some video poker and slots players refuse to use their club card includes taxation purposes. Some players believe that the casino will track their play and report any winnings to the IRS.
A player's club, however, has nothing to do with whether a gambling venue does or doesn't report your winnings. The size of your win determines whether they file tax paperwork.
Here are the federal minimums on when casinos must report your gambling wins.
$600 payout at a horse track
$1,200 payout on a slot machine
$1,500 payout in keno
$5,000 payout in a poker tournament
Failing to use your player's club card just because you don't want to report gambling wins just makes you lose out on rewards.
A casino, horse track, or poker room is going to report your winnings anyway if they're of a certain amount. Therefore, you might as well take advantage of VIP rewards on top of things.
Conclusion
Believing in casino comp myths can cause a variety of problems, from blowing your bankroll to missing out on freebies. Luckily, you can avoid these problems simply by understanding these misbeliefs.
One universal rule is that theoretical losses are always higher than comps. Therefore, you shouldn't play longer just to accumulate bigger rewards.
Also take this rule to heart when considering games' house edges. Playing casino games with higher house advantages just for more freebies is a bad idea.
Of course, this isn't to say that comps aren't worth the effort. You can still collect a good deal of rewards on the side of your play.
It's always worth signing up for a player's club card if you frequent a certain casino. It's also wise to visit a casino's website to see what offers you can look forward to.
Another point to remember is that player's cards have nothing to do with whether your jackpots are reported to the IRS. Casinos will do this regardless if you win a certain amount.
In summary, comps can enhance your gambling experience and see you accumulate plenty of perks. Just keep these myths in mind, though, so that you avoid overvaluing or missing out on casino rewards.