Hide Bonus Offers
| | | | | |
| --- | --- | --- | --- | --- |
| #1 | Bovada Sports | 50% Up To $250 | Visit Site | Bovada Sports |
| #2 | BetUS | 125% Up To $2,500 | Visit Site | BetUS |
| #3 | MyBookie | 100% Up To $1,000 | Visit Site | MyBookie |
| #4 | Everygame | 100% Up To $500 | Visit Site | Everygame |
| #5 | BetOnline Sports | 60% Up To $1,000 | Visit Site | BetOnline Sports |
8 Times the Super Bowl MVP Should Have Come From the Losing Team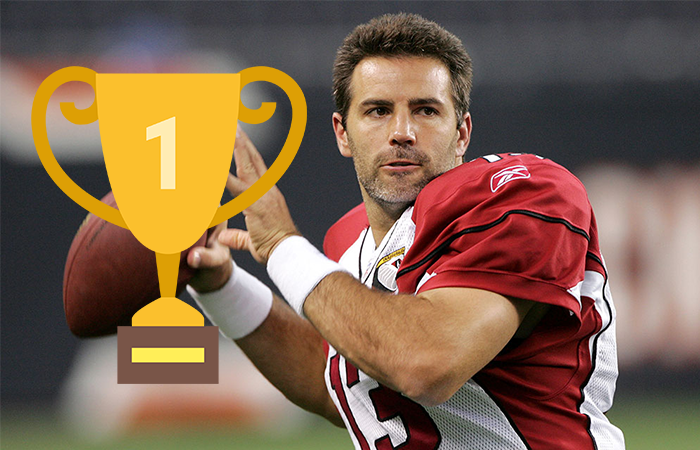 There are few NFL honors grander than Super Bowl MVP. In less than a week we'll learn who our next Super Bowl MVP will be and regardless of the path that gets us to the award, we will probably be witnessing history.
Tom Brady could vie for his fifth Super Bowl title and if the Patriots win, that would make him the most winningest quarterback in title game history and a near-lock to take home his NFL-record fourth Super Bowl MVP.
If New England doesn't win, we could see history on the other side, with the Atlanta Falcons taking home their first league title and possibly handing the Super Bowl 51 MVP trophy to Matt Ryan.
Brady and Ryan lead the way currently when it comes to the latest Super Bowl MVP odds, so it'd only make sense that one or the other would win. While that's what the odds and common sense suggest, it's fair to wonder, depending on how the game goes, if someone else could end up being more deserving.
A run through Super Bowl history certainly tells us that we haven't always gotten the Super Bowl MVP we deserved and with just one Super Bowl MVP coming from the losing side in league history, it's fair to wonder how many other deserving candidates have been left out.
With that in mind, let's leave no worthy Super Bowl MVP candidate behind as we break down the top-8 Super Bowl MVP's that could have come from the losing side:
Roger Staubach, QB, Dallas Cowboys – Super Bowl XIII
This one starts off our list of Super Bowl MVPs that should have come from the losing team, but it probably borders more on could. Terry Bradshaw dominated this game (4 touchdowns and 318 passing yards) and there really is no way to fault him winning the award.
However, Staubach was arguably just as good, as he put up 228 passing yards and three touchdowns of his own in a crazy 35-31 shootout. Dallas was losing for most of the game, but Staubach led them on a chaotic rally that got them to within four points with just seconds to go. Had that comeback been fulfilled, Staubach would have easily won MVP honors.
Again, Bradshaw ended with better numbers and his team won, but this was probably the first great example of how the Super Bowl MVP probably shouldn't be voted strictly to the winning side.
Ken Anderson, QB/Dan Ross, TE, Cincinnati Bengals – Super Bowl XVI
We understand if you're not sold on Staubach over Bradshaw, but it's entirely arguable that a Bengals player should have been named Super Bowl MVP back in 1982, even though they lost to the 49ers.
San Francisco only won 26-21, yet Joe Montana earned his first ever Super Bowl MVP award behind a pretty modest performance (just 157 passing yards, 2 total scores). Montana was very efficient and helped the Niners win, but Cincinnati had more impressive numbers offensively and rallied to cut the lead to five late in the game.
Two performances stand out here, as Bengals quarterback Ken Anderson gave a heroic effort in defeat, putting up 300 yards and two scores through the air, as well as an additional touchdown on the ground. He did toss two costly interceptions and his team lost, but he had amazing numbers and was extremely deserving of the award
Right there with him was star tight end Dan Ross, who ripped off 104 yards and two scores off of 11 catches. This still stands as the best performance by a tight end in the Super Bowl and one of the best pass-catching Super Bowl efforts – period. The Bengals had to rally for two late scores just to make this game interesting, but their numbers were MVP worthy despite the loss.
Brett Favre, QB/Antonio Freeman, WR, Green Bay Packers – Super Bowl XXXII
We admit the voters got it right with Terrell Davis in Super Bowl XXXII (three touchdowns, 157 rushing yards), but in what many call the best Super Bowl ever played (Broncos won a shootout, 31-24), this could have gone either way.
Favre and the Packers struck first and really had their way with a good Denver defense for most of the game, with the young gunslinger piling up 256 passing yards and three touchdowns. Favre did throw a pick and was on the losing side, but he had his team in position to win and arguably had a more difficult matchup on paper than Davis did.
Freeman was probably even more deserving than either Favre or Davis, however. Freeman scored the first touchdown of the game and was clutch late in this one, scoring a second time to tie things up at 24-24. Freeman ended his day by carving up a good Broncos defense to the tune of 126 receiving yards and two scores off nine grabs.
Davis was the deciding factor in a Denver win and rightfully won the Super Bowl XXXII MVP, but a strong argument can be made for Freeman here.
Eddie George, RB, Tennessee Titans – Super Bowl XXXIV
This is another case where the winner seemed to automatically get the Super Bowl MVP. Kurt Warner did pass for a Super Bowl record 414 yards, but he was not efficient at all (completed just 53% of his passes) and only put up two touchdowns in a game that one of the best offenses ever probably should have produced many more points in.
Instead, the game stayed tight and the Titans kept riding workhorse running back Eddie George to keep things close. George sparked a comeback from a 16-0 hole to tie the game at 16-16. George didn't have a whole lot of running room in Super Bowl XXXIV, yet he still piled on 95 rushing yards and found the end-zone twice.
George even tacked on an additional 35 yards as a receiver, giving him a very healthy 130 total yards and two scores. In a tight game that ended at the goal-line on the game's final play, it's highly arguable George deserved to win the Super Bowl MVP trophy.
Kurt Warner, QB, St. Louis Rams – Super Bowl XXXVI
On the flip-side, while Warner perhaps shouldn't have won his Super Bowl MVP just because his team had won, he also maybe shouldn't have lost his second bid just because the Patriots upset the Rams in Super Bowl XXXXVI.
Warner was not flawless in this game and the favored Rams did lose, but Tom Brady won the Super Bowl XXXVI MVP behind a very average performance. Warner, meanwhile, overcame an early pick-six and two total interceptions to put up 365 yards and a score on the Pats. Warner even showed up in the clutch, as he tossed the game-tying touchdown with just 1:33 left on the clock.
Brady helped put the Pats in position to win and didn't make any grave mistakes in his first ever Super Bowl, but in a tight game that came down to a last second field goal, Warner arguably was the more deserving Super Bowl MVP candidate.
Jake Delhomme, QB, Muhsin Muhammad, WR, Carolina Panthers – Super Bowl XXXVIII
In what is probably the best Super Bowl ever played, Tom Brady took home his second of three Super Bowl MVP's in a terrific performance against a very good Panthers team. This game was a classic shootout that went back and forth and had everything all tied up with just four seconds to go.
Adam Vinatieri ended Carolina's title hopes with a kick to close this game, but this game was insane and if Super Bowl MVP voting was fair, Tom Brady wouldn't have been automatically named the winner just because his team won. Brady was surely sensational (354 yards, 3 TDs), but he did throw a pick and he wasn't the only elite performer in this game.
In a game that included two sharp offenses that brought things down to the wire, Panthers quarterback Jake Delhomme (323 yards, 3 TDs, 0 INT) played the game of his life and also got stellar play out of top wide receiver, Muhsin Muhammad (140 yards, 1 TD), who provided this game with it's biggest play (85-yard score). Brady was as deserving as any Super Bowl MVP, but if we look a little closer, he wasn't the only quality option here.
Donovan McNabb, QB/Terrell Owens, WR, Philadelphia Eagles – Super Bowl XXXIX
In another Patriots Super Bowl that was close throughout, we could have easily had a different player (from the losing team, mind you) be named Super Bowl MVP. Terrell Owens nearly matched Deion Branch (who won the award) with nine catches for 122 yards, but it may have been Donovan McNabb's gritty performance that should have taken the cake.
McNabb certainly had his issues in this game (he threw up on the field and tossed three interceptions), but he also had a great overall game, compiling 357 passing yards and three touchdowns. McNabb's team lost and he was ultimately a pretty big reason why, but he put up big numbers and rallied his team late. If he had been handed the Super Bowl MVP, no one would have been too upset.
Kurt Warner, QB/Larry Fitzgerald, WR, Arizona Cardinals – Super Bowl XLIII
The title games that come down to the wire are undoubtedly the ones where we should see a little more inconsistency in the Super Bowl MVP voting. When the game is left in doubt until the final moments, it's highly arguable that the best player with the more impressive numbers should shine through and win the Super Bowl MVP.
That really didn't happen in Super Bowl XLIII. Santonio Holmes was huge with 9 catches, 131 yards and the game-winning touchdown, but he wasn't the only player to deliver big numbers and a clutch performance. While Arizona ultimately lost in the closing seconds, Warner and Fitzgerald delivered the first clutch moment by taking a 23-20 lead in Super Bowl XLIII with just over two minutes to go.
The Steelers ended up getting the win, but gone wasted was some elite production from the Cardinals, where Warner compiled 377 passing yards and three scores and Fitzgerald turned 7 grabs into 127 yards and two touchdowns.
Holmes made the biggest play of the game and was plenty deserving of the award, but if the onus wasn't on who ultimately wins the Super Bowl, the MVP could have very easily been either Warner or Fitzgerald.
As we can see, we've had several eye-popping performances that ended up going wasted in Super Bowl play simply because the player happened to be on the losing side. Clutch plays and performances that play a huge hand in deciding the game make sense to factor into who wins, but there is no denying that the Super Bowl MVP voting process is heavily weighted by who wins the game.
Considering the amazing performances that got snubbed and the fact that just one Super Bowl MVP has ever come from the losing side, it's at least arguable we need to shake up how we come to land on each Super Bowl MVP.
In all honesty, the Super Bowl MVP is usually pretty spot on and even in most cases discussed here, the final pick wasn't a bad one. However, there have been some truly special performances that get ignored and would have absolutely been in the running for Super Bowl MVP, had games gone the other way in those final moments.