8 Reasons the Houston Texans Can Beat the New England Patriots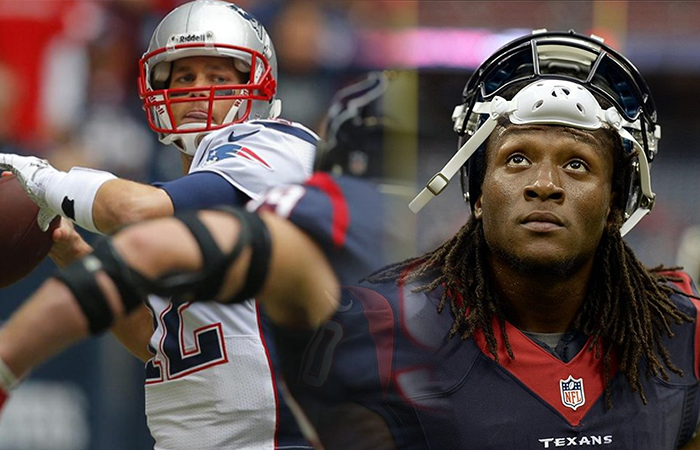 The Houston Texans have their backs against the wall heading into the Divisional Round of the 2017 NFL Playoffs. Despite getting a nice home win in the Wild Card Round over the Oakland Raiders, Bill O'Brien's team enters the weekend as massive underdogs for their showdown with the New England Patriots.
Most of the top betting sites are handing New England one of the most favorable spreads the NFL has ever seen, while Bovada has the betting line looking like this:
Translation: it's not looking good for the Texans.
Texans (+16)
Patriots (-16)
Things look even more bleak when you look at a lot of the data surrounding this one, as the Texans got housed by the Patriots earlier this year (27-0), are a dispiriting 2-6 on the road and are facing a team that is so balanced that they sport the #1 scoring defense, as well as the #3 scoring offense.
Oh, and that game the Texans got slapped around in earlier this year? The Pats didn't have Tom Brady (suspension) and the Texans did have J.J. Watt.
It looks bad, to be sure, but there still might be a few threads on this sweater that are just begging to be snagged. If the right ones go, the Patriots could potentially unravel and one of the biggest NFL upsets we've ever seen could come to fruition.
It's not likely, but we've got a few good reasons why it's also not impossible:
8 Reasons Why the Texans Can Win

1. Bill O'Brien Knows the Patriots
Success often starts up top with how you prepare, game plan and ultimately manage and adapts in the games themselves, so whether or not Texans head coach Bill O'Brien is ready to take on his former boss (Bill Belichick), could dictate how things go this weekend.
O'Brien is 0-2 against Belichick to this point and he's likely to drop to 0-3, but perhaps there's something sneaky he's learned along the way that he can use to trick the Patriots. Even if that isn't the case, he does know their offense and how Tom Brady operates. That has to help him to a certain degree.

2. Brady Wasn't Here Last Time
A potentially very interesting little nugget that no one is focusing on is the fact that Tom Brady wasn't there when the Patriots beat the Texans 27-0 earlier this year. That's for some reason only looked at as a positive, but the reality is Houston had no idea how to prepare for a Pats team that was starting its third string quarterback.
Brady probably inflates the offense and blows Houston out, but what if he succumbs to their pressure and things don't go swimmingly early on? The fact that he hasn't faced this defense this year could contribute to him not being prepared for certain looks or any defensive tricks a good Houston unit has up their sleeves.

3. Houston Can Run the Ball
One huge asset in any playoff game is the ability to effectively run the football and do so consistently. For all of their faults, that is one thing the Texans do well. They've got a stud running back in Lamar Miller, who is explosive, versatile and can handle a full load.
Miller proved that last week with a whopping 31 carries in a win over the Raiders and he's sure to get fed the rock again in a huge clash with the Pats. He even fared well against them last time with 100+ total yards and if he can get off to a good start, it's possible he and Houston's 8th-ranked rushing offense could control this game.

4. Nuk and Fuller Exist
Houston does a terrible job of utilizing them, but the Texans actually have two extremely dangerous wide receivers. DeAndre Hopkins has proven over the past two seasons he's already among the best in the game, while raw rookie Will Fuller has flashed elite big play ability.
Brock Osweiler has found them on an inconsistent basis and New England's defense isn't easy to create big plays against, but the potential for the Texans, believe it or not, is there.

5. Don't Knock Brock
In that same breath, we do need to consider that the Brock Osweiler we saw last week actually could continue showing up. He looked arguably the best we've seen him all year and he gained a huge attribute for a quarterback in the win: confidence.
Osweiler is also going up against a team he's beaten before, as he helped the Denver Broncos upend Tom Brady and co. in a crazy 30-27 overtime affair in 2015. Times have changed and Osweiler has largely regressed since then, but he looked better last week and does have some good weapons around him. It's unlikely he acts on this opportunity, but it might not be impossible.

6. Houston's D is Legit
The Texans can run the ball and they've got some weapons in the passing game, but their strongest area continues to be their defense. Even without J.J. Watt, this unit can get after the quarterback via Jadeveon Clowney and Whitney Mercilus, while they also consistently do well against the run.
Houston's bread and butter was against the pass, as they finished #2 in the NFL in that category. They were a problem just about everywhere, though, as the Texans finished 12th versus the run and 4th in points allowed per game (17.4).
Tom Brady know every defensive look in the book, but that often can't fully prepare you for the perfectly timed blitz, elite coverage or an effective four-man pass rush. If the Texans play their cards right, they could flex their most important muscle and stay in this game.

7. Pressure is on the Pats
Even aside from Houston's strengths, they have the media and the betting world working behind them. Well, the betting world projects them to lose (rather easily), but those bad odds and the media fully expecting the Pats to win does a massive thing: it relieves them of any pressure of needing to win this game.
Houston was just 9-7 this year, but won their division and then won a playoff game. For this team as it stands, that's already a pretty successful season. Without J.J. Watt and not having ideal stability under center, the Texans aren't expected to move on to the AFC title game, let alone really compete this weekend.
If they come out loose and just play to their strengths, they might shock a lot of people.

8. Upsets Happen
One other big key to consider above all else is that this is the NFL (and sports in general) and we see upsets all the time. Nobody thought Ronda Rousey could lose, yet she did. Few expected the Giants to beat an 18-0 Patriots team back in 2007, but that's precisely what happened.
The Texans aren't Rousey or those undefeated Pats, but they're massive underdogs and gaudy lines like this were made to be tested. Betting on the Texans to win straight up still feels like a huge gamble, but if enough things can go right, Houston beating the spread isn't all that ridiculous.
Will the Texans Beat the Patriots?
No, probably not. Vegas is usually very good at gauging competitiveness and spreads and if the sportsbooks thought there was a real chance at an upset, they wouldn't hand New England one of the biggest spreads ever.
The Patriots also just have too much working in their favor. They are at home, have the best coach and quarterback arguably of all-time, are 7-1 against the Texans in history and seem to always make it to the AFC title game. After making it there last year and losing, simple Patriots match suggests they're chomping at the bit to get back there, only to push their way to yet another Super Bowl.
Considering the Pats hold the best Super Bowl odds of the eight remaining teams, it's very hard to see them falling to the Texans. Of course, if they did, that'd break this whole thing wide open.
We don't think they will, though. Brady has played with a chip on his shoulder all year and Bill Belichick is too good at his job to get out-coached by a former pupil or let Brock Osweiler come into his house and set the place afire. Houston gunning to beat the spread isn't impossible, but the Texans actually winning the game certainly seems to be.
Pick: Patriots 34, Texans 17