Hide Bonus Offers
| | | | | |
| --- | --- | --- | --- | --- |
| #1 | BetOnline Sports | 60% Up To $1,000 | Visit Site | BetOnline Sports |
| #2 | Bovada Sports | 50% Up To $250 | Visit Site | Bovada Sports |
| #3 | BetUS | 125% Up To $2,500 | Visit Site | BetUS |
| #4 | Everygame | 100% Up To $500 | Visit Site | Everygame |
| #5 | MyBookie | 100% Up To $1,000 | Visit Site | MyBookie |
8 NFL Wagers That Are a Waste of Time in 2018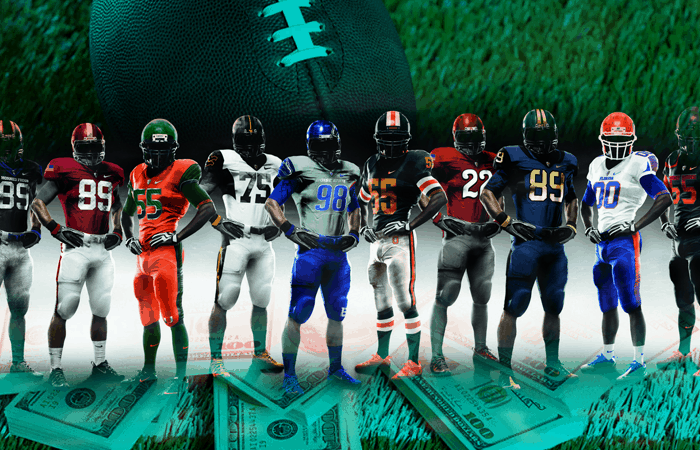 Right when NFL training camps open, sports bettors start to get really serious about what they plan on betting on each year.
Personally, I look over every single NFL wager and try to imagine which value bets make the most sense.
Sure, the New England Patriots are the favorite to win the Super Bowl, but there has to be a sleeper worth my money. There always is, right?
Out of nowhere, some team somewhere is going to emerge and force you into that "I knew it!" rant that induces eye rolls out of all of your friends.
You could have seen the Philadelphia Eagles, New Orleans Saints, Jacksonville Jaguars, and Minnesota Vikings coming last year, perhaps, but odds are you'd need to be a member of their fan base.
But for every potential sleeper, there are bets that die long before the regular season even ends.
There's a lot of them, too.
Looking just at the 2018 Super Bowl odds, it's pretty obvious that 31 teams will, in fact, not hoist the Lombardi Trophy.
You might love Tom Brady or Aaron Rodgers to win the 2018 NFL MVP. Heck, maybe they will. But they're probably not going to be co-MVPs, and you can't really account for the handful of MVP candidates that might leapfrog them.
The point here is that no bet is concrete until it's the official winner, and no sleeper pick is clever unless it actually pans out.
With that, I've got eight NFL wagers for 2018 that you might be thinking about but that I think are a huge waste of time.
Philadelphia Eagles to Repeat as Super Bowl Champions
You can place a bet on anyone you want to win it all this year. However, history is not kind to any teams trying to win back-to-back titles or even get back to the Super Bowl.
Only the New England Patriots have done either with any regularity in the last 20 years.
The odds (+1000 at SportsBetting.ag) really aren't bad at all, and Carson Wentz should make a healthy return. On paper, the Eagles actually got better on both sides of the ball than they did a year ago.
If there is a dynasty brewing in the NFC, this very well could be it.
That being said, one dream season does not always bleed into another. Matt Ryan and the Atlanta Falcons can speak of that, while the Carolina Panthers hit a hard wall the year after they looked unstoppable as well.
In fact, Super Bowl winners tend to struggle to even make it to the playoffs, let alone compete for a title again the very next year.
Even if they get all the way back to the title game, though, history suggests the Eagles will run into someone who wants it more or now knows how to best them.
Maybe that is the Patriots. Perhaps it's the Steelers in a "Battle for Pennsylvania" Super Bowl. Jacksonville would also be a tough out.
Any of those scenarios could end poorly for Philly, while the NFC East seems to be getting stronger. More importantly, the entire NFC is better than it was last year.
Green Bay gets Aaron Rodgers back, Minnesota will be out for blood, the NFC South remains stacked, and the Rams are very much on the rise.
Assuming the Eagles don't face-plant and do get out of the NFC East alive, they face quite the gauntlet en route to another Super Bowl run. I'm not saying it's impossible, but I think your time (and money) would be spent better elsewhere.
Repeat Super Bowl champions just aren't something we see very often. In fact, it hasn't happened since the Patriots won back-to-back in 2004 and 2005. It could be time for it to happen again, but I doubt it.
Anyone Else to Win the AFC East
Speaking of how easy the Pats have it in their division, it really feels like a waste of cash to bet on anyone else taking the AFC East.
New England has won first place in each of the last nine years, and they've dominated this division for basically the last 15 seasons. There is no reason at all to expect that run to stop in 2018.
The Buffalo Bills are headed for steep regression after backing into the playoffs last year. The New York Jets are still in a full rebuild. And the Miami Dolphins are just treading water.
There isn't a viable threat here, and that's precisely why the top NFL betting sites hand New England -550 odds or better to again take the division crown.
None of this is hyperbole. Nothing is being blown out of proportion.
The Pats are as good as ever and probably a bit miffed about losing the title game last season.
I expect New England to come back even hungrier, and my guess is that you don't want to be a fan of any other AFC East team this year. You'd only make matters worse by betting against them.
The Buccaneers Winning the NFC South
This team is already dead in the water, and their division is absurdly stacked. I actually liked them as a sleeper team going into 2017, and they failed miserably.
Going into 2018, they're even worse off.
Head coach Dirk Koetter's head has already been on the chopping block for months now, yet now he's marching into the new year with star quarterback Jameis Winston ready to serve a three-game suspension.
That's not good.
The Bucs were in trouble even with the inconsistent Winston under center, but now they have to work their way through a tough early-season schedule with (gulp) Ryan Fitzpatrick guiding their offense.
Yikes and all that jazz.
Tampa Bay isn't elite defensively, they don't do anything at an elite level offensively, and they lack direction. Add in a brutal start in a loaded division, and they are utterly hopeless.
I can see the interest with their gaudy +1200 odds to take down the NFC South, but they are longshots for a very good reason. Making that bet is the equivalent to lighting your cash on fire.
Doug Pederson to Be Next Coach Fired
You might have better luck rolling with Bill Belichick (+10000) with this prop bet.
I know I'm not gaga about the Eagles repeating as champions this year, but I'm also not at all entertaining Philly moving on from the guy that helped them get their first Lombardi Trophy.
The +15000 price is tempting, but ultimately, it's fool's gold in the worst way possible.
I mean, if Marvin Lewis can stay in Cincinnati without ever winning a playoff game, Pederson is fine. If Mike McCarthy can survive getting completely exposed after losing Aaron Rodgers last year, Pederson is locked into another five years.
If Hue Jackson of all people can still have a job after going 0-16 in 2017 and 1-31 over the last two years, Pederson may never want for work ever again.
Pederson has proven in just two short years that he was the right man for the job. He's turned Philly upside down, inserted a winning culture, and won a Super Bowl with a backup quarterback.
The guy is a genius, and his +15000 odds are the worst for any coach for good reason. Yes, those insanely lofty NFL prop bets are very appealing, but this is one nobody should wager on.
Cam Newton to Lead the NFL in Passing Yardage
I could take the easy route and tell you not to bet on Tyrod Taylor or Joe Flacco to convert this wager, but some people might confide in Newton just because he's a huge star.
However, Newton just isn't a big passing yardage guy. His offense is of the run-balanced variety, he spends a good amount of his time fleeing on foot, and he simply does not put up big yardage through the air.
This may be Newton's best supporting cast in years, but this is still a guy that has completed over 60% of his passes just twice in his entire career and hasn't topped even 3,900+ passing yards since his rookie season.
Newton has the talent and weapons to put up solid yardage, but it's probably never going to compare to the very best passers in the league.
Each year, somebody puts up about 4,400+ passing yards, if not close to 5,000. That just isn't something Newton is a likely threat to approach, and even though his +7500 odds and talent suggest he'd be a solid value, he really isn't.
Adam Thielen to Lead the NFL in Receiving Yardage
Again, the point here isn't just to tell you which NFL wagers to avoid, but also point out some that on the surface seem feasible but probably aren't.
Thielen competing for the most receiving yardage in the NFL isn't insanely crazy. He did put up almost 1,300 yards on 91 catches a year ago, and Vegas doesn't hate his chances (+1600 odds at SportsBetting.ag).
He even gets an upgrade under center, with Kirk Cousins coming into town to boost Minnesota's passing attack.
Unfortunately, I just don't see this happening.
The biggest problem may be that Thielen has a lot of competition for targets on his own roster.
Stefon Diggs is worthy of many more looks than he saw in 2017, tight end Kyle Rudolph remains a big factor in the passing game, and the Vikings could also turn to their running backs more.
Players that post career numbers can always suffer from regression, too.
Thielen had a monster 2017 campaign, but defenses will adjust, and it shouldn't be nearly as easy for him to spring big play after big play. There is always the chance of injury limiting his upside, while you lastly need to factor the big yardage fiends he'll be going up against.
The latter is the real kicker for me, as Antonio Brown paced the league with over 1,500 receiving yards in 2017 and is probably the top threat to lead the NFL in that category again.
Even if it's not Brown, there is just an insane amount of competition here. Thielen is very talented, has a nice role, and has compelling odds. He just also happens to feel like a trap.
Kareem Hunt to Lead the NFL in Rushing Yardage
I'm a history nut when it comes to NFL stats, and one recurring theme is that career seasons are hard to duplicate, and it's also very difficult to be the top producer in your field for consecutive seasons.
System changes, injury, and defenses adapting can all play into that being extremely challenging.
Needless to say, Hunt should be on high alert when it comes to his place atop the league's rushing yardage totem pole.
Hunt remains a dynamic and explosive rusher, to be sure. He could very well improve in his second season, and I can't tell you he flat-out won't threaten to repeat as the rushing yardage leader.
I just don't think it's very likely.
Playing in the AFC West, Hunt is going to have it tough on him to put up monster rushing yardage totals. The Chargers and Broncos both can defend, while the Raiders could be better this year.
That's not even including showdowns on Kansas City's schedule with the Jaguars, Patriots, Rams, Cardinals, Ravens, Steelers, and Seahawks.
Not all of these teams have great run defenses, but they tend to field solid overall defenses and their offenses could make things difficult on the Chiefs.
Hunt is also going through a bit of a transition with steady veteran passer Alex Smith being traded to the Redskins.
I'm sure Patrick Mahomes will work out in due time, but starting out, opposing defenses should (and rightfully so) hone in on making sure Hunt doesn't beat them on the ground.
Even if that isn't successful, there is the matter of the rest of the league fielding numerous stud rushers highly capable of pushing Hunt.
Leonard Fournette, Todd Gurley, Le'Veon Bell, Ezekiel Elliott, Saquon Barkley, David Johnson, and Melvin Gordon are – at least on paper – all threats to Hunt's rushing throne.
If all this isn't enough, history itself works against Hunt.
Dating back to 2008, the NFL has not seen the same running back lead the league in rushing yardage in back-to-back seasons. That's a decade-long drought, and I'd bet on it lasting another year.
Needless to say, Hunt looks attractive at +1400, but your money is better spent elsewhere in 2018.
A Running Back Winning MVP
For whatever reason, stud running backs just don't get that much respect.
It takes a truly amazing season for the MVP panel to vote one in. The last three running backs to win league MVP churned out truly memorable seasons.
Adrian Peterson came within nine yards of the single-season rushing yardage record in 2012, while Shaun Alexander (2005) and LaDainian Tomlinson (2006) set the single-season rushing touchdown mark in consecutive seasons.
Those were epic seasons, but that just goes to show how off-the-charts crazy of a year a running back has to have to get serious recognition. In the other seasons during that time span (dating back to 2005), a quarterback has won the other 10 MVPs.
You can toss wide receivers and tight ends into the mix here, too.
Obviously, betting on someone from these positions to win the NFL MVP gives you more upside as a whole, but correctly pinpointing which skill player blows up for a record-setting season just feels impossible.
This remains a quarterback-driven league, and it's going to take a ridiculously special year out of a running back or receiver to snag the award. Instead of aiming high with this NFL player prop bet, just look harder at which quarterbacks could return serious value.
Summary
In the end, this really isn't where your search for NFL betting value, sleepers, or wagers in general should end. However, this is probably where it starts.
It's one thing to try to gauge value and locate the top sleepers worth betting on, but it's arguably just as important not to get sucked into wagers that simply aren't going to pay off.
When it comes to NFL betting, it's ideal to look at the league through a dual lens. On one hand, it's one of the most unpredictable and fluid betting environments in sports.
You can use that to your advantage and exploit amazing value in some spots.
It's also a league of trends, and depending on the situation, you should be able to predict certain things.
Hopefully this helps you narrow down some of your favorite NFL player prop bets, or maybe you'll even just go against the grain and bet on everything I've suggested not to.
Either way, I hope you found something useful here and that it helps you win cash. Good luck, and enjoy the 2018 NFL season!