Hide Bonus Offers
| | | | | |
| --- | --- | --- | --- | --- |
| #1 | Bovada Sports | 50% Up To $250 | Visit Site | Bovada Sports |
| #2 | BetUS | 125% Up To $2,500 | Visit Site | BetUS |
| #3 | MyBookie | 100% Up To $1,000 | Visit Site | MyBookie |
| #4 | Everygame | 100% Up To $500 | Visit Site | Everygame |
| #5 | BetOnline Sports | 60% Up To $1,000 | Visit Site | BetOnline Sports |
8 NFL Players Who Could Be Traded Before Week 1 (2021)

The 2021 NFL season will be unlike any other. Not only is every single season of pro football inherently unique, but this season could be special with some superstars possibly changing teams.
By now, you've heard about the undying Aaron Rodgers trade rumors. He is without a doubt the biggest name that could potentially be on the move, but there are several NFL players that could be traded before week one.
While that's equal parts exciting and compelling, it's also potentially a source of profit for sports bettors. A lot of the potential NFL trades are also attached to NFL player props, with the best NFL betting sites allowing you to predict where players get traded.
To re-hash the biggest NFL names that could be traded in 2021, let's explore the eight that stand out the most, and what might happen to them.
Aaron Rodgers, QB, Packers
Reason for Potential Trade: Disrespect, lack of loyalty
Most Likely Suitors: Broncos, Raiders, Patriots
This is the big one, for sure. Aaron Rodgers dropped a bomb on the collective NFL world on draft night, with reports suggesting he wanted a trade out of Green Bay.
Rodgers hasn't denied the reports, but he also hasn't publicly declared he wants out of Wisconsin. Jay Glazer recently doubled down on his desire to get out of town, however.
"I know he still wants out. Without a doubt. Absolutely. Still wants out"@JayGlazer on Aaron Rodgers

"Every time somebody called the #Packers it was immediately shut down. What these teams need to do is continue to call, continue to call" #PatMcAfeeShowLIVE pic.twitter.com/ysMH9UgzoH

— Pat McAfee (@PatMcAfeeShow) June 16, 2021
The biggest NFL reporters in the game say Rodgers wants out, and he's stood firm in his supposed demands, as he opted not to show up to the team's mandatory minicamp.
This is all wild, seeing as Rodgers tossed 48 touchdowns en route to his third NFL MVP win last year, and Green Bay has appeared in the last two NFC title games. For what it's worth, the Packers have called his bluff, publicly refusing to deal him.
However, this standoff has only gotten worse as time has gone on. With Jordan Love flashing upside already in practice and promoting optimism that this team can win with him, a trade could be lurking around the corner.
The bigger question at this point may be who offers Green Bay a deal they can't refuse?
Russell Wilson, QB, Seahawks
Reason for Potential Trade: Past trade rumors, frustration with stagnancy
Most Likely Suitors: Jets, Bears, Raiders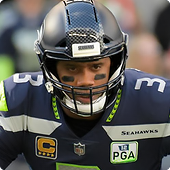 Another marquee NFL passer that could be on the move prior to the 2021 NFL season is Russell Wilson.
Wilson enjoyed a career year last season, putting up 40 passing scores and over 4,200 passing yards. The #LetRussCook hashtag took over social media earlier in the 2020 NFL season, when Wilson was so hot that many felt he was the guy to beat for league MVP.
Eventually, though, Wilson cooled off, the MVP chatter faded away, and Seattle fizzled down the stretch.
It sparked Russell Wilson trade rumors, with Wilson himself saying enough publicly to suggest the marriage between him and Seattle was on shaky ground.
The Seahawks appear to have mended the fence, though, and even got him a new weapon when they selected speedy wide receiver D'Wayne Eskridge in the 2021 NFL Draft.
Unlike Rodgers, Wilson has come out and squashed the negative rumors, too.
"I love this city, I love this place, I love everything about it. For me, personally, I hope I play my whole career here."
That's what Wilson had to say when prompted about his immediate future in Seattle. Wilson also suggested that a released list of his "preferred trade destinations" was simply speculative in the event a trade happened.
Wilson seems safe in Seattle for now, but the writing on the wall grows clearer by the day. My guess is Wilson plays for the Seahawks in 2021, but a trade shouldn't floor anyone at this point.
Deshaun Watson, QB, Texans
Reason for Potential Trade: Poor communication, state of team, lack of respect
Most Likely Suitors: Washington, Eagles, Lions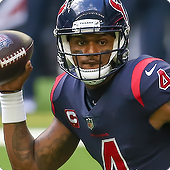 The Aaron Rodgers saga is at best up in the air, and for now, Russell Wilson seems set to remain in Seattle. But Deshaun Watson trade rumors should be heating up.
There just isn't much logic behind Houston holding onto Watson, who asked for a trade before the draft, and has also been mixed up in a massage scandal.
It's unclear how much truth there is to Watson's off-field debauchery, but the franchise quarterback does appear to be done with the Texans.
Houston is poised for an epic collapse, too, as the team fired former head coach Bill O'Brien, hired a guy who had no prior head coaching experience, and let useful players like J.J. Watt and Will Fuller go.
If the team was trying to set Watson up for success, they sure went about it in a funny way. With a full-blown rebuild obvious and Watson not getting the respect he deserves, his public trade demand figures to play out in his favor.
There is the threat of criminal charges, bad PR, and a potential suspension for any teams considering trading for Deshaun Watson, but braving that storm may be worth it.
Watson is one of the most dynamic quarterbacks in the NFL, and could single-handedly turn a fringe playoff team into a legit title contender.
Teams that jump off the page that should express interest include Washington, Philadelphia, New Orleans, Detroit, and Carolina. Heck, maybe even the Packers could get involved in perhaps the most epic quarterback swap the NFL has ever seen.
Jimmy Garoppolo, QB, 49ers
Reason for Potential Trade: Money, new franchise QB
Most Likely Suitors: Patriots
One other NFL quarterback that could be traded before week one is Jimmy G. He's still the San Francisco 49ers starting quarterback in name, but the writing has been on the wall for some time now that he has one foot out the door.
In fact, the Niners have been giving rookie quarterback Trey Lance every opportunity to win the starting gig.
Kyle Shanahan explains that while Jimmy G remains the 49ers' starting QB, Trey Lance will have a chance to compete when readyhttps://t.co/vgOT2INw5r pic.twitter.com/C1pwGwaigC

— 49ers on NBCS (@NBCS49ers) June 12, 2021
Only time will tell if the team feels good enough about Lance's development to go full bore into 2021 with him as their main option under center, but they might as well.
Jimmy Garoppolo has played things off like a good soldier, but he's dealt with trade rumors basically ever since he's been in the league.
A reunion with the Patriots leads the way when it comes to Jimmy Garoppolo trade rumors, but several teams could show interest in a guy that did help the 49ers get to a Super Bowl.
Melvin Gordon, RB, Broncos
Reason for Potential Trade: Money, rebuilding, fresh legs at RB
Most Likely Suitors: Falcons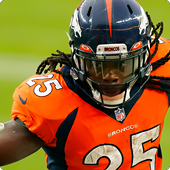 Quarterbacks arguably dominate the headlines when it comes to NFL players that could be traded in 2021, but there are some other stars worth tracking.
One could be running back Melvin Gordon, who currently headlines the offensive backfield for a Denver Broncos team that went just 5-11 a year ago.
Denver has some nice talent, but they're still looking for a quarterback upgrade, and the team also drafted one of the best 2021 NFL rookies in Javonte Williams in this year's draft.
The latter is probably the kicker here, as Gordon is already 28 years old and brings a $8.9 million cap hit for Denver in 2021. Moving on from Gordon could save the Broncos some cash, while handing the starting gig to the more talented Williams just makes sense.
It's not a stretch if you ask Ryan O'Halloran of the Denver Post, who believes Williams will be the week one starter.
If that's the case, what is the incentive to keep Gordon on the roster? Mike Boone was brought in for depth, and Royce Freeman could earn a role.
With three capable backs all vying for more touches, Gordon being cut or dealt grows increasingly more likely with each passing moment.
Odell Beckham Jr., WR, Browns
Reason for Potential Trade: Money, offensive luxury, distraction
Most Likely Suitors: Packers, Patriots, 49ers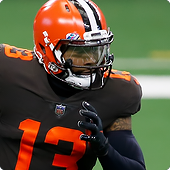 Star wide receivers get dealt more than anyone else, it seems, and that logic looks airtight following the recent trade of Julio Jones.
Jones is perhaps the biggest name among wide receivers, and he instantly helps the Titans in their plight to make a title run.
Due to that, there should be more teams on the prowl to boost their passing games, whether to appease their signal callers, or to just get a little more explosive.
Whether the Cleveland Browns will take the calls or not, there should be some interest in a potentially discounted Odell Beckham Jr.
On the flip side, the Browns may just be done with this guy. After all, if you ask Michael Wynn, he's one of the most overrated players in the NFL right now.
Beckham did suffer a torn ACL last year, but he's largely been productive when healthy, and could still be a game-changer in the right setting. That very well may be in Cleveland, but it's tough to ignore that the Browns were a little more cohesive following his injury.
Cleveland's offense is also predicated on establishing their monster running game, and force-feeding an expensive diva may no longer be part of their "win now" plan.
Could Green Bay come calling to convince Aaron Rodgers to stay? Perhaps, while receiver-needy teams like the Patriots, Lions, and 49ers could always swing for the fences with an Odell Beckham Jr. trade, too.
Zach Ertz, TE, Eagles
Reason for Potential Trade: Position depth, money, rebuilding team
Most Likely Suitors: Bills, Cardinals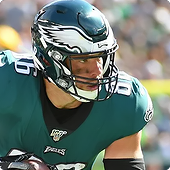 Zach Ertz is probably not the dominant tight end he was just a couple of seasons ago, but he's still a good receiver and a big name.
The latter is why he makes my list of NFL players that could be traded before week one, while his pass-catching chops could garner interest from tight end-needy teams.
Ertz was a shell of his former self in 2021, but a healthier version with a change of scenery could be much better. Philly is rebuilding on the fly, and simply have no use for him with a better player in Dallas Goedert looking to expand his role.
Teams that could use help at tight end include the Bills and Cardinals, while Michael Wynn recently broke down potential Zach Ertz trade destinations. I don't know for sure where Zach Ertz will play in 2021, but I tend to down it'll be in Philadelphia.
Stephon Gilmore, CB, Patriots
Reason for Potential Trade: Money, age, potential regression
Most Likely Suitors: Rams, Washington, Browns
There aren't a ton of big-name defensive players at risk of being moved this year, but there absolutely is one that just rolls off the tongue.
That's none other than stud Patriots cover man Stephon Gilmore. He probably sees the potential for a trade, too, and that could play into his reasoning for a holdout.
Gilmore wasn't as dominant as usual last year, but he's still one of the more talented cornerbacks in the league. He would undeniably help a contending team, but it seems like the asking price could be rather steep.
The holdout only complicates matters, but with both sides hesitant to march into 2021 without some change, a trade at some point seems likely.
Betting on NFL Trades in 2021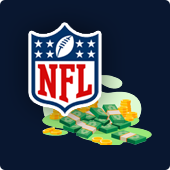 All the players listed above have at least been involved in NFL trade rumors this offseason, or at some point in the recent past.
Of all the options above, the least likely trade candidates include Russell Wilson and maybe Odell Beckham Jr. They are not off the table, though, and virtually everyone else discussed is at risk.
So, where does that tie in with NFL betting? The connection is quite direct, as most sports betting websites should allow NFL player props that deal with players and their future.
Here are the props to look out for.
Whether player will be traded or not
Specific trade destination
Player trade deadline
When talking about potential 2021 NFL player trades, the three props above are what you're looking for. Some props touch on whether a player will be traded, others ask for the specific landing spot, and some will ask for an exact trade timeline.
This post features NFL players that could be traded before week one specifically, which is the primary "deadline" prop you'll see before the season begins.
Of course, even more NFL player props can emerge once a trade goes down. Players traded to new teams will have individual props, and team pricing can change for a litany of other wagers, as well.
My guess is at least one more high-profile NFL trade goes down before the 2021 NFL season starts. You might even be able to bet on which NFL player will get traded next, but for now, I'd just focus on these names and where they could potentially go.
While there are not fresh betting odds for all the potential trade candidates above, hopefully I at least clued you into the situations, and offered a potential fit should they get dealt.