Hide Bonus Offers
| | | | | |
| --- | --- | --- | --- | --- |
| #1 | BetOnline Sports | 60% Up To $1,000 | Visit Site | BetOnline Sports |
| #2 | Bovada Sports | 50% Up To $250 | Visit Site | Bovada Sports |
| #3 | BetUS | 125% Up To $2,500 | Visit Site | BetUS |
| #4 | Everygame | 100% Up To $500 | Visit Site | Everygame |
| #5 | MyBookie | 100% Up To $1,000 | Visit Site | MyBookie |
8 Iconic Goal Celebrations by Soccer Players

What makes a good goal a really good goal?
Is it when the ball cannons off the crossbar and into the net? Or perhaps when a player scores from inside their own half? What about a long-range free-kick?
Sure, all of those things may look great. But for me, there is nothing better than a player following up a goal with an elaborate celebration.
In recent times, the art of the goal celebration in soccer has actually become a huge part of the sport. From Roger Milla's corner flag dance at the 1990 World Cup to Francesco Totti's selfie, we have seen countless memorable celebrations over the years.
Below, I discuss eight of the best goal celebrations in soccer history.
Mario Balotelli – "WHY ALWAYS ME?"
Throughout his bizarre career, Mario Balotelli has never been too far away from the headlines – usually for the wrong reasons.
I mean, the enigmatic striker wore an AC Milan jersey with his name on the back while playing for Inter Milan. If you know anything about soccer rivalries, you will understand just how crazy that is.
In 2011, Balotelli set his own house on fire by letting off fireworks in the bathroom. The following day, he scored two goals as Manchester City beat Manchester United 6-1.
After scoring his first goal, the Italian lifted up his jersey to reveal a t-shirt with the caption "WHY ALWAYS ME?" branded on the front, questioning his critics.
Why always you, Mario? Well, that's a pretty simple question to answer, isn't it? Because you're always wreaking havoc!
Francesco Totti – The Selfie
Francesco Totti is arguably one of the greatest soccer players of all time.
The Roma legend spent the best part of two decades at his hometown club, racking up 307 goals and 184 assists in 785 appearances for the Giallorossi.
But in 2015, Totti wrote his name into the history books for a very different reason.
With Roma 2-0 down against bitter rivals Lazio, Totti bagged two second-half goals to snatch an important draw for his team. After scoring the equalizer, he ran over to the sideline, grabbed an iPhone, and took a selfie with hundreds of celebrating supporters in the background.
Totti netted countless memorable goals throughout his illustrious career, although he will always be remembered for his selfie celebration.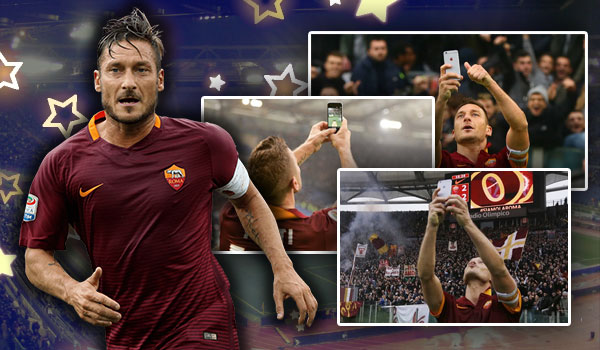 Emmanuel Adebayor – End to End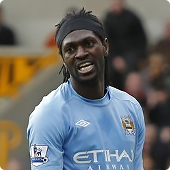 What do you do if you score a goal against your old club? You don't celebrate, right?
When a player scores against their former team, they usually hold their hands up in respect for their previous employers. Sure, deep down, they will be happy. But to keep the fans on their side, players tend to keep their emotions in check.
However, Emmanuel Adebayor clearly didn't get the memo.
After playing more than 100 games for Arsenal, the Togo international moved to Man City in 2009. Just four games into the new season, Adebayor came up against the Gunners, and, of course, he ended up scoring against his old club.
Having scored at one end of the stadium, Adebayor ran the entire length of the pitch like a man possessed to celebrate directly in front of the Arsenal supporters. Unsurprisingly, he was met by a barrage of flying objects from the crowd.
Adebayor subsequently received a three-match ban for kicking ex-teammate Robin van Persie in the face!
Paul Gascoigne – The Dentist Chair
In the lead-up to the 1996 European Championship, a large portion of the England squad was caught in a Hong Kong nightclub looking, well, absolutely wasted.
Paul Gascoigne, Steve McManaman, and Teddy Sheringham appeared on the front page of an English newspaper the following day, with the headline "DISGRACEFOOL" used, to sum up, their antics.
At the nightclub, it was reported that bartenders poured liquor into the players' mouths in a so-called "dentist chair." So, when Gascoigne scored his famed goal against Scotland at Euro '96, he recreated the infamous night out.
Gascoigne led flat on his back while a number of his teammates sprayed him with water.
Unfortunately, Gascoigne's career took a downward spiral. Alcoholism prevented the gifted midfielder from fulfilling his true potential, but his ironic celebration will always be fondly looked back on.
Roger Milla – Corner Flag Dance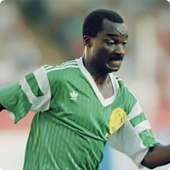 It could be argued that Roger Milla paved the way for future goal celebrations.
Before the Cameroonian serenaded the corner flag at the 1990 World Cup, goals were generally celebrated with a handshake or high-five. But Milla's famous dance seemed to spark a wave of flamboyant celebrations across the globe.
The 38-year-old wasn't even supposed to at the 1990 World Cup. In fact, the president of Cameroon had to convince Milla to come out of retirement to help his country in Italy.
Needless to say, he made the right decision.
Milla guided Cameroon to the quarter-finals, netting four goals along the way. Every time he scored, he ran over to the corner flag and performed a hip-jiggling dance.
You can check out his moves here.
Robbie Keane – The Cartwheel
I've always loved players that have their own trademark goal celebration.
Admittedly, some are better than others. Alan Shearer's arm raise wasn't exactly the most imaginative idea, while Daniel Sturridge's dance moves are questionable at best.
But Robbie Keane's iconic cartwheel has to be one of the greatest goal celebrations ever.
It wasn't just a one-off, either. The former Republic of Ireland star performed his unique celebration after almost every goal he scored – and he scored a lot of goals!
Having made a name for himself in the EPL, Keane went on to become one of the best overseas players in MLS history. He ended up scoring over 300 career goals, so he was probably pretty dizzy by the time he hung his boots up.
Robbie Fowler – Sniffing the Line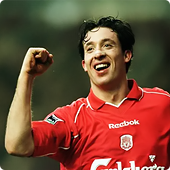 This is undoubtedly one of the most controversial goal celebrations of all time.
In 1999, Robbie Fowler was wrongfully accused of using cocaine. Eager to poke fun at his accusers following a goal against Everton, the Liverpool striker got down on all fours and sniffed the touch-line – simulating drug use.
Of course, everyone knew what he was up to, yet Reds manager Gerard Houllier still tried to defend his player. The Frenchman claimed that Fowler was imitating Rigobert Song's grass-eating celebration, but funnily enough, nobody believed him.
Fowler was eventually fined £60,000 by Liverpool for bringing the game into disrepute, and to make matters worse, the FA handed the striker a four-game ban.
It is difficult to think of a more memorable goal celebration.
Eric Cantona – Stand and Stare
It is no secret that Eric Catona divided opinion throughout his career. From fly-kicking a Crystal Palace supporter to his public spat with Vinnie Jones, the mercurial Frenchman's career was embroiled in controversy.
However, there is no denying that he was also one of the greatest players of his generation.
Having burst onto the EPL scene with Leeds, Cantona was signed by Man Utd in 1992. A few years later, he produced one of the most famous goal celebrations of all time.
In 1996, the forward scored a phenomenal chip against Sunderland. The goal along would have been enough to make the game memorable, but Cantona's celebration – or lack thereof – put the icing on the cake.
After lobbing the ball of the goalkeeper, Cantona simply stood on the spot, starring around the stadium nonchalantly. To make it even cooler, his collar was popped in trademark fashion.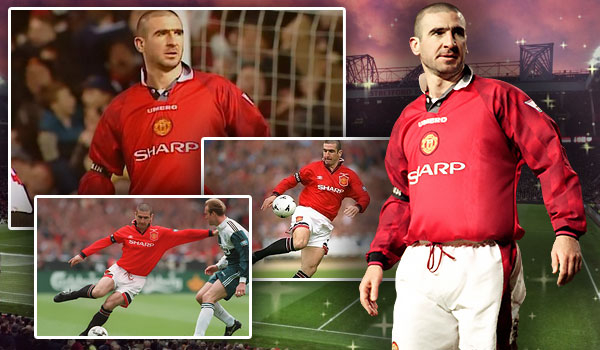 Summary
Nowadays, it seems as though almost every player has their own trademark celebration. With secret handshakes and acrobatics common in the modern game, it kind of feels like the goal celebration has lost its novelty in recent times.
Having said that, it is always fun to look back at the most iconic celebrations of all time and reminisce about the good old days, right?
Having missed out on my top eight, Jurgen Klinsmann's famous "dive" celebration definitely deserves a mention. Jimmy Bullard, Wayne Rooney, and Steven Gerrard have also produced memorable post-goal moments in the past.
Can you think of any other players or teams that are worthy of being talked about among the greatest goal celebrations in soccer history? If so, why not share your suggestions in the comments section below?