Hide Bonus Offers
| | | | | |
| --- | --- | --- | --- | --- |
| #1 | Bovada Sports | 50% Up To $250 | Visit Site | Bovada Sports |
| #2 | BetUS | 125% Up To $2,500 | Visit Site | BetUS |
| #3 | MyBookie | 100% Up To $1,000 | Visit Site | MyBookie |
| #4 | Everygame | 100% Up To $500 | Visit Site | Everygame |
| #5 | BetOnline Sports | 60% Up To $1,000 | Visit Site | BetOnline Sports |
7 Sensible Reasons to Gamble Online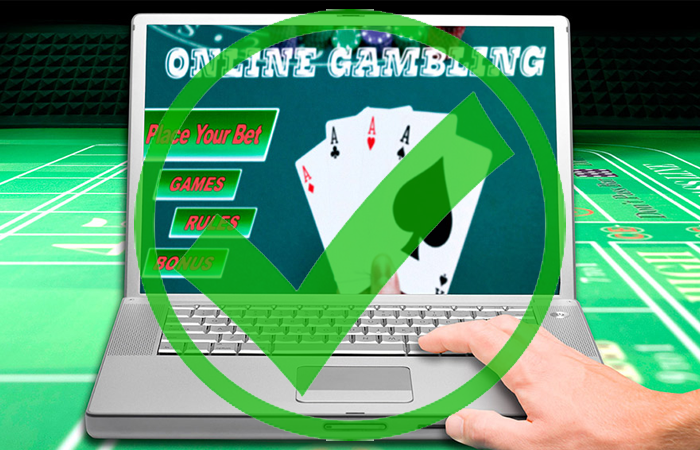 Many gamblers like dedicating all of their play to land based casinos.
And these players often avoid online casinos for one or more of the following reasons:
They like the brick and mortar casino experience more.
They don't trust internet casinos.
They don't like dealing with technology.
These are all valid reasons to stick to land based gaming venues. But there are also several points on why you should still consider internet gambling.
That said, here are 7 reasons to give online casinos a try.
1 – Online Gambling Offers Lower House Edges
Casino resorts don't see gambling as their number one cash cow these days.
They instead rely on hotels, fine dining, nightclubs, and attractions to boost their profits. This means brick and mortar casinos also don't put a premium on low house edges.
Land based slot machines offer between 90-93% payback, roulette wheels have double zeros (5.26% house edge), and blackjack has a house edge near 2%.
I'm not saying that you can't still find good slots payback or low house edges in brick and mortar venues. But the average casino won't give you a great chance to win.
Online gambling differs by offering lower house advantages across the board. Here are the standards at most internet casinos:
Blackjack = 0.5 to 1.0% house edge
Keno = 5 to 10%
Roulette = 1.35% (French roulette) or 2.70% (European roulette)
Scratchcards = 5 to 10%
Slots = 95 to 97% payback
Some games like baccarat will have the same house edge (1.06%) at land based and online casinos. But the latter has a lower house advantage for most other games.
I still recommend that you do some research to find which internet casinos give you the best chance to win. But you're taking one step closer to winning by gambling online.
2 – Live Dealer Gaming
Earlier I mentioned that atmosphere is one reason why people stick to brick and mortar casinos. After all, you can't replace a bustling casino or the social aspect.
But live dealer gaming comes close to replicating the land based casino feeling. If you're unfamiliar with live dealer casinos, here are the main features to expect:
Classic table games – Live dealer casinos offer baccarat, blackjack, craps, and / or roulette. Sometimes you'll also see games like Caribbean poker, PaiGow poker, and sic bo.
Human dealer – Normally these dealers are gorgeous people dressed in formal wear. Some tables even offer two dealers to create a party atmosphere.
Chat w / dealer – You can communicate with the dealer via a chat box. The dealer will then speak back to you.
Elegant casino atmosphere – Live casinos are often hosted inside lavish establishments. This is perfect for when you don't live near an elegant casino yourself.
Play with other people – While you may not be sitting next to other players, live dealer gaming lets you see what other players are chatting about.
Low stakes –It's hard finding casinos today with $5 tables. But you can play for $5 or less at live dealer sites.
Lifelike Setup – The dealer, tables, and casino atmosphere are real. The cards and chips are fake, but they still look real enough to sell an authentic game.
Virtual reality casino gaming isn't big yet. But I suspect that VR technology will make live dealer gaming even more realistic when it becomes popular in the near future.
And this will make live casinos even closer to the real deal.
3 – Easier to Move Between Online Casino Games
Brick and mortar casinos do their best to group games together in a convenient manner.
You'll see banks of slot machines, blackjack tables near each other, mini baccarat tables grouped together, and so on.
But despite casinos' best efforts, moving from game to game still requires some effort.
And what if you don't like the blackjack rules
or slot machine payback at the casino you're at?
You'll need to travel to a different casino. This can even be annoying in Las Vegas, where casinos are right next door to each other.
If you hate the hassle of switching games in land based casinos, then you'll find internet gambling to be a refreshing experience.
Most online casinos put hundreds of games at your fingertips. This means that you can go from slots to craps in literally seconds.
You'll also find it much easier to move between casinos too. This is great for times when one casino doesn't have what you're looking for.
4 – No Crowds & No Etiquette to Follow
Nobody wants to wait on their favorite slot machine or be forced to play $25 blackjack because all of the $10 tables are filled. But these are exactly the types of scenarios that you must deal with in a crowded brick and mortar casino.
This brings us to another good point about internet sites in that you don't have to worry about crowds.
Nobody is physically sitting on a cyber slot machine or blackjack table, meaning hundreds of people can play at once.
The only time that you need to worry about crowds is in live dealer gaming because some tables have player limits. But you'll also find tables with unlimited seating, which eliminates any worries about crowds.
Another thing worth adding is that you don't need to worry about player etiquette in internet casinos. Compare this to brick and mortar venues, where you're expected to know superstitions and casino customs.
Let's look at some etiquette rules involving several different games:
Don't touch your cards in baccarat or blackjack.
You're not supposed to take any slot or video poker machine with a clothing article or purse on it.
Tip dealers an average of $5 for every hour you're at the table.
Don't put chips down after a roulette wheel begins spinning.
Avoid taking pictures in the casino with your smartphone.
Don't say the word "seven" at craps tables (superstition).
I'm not saying that you need to be a genius to learn and abide by etiquette rules. But it's nerve racking as a beginner when you're trying to avoid stepping everybody's toes.
5 – You Can Control Game Speed
One bad thing about playing table games in brick and mortar casinos is that you're at the mercy of the dealer and other players.
If you have a slow dealer and / or fellow players, then casino games can feel long and drawn out.
Of course, this works in the reverse too where the dealer and other players move too fast for you. And they may get annoyed if you're the one slowing down the action.
You also have to ask the dealer to hold your spot when you want to take a bathroom break. This becomes a problem if the casino is busier than usual and / or you take a long time.
Now consider online casino games, where you can control the pace and take breaks without worry.
An online blackjack or craps table waits for you to make decisions. If you're in the middle of texting somebody, you don't need to worry about holding up the game.
Another nice aspect is that you needn't mark your slot machine or video poker machine. Instead, you can get up and leave whenever you want without fear of somebody taking your seat.
6 – Mobile Casinos Offer Ultimate Convenience
When online gambling first launched in the mid-1990s, the only way to play was through clunky PCs. Today, we have more convenient options like laptops, smartphones, and tablets.
Smartphones and tablets offer players more convenience than ever because they're lightweight and easy to transport.
What's nice is that you won't miss a beat when playing at mobile casinos.
The graphics are just as good as when you play through a PC or laptop. And you can look forward to the same games, promotions, and bonuses.
If the history has taught me anything, it's that technology won't stand still. This means you can expect new devices that'll make gaming even easier and / or better.
Google Glass and other optical displays will certainly play a role in gaming's future. You don't even need to hold these optimal head mounted devices, making them more convenient than smartphones.
Voice recognition software could also factor into making online casinos easier to use in the future.
7 – Free Online Casino Games
Sometimes land based casinos offer promotions where you can play and learn table games for free. But for the most part, you can't play games for free at brick and mortar casinos.
This makes it hard to tell if you'll like a certain slot machine or practice blackjack strategy.
Internet casinos differ because they let you play for free as long as you want. Here are the simple steps you need to take to play free games at most online casinos:
Select the prompt to join the casino.
Enter the requested details to complete your account.
Confirm your account via email.
You can start playing free casino games as long as you're logged in.
Most mobile casinos make you create an account before you're eligible for free play. And I estimate that you'll need to do the same through your laptop / desktop at about 60 to 70% of online casinos.
Also note that some casinos don't require an account when they run through the Flash program.
This is even better because you can try games and see if you like the casino before spending time creating an account. Assuming you like the casino, then you can go ahead and sign up.
Back to the original point, internet casinos give you the convenience of trying games and / or practicing strategy for free. It's worth spending time with free online casino games even if you prefer brick and mortar establishments.
Conclusion
I enjoy spending time in both land based and internet casinos. But online sites have some distinct advantages over their brick and mortar counterparts.
My personal favorite is that online casinos offer you a better chance of winning.
I'm not obsessive about grinding the house edge down to its lowest point in every session. But it's nice to give yourself the best possible chance to win in blackjack or slots.
Another thing that I love about internet gambling is how there's no pressure to act quickly or avoid taking breaks. Online gaming works for me because I like taking snack breaks and going to the restroom without worrying if my slot machine will still be available afterward.
One more aspect that I really like is how you can play through a smartphone or tablet.
Nothing beats pulling a smartphone out of your pocket
and playing a few slots spins whenever you feel like it.
These are just some of the things that I personally love about internet gaming. And you may value other factors higher.
In any case, you can see that online gambling offers some very distinct benefits over playing in brick and mortar casinos.