Hide Bonus Offers
| | | | | |
| --- | --- | --- | --- | --- |
| #1 | BetOnline Sports | 60% Up To $1,000 | Visit Site | BetOnline Sports |
| #2 | Bovada Sports | 50% Up To $250 | Visit Site | Bovada Sports |
| #3 | BetUS | 125% Up To $2,500 | Visit Site | BetUS |
| #4 | Everygame | 100% Up To $500 | Visit Site | Everygame |
| #5 | MyBookie | 100% Up To $1,000 | Visit Site | MyBookie |
7 NFL Legends That Waited Too Long to Retire

Athletes don't know when to retire sometimes. That, or they like competing too much. Or it's the money.
Yes, it's most likely the money.
In all seriousness, a lot of factors go into a player extending their professional career longer than they probably should. It's a bit dicier when it comes on the pro football field, as waiting too long can leave you subject to serious injury or show a rapid decline in athleticism faster than other sports.
For those two reasons, it's often painfully obvious that a player retired a bit later than they should have. With that, here's a look at 7 NFL stars who should have retired earlier than they did.
Michael Vick, QB, Steelers
Let's start with Vick, who was undeniably one of the best dual-threat passers the league has ever seen. He first dazzled with the Atlanta Falcons but had his career interrupted by a prison stay due to an illegal dog fighting ring.
Vick returned a changed man, though, as the Philadelphia Eagles gave him a second chance. He even morphed back into an MVP-level player, as he tossed 21 touchdowns and ran for nine more when with the Eagles in 2010.
The wheels began falling off from there, as Vick's frail frame couldn't hold up and his longtime bout with inaccuracy sabotaged what was left of his career.
Teams kept giving him a shot due to his arm strength and rushing ability, but he started just 35 games from 2011-2015. His final season was spent with the Pittsburgh Steelers, where he went 2-1 as a starter but clearly didn't have it anymore at age 35.
Ed Reed, S, Jets
Reed may very well go down as the best safety the NFL has ever seen. A hard-hitting ball hawk who was also an amazing runner with the ball in his hands, he excelled in every facet of the game.
He was even part of a long line of gritty Baltimore Ravens defenses and helped the franchise win a Super Bowl. Unfortunately, all good things must come to an end.
Reed had an opportunity to cap his stellar career as a world champion at the end of the 2012 season, but at age 35, he opted to keep going.
He soon learned that he probably shouldn't have, as he appeared to be very much in decline while splitting his 2013 season between the Texans and Jets.
Jerry Rice, WR, Seahawks
Some NFL players should have retired a lot sooner, but it's hard to knock Rice too much. After all, he had pieced together some pretty special seasons with the Oakland Raiders at 39 and 40 years old.
Heck, he even played in another Super Bowl with the Raiders. He did start to show serious signs of decline in his final year with the team, however, when he managed just three scores.
Rice didn't get the hint when the team traded him to the Seahawks at the age of 42, however. Instead, he initially tried to keep playing by signing with the Denver Broncos the next offseason.
He wisely opted to retire, but not before posting a meager 30-429-3 line across 17 games (thanks to a trade) in 2004.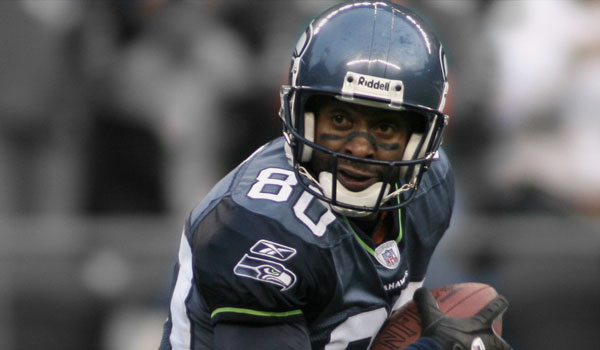 Cris Carter, WR, Dolphins
Carter's final days in the NFL were even worse than Rice's. Never really a burner, Carter was especially slow down the stretch in his career, relying heavily on his route-running and reliable hands.
Fans already saw the beginning of the end for Carter in his final season with the Minnesota Vikings, where he caught just 73 balls for 871 yards and six touchdowns. The reception and yardage counts were his lowest since 1992.
Despite Carter being very much in decline at age 36, he kept on trucking into his final season in 2002. It didn't last long, of course, as Carter played in just five games with the Miami Dolphins, while averaging a putrid 8.3 yards per catch.
Years later, the man known as "C.C." would admit he had no business playing in the NFL at age 37.
Johnny Unitas, QB, Chargers
Unitas had an ending that was about as ugly. He was already falling apart while with his Baltimore Colts, as the Hall of Famer started just 10 games over his final two seasons with the team.
His numbers and efficiency weren't the same as they once were, but Unitas still latched on with the San Diego Chargers in 1973 at the age of 40.
It was a decision Unitas probably regretted. The 40-year-old struggled to start even four games, as he went 1-3 at the helm and put up just three touchdowns against seven interceptions.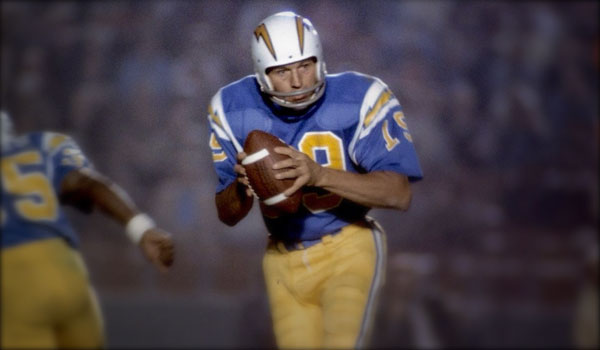 Emmitt Smith, RB, Cardinals
I get why Smith kept on plowing into piles. He was chasing yardage and touchdown records. The three-time Super Bowl winner had no need for money, glory, or pride, but those records were still out there for the taking.
While that's a fine reason to keep it going, Smith really wasn't an elite running back as his career was winding down. Even in his final two seasons with the Dallas Cowboys, he was averaging just 3.9 and 3.8 yards per carry.
No longer a touchdown machine and lacking explosiveness, Smith was driven out of Big D.
Smith latched on with the rival Cardinals, partially out of spite and also to keep chasing records. It allowed him to get where he needed to go, but it wasn't done in an efficient manner with Smith posting yards per carry averages of 2.8 and 3.5 over his last two seasons.
The records he wanted were reached, but Smith had to play until age 35 — and quite poorly — to make it happen.
Brett Favre, QB, Vikings
Favre's longevity and Iron Man start streak can't be shrugged off, nor can the fact that he got his wish and nearly led the Minnesota Vikings to a Super Bowl.
However, Favre's penchant for turnovers at the wrong time resulted in a back-breaking pick in the 2010 NFC title game. His teammates still believed in him — and Minnesota still wanted to pay him — so Favre reluctantly returned yet again in 2010 at the age of 41.
He probably should have stayed home, though. Favre looked ill-prepared right away in week one, as he didn't move well and turned the ball over far too frequently.
Once Favre's start streak was snapped later in the year, you could see the end had arrived. Favre's final season was marred with injury, turnovers, and disappointment. His Vikings went just 5-8 with him leading the way, as he tossed 19 interceptions and bowed out into retirement.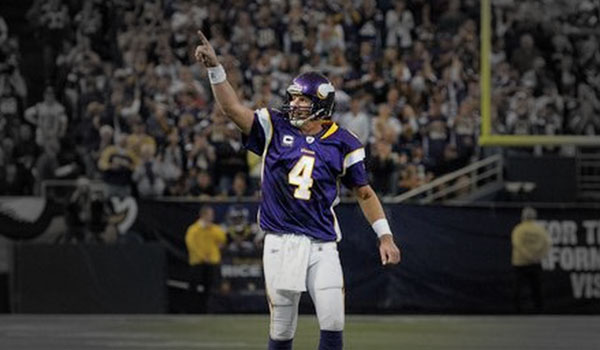 Summary
You'll struggle to find bigger NFL stars who should have left the game sooner. Favre tops the list in terms of star power, while a litany of other pro football players probably should have retired earlier than they did.
That reality could be partially responsible for early retirements. Players are thinking more and more about the impact injuries will have on their long-term health.
If you're not making big money (or especially if you already have), your production is down, and/or your team isn't enjoying success, it gets easier and easier to exit the game.
On the flip-side, there are other big NFL players who finished their careers at the right time.
For whatever reason, though, the players above left football one season too late. There are others who labored through rough endings, but these seven without a doubt lead the way.