7 Most Underrated Super Bowls – Ravens vs. 49ers and Others
The Super Bowl is about one thing: crowning the best team in the NFL each year. Except, it's actually not. It's the final game of the year, so it tends to take on a life of its own.
Yes, you want the best game possible, and you certainly prefer that the best team in the NFL prevails. It isn't great for football when a wild card team wins every year, after all.
That can make betting on the Super Bowl difficult, but the main point of the big game is entertainment. From the Super Bowl commercials to the halftime show to the closing moments, the Super Bowl just needs to find a way to thrill us.
Usually, the best Super Bowl games entertain us and are competitive contests that go down to the wire. I'll agree with that, but that still ignores some great matchups that still delivered the goods or quite simply didn't get the respect they deserve.
Here are seven Super Bowls that stand out as underrated games, whether it be for sheer theatrics, explosive plays, underrated game flow, or something else entirely.
Super Bowl XXXVII – Raiders vs. Buccaneers (2003)
Rich Gannon was bad. Like, really bad. But the high-flying Raiders offense (#1 in passing yardage) still moved the ball and made this one interesting.
Tampa Bay's disgustingly good defense ruled the day, to be sure. Monte Kiffin's stacked group sacked Gannon five times, picked off five passes, and even returned three turnovers for scores.
Still, this game was still one of the most underrated Super Bowls ever because it had a little bit of everything. If we're basing great Super Bowls solely off of being close or down to the wire, then no, this one misses the cut.
But for sheer entertainment, this was the bee's knees.
Not only did you have Jon Gruden burning his former squad, but the Bucs delivered three amazing defensive touchdowns, and this game produced 69 total points.
This wasn't all that competitive after the Bucs took a 34-3 lead, but it had plenty of big plays, and Oakland actually battled back late. They probably had no chance of winning, but the Raiders still went on an 18-point run to bring the game to 34-21 with six minutes to go.
With just over a minute left, the Raiders again were threatening to score when Derrick Brooks took a Gannon pass 44 yards to the house. Tampa Bay added on one more pick-six on the next drive to make sure that rally would fall short.
Super Bowl XXXVII was a blowout in every sense of the word, but boring, it was not. The game included a mild rally, four defensive touchdowns, six total turnovers, five sacks, and five offensive scores.
It was a wild, wild game, and it stands in as one of the highest-scoring Super Bowls ever.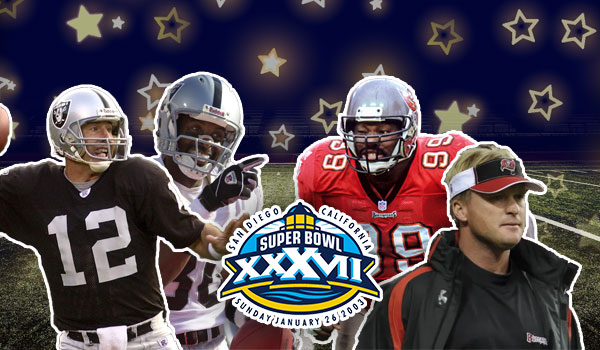 Super Bowl XIX – Dolphins vs. 49ers (1985)
Based on the matchup and star power alone, this is one of the most overlooked Super Bowls of all time.
Two iconic quarterbacks in Dan Marino and Joe Montana faced off on the biggest stage pro football has to offer, while these two offensive juggernauts went a combined 29-3 during the regular season.
Yes, the superior 49ers went ham from the second quarter on and won easily when you look at the final score (38-16), but this game still included a tense period and a lot of scoring.
Initially, Montana vs. Marino didn't disappoint. The young Marino was entering the biggest game of his life (and ironically his lone Super Bowl appearance) on the heels of the best season ever by a quarterback.
Marino's insane 1984 regular season (5,084 yards and 48 touchdowns) didn't translate to the big game, but he did throw a touchdown early to give Miami a 10-7 lead.
The first quarter was won by Miami, and even after the Niners exploded with 21 points in the second quarter, the Dolphins added two more field goals to keep things at a civil 28-16 going into the break.
San Francisco blanked Miami 10-0 from there, but this game initially lived up to the hype and still included two 300+ yard passers and six touchdowns.
Had Marino taken care of the ball a bit better, Miami may have added another score or two and kept things a bit more interesting.
Super Bowl XXX – Steelers vs. Cowboys (1996)
Okay, so outside of some exciting plays and crazy star power, the first two games to make my all-underrated Super Bowl list were arguable bloodbaths.
Here, we get a bit more competitive, as the Steelers and Cowboys gave us a relative classic in 1996. Bill Cowher was searching for that elusive ring, while Barry Switzer was hoping to do his best Jimmy Johnson impression.
Only one man got his wish, as Switzer and the Cowboys won on the heels of a late Larry Brown interception.
That cemented Brown's Super Bowl MVP award and handed Dallas yet another title. Now, this Steelers vs. Cowboys Super Bowl won't hold a candle to past matchups in the big game, but it still had its day in the sun.
A severely underrated Super Bowl, Super Bowl XXX featured a battle of two iconic NFL franchises — both of which were vying for their fifth Lombardi Trophy at the time.
Dallas had far more star power, but Neil O'Donnell literally handed them this game with three interceptions, the last of which proved to be the most fatal.
Despite that, as well as Dallas dominating to the tune of a 20-7 lead, the Steelers rallied late, pulling within three points with over six minutes to go. Pittsburgh got the ball back quickly thereafter, with a shot to tie or take the lead.
O'Donnell's costly interception proved to be the difference in the game, as Brown's pick set the Cowboys up for an easy touchdown run and a 10-point lead.
While far from a barn burner throughout, this game still featured some solid offense (40 total first downs and five touchdowns), as well as a fun rally. Those final moments went 100% the Cowboys' way, but they still made for an entertaining Super Bowl.
Super Bowl XLV – Steelers vs. Packers (2011)
The crowning achievement of Aaron Rodgers' career came in 2011 when he led the Green Bay Packers to another title. The man known as A-Rod enjoyed one of the best games of his career, too, as he fired in three touchdowns to go with 304 passing yards.
While Rodgers played fantastic football, it was arguably Green Bay's defense that won this championship. Green Bay picked off Ben Roethlisberger twice, registered three sacks, and even returned one pick for a score.
That defensive touchdown put the Packers up 14-0 in the first quarter and gave them a big lead they'd never relinquish. The Steelers did fight back and give us a great ending, of course.
Despite being down 21-3, the Steelers cut the deficit to 21-17 and 28-25 before the Packers tacked on the game's final points with two minutes to go.
Big Ben and co. still had one last chance to complete the rally. However, with under a minute to go, Pittsburgh's last drive stalled. Green Bay kneeled out the rest of the game, bringing an extremely underrated Super Bowl to a close.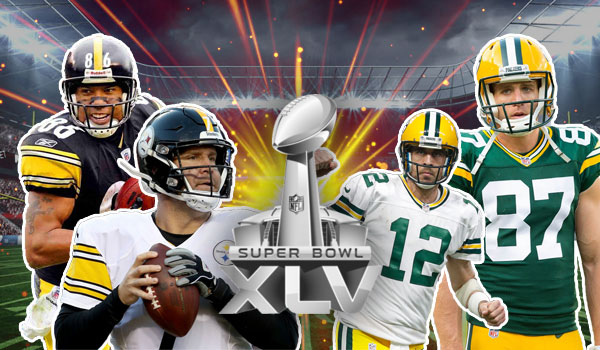 Super Bowl XLIV – Colts vs. Saints (2010)
Another overlooked Super Bowl came one year earlier when we got an epic showdown between two NFL legends in Peyton Manning and Drew Brees.
Manning was aiming to get his second title with the Colts, while Brees was trying to will the Saints to the franchise's first-ever championship.
Neither side gave in until the final moments, in what was an instant Super Bowl classic that is, for whatever reason, largely ignored.
Regardless, the Colts jumped out to an early 10-point lead before the two sides battled to a 10-6 score at the break. Brees tossed one of two touchdowns to take a 13-10 lead to start the second half, while the Colts answered back with a Joseph Addai touchdown run to go back up 17-13.
The Saints would tack on two more scores (a field goal and another Brees touchdown), with the second score giving them their second lead of the game. This back-and-forth game reached a boiling point in the fourth quarter, as Peyton Manning had an opportunity to tie the game with just over three minutes to go.
Manning appeared ready to do so, as he drove Indy down the field before throwing an interception. Terry Porter took the pick 74 yards to the house, providing a relatively thrilling game with its final points and handed New Orleans a 31-17 win.
Brees was sensational in this game, completing 32 of 39 passes for 288 yards and a 114.5 quarterback rating. Manning didn't have it late but still chipped in with a strong effort as he put up 333 yards and a touchdown.
The final score had the look of an easy win, but the Saints actually trailed for much of this game — one that was also fairly close throughout.
In the end, fans got an amazing duel between two future Hall of Famers, a tight affair, and quite the send-off to hand the Saints their first Super Bowl win.
Super Bowl XXIII – Bengals vs. 49ers (1989)
Some recent Super Bowls were better than NFL historians allow us to recall, but there's another one back in 1989 that could easily qualify as one of the best ever.
It didn't have a ton of points, and one of the teams involved was the Cincinnati Bengals, but Super Bowl XXIII was still an unforgettable battle.
This was no big deal for the Niners, who had previously already won two Super Bowls. It did add to the growing legacy of Joe Montana and Bill Walsh, of course, and firmly established the 49ers as a true NFL dynasty.
It was also a classic case of "what could have been" for Cincinnati. A regular joke in the NFL realm, the Bengals were a team to be feared in the '80s, twice reaching the Super Bowl and falling to these very Niners.
The Bengals almost had the last laugh in this 1989 showdown, however, as Ickey Woods grinded out 79 tough yards and helped Cincy enter the fourth quarter with a 13-6 lead.
It wasn't a pretty Super Bowl from an offensive perspective, but Montana turned it on late, tossing two touchdowns in the final stanza to erase the seven-point deficit and get the win.
That victory came in dramatic fashion, though, as Montana hit John Taylor on a 10-yard touchdown with just 34 seconds to go.
Cincinnati nearly held on for a title that would have made their defense look amazing and would have kept the franchise from going 0-2 in the big game. Instead, Montana flipped the switch and turned a snoozer into a thrilling comeback win.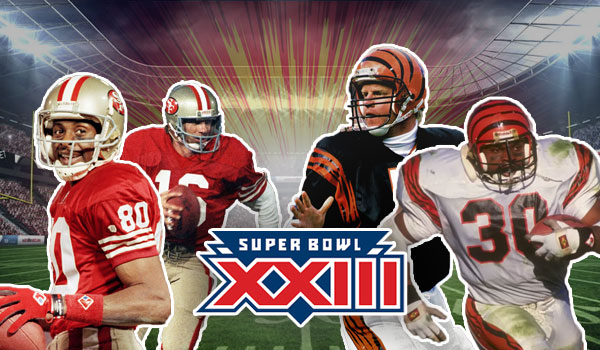 Super Bowl XLVII – 49ers vs. Ravens (2013)
The Niners didn't always come up big in the clutch, as they had a failed rally in Super Bowl XLVII, which has to go down as one of the best Super Bowls ever played.
It looked to be well on its way to becoming anything but early on, of course, as the Ravens took a 28-6 lead before a power outage suspended the contest. The game got an extended break due to the lighting issue, quickly seeing this game regarded as The Blackout Bowl.
Super Bowl XLVII also featured a clash between two NFL brothers, as head coaches Jim and John Harbaugh both eyed their first championship.
Younger brother John would get the win in the end, but the road to the final moments made this an unforgettable finish. Despite trailing by 22 points, the 49ers never gave up, as Colin Kaepernick led a ferocious comeback that included 17 unanswered points in the third quarter.
San Francisco cut the lead to 28-23 with that rally, which was finally answered with Ravens points when Justin Tucker hit a field goal to take a 31-23 lead. The Niners kept coming, as Kaepernick found his way into the endzone on a 15-yard run.
The 49ers failed to tie the game on a two-point conversion, but after Baltimore was held to a 38-yard field goal, had a chance to win the game in the final moments.
Kaepernick drove the Niners straight down the field on San Francisco's next possession, with Michael Crabtree and Frank Gore accounting for two key plays. Baltimore's defense stiffened at the goal-line, however, with the Niners failing on fourth down on a somewhat controversial no-call.
The Ravens nearly made this one of the worst Super Bowls ever, but the Niners used a well-timed power outage to stage an improbable comeback. In the end, this game totaled 64 points, included a special teams touchdown, a safety, 589 total passing yards, a 100+ yard rusher, and six total offensive scores.
It was one wild ride, and very nearly made the best Super Bowl comebacks list. The fact that it came accompanied by a brother face-off and a little controversy only made it more interesting.
Summary
As you can see, these are some of the most underrated Super Bowls in NFL history. They're all overlooked for different reasons, but time can be a weird thing in how it warps perception.
There are more amazing Super Bowls you could technically include here. Some would probably be among the very best ever played, however, and others may be a tad overrated due to being competitive.
A close game doesn't necessarily always make a great Super Bowl, of course. Even some blowouts were highly entertaining.
Regardless, when you look at Super Bowl rankings or lists that detail the best Super Bowls ever played, these title games are often ranked too low or simply omitted.
That shouldn't be the case, so at least here you'll see these great Super Bowl games get the credit they deserve.