7 Las Vegas Tips for First Timers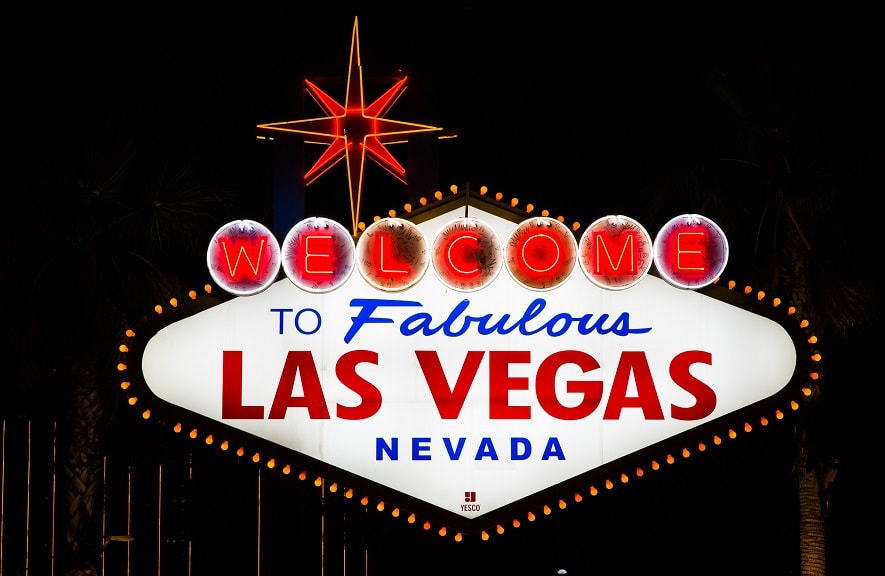 You've never been to Las Vegas before and you're looking for tips for first timers.
You're reading the right blog post.
This post shares my best 7 Las Vegas tips for first timers.
Warning: You're going to have more fun and save more money on your first trip to Las Vegas than you could possibly imagine.
Feel free to get excited.
1. Plan Your Trip for the Off Season and/or During the Week (or Both)
The hotels and casinos in Las Vegas are masters at revenue management. That means that they're good at raising their rates when they're expecting lots of people and lowering their rates when they're not.
This means that you'll almost certainly pay more for a stay at your casino hotel on Friday and Saturday nights.
And not just a little bit more, either.
Weekend rates can double or even triple when compared to rates on weeknights.
I looked up the rates for the Wynn on a random Friday/Saturday night stay in April. The price per night was $263. On the following Wednesday/Thursday, the price per night was only $159.
The differences can be even more significant at lower-priced properties. I was able to find a $26 per night price at The Plaza in Downtown Las Vegas, but the weekend rate for that same week was $87 per night.
Vegas doesn't really have an off season, but some dates are so much busier than others that the prices skyrocket. Examples of times to avoid include any 3 day weekend during a public holiday, Valentine's Day, and New Years.
Late November and early December is the slowest time of year in Vegas, and you can get amazing prices on hotel stays during that time of year, especially if you book your rooms in advance.
Just be sure to check ahead of time, because Vegas is also a busy convention destination, and hotel rates skyrocket during conventions, too.
2. Start Signing Up for Coupon Books
Las Vegas offers more ways to save money than any other city on the planet. You can find literally dozens of coupon books while you're in the city, but it's more fun to sign up for these and get them in advance.
Here's why.
Scientific studies have demonstrated that anticipation of experiential purchases increase the amount of happiness you derive from that purchase.
If you want to get the most bang for your buck from your Vegas trip, start planning your activities in advance.
Getting your coupon book serves two purposes:
It saves you money.
It increases the number of activities you're anticipating.
Some of these coupon books are free; others cost money. Think about getting your hands on both.
A Las Vegas Advisor membership is one of the best coupon books you can buy. You'll get literally dozens of coupons for 2 for 1 meals. But they also offer lots of deals on show tickets and attractions, too.
For example, you can get three free rounds of drinks at Ellis Island using one of the coupons from this book. You can also save $7 on a show ticket at Suncoast. You can even get 2 for 1 tickets for the Laugh Factory at the Tropicana.
3. Start Signing Up for Slots Clubs, Too
Slots clubs are also a big deal in Las Vegas.
Here's how they work.
When you join a casino's slots club, you get a plastic card that you can insert into any of the gaming machines while you play.
This card tracks how much money you're wagering. It doesn't care whether you're winning or losing; its only purpose is to track how much money you're putting on the line.
So if you play slots for an hour and make 600 spins at $1 per spin, you've put $600 into action.
You then receive rebates, in the form of comps or cash, on the amount you've wagered.
And playing with the slots club card inserted has no effect on your odds of winning or losing.
One of the best slots clubs to join is MGM's. Their players' club card works at the following casinos in Vegas:
Aria
Bellagio
Beau Rivage
Delano Las Vegas
Excalibur
Gold Strike
Luxor
Mandalay Bay
Mirage
MGM Grand
Monte Carlo
New York New York
Also, some slots clubs offer bonus points during certain time periods. You can find an updated list at Las Vegas Advisor.
You can find great deals on points here. When I wrote this post, the Orleans was offering 20X points on Saturdays from 9am to noon.
It's hard to under-state what a great deal that is. Normally a player's club point is worth maybe 3/10 of a penny for each dollar that you wager.
Multiply that by 20, and now you're getting 6 cents back on every dollar you wager. On many games, the house edge is less than that, which means that you might even be playing with a mathematical edge over the casino.
Schedule your slots play around the best bonuses to your slots club points, and you'll be more likely to leave Las Vegas a winner.
And even if you don't leave a winner, you'll lose less money than you would have if you hadn't taken advantage of the slots club.
4. Enjoy the Many Free Attractions in the City
Las Vegas has more to see and do than just about any city in the United States. You could spend a lifetime just enjoying the free sight-seeing.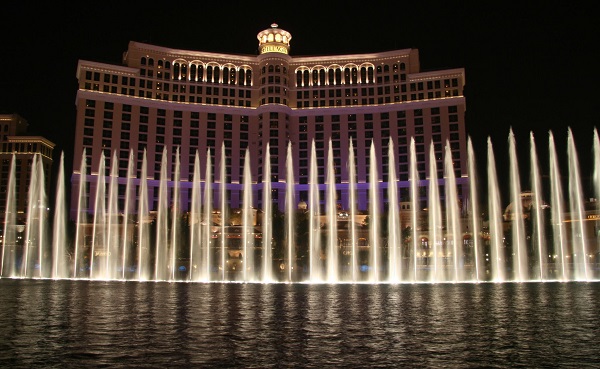 Fountains of Bellagio
Some of the free attractions worth visiting include:
Some of these sights are probably walking distance from your hotel, but not all of them are. If they're not, you can save a lot of money by taking the bus instead of a cab.
An all-day pass on the bus is only $7. The trolley is even cheaper, at $4.25 per day.
Of course, if you're a high roller, the casino will provide you with free transportation.
5. Learn to Play Casino Games for Free
If you want to practice at home, you can learn how to play casino games at any of the online casinos we recommend on this site.
But you can also take free classes at most casinos. Ask the concierge for the times. The most commonly-taught casino game classes include:
Blackjack
Craps
Poker
Roulette
Blackjack and craps take more effort to learn how to play, but they're worth it.
The house edge on blackjack, if you're playing with perfect basic strategy, is less than 0.5%.
The house edge on craps, if you stick with the simpler bets, is only 0.85%.
By contrast, the house edge on most roulette bets is 5.26%.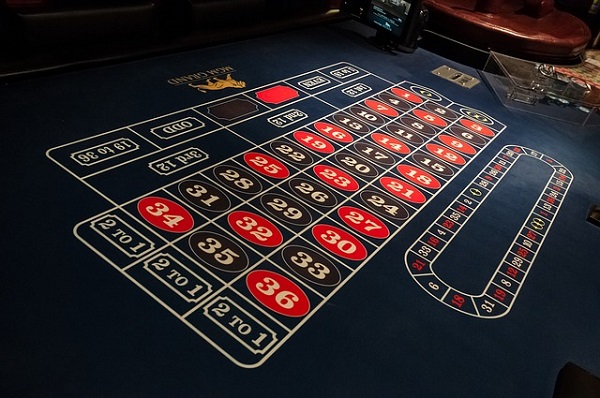 When you get ready to play the table games, you might be shocked at how high the table limits are at your casino.
If that's the case, save your money and try the blackjack and craps games at the casinos in Downtown instead of the Strip. The table minimums are almost always lower there.
6. Drinking on a Budget
Don't forget that cocktails are free while you're gambling.
Just don't forget to tip your cocktail waitress a dollar or two when she brings you your drinks. Word gets around quick when you stiff a waitress, and you'll find yourself waiting all night for a drink if you're not willing to tip.
If you're a beer drinker, you can save a lot of money by getting a 12 pack at the convenience store. In Vegas, you're allowed to carry your drinks around with you. And hotel mini-bar prices are ridiculously high.
You can also find happy hours and drink specials at bars all over Vegas. For example, Casino Royale has $1 beers and $1 margaritas, any time.
The Heart Bar at Planet Hollywood has 2 for 1 Coronas and Skyy cocktails from 2pm until 9pm.
7. Go Ahead—Get Married
Save yourself some time standing in line. Apply for your marriage license in advance online by visiting this page at the Clark County Website.
If you're having guests at your wedding, talk to the hotels beforehand. They often offer discounts to wedding parties. Even if they don't offer discounts, you might be able to get some kind of upgrade to a nicer room in exchange for encouraging your guests to stay at your hotel.
You should hire a photographer by the hour. You'll save money by avoiding the extra time charges.
You can even get married by an Elvis impersonator. (Nothing could be more Vegas than that, right?)
What Did I Leave Out?
Now I'm going to ask for some help from you, gentle reader.
Which Las Vegas tips for first timers were you hoping to find that I didn't include?
Leave a comment below, and if there are enough questions to answer, I'll create a sequel to this blog post with the answers.
AUGUST
Casino of the Month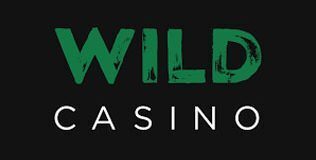 Welcome Bonus
250% up to $5,000
Read Review
Visit Site