6 Situations Where a Brett Favre Return to the NFL Could Make Sense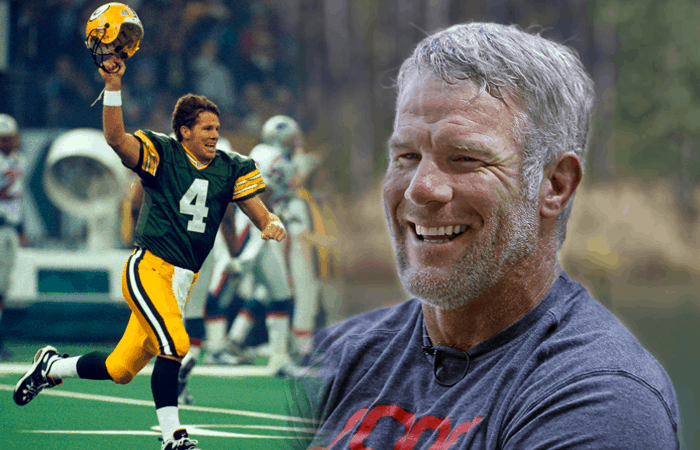 The days of Brett Favre playing in the NFL are over. Probably.
We're at least forced to speculate over the possibility of a 47-year old Hall of Fame quarterback returning to the gridiron, because even when it's not his fault, Favre seems to always get his name tossed back into the pro football conversation.
It happened again recently, as Favre ripped passes with Atlanta Falcons star cornerback Robert Alford and Alford decided to show a jacked Favre slinging footballs on his Twitter account:
It's tough to deny it. For a 47-year old ex-NFL player, Favre looks like he is in pretty darn good shape and the velocity coming off of his right arm is anything but waning.
Should Favre ever reconsider his retirement (and he certainly has before), would there be any interested parties? It's hard to know. An interested team would have to have a clear mess at quarterback to be desperate enough to see the services of a retired arm that hasn't played since 2009. In that same breath, that team would have to be good enough to be in a situation that warrants Favre giving it an actual thought.
All things considered, here's six teams/situations that actually could make sense for a Brett Favre return:
New England Patriots
The Pats offer up the first situation where a Brett Favre comeback wouldn't be all that crazy. Tom Brady just got done winning a Super Bowl with this team at age 39 and will soon be 40. Just seven years older, Favre could potentially step in for Brady should he suffer a devastating season-ending injury much like he did back in 2007.
I know what you're thinking. Jimmy Garoppolo is there to take over if Brady ever goes down. For now, that's true. However, the Jimmy Garoppolo trade rumors have been running wild all offseason and the backup is heading into a contract year.
What happens if Jimmy G gets traded, Tom Brady gets hurt and a Super Bowl contender has nobody to turn to? Brett Favre could happen.
Green Bay Packers
How about a return to Brett's old stomping grounds? No, Favre isn't coming back to supplant Aaron Rodgers, but what if the Packers get off to a hot start and are 10-0 with everything to play for and then Rodgers suffers a season-ending injury?
Green Bay would surely be set up for a quick fall, as backup quarterback Brett Hundley is talented but nowhere near ready to lead the Packers on a deep playoff run. Provided Favre has the desire and this move wouldn't upset A-Rod, perhaps the ol' gunslinger could mend the bridge between himself and the Packers for past wrongs.
After all, would there be a better story than Favre returning to help out the Packers one last time? It'd be even sweeter if Favre's return could produce one more Super Bowl in the process.
New Orleans Saints
Favre going back to Green Bay probably wouldn't ever happen, though. The Packers would likely take their chances with Hundley and they wouldn't want to risk ruffling Rodgers' feathers.
Favre playing for his childhood team – the Saints – could be interesting, though. Favre's last big game of his career was a tough NFC title game loss to the Saints, but part of him had to love New Orleans moving on to win the Super Bowl back in 2008.
Should the Saints rise from the ashes and be en route to the playoffs, only to lose Drew Brees to a big injury, would it be too outrageous to give Favre a call? Considering they'd otherwise suddenly be lost, maybe not.
Jacksonville Jaguars
A Brett Favre return doesn't just have to be a last ditch grab for a contending team late in the year. What about a franchise like the Jaguars, who seem fully built on both sides of the ball to make a deep playoff run right now, but continue to be held back at the quarterback position?
It's not as crazy as you might think, as Tom Coughlin has taken over the decision-making and may not be fully bought into would-be franchise passer, Blake Bortles. Bortles regressed sharply in 2016 and the Jags quickly went from a team on the rise to a team in shambles.
Turning to Favre could be a sign the Jags want to compete right now, while it could also allow Bortles to really re-think how he's played up to this point. That'd ultimately provide irreparable damage to Bortles as a member of the Jags, but if Jacksonville wants to win now it might not be the worst idea.
Houston Texans
An even better fit than the Jags would be Houston. The Texans officially have no answer under center after trading away big budget failure, Brock Osweiler. Now they're left with the raw Tom Savage and classic under achiever, Brandon Weeden.
Neither of those guys are getting Houston anywhere, yet this playoff contender seems set on both sides of the ball for a title run. Brett Favre may not be that interested in playing anymore, but he has to see how close this team is to making a run for a Super Bowl.
It might not even be that tough of a job for the 47-year old veteran, either. Favre could rest easy while the Texans ride Lamar Miller and an elite defense to the playoffs, and he'd be called on to win only a handful of games.
A more likely scenario is undoubtedly Tony Romo going to Houston, but if he chooses Denver, perhaps giving Favre a call isn't all that crazy.
Denver Broncos
It's the same for Denver. Trevor Siemian is replaceable and Paxton Lynch isn't ready yet, which also has the Broncos considering their options under center. This is a team that just won a title with a washed up Peyton Manning, after all, so you have to imagine John Elway is thinking about every possible option.
Denver's first option has to be bringing in Romo or maybe someone like Colin Kaepernick, but if that doesn't come to fruition, would bringing in an aged veteran with the experience Favre has be the worst move?
Elway could find some humor in bringing in a guy he once beat in the Super Bowl, while Denver has found success by adding a steady veteran presence to a team built to win. Denver still has an elite defense and solid pieces on offense, too, so there is a lot to like here if you're Favre.
Is Brett Favre Coming Back?
Favre seriously looks like he has the build, motion and arm power to give it a go in the NFL. Of course, there are a few things keeping this from being anything more than just a funny news story about an old former quarterback.
For one, Favre doesn't want to play anymore. He's always been adamant about still loving the game and having the physical ability to make all the throws, but he doesn't like the idea of getting hit and he also never enjoyed training camp or the grind of a long NFL season.
Favre has also been more proactive following his career in regards to concussion awareness. He's too aware of the dangers of his own career and now that he knows what he knows, it'd be tough to get a guy pushing 50 back out onto the field.
So, could a few NFL teams use Favre's services? Yeah, probably. Will we actually ever see the ol' gunslinger out there playing meaningful games. Most definitely not.
It's still fun to think about, though.