Hide Bonus Offers
| | | | | |
| --- | --- | --- | --- | --- |
| #1 | Bovada Sports | 50% Up To $250 | Visit Site | Bovada Sports |
| #2 | BetUS | 125% Up To $2,500 | Visit Site | BetUS |
| #3 | MyBookie | 100% Up To $1,000 | Visit Site | MyBookie |
| #4 | Everygame | 100% Up To $500 | Visit Site | Everygame |
| #5 | BetOnline Sports | 60% Up To $1,000 | Visit Site | BetOnline Sports |
6 Reasons Why the End Has Come For Ronda Rousey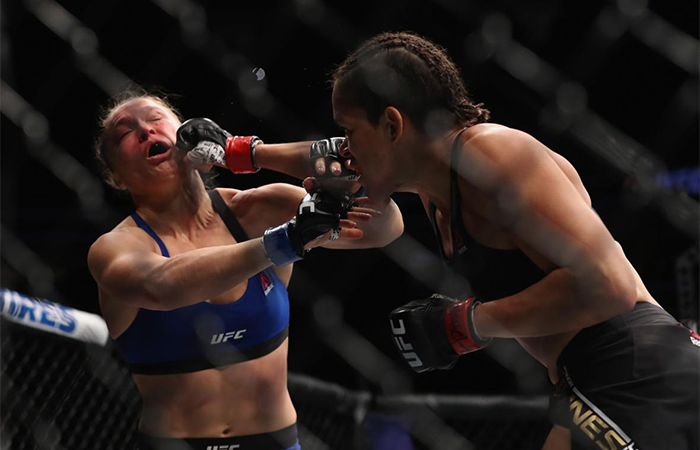 Nothing changes the dominance we once saw in Ronda Rousey. She was once the most dominant female force in the UFC and started a brilliant career off at a perfect 12-0.
She was on top of the world and invincible – until she wasn't.
There are two glaring realities mixed into one when we look at Rousey's rise and fall. First, she truly was amazing, impressive, talent and whether you like it or not – the best. But she also fell, failed to adjust, and didn't adapt to an evolving sport where striking has become more prevalent than ever.
Rousey was the best because the best know how to enforce their will. They adapt, they mask their weaknesses and despite all their opponents do to mess with them or force them into a spot they don't want to be in, they flip the script and dominate.
That was Rousey's M.O. for most of her career and for 12 fights to get the ball rolling, she was the very best.
The problem? Her story got tired. She got tired. And she never adapted.
Blame her coaching, her training, her schedule, her celebrity – blame whatever you want. The reality is Rousey got to the top, knew she was the best and stopped figuring out ways to stay there.
Once she got rocked by Holly Holm, we all figured it was a long time coming. Perhaps Rousey was getting lucky in spots or the competition simply wasn't that great. Whatever the case, that first loss was bound to come around and the fact that it happened against an elite striker and champion kickboxer couldn't have been all that surprising.
Rousey wasn't elite in striking or kicking. She never had been and due to either a lack of skill, effort or focus, no one ever expected that to change.
To combat that, she'd have to adapt to some degree, however. But she clearly never did ahead of her bout with Amanda Nunes. She was overmatched in every possible way, her striking was embarrassing and her defense was even worse.
But a lot goes into Rousey's disastrous fall, as well as why she won't ever get back up – as painful as that is to admit. Here's the six key reasons why we've seen the last of Rousey in the UFC.
1. Her Swagger is Gone
The biggest element of the old Ronda Rousey was her confidence and a lack of fear, which led to an unmatched swagger. Rousey firmly believed she was the most dominant women's fighter in the UFC and for a long while, she was right.
One loss shattered that persona. Rousey was beating opponents so easily and so quickly that she bought into her dominance so hard that once she wasn't easily dismantling Holly Holm, she panicked.
Rousey showed real fear and confusion in her loss to Holm and it destroyed her mentally and emotionally. She returned to prove she was the same fighter, but we learned at UFC 207 that she simply wasn't. If she was, she wouldn't have gotten beaten to a pulp in 48 seconds.
Whether or not Ronda Rousey ever gets that back is open for debate, but she didn't have the same swagger in her last two fights and it led to two straight defeats. If she doesn't think she can get it back, she won't, and that will mark the end of her brilliant MMA career.
2. The Game Has Passed Her By
Few refuse to credit Rousey for building up the women's divisions in the UFC, but looking back, it's now pretty arguable that she was dominating a less than stellar collection of fighters. Rousey won in impressive fashion, but in a lot of ways she got lucky and she rarely was forced into situations where her extremely inferior striking was put on display.
That's really only happened three times. She did overcome it in an intense battle with Miesha Tate, but the other two times against elite strikers, Rousey panicked and crumbled. The loss to Holm was probably more about being too willing to stay on her feet and that played right into Holm's strengths. Holm was too smart of a fighter to succumb to Rousey's floor game, however, and also lasted longer than anyone had with Rousey in some time. That likely dropped Rousey's focus and eventually led to a crushing loss.
Rousey was flat out never ready for Nunes. Her striking was terrible and she immediately looked afraid. That led to almost zero defense and at no point could she even think about trying to take Nunes down. The reality is the women in UFC are getting more versatile, stronger and more athletic. Rousey really can only win on the ground with her Armbar, and as effective as it was for a good stretch, opponents now know if they simply avoid that, they can't lose to her.
If Rousey adapts her game, improves her defense and works on her striking, she might be able to return and notch another win or two before calling it quits. However, as her skill-set stands, it isn't up to snuff.
3. Everyone Knows Her Tricks
Dumbing Ronda Rousey's skill-set down to one submission move feels a bit cheap, and truth be told, it's not that simple. Still, every fighter she faces from this point forward (if she doesn't retire) knows going in that her main agenda is getting the fight to the ground to pull off her coined move.
Due to that, keeping the fighting on the feet is more crucial than ever. Whether it's technique, confidence, or something else, Rousey has proven in her last two fights that she cannot handle elite striking. If a quality striker faces her, they know they can simply pick their spots to attack while watching out for Rousey's takedown moves. Not being overly aggressive initially is key, as Rousey made a living on countering overly-aggressive strikers.
4. Maintaining Her Legacy
Beyond her confidence and skill-set having Rousey overmatched against elite strikers, it might just be a good time to call it quits to help preserve her MMA legacy. Some will say her dominant run won't even be forgotten, regardless of what she does from this point on, but adding more losses to the record only suggests she may not have been what the media hyped her up to be in the first place.
Quitting now allows us to note that Rousey's inferior striking ability couldn't extend her dominant run, but for a long stretch, her elite ground skills were enough to rule the UFC. That's no longer the case, though, so continuing a regressing fighter's career feels like a fool's errand, unless Rousey plans on countering the changing game.
5. Deep Depression
One huge element to Rousey's career taking a nosedive in the complete change of her mental state after she lost to Holm. Rousey admitted to feeling suicidal and thinking she was a loser – ad so on. That's not a healthy state of mind, and it's fair to wonder if she ever really escaped that dark place.
Rousey was in amazing shape going into this fight and had an entire year to prepare, yet once the fight started, she looked like she'd never fought before. Her depression and weakened mental state may have played into that, and even if it didn't, it's quite possible she's back into that line of thinking after such a bad loss.
This isn't usually a big fear for fighters or athletes in general, but when you look at hype, expectations and today's social media impact, it makes sense that falling from such great heights can be unbelievably damaging.
It's not fair to assume Rousey is now or will be damaged emotionally to the point of deep depression, but it's fair to fear that possibility. If that's the case again or there is a realistic likelihood of it happening again, it may be best for Rousey to cut her losses and put her long-term mental health ahead of a dwindling career.
6. Other Projects Await
The last – and arguably biggest – argument for Ronda Rousey to retire is that her career outside of the UFC isn't dwindling at all. Rousey has already appeared on talk shows, in commercials and even has had parts in blockbuster movies.
Not even 30 years old yet, Rousey is very much in her prime as a fighter, but even more so as an icon for whatever it is she wants to do with her brand. Rousey has made loads of cash fighting and her last two losses can't take away the fact that she will probably go down as the most dominant female UFC fighter ever. The woman defended her bantamweight title an insane five times, faced solid competition and started her career off a perfect 12-0.
It all crumbled in horrific fashion, but Rousey is still a UFC icon and she can use the brand she built to make more money down the road. The big platform figures to be movies, as Rousey has the personality and athleticism to star in action movies, as well as the following to promote all kinds of different roles and stories.
What Rousey decides to do with her time from here on out remains to be seen. Perhaps she'll write books or tackle dreams she's never dabbled in yet. The point is, she's about as famous as any athlete and she has such a massive following that no matter what she does, people will probably pay to get a piece of it. That could even be a big reason why she's lost her focus over the past year, and possibly why she's already thinking about leaving the Octagon behind for good.
Each of these reasons individually could be enough for Rousey to call it quits, but as fellow UFC star Jon Jones recently pointed out, no matter the outcome, it will be more impressive if Rousey finds a way to go out on her own terms instead of quitting after two losses.
Rousey herself recently released a statement that suggested she'll at least consider all her options. It will be interesting to see what she ultimately decides, but if it's retirement, no one should be overly surprised.