Hide Bonus Offers
| | | | | |
| --- | --- | --- | --- | --- |
| #1 | Bovada Sports | 50% Up To $250 | Visit Site | Bovada Sports |
| #2 | BetUS | 125% Up To $2,500 | Visit Site | BetUS |
| #3 | MyBookie | 100% Up To $1,000 | Visit Site | MyBookie |
| #4 | Everygame | 100% Up To $500 | Visit Site | Everygame |
| #5 | BetOnline Sports | 60% Up To $1,000 | Visit Site | BetOnline Sports |
6 Reasons Tom Brady Should Retire After Winning Super Bowl 51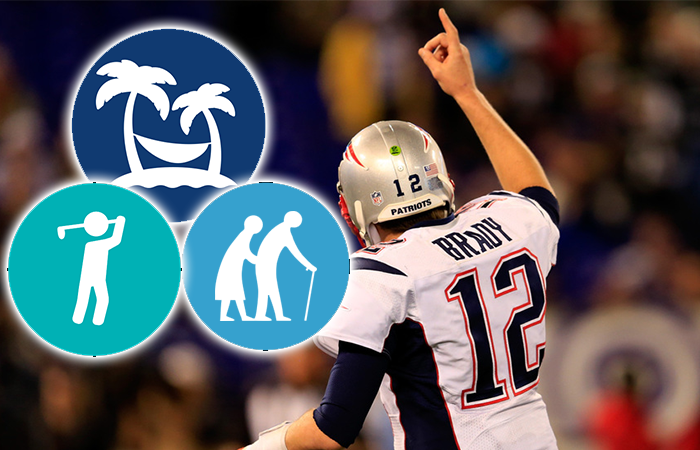 Tom Brady and the New England Patriots were favored to win Super Bowl 51. Three quarters into Super Bowl LI, it didn't look like they could. Brady was just slightly off, LeGarrette Blount lost a fumble, Brady tossed a pick-six and before you knew it, the Atlanta Falcons were running away with a 28-3 lead.
Something happened late in the third quarter, however, and the favorite-turned-underdog Pats rose from the ashes to score 31 unanswered points, stealing an insane 34-28 win in overtime.
Brady was filled with emotions leading into the game and was understandably emotional immediately after.
With such a crazy – notably historic – Super Bowl to land him his record fifth league title, is it crazy to wonder if this could have been Tom Brady's last game?
Probably, but it's not fair to wonder if it should be. Here's six reasons why he might want to think long and hard about retiring:
He's No Young Pup
Let's start with the age factor. Tom Brady did just break the Super Bowl record for passing yards in a single game, holds most of the Super Bowl passing records, won his fifth title and even nailed down his record fourth Super Bowl MVP award.
But the dude is 39 years old. Before the 2017 NFL season rolls around, he'll be 40 and judging by history, it won't be all that long from there before he starts to show steep signs of regression.
It's true that Brady has never really relied on even average athleticism, top notch mobility or a rocket arm, but the attributes he does have (timing, precision, accuracy, etc) could surely start to disintegrate as time goes on.
In addition to natural regression that comes with age, there is also the obvious issue of health. Brady will be 40 years of if he suits up for another NFL season in 2017 and one step closer to a catastrophic, career-ending injury. The older you get, the more brittle the bones get and the more worn ligaments get.
Naturally, the longer Brady shoves his body onto a pro football field, the more likely it becomes he'll suffer a serious injury on one.
None of this is reason enough to force Brady into retirement. He's tough as nails, is not afraid of physicality, just had possibly his greatest season ever and is addicted to the game. Still, when Father Time shows up, none of that can stop the inevitable decline.
The Patriots Have a Replacement Plan
If Brady is too proud to bow out before his age robs him of his allure, perhaps he'll consider his shrinking NFL window and note that he could potentially be leaving the Pats in a serious jam in a couple of years.
Brady will eventually retire at some point, and depending how that goes down, it's quite fair to wonder what type of situation New England will be in at the quarterback position.
Right now, they're in a great one. Backup quarterback Jimmy Garoppolo proved in just two starts this year that he can lead this offense and while it was admittedly a small sample size, it may have been enough for the Pats to go forward fairly confident Jimmy G could be the team's long-term answer.
As long as Tom Terrific is out there slaying defenses and winning titles, of course, it doesn't make a ton of sense to force an elite quarterback into retirement. The team should be thinking about it, however, and if Brady truly holds New England in high regard, he may want to at least – if only for a second – ponder what continuing his playing career could do to this team in the not too distant future.
Should Brady retire right now, the Pats could lock in Garoppolo to a long-term deal and march forward knowing they have their guy. If Brady keeps playing, they'll have to trade Garoppolo, who becomes a free agent in 2018.
He Has Nothing Left to Prove
As if there had been any doubt before, Tom Brady almost certainly secured himself as the greatest quarterback in NFL history with his amazing performance and fifth Super Bowl win. Brady has cemented his legacy as a quarterback who has dominated the regular season, put up elite numbers, succeeded in the playoffs and gone 5-2 in the biggest game pro football has to offer.
Short of winning a sixth title and breaking a slew of NFL passing records, Tom Brady doesn't have much good reason to keep subjecting his body to the sport of football. There are still goals to be had, but Brady has firmly entrenched himself in the league's Mount Rushmore.
No other quarterback had even been to seven Super Bowls, much less came away with five wins. Brady also stands in as the only four-time Super Bowl MVP. He can keep coming back and adding to his insane accomplishments, but he really has nothing left to prove.
You Can't Top This
No matter what other goals lie ahead of Tom Brady, and no matter what other title games he gets to (or even wins), nothing he does is going to top what he and his team did in Super Bowl 51.
It's unrealistic to imagine a better feeling or a moment coming close to this, where the Patriots looked completely down and out and stormed back from a 28-3 hole to win.
Not only was this the largest comeback in Super Bowl history, but this also ended up being the first playoff game in league history where a team trailed by 19+ points and still won.
Oh, and it was the league's first overtime game in a Super Bowl, as well.
Brady probably didn't set out to win his fifth title in quite this fashion, but he and his team gave it all they had, stuck with it and won a title in possibly the most improbable way the Patriots ever could.
Brady could come back and play at a high level for another 3-4 years and maybe even tack 1-2 more Super Bowl wins to his bloated resume. But nothing he does from this point on will top what he and the Patriots just did in Super Bowl 51, and the sheer realization of that has to have him wondering if this is as good as it gets.
Ride Off into the Sunset
If Brady is thinking like that, then this win could offer him a gem of an ending to his Hall of Fame career. It is extremely rare that elite NFL stars get to cap their careers with a title, and even more rare that they have a huge hand in helping to make it happen.
We've seen players like Peyton Manning and Jerome Bettis do just that, but during their final title runs, neither was at the height of their game or were the reason their teams won. Brady could join elite company and do something even the great Joe Montana couldn't do – lead his team to victory in the biggest NFL game possible.
In every possible way, Brady would be going out on top, riding off into the sunset with some great football still left in him. He'd never have to experience another loss, risk devastating injury, stave off sharp regression or risk his career ending in any other way.
Riding off into the sunset certainly calls for self-awareness and acceptance, but it has the perk of being perfect and completely untouchable. Brady has made a career of doing things on his own terms, and while he's repeatedly said over the years that he'd like to play for as long as his body would let him, he may have to think about the long-lasting impact of his permanent exit coming after this chaotic Super Bowl win.
Nothing is Guaranteed
Lastly, and possibly just as important as any of the other reasons why Tom Brady should retire, is the fact that nothing is guaranteed. The two biggest arguments against Tom Brady retiring are that he can still play at a high level and that he wants to play.
However, there's no guarantee that his skills don't begin to diminish with age starting next year. There is no guarantee his defense is as good next year. There is no guarantee his supporting cast can keep stepping up and helping him. There is also no guarantee that with each passing year, Brady can remain as healthy as we've seen him be.
More importantly, of course, is the fact that there is no guarantee Brady's final season – whenever it comes – ends with a title run. That opportunity to cap his career perfectly may not present itself again, those gaudy NFL records that seem to be within reach might not be attainable and the foundation of this team – as stable and impressive as it continues to be – may not last forever.
The end will come eventually for Tom Brady, and while it's probably not coming in 2017, Brady should start to think seriously about when it will be, and all of the reasons why it might need to be a lot sooner than he may prefer.