Hide Bonus Offers
| | | | | |
| --- | --- | --- | --- | --- |
| #1 | Bovada Sports | 50% Up To $250 | Visit Site | Bovada Sports |
| #2 | BetUS | 125% Up To $2,500 | Visit Site | BetUS |
| #3 | MyBookie | 100% Up To $1,000 | Visit Site | MyBookie |
| #4 | Everygame | 100% Up To $500 | Visit Site | Everygame |
| #5 | BetOnline Sports | 60% Up To $1,000 | Visit Site | BetOnline Sports |
6 Reasons Why the Suns Can Win the NBA Finals in 2021

The Phoenix Suns were supposed to make a playoff push this season. That's what acquiring a seasoned point guard like Chris Paul does for you.
But snagging second place and pushing for the best record in the NBA? Now that was unexpected.
It sounds wild, but that is the reality for Suns fans and sports bettors right now.
Phoenix has gone from a laughing stock to a potential title threat in just a couple of seasons, and people need to start seriously wondering if they can go the distance this season.
To gauge the likelihood of the Suns winning a title, I'm here to break down their betting odds, and also go over why it can happen.
Without further haste, here is my reasoning for why the Phoenix Suns can win the 2021 NBA Finals.
Their NBA Finals Odds Aren't Bad
It does not always start with how the top NBA betting sites price a team, but when they note someone to be a contender, bettors pretty much have to pay attention.
If the Suns were just still somewhere in the middle of the pack, it wouldn't be that surprising, and you also wouldn't be worrying about them.
But they're not. Phoenix looks like a title contender, and they're priced like one, too.
Take a quick look at their odds to get out of the Western Conference right now (per BetOnline), as well as to win the 2021 NBA Finals.
Odds to Win the Finals
+1200
That doesn't sound amazing, but these are the fourth best odds to win the west, and the seventh best odds to win this year's title. In a very real way, Phoenix is being under-priced here.
Phoenix is also a legit threat to win the Pacific Division (-115), and doing that would put them in position to potentially make a run to the Western Conference Finals.
Favorable betting odds do not mean the Suns will get there, let alone win the championship. But Phoenix has to be on your radar right now when it comes to their 2021 NBA Finals odds.
Chris Paul is the Leader They Deserve
A couple of years ago Suns top scorer Devin Booker was public about his frustrations regarding Phoenix regularly missing out on the playoffs.
Here was his infamous off-season quote, following a disastrous 21-61 campaign.
"I'm done with not making the playoffs. I'm serious. This is probably the last year I'm ever not making the playoffs."
Booker couldn't realize that expectation on his own, so the Suns went out and got him some help. That came in the form via a risky trade acquisition in an aging Chris Paul, but that bold move has delivered amazing results.
Chris Paul has ultimately become the hero the Suns didn't know they needed, and he's led them all the way up the Western Conference standings.
CP3's career is notorious for its shortcomings come playoff time, but Paul actually played a crucial role in nearly leading the Houston Rockets to the NBA Finals not too long ago, and last season he willed the Oklahoma City Thunder into postseason play.
Paul's defensive edge, general intensity, offensive creativity, and leadership have all played a massive role in a major turn around for a Suns team that appears to be on the cusp of something great.
Devin Booker Can Close Games
While the Suns needed that extra push from a seasoned veteran like CP3, they already had one of the games best closers on their roster.
Devin Booker was more known for his offensive flash, and few can forget the 70-point barrage he dropped on the Celtics back in 2017.
That epic scoring night rang hollow in a loss, but Booker still put his jaw-dropping shooting and scoring on full display, and at the same time put the NBA on notice.
Since then, Booker has morphed into one of the league's more tireless scores. His offensive ability is rivaled by few others in the league, and his late-game closing ability also can't go unnoticed.
Booker has been held back for years by an under-performing supporting cast and suspect coaching, but he's always had that ability to burn defenses throughout games – especially late.
Those late-game heroics aren't quite as needed these days.
Not only is CP3 now here to take some of the pressure off, but Phoenix is also winning so much that Booker doesn't need to be turned to as frequently in the fourth quarter.
For the record, though, he was 16th in the league in fourth quarter points per game a year ago, and 8th the year prior.
Booker is there, waiting to deliver, should the Suns need him to take over games come playoff time.
The Suns Are Battle Tested
The Suns have more than just this impressive 2020-21 campaign to lean on.
If you may recall, a young Suns team was maturing before our very eyes last year in the bubble, when they literally won every game they played.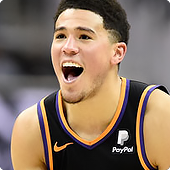 That eight-game stretch in Orlando (8-0) showed that the Suns were ready for the next step, and that understandably convinced Phoenix management to pull the trigger on the Chris Paul trade.
Phoenix already began earning their stripes near the end of last year, but this season they've definitely proven their worth.
It'd be hard not to in the loaded Western Conference, but more specifically so in the stacked Pacific Division, where the Lakers and Clippers both reside.
Heck, even the Warriors have been a tough out at times with Stephen Curry back in the fold, and an explosive Kings offense can be pesky, as well.
Despite this murderer's row of quality teams staring back at them, the Suns have gone 6-3 inside the division and 24-9 in the Western Conference.
As I write this, they've established dominance at home (23-8), have held their own on the road (17-7), and own the league's second-best point differential.
Phoenix has proven they can hang with (and beat) anyone. Now they just need to prove they can do it when the games really matter.
Phoenix is as Good as Anyone Defensively
The driving forces behind the Suns being a legit threat to win the 2021 NBA Finals? Their elite defense.
Chris Paul teams historically defend well, and grind teams to a pulp with a slow, decisive pace. That's been the case for Phoenix this year, as they've slowed down to the NBA's 25th fastest pace, and rank 5th in defensive efficiency.
Two starters on this team – Devin Booker and Deandre Ayton – aren't really known for their defensive impact, but they're masked enough on a team with several other quality defenders.
This makes them one of the most balanced teams in the NBA. That alone makes them a title threat.
The @Suns are No. 2 in the West and have a top-10 offense and defense.

Now is a great time to join the bandwagon ?

From @SeeratSohi ⤵️

— Yahoo Sports NBA (@YahooSportsNBA) April 9, 2021
The Suns have the bodies to defend on the outside (opponents average the 5th fewest three-point makes per game), while the Suns do a fine enough job (14th) at stopping teams down low.
In a stacked conference where defense will matter, the Suns have the tools to compete with anyone.
The Suns Are Healthy
The last reason why the Suns can win the 2021 NBA Finals is the fact that they're actually healthy.
This is key, seeing as past playoff runs have been derailed for Chris Paul due to troublesome hamstring issues. He's only getting older and there is still time for that to be a problem, but so far, so good.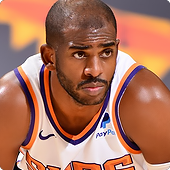 Phoenix has a healthy overall roster, too, with Abdel Nader being the only player currently listed on the injury report.
Many other potential contenders can't say the same, with Denver losing Jamal Murray to a torn ACL standing out more than most.
Most everyone else should be close to 100% by the time the playoffs roll around, but as things stand, the Jazz, Lakers, and Clippers – probably the three teams Phoenix really has to worry about – aren't at full strength.
There is something to be said for health and depth in general, but the longer it takes for these teams to get to 100%, the harder it will be for them to regain their chemistry to make a deep playoff run.
Phoenix doesn't have to worry about this intangible aspect right now. And if they can keep it that way, it could be a catalyst for a title run.
Can the Suns Win the 2021 NBA Finals?
I think I've answered this with six reasons; yes, the Suns can absolutely win the 2021 NBA Finals.
People were saying Denver could, Utah has garnered serious consideration as the best team during the regular season, and there's also the Bucks, Nets, Clippers, and 76ers.
The main point here is that this year's NBA Finals feel wider open than usual.
Phoenix has the goods to surprise everyone. They have the defensive edge, they have some veteran experience, they have a clutch closer, and they're healthy.
That sounds like a rather good recipe for a dream title run. If you buy it, consider backing the Suns at the top NBA betting sites.