6 Reasons Why Colin Kaepernick Starting For the 49ers is a Good Thing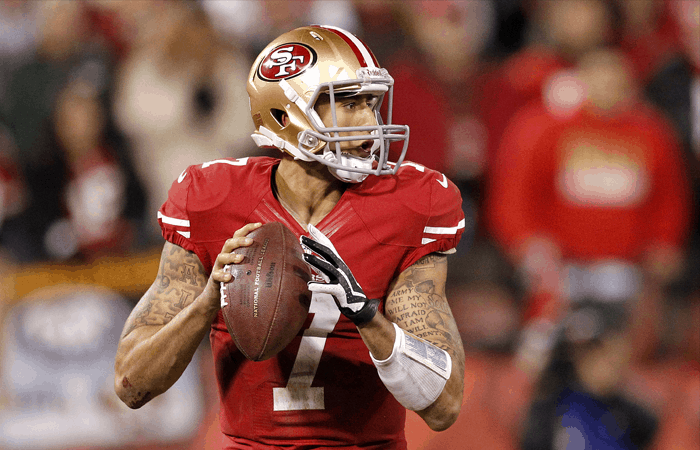 Colin Kaepernick returns to NFL relevancy in week six of the 2016 NFL season, a good two months after he created a serious controversy by kneeling during the national anthem ahead of San Francisco 49ers preseason games.
There is no doubt his return to the field raises a few eyebrows, especially considering the Niners probably thought hard about a future without their former starter before the regular season even began.
Kaepernick's salary – thanks to a massive contract he signed just two seasons ago ($61 million guaranteed!) – was understandably a big reason why. New head coach Chip Kelly also suggested this summer that the 49ers were in a good position, being that they had two quarterbacks with starting talent and experience.
The Colin Kaepernick sideshow is no more, however. Instead of just a guy doing what he feel is right to help bring attention to needless killing and oppression (and he absolutely is right about the needless killing), he's now a starting quarterback in the NFL.
Some may not think it matters. Some may hate it and others will simply be indifferent. We've got a few reasons why it's a good thing, however:
Protest is More Meaningful
We can't kick Colin Kaepernick while he's down anymore because he's not actually down. In other words, his whole protest brought more negative attention than maybe it would have had he remained the star he was, because some felt he was doing it more as an individual than trying to be part of something whole.
That's purely one opinion out there, though, and either way you look at it now, Kaepernick's stand (or kneeling) takes on even more meaning now that he's actually a big part of what the Niners do.
Brings Message to a Bigger Stage
Kaepernick starting not only makes hi pregame ritual more meaningful, but it also increases the stage for his message potentially, as well.
Right now it really goes as far as Kaepernick being on camera before the game or how he responds to media questions, but the guy is a backup. As the starter, he will be available to the media much more and the more he's on the field, the more chances he'll have to send a message in other ways.
Think: touchdown dance celebration.
Beyond that, if Kaepernick actually does well, he'll gain more and more exposure and could end up being a huge catalyst to serious change in the United States.
Okay, that might be a reach, but a volatile personality making moves and decisions not everyone agrees with can stir a nation. Just ask Tim Tebow.
Kaepernick is Perfect For Chip Kelly's System
Aside for kneeling for something he believes in, playing in Chip Kelly's offense could be Colin Kaepernick's dream. Kelly likes to run the ball, keep his offense moving fast and efficiently and also utilize an athletic quarterback who can both stretch the field, gain chunks of yardage with his legs and also hit quick, short routes with ease.
Kaepernick didn't look great during the preseason and he certainly endured a free fall over the last two years, but on paper, his skill-set is perfect for this system.
Anyone is Better Than Blaine Gabbert
Just for the sake of better football and our eyes that had to watch Blaine Gabbert and that 49ers "offense", this is a great change. Gabbert had his moments, but really the guy was a runner who sometimes hit a good pass play.
More often than not, though, Gabbert took a bad sack, missed his target by a mile or was pressured into throwing the ball away. Gabbert could have been worse, but he won one game through five weeks and didn't look particularly good doing it.
People said all along that there wasn't any possible way Kaepernick was actually worse than Gabbert. They're probably not wrong and Kaepernick finally gets a chance to prove that's true.
Time For Redemption
That brings us to Colin Kaepernick, the quarterback. The man with a message now has a better position to get his point across, but if he has any long-term NFL goals or aspirations, now would be the time to act on them.
Kaepernick was once an explosive and dynamic passer that ESPN's Ron Jaworski said was going to be a future Hall of Famer. He shredded up the NFC East for a few years, was a fiend due to his speed, big arm and running ability and even got the Niners to a Super Bowl.
Despite all the good he did, Kaepernick regressed and eventually lost the main guy who supported him – Jim Harbaugh. With Harbaugh gone, so too was Kaepernick's support system. Majorly depressed play came last season, when Kap hit a wall, turned the ball over like crazy and eventually landed on injured reserve with a shoulder injury.
Now Kaepernick has his job back, is in a system that suits his skill-set and has the entire nation working against him for obvious reasons. No matter how you feel about Kaepernick kneeling during the national anthem or what your take is on his message, there's no denying the need for a feel good story in the NFL.
If Colin Kaepernick could bounce back, play well and even lead the 49ers to wins, the playoffs or another Super Bowl, it'd be simply amazing. For football and sports of general, we can't possibly hate on that possibility.
The Bills Say Thank You
Unless you're a Bills fan, or maybe even just a realist. Logically speaking, Kaepernick is being handed the reigns on fairly short notice, isn't as big or strong as he once was and has to be fairly rusty. It's unknown if he truly has the support of his coaching staff, ownership, teammates or even the 49ers fan base.
All of that, plus the negative attention he's gotten in the media, could very much work against him.
Bills fans wouldn't mind it, however, as they welcome the Colin Kaepernick show into Buffalo this week. Buffalo is riding a hot three-game winning streak and would surely love to make it four in a row. Kaepernick coming out and playing the game of his life wouldn't be beneficial. Kaepernick imploding under the pressure, however, definitely would.
Regardless of what happens with Colin Kaepernick in week six and beyond, one thing is clear: we're interested and we're watching.
Either this guy is going to step up, play well and have the Niners rally behind him or he'll crater and the entire team will implode to the moon and back. No matter what happens, it will be fun to watch.