6 Drivers to Watch at the 2021 Daytona 500

There are so many top drivers at this year's Daytona 500 to look out for.
Whether you are watching for fun or gambling on the Daytona 500 for real money, a lot is going on. New teams, returning stars, and a potential record-breaking feat are dominating headlines on NASCAR news sites.
As for the gambling side of things, I've been analyzing the Daytona 500 odds for 2021 since they have been released. There has been a little line movement, with some drivers flying under the radar and others coming in a little overpriced.
Predicting the winner of the Daytona 500 is tough. So, if you're wagering on the race, I have provided some bonus content to help you make money betting at the bottom of this page.
We'll get to it after I have covered the drivers to watch out for in the 2021 Daytona 500!
Chase Elliott
Daytona 500 Starts: 5
Daytona 500 Wins: 0
All eyes will be on the defending NASCAR Cup Series champion when engines fire up on February 14.
The 25-year-old is aiming to become the first driver since Jimmie Johnson, in 2010, to post back-to-back to back title wins.
I'm looking forward to watching Elliott race at the Daytona 500 for just the sixth time. But is the Hendrick Motorsports star a sensible betting option?
I'm not feeling too confident about his chances of winning "The Great American Race," it must be said. Elliott's odds to win the Daytona 500 are +900 with Bovada and I don't feel his track record here is solid enough to justify that kind of price.
Elliott has zero wins from five starts, with his best finish of 14th in his maiden race. If you're looking to make money gambling on the race, there are more appealing Daytona 500 wagers online.
Fans will be keen to get the first real glimpse of Elliott's shape heading into the 2021 NASCAR season and will be hopeful of a win for the sport's most popular driver. On this basis alone, the spotlight will be well and truly pointed in his direction.
You can read about Elliott's chances of his defending his title in the following NASCAR Cup Series betting preview.
Denny Hamlin
Daytona 500 Starts: 15
Daytona 500 Wins: 3
From defending Cup Series king to the defending Daytona 500 champion.
Hamlin has lofty ambitions of his own — to become the first driver in history to win three consecutive Daytona 500 titles. He will be confident of getting the job done.
Not even the great Richard Petty could crack what Hamlin is aiming for.
Multiple-Time Daytona 500 Winners
Richard Petty
1964, 1966, 1971, 1973, 1974, 1979, 1981
Cale Yarborough
1968, 1977, 1983, 1984
Bobby Allison
1978, 1982, 1988
Dale Jarrett
1993, 1996, 2000
Jeff Gordon
1997, 1999, 2005
Denny Hamlin
2016, 2019, 2020
Bill Elliott
1985, 1987
Sterling Marlin
1994, 1995
Michael Waltrip
2001, 2003
Matt Kenseth
2009, 2012
Jimmie Johnson
2006, 2013
Dale Earnhardt Jr.
2004, 2014
Born just a couple of hours from the famous tri-oval at Daytona, Hamlin knows his way around this part of the world. He is adored in his home state of Florida, and fans will be keen to see him win his third straight '500 title, and his fourth in total.
Hamlin is the betting favorite for the Daytona 500 with the top betting sites online. And for good reason.
Like most, I'll be keeping an eye on how the 40-year-old gets on in his personal quest for NASCAR history.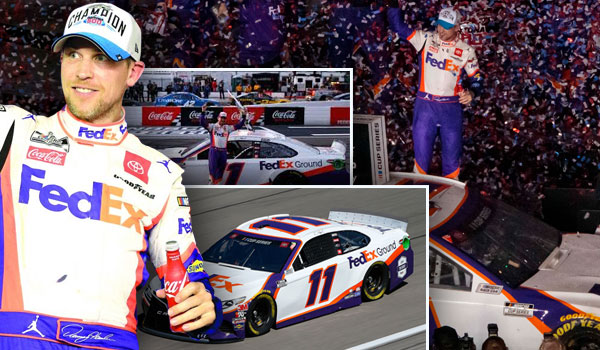 Joey Logano
Daytona 500 Starts: 12
Daytona 500 Wins: 1
Odds for the Daytona 500 are trending ahead of the big race, and Joey Logano's name is firmly among the best of them.
As one of the top drivers to watch at the Daytona 500, he deserves to be recognized for his skills at the World Center of Racing. He has a much better record than some assume he has.
Logano won this illustrious race in 2015 and has one of the best records at the Daytona International Speedway in general. He has finished in the top-6 in all but one 500 since his sole win, and his average finish here is an impressive 12.92 from 24 races.
When the subject of who wins the Daytona 500 2021 is raised, smart gamblers will not look past Logano.
That's more than enough to label him a driver to keep your eye on.
Kyle Busch
Daytona 500 Starts: 15
Daytona 500 Wins: 1
Among other drivers to watch at the Daytona 500 in 2021 is Kyle Busch.
The 2019 Cup Series champion is coming into the new season having endured a torrid Cup Series campaign that produced just one win. I don't believe he is going to have a great 2021, but I would be lying if I said that I am not interested in how he gets on this February 14.
Busch's odds to win the Daytona are +1600. That's great value for a previous winner, a runner up and Stage 1 winner in 2019, and a fairly consistent driver in this race.
I think the lack of pressure on the native of Las Vegas will help him in this race. He is a savvy operator and should be a lot of fun to follow in the race.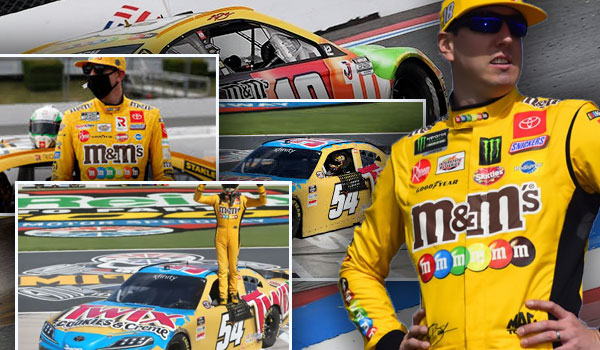 Kyle Larson
Daytona 500 Starts: 7
Daytona 500 Wins: 0
Suspended for the majority of the 2020 season, Larson will be itching to get back behind the wheel.
You can find odds for Larson to win on the top gambling sites and best NASCAR betting apps. He's currently +1600, which shows that the oddsmakers are taking him seriously.
Thankful and excited to kick off the season in this No.5 @NationsGuard Chevy! ? https://t.co/j0OvzrE6Dd

— Kyle Larson (@KyleLarsonRacin) January 28, 2021
There will be a little rust to shake off for, but as he is arguably the most naturally talented NASCAR driver of today, he should be alright.
He will also have the Hendrick Motorsports No. 5 car beneath him, and that's going to help his cause.
If you are betting on Larson to win the 2021 Daytona 500, I'd say he has the speed and skill. Essentially, he as much of a chance as any of the frontrunners. His odds are decent, too, so he could be worth a shot.
But if you're watching the race for fun, keep an eye on him!
Bubba Wallace
Daytona 500 Starts: 3
Daytona 500 Wins: 0
Wallace finished in 2nd place here in 2018 and will be hoping to put in an impressive performance this year.
Of all the NASCAR drivers to watch in the Daytona 500 in 2021, Wallace is up there with the best of them.
Wallace will race for Michael Jordan's new NASCAR team, 23XI Racing.
It's going to be very interesting to see how this partnership works out, and whether the grand plans of Wallace, Jordan, and minority partner Denny Hamlin, can transpire to produce big results on the track.
Bubba Wallace's odds for the 2021 Daytona 500 are +2500, which I won't be taking. But that doesn't mean I won't be watching with great interest to see how he gets on in the race.
Will Jordan's magic rub off on Wallace? We'll just have to wait and see.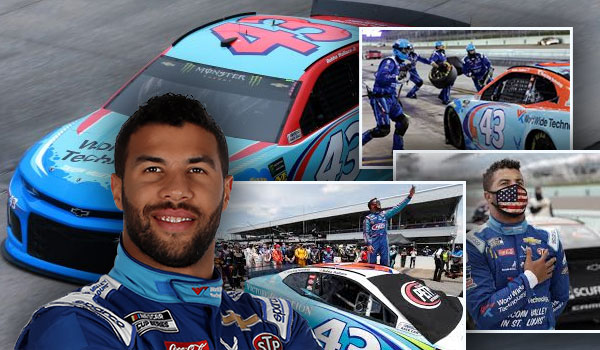 How to Bet On the 2021 Daytona 500 and Where to Do It
If you're looking to wager on the Daytona 500, I should draw your attention to a betting guide I put together recently.
You will find the best real money betting sites for Daytona 500 odds. Additionally, you can find wagers for the "Super Bowl of Stock Car Racing," as well as advice on how to bet on this classic event. There's much more to it than that, but I have a no spoilers policy, so you'll check it out for yourself!
If you are gambling on the Daytona 500, get stuck in, below.
As always, good luck with your bets!