Hide Bonus Offers
| | | | | |
| --- | --- | --- | --- | --- |
| #1 | Bovada Sports | 50% Up To $250 | Visit Site | Bovada Sports |
| #2 | BetUS | 125% Up To $2,500 | Visit Site | BetUS |
| #3 | MyBookie | 100% Up To $1,000 | Visit Site | MyBookie |
| #4 | Everygame | 100% Up To $500 | Visit Site | Everygame |
| #5 | BetOnline Sports | 60% Up To $1,000 | Visit Site | BetOnline Sports |
Possible Upsets to Target in the Week of May 21st – 5 Upset Picks for Bettors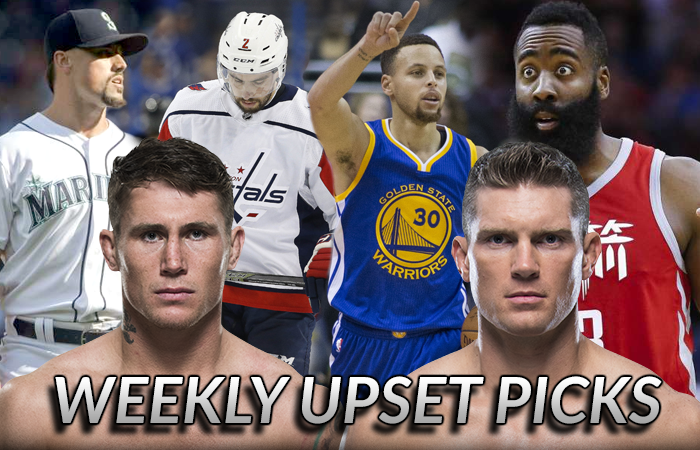 The Preakness Stakes was probably never in doubt. Justify marched in as the obvious favorite at -220 after pulling away in the Kentucky Derby. In an 8-horse field, the threats seemed laughable.
Oddly enough, it wasn't Good Magic that gave Justify a run for his money. It was Bravazo, while long-shot Tenfold hung tight in third.
Justify still won and now has a shot at the Triple Crown sweep, but it was a close race, and had you bet money on Bravazo, you were pretty darn close to pulling off a sweet upset.
That didn't happen, but the thrill (and upside) of the underdog is why bettors aim high at times.
You don't want to do it all of the time (they're usually underdogs for a reason, after all), but in the right spots, it can make a lot of sense.
I did that again last week, as I put my sulking 9-15-1 upset picks record on the line and made five more bids for elite value. Let's start this post by looking how I fared, before moving onto this week's upset picks.
All odds that are referenced in this article were taken from Bovada on 5/22/2018. These odds may have changed since the time of this writing.
Week in Review
The first pick was taking a stab at anyone other than Justify winning the 2018 Preakness Stakes. That didn't happen, but Good Magic was the next-best bet in a small field, so I stand by it.
Still, it was a whiff, and it capped a week that saw me get some bad beats. Here's a recap of last week's upset bids:
Good Magic over Justify at Preakness Stakes

+350

Demian Maia over Kamaru Usman

+300

Tampa Bay Lightning over Washington Capitals

+100

Cleveland Cavaliers over Boston Celtics

-102

Miami Marlins over Los Angeles Dodgers

+190
It wasn't an amazing week, but I'll take a 2-3 mark considering the Cavs got absolutely housed in game two, and nobody was ultimately going to take down Justify at the Preakness Stakes.
Tampa Bay was down 2-0, and I felt they could fight back and make it a series. They returned nice +100 value, and before losing a game six to give way to a game seven, they now ripped off three straight wins in the series with Washington.
Miami also felt like an elite value to steal a series against a banged-up Dodgers team. They got wrecked in the series finale but won the first two games and scored me a sweet win at +190.
The other loss was Maia falling to Usman via decision. I was pretty close to notching a huge upset, as Usman's win was far from easy or pretty and ultimately went to the scorecards.
Overall, 2-3 wasn't too bad with these picks, and I'll stroll into the week of May 21st with an 11-18-1 record.
Obviously, I'd like a better record, but as you'll find, it's not just about the record.
It's about scoring the right wins at the right time. The better the record, the better the profit, but I've scored a few big upset calls and will look to do so again this week.
Darren Till (+140) over Stephen Thompson (-170)
I'll get the new week started in the MMA scene. I am 1-3 with my MMA upset picks thus far, but it's fair to say I've taken some big shots (namely against Amanda Nunes), and my losses have been relatively close.
That's the case again this coming Sunday, when the undefeated Darren Till tries to take down Stephen Thompson. Till is a rising talent, as the 25-year-old is 16-0 and coming off a very impressive TKO victory over the seasoned Donald Cerrone.
It's arguable that Cerrone is in steep regression, but he's still one of the bigger names in the UFC.
The fact that Till is undefeated after so many bouts and has been so vicious (10 KOs!) makes him a very real threat going into UFC Fight Night 130.
Thompson is no chump, but the 35-year-old seems to have lost some of his closing power. He's had some tough bouts against Tyron Woodley, but he's failed to deliver a KO of any kind in any of his last four matches.
There is no denying Thompson's balance and solid run to this point, but Till is on the rise and can dominate opponents on the ground or standing up.
Considering this bout takes place in Till's homeland of England, I like the edge and the value here.
Houston Rockets (+390) over Golden State Warriors (-520)
Bettors are running out of time to land big NBA upset picks, as the conference finals are slowly coming to a close.
The Cleveland Cavaliers just tied up their series with the Boston Celtics, while the Warriors and Rockets will face off on Tuesday night in their own game four.
This has been a series of blowouts, as the Dubs housed Houston in games one and three, and the Rockets won easily at home in game two.
Considering how things have gone to this point, it would not be shocking at all for the Rockets to return the favor and even this thing up.
Houston was the best team in the league all year long and literally went out of their way to better match up with these Warriors. If they have any chance of staying in this series – let alone winning it – they have to win game four.
Given the insane betting value, I'm all for backing the Rockets.
You can roll with them at a smaller price at Bovada and other basketball betting sites, but MyBookie.ag (+390) currently offers the most upside.
Seattle Mariners (+155) over Oakland Athletics (-175) – Series Winner
Let's shift over to the MLB, where a few series get going on Tuesday and offer some solid value for the week.
I don't see a ton of upside in most of these series, but you can always consider placing money on series that have already started or others that will pick up ahead of the weekend.
The one series worth targeting right now, though, is an AL West clash in Oakland between the Mariners and Athletics.
Seattle is losing value due to being without Robinson Cano and having a banged-up Nelson Cruz, but they still have a capable offense and have been surprisingly stout (15-9) on the road this year.
Oakland can be a dangerous offense due to their extreme fly ball tendencies, but they remain an erratic group that is worth betting against at this price.
Early signs suggest the probable pitchers for this series make it a wash, but Seattle arguably has the superior defense and is slightly more consistent on offense.
It's a tight one, but when you get a +155 price with an even matchup, you have to consider rolling with the underdog.
Washington Capitals (+128) over Tampa Bay Lightning (-141)
One team is already in this year's Stanley Cup Finals, while the Capitals and Lightning will face off in game seven on Wednesday to see who gets to join them.
Early on, that figured to be Washington, as they raced out to a 2-0 series lead. Tampa Bay fired back with three straight wins, however, before the Capitals forced one last game by taking game six.
Given the initial series lead, their overall talent, and the fact that they staved off elimination already this week, I find it difficult not to favor the Capitals.
The Lightning have one of the more potent offenses in all of hockey, but Washington looked like the best team in the NHL a year ago. They didn't act on that in the playoffs last year, but this week, they have a chance to punch their ticket to the finals.
Thanks to the price, I don't mind hitching my wagon to the Capitals in a crucial game-seven situation.
PICK
Washington Capitals
+128
Arizona Diamondbacks (+127) over Milwaukee Brewers (-147)
Considering the NFL is not in season and two major sports are nearing the end of their playoff runs, you really have to search high and low for viable underdog picks in sports these days.
I'll still make an effort to get my readers five solid upset tries each week, however, and I'll cap this week's list with the D'Backs at a nice price in Milwaukee.
The two sides face off again at Miller Park on Tuesday night, a day after the Brew Crew edged out a game-one win.
Milwaukee is again the favorite, even though the Diamondbacks have the clear pitching edge and could easily pop off in this ballpark.
This line should be a bit tighter, all things considered, so I'll roll with Arizona, who is probably the better overall team.
PICK
Arizona Diamondbacks
+127
Summary
That does it for this week's look at a few upset picks in the world of sports. It is not easy to nail exclusively upsets, but if you can hunt underdogs down in the right spots, it can be a very profitable practice.
Like usual, you should always trust your gut and your own research. Don't love a pick or three I have presented? You don't have to follow it.
However, if you agree with any of my analysis, you may find it hard to pass on some of this amazing value.
Whatever you decide, I wish you luck in your sports betting endeavors this week! And, remember, you can find all these bets (and more) at Bovada.

BOVADA IS ONE OF OUR TOP RECOMMENDED SPORTS BETTING SITES