5 Trades That Could Go Down in Round 1 of the 2018 NBA Draft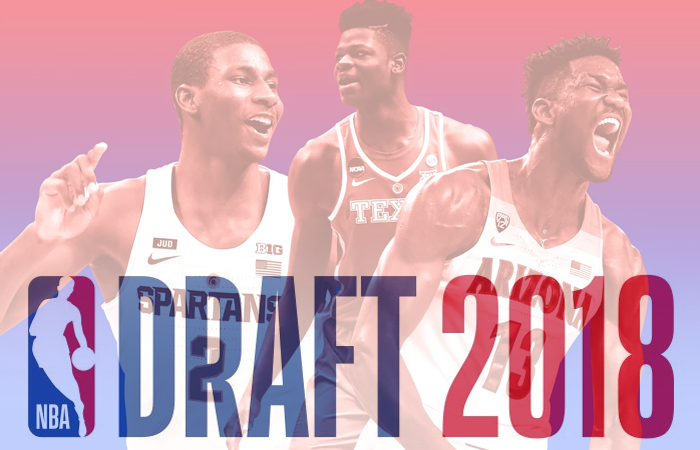 The 2018 NBA Draft arrives on Thursday night, finally ending speculation over who will go #1 overall to the Phoenix Suns (BetOnline says it's DeAndre Ayton at -1500 odds).
Phoenix earned the right to choose between DeAndre Ayton or Luka Doncic (+500), as they finished with the NBA's worst record a year ago and later won the draft lottery.
Saying "earned" in a sentence with the Suns is difficult to do without laughing. Either way, Phoenix has a shot to make a big pick that could go a long way in dramatically improving their roster.
While the Suns are a big part of Thursday night's show, they're far from the only thing NBA fans will be paying close attention to.
There is a lot around the league that is fluid these days.
From LeBron James and Paul George's pending free agency decisions to a possible Kawhi Leonard trade, the league could be shaken up considerably as early as Thursday night.
Five massive draft-day trades, in particular, could cause our collective breath to stop. Let's take a look at what they could be and how they impact the NBA betting landscape.
All odds that are referenced in this article were taken from BetOnline on 6/19/2018. These odds may have changed since the time of this writing.
Dennis Schroder Exits ATL
One of the worst-kept secrets in the NBA is that Atlanta Hawks star point guard Dennis Schroder wants to be traded. That might be because the Hawks literally made it public this week that they're willing to oblige.
The weird thing is that Schroder isn't even that good. I mean, he is, but he's more Reggie Jackson than Chris Paul, if you know what I mean.
There is still value to be had with Schroder, of course. He's got an improving outside jumper, he can run an offense, and he knows how to create for himself effectively.
Some team without a point guard or one looking for an upgrade will jump at that.
Three teams stand out to me the most: the Indiana Pacers, Orlando Magic, and Los Angeles Clippers.
Darren Collison isn't the future in Indy, the Magic literally don't have anyone outside of D.J. Augustin, and L.A. needs a reliable face at the lead guard spot as well.
Indiana makes the most sense to me. They rapidly ascended last year and could be looking for 1-2 big moves to progress even further, while of the trio, they probably offer the best deal.
Hawks Get: Darren Collison, Al Jefferson, and 23rd overall pick
Pacers Get: Dennis Schroder
Collison is a better defender than Schroder, but in theory, the Pacers get a better player, and they get him at age 25.
Indy also sheds Al Jefferson's unwanted contract, while the Hawks add another first-round draft pick to their awful roster.
If this deal goes down, all of the Marvin Bagley talk at the three spot starts to quiet down. Atlanta is suddenly looking at Trae Young and Luka Doncic (if he's still there) with lustful glances.
Needless to say, NBA Draft player prop bets suggesting Young could be drafted inside the top 7 (-140) would be appealing.
Overall, the Hawks get a short-term replacement in Collison and can still draft their franchise point guard at some point in round one.
Al Jefferson can also play mentor to John Collins and their bigs, while the 23rd pick can be used how they please.
Heck, if the Hawks grab Bagley at #3, they can wait and hope point guards like Jalen Brunson or Donte DiVincenzo are still available later in the first round.
The latter could also make bettors some coin, as BetOnline and other NBA Draft betting sites are wondering if DiVincenzo (-180) can slide out of the top 19 and if Jalen Brunson (+115) will even be taken in round one.
It's possible only one of those wagers will be correct, though, so bet wisely.
That Huge 4-Team Blockbuster Deal Everyone's Talking About
This one is going to be all the rage. Like pet rocks and the like, am I right?
But seriously, this one is going to be a shocker, and the crazy part isn't just that it can happen or should happen. It's not even that it works financially and based on compensation.
It's that it helps everyone involved perfectly.
Bear with me here, but the Bucks need a viable big man, Dallas is just trying to load up with anything they can get, Toronto is seriously considering a dramatic shakeup, and the Timberwolves need an identity change.
That gives way to a gut-punch of a trade.
Raptors Get: Jeff Teague, Andrew Wiggins, and J.J. Barea
Timberwolves Get: Kyle Lowry and C.J. Miles
Bucks Get: Jonas Valanciunas and Minnesota's 20th overall pick
Mavericks Get: John Henson, Justin Patton, Tyus Jones, D.J. Wilson, and Milwaukee's 17th overall pick
Go-go gadget confounded face.
I know, I know. It's a doozy, and I unnecessarily just brought you back to when you were six, but it actually addresses a lot of key issues.
For the Raptors, they looked awesome all of last season, yet they again farted their way out of the playoffs, getting painfully swept by LeBron James and the Cleveland Cavaliers.
Kyle Lowry isn't the problem necessarily, but he's 32, owed a ton of money, and hasn't done enough to get this team where management thinks it can get.
He isn't a lock to be dealt, but he's certainly at risk. He and Jimmy Butler go way back, and Andrew Wiggins has complained about his status with the Timberwolves, too, so some type of swap involving these guys wouldn't be that bonkers.
Miles, Teague, and Barea are all swell inclusions in their own right and obviously help make the trade go through.
Milwaukee may prefer DeAndre Jordan, Hassan Whiteside, or someone else, but they wanted a big, and they got one. All it costs them are a few players they're not even using and a 17th overall pick that might be a bust anyways.
Dallas is the one cleaning up here.
Just for showing up to the party and handing over Barea, the Mavs get another first-round pick, two role players, and two prospects.
Dallas has been searching for answers at the five spot for a while now. They now have Henson, Wilson, and Patton to play with (or trade), as well as two picks. Throw in Tyus Jones (who wanted to get moved anyways), and Dallas is rolling in it.
It's a crazy deal, but it actually could be the perfect play for all parties involved.
Cleveland Gets Bron Bron a Sidekick
I saw a hypothetical trade on ESPN where the Cavs give up Kevin Love to get Brad Beal. I really don't see a need to rob Peter to pay Paul.
Here's a trade that makes Cleveland better, and they can keep Love.
Cavs Get: Kemba Walker and Jeremy Lamb
Hornets Get: George Hill and 8th overall pick
I flirted with the idea of Charlotte moving up three spots via this deal but not holding onto their own 11th overall pick. That didn't seem very fair.
Instead, the Hornets end up having plenty of incentive to eat George Hill's salary, as they get a viable starting point guard and the 8th overall pick. That gives them two lottery picks to begin their rebuilding process.
The money works out here, and the compensation is pretty amazing considering the Hornets have already been thinking about trading Kemba Walker in the past.
Walker is actually coming off of arguably his best NBA season to date, but he's on a sinking ship. He's taken the Hornets about as far as he can, and he'll be better off trying to help turn the Cavs back into a title threat.
This move may convince King James to stick in town, while it gives the Cavs that second creator and go-to scorer they desperately lack. It also sheds a fat salary, and to make the money work, the Cavs land a pretty solid bench scorer in Lamb.
Charlotte then has to think fast as to what they want to do at the 8th and 11th spots. If I'm calling the shots, those picks end up being Michael Porter Jr. and Collin Sexton, respectively.
Bettors looking to make cash on Porter's draft range (+120 for 7th or worse) may want to pull for that to go down on Thursday.
Nuggets Aim High for Dame
Schroder and Walker offer big-name trades on draft day, but this one could completely destroy the NBA world.
Damian Lillard seems untouchable in Portland, but after getting swept in round one this year, the Blazers have to consider all of their options.
This is a team that could start over in a hurry, too.
Both Lillard and C.J. McCollum are owed a ton of money, while Jusuf Nurkic is hitting restricted free agency. Do the Blazers double down on this group or blow it all up?
Honestly, it could be a little of both. Here's the trade that benefits both the Blazers and the Denver Nuggets.
Blazers Get: Jamal Murray, Kenneth Faried, Mason Plumlee and 14th overall pick
Nuggets Get: Damian Lillard
Damian Lillard/Blazers fans will balk at this, but a lottery pick and a rising star point guard is a solid get for a guy who turns 28 this summer.
C.J. McCollum could easily be the guy traded here since the money matches up, but Lillard is slightly older and will be in higher demand.
Portland gets a starting point guard who is young and only getting better, along with two energy guys and the 14th overall pick. Judging by the talent expected to be there around that draft range, the Blazers can eye a nice shooter like Zhaire Smith.
Heck, if the Blazers love Murray and whoever they get there, maybe they also ship off McCollum in another deal.
Let's not get ahead of ourselves, though. This is a pretty good deal for the Blazers, while Denver upgrades in a big way at point guard.
Murray is already really good and could be a stud within a couple of years. However, his inconsistency is currently maddening and is one thing (health being the other) that has held the Nuggets back.
Lillard would be equipped with easily his best team ever with Paul Millsap, Nikola Jokic, and a hopefully returning Will Barton at his disposal, too.
A title run (Nuggets are currently holding +12500 odds) wouldn't be out of the question.
Celtics Win the Kawhi Leonard Sweepstakes
Kawhi Leonard wants out of Texas. As much as the Spurs wish that weren't the case, he's made his intentions known, and after next year, he can leave whether San Antonio likes it or not.
That makes trading their superstar player a pretty big priority.
I don't see them giving him away for nothing, and I certainly don't buy any deal where he goes to the Lakers (let alone a Western Conference foe).
Instead, Leonard is probably landing in Philly or Boston. Both are great fits for him, and there's a solid chance both franchises could convince him to sign a long-term deal.
The Spurs truly won't care. They'll make a deal with Boston because they have the most to offer.
The specifics will change depending on your perception of value, but it's going to take a haul:
Celtics Get: Kawhi Leonard
Spurs Get: Jayson Tatum, Jaylen Brown, Terry Rozier, Marcus Morris, 27th overall pick, and two future firsts
Boston doesn't get to gripe about the price here.
Kawhi Leonard is a top-five NBA talent, and this is pretty much like trying to trade LeBron James in his prime.
The Celtics can worry about convincing Leonard to stay in town later (although, on an unrelated note, how hilarious would it be if both Leonard and Irving bolted when able?).
Tatum is a clean swap for Leonard when you look at talent and upside. Brown, Rozier, and Morris are basically throw-in prospects to complete the deal, both financially and in terms of value.
The draft picks are for wasting Gregg Popovich's freaking time.
It feels like a lot. Heck, it is a lot. But the Celtics don't need those first-round picks if a core of Irving/Hayward/Leonard/Horford is going to win them some championships.
Losing Leonard is a death blow in theory, but this is quite the coup.
The Spurs suddenly have a brand-new starting unit to go along with LaMarcus Aldridge, Dejounte Murray, and Pau Gasol, while they also have a litany of first rounders (two this year) to rebuild on the fly.
The Celtics turn into title favorites, and the Spurs might climb the ladder in the Western Conference a bit. All parties win, while Coach Pop cries himself to sleep a few nights a week.
This is the biggest, baddest trade of them all, short of King James himself being dealt on draft night.
It only includes one pick from Thursday's actual draft, but it's a massive deal, and it will matter quite a bit.
Summary
In the end, these five trades aren't all locks, but they'll all fairly viable. The financials and compensation all make solid sense, too, so they wouldn't be that shocking to see.
Got a trade you like even more than these five? Tell us about it in the comments section below!