5 Teams Ryan Braun Could Help Win a World Series in 2017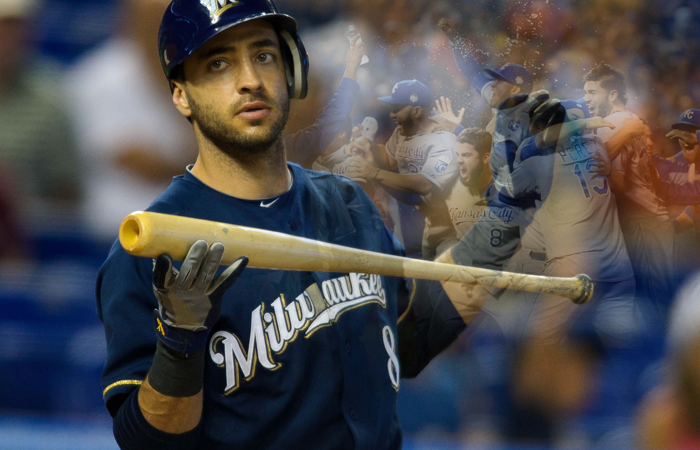 The surging Milwaukee Brewers have been one of the nicest surprises early in the 2017 MLB season, going 23-18 at the time of this writing. Milwaukee's strong start to the season has them competing for the top spot in the NL Central for the moment and may even have some wondering if this team could stick as an MLB playoff contender.
That is certainly a question the Brewers brass will want to ask themselves, especially as they struggle to decide what to do with aging outfielder, Ryan Braun. Braun trade rumors have been rampant for the past few seasons, yet the 33-year old masher remains with the Brew Crew.
Milwaukee will have to weigh the benefits of keeping a rock solid offensive player on a team that at the moment is competing for a division title, as opposed to one that could get even better for the future by ditching their aging star. Braun has been performing well despite numerous injuries to start the year, as he's knocked in seven home runs, while chipping in 18 RBI, 19 runs and churning out a solid .289 batting average.
Braun's play won't be sending him out of town and he could still be quite useful for a Brewers team that has looked great, but could now be the perfect time for the Brewers to take advantage of his trade value and vault a young team into contention? If that's the route the Brewers take, here's a look at five teams that Ryan Braun could help:
Los Angeles Dodgers
L.A. has long been interested in adding the seasoned Braun, who can still locate balls deep in the outfield and also wields plenty of efficiency and power with his bat. The Dodgers are actually stacked offensively, but if they have any issues it's an erratic outfield.
Thanks to injuries and concerns with some of their young outfielders, Los Angeles could take a big swing at Braun, hopefully landing a sharp upgrade that irons out some consistency in their lineup. This is already a team that consistently wins the NL West and boasts the game's top pitcher in Clayton Kershaw, so adding Braun could potentially provide a serious lift and balance things out for the Dodgers.
Currently listed with the 6th best World Series odds at Bovada (+1000), L.A. could benefit considerably from this move.
San Francisco Giants
Sticking in the same division as the Dodgers, we probably shouldn't rule out a Ryan Braun trade to the Giants, either. San Francisco is always going to be a title threat when Madison Bumgarner gets healthy, while they still have several offensive players that could be ready to storm back after a slow start.
Buster Posey, Hunter Pence and Brandon Belt lead that charge, but the Giants still lack a consistent offensive punch and should be in the market to upgrade at outfielder. The 33-year old Denard Span is one name the Giants could consider upgrading over, while the team has been playing musical chairs in left field ever since Jarrett Parker broke his collarbone.
San Francisco is way below the Dodgers in terms of World Series odds (+4000), but if they have any plans of storming the castle in the NL West this year, a trade for Ryan Braun may need to go down.
Washington Nationals
The Nats make way more sense as a legit title contender and could have a serious need in their outfield, both defensively and offensively. Adam Eaton was lost for the year (torn ACL) back in April and the team may have to consider filling that hole for the long-term.
Michael A. Taylor is starting at the moment and Brian Goodwin and Chris Heisey have seem some time, but a true title contender like the Nationals can't mess around. Bovada gives Washington the third best MLB title odds (+700), but this stacked offense could be even better if they went out and secured one more big bat.
Trading for Braun would cement the Nats as true title threats, while effectively replacing the quality efficiency they thought they were getting when they brought Eaton in during the offseason. The Nats have the big arms to go deep in the playoffs and with Braun added to an offense that already has Bryce Harper, Daniel Murphy and Ryan Zimmerman, they'd have the bats to take on any defense, as well.
Detroit Tigers
Several teams pop up as potential landing spots for Ryan Braun, but one that makes good sense is Detroit. The Tigers look plenty capable defensively with Justin Verlander pitching well again, while their offense is as powerful as anyone's in the majors.
One blemish in their lineup continues to be the outfield, as Tyler Collins, Andrew Romine and Jim Adduci have arguably been getting more time than they deserve in a platoon. It was even worse before the return of star outfielder J.D. Martinez (foot), but now that he's back the Tigers may want to make one more big move to put their offense over the top.
Braun could come in and push these other guys back to the bench where they belong, leaving perhaps the addition of one more big arm as Detroit's last obstacle between them and a title run. The Tigers have just +4000 odds to win the World Series as things stand, but adding a quality hitter like Braun could level things out for them offensively.
Cleveland Indians
Lastly, we need to take a look at the Indians, who made it to the World Series a year ago and fell in seven games. This is already a team to fear in every regard, as Corey Kluber leads a talented defense and Cleveland boasts some of the most powerful hitting in MLB.
The outfield is still a spot where the Indians are lacking consistency, as they don't really know what they're getting from the likes of Abraham Almonte or Lonnie Chisenhall on a daily basis. Which player gets replaced doesn't really matter, as Braun would serve as an immediate upgrade over either one.
Cleveland expressed serious interest in trading for former Brewers catcher Jonathan Lucroy not too long ago, and if they show a serious desire to get Braun they could make a deal happen. Cleveland is naturally already a legit title threat after almost winning it all last year, but bringing in Braun would enhance their already favorable +750 World Series odds.
Think Ryan Braun is destined to remain in Milwaukee? Think he's a lock to go one of these teams or elsewhere? Tell us your thoughts on Braun in the comments below!