Hide Bonus Offers
| | | | | |
| --- | --- | --- | --- | --- |
| #1 | Bovada Sports | 50% Up To $250 | Visit Site | Bovada Sports |
| #2 | BetUS | 125% Up To $2,500 | Visit Site | BetUS |
| #3 | MyBookie | 100% Up To $1,000 | Visit Site | MyBookie |
| #4 | Everygame | 100% Up To $500 | Visit Site | Everygame |
| #5 | BetOnline Sports | 60% Up To $1,000 | Visit Site | BetOnline Sports |
5 Talking Points from Week 4 of the 2018 NFL Season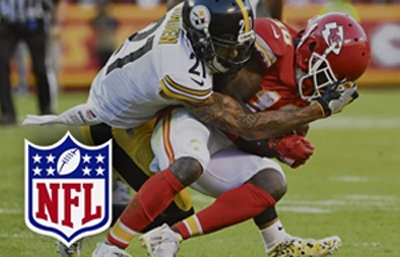 Another week in the NFL is in the books. What do we know so far?
The Rams and the Chiefs remain undefeated, while the Cardinals are the only squad yet to visit the winner's circle.
The Buccaneers are starting to reveal their true colors, so much so that Tampa has demoted Ryan Fitzpatrick and will be moving forward with Jameis Winston as their starting quarterback.
But what else happened during the Week 4 slate of games that made headlines?
Read along, and you'll find out!
Stats, Stats, Stats!
These numbers are starting to get a bit silly. I mean, I remember the days when we all could really appreciate when a QB exceeded 300 yards passing in a single game, as that was quite an accomplishment.
Well, fast forward to 2018 with these new "flag-football-like rules" that have been put in place to protect the quarterback, and guys are throwing for 400+ yards routinely. And we're not even batting an eye!
For example, Jags QB Blake Bortles completed 29/38 passes on his way to 388 yards against the Jets, as Jacksonville dominated the game from start to finish. Well, he didn't even finish in the top 5 in passing yards amongst Week 4 quarterbacks. That's because we had 5 guys throw for over 400 yards!
It actually boggles my mind what some of these signal-callers achieved this past week.
I, for one, was somebody who thought Minnesota had a stout defense that could slow down their opposition, if not shut them down completely.
So how the heck did Jared Goff end the game with a perfect 158.3 QB rating?
Jared finished the evening 26-33 for 465 yards and 5 touchdowns. That's how.
We had a total of 8 men throw for more than 360 yards, and that doesn't even include the 354 thrown by Mitchell Trubisky on just 19 completions!
When you consider that 6 of those went for touchdowns, you begin to see how much of a "field day" these guys had over the weekend.
These gaudy numbers allowed a host of wide receivers to go off as well, as 24 pass catchers went over the century mark.
Julio Jones led the way with 173 yards on 9 receptions, followed closely by DeAndre Hopkins' impressive 10-169-1 line.
But guys like Cooper Kupp and Corey Davis went totally bonkers, as did Adam Thielen and Golden Tate.
Those of you who play season-long fantasy football or daily fantasy sports hopefully had productive days, although you probably missed out on Seahawks RB Mike Davis popping up out of nowhere for 101 rushing yards and a pair of touchdowns.
Hopefully you had a piece of Alvin Kamara,though, because the Saints RB did a lot of damage on Sunday in East Rutherford.
Kamara tallied 181 yards from scrimmage and got in the end zone three times, single-handedly taking the air out of MetLife Stadium.
The bottom line is, these bloated statistics we are currently witnessing in the NFL look like they are here to stay.
When you give quarterbacks and receivers who are this strong and fast this much leeway, it's virtually impossible to keep them contained.
The Colts' Questionable Decision
I titled this segment "The Colts' Questionable Decision" when the more accurate title would have been "What the Heck Are You Thinking, Frank Reich?"
It's a shame,too, because so many positive things had happened at Lucas Oil Stadium in front of the Colts fan base up until that point.
Adam Vinatieri broke the record for most field goals in NFL history, passing Morten Andersen's mark of 565 made kicks. The devoted spectators, who have been praying that Andrew Luck is healthy, were treated to seeing their franchise quarterback throw for 464 yards and 4 touchdowns.
Things were supposed to end well in Indy on Sunday.
But for some inexplicable and inexcusable reason, the Colts head coach decided to hand the game away to a divisional rival.
Not only did Frank Reich hand the game away to Houston, but he gift-wrapped the thing on a silver platter.
Many around the NFL are still trying to figure out what Reich was thinking when he decided to snap the ball and run a play on 4th and 4 from his own 43-yard line with under 30 seconds left in overtime. Apparently, settling for a tie wasn't good enough, and the Colts first-year HC got a bit too greedy.
Part of the confusion is that it appeared that Indianapolis was just trying to get the Texans to jump offsides, which is very understandable given the situation. But to send the offense back out and actually run a play – a horrendously designed one, at that?
There are no logical explanations, the way I see it.
And what ensued just poured salt into Reich's open wound.
Deshaun Watson quickly hit DeAndre Hopkins on a slant that went for 24 yards, setting up the game-winning field goal as time expired.
Just like that, the Colts had lost the game and are left having to answer questions that could have easily been avoided.
New England Gets Back on Track
You know when a 3-0 team is a 6.5-point underdog against a 1-2 team, something is up.
Miami was riding high off of 3 straight victories, while the Pats got embarrassed on Sunday Night Football in Detroit. Clearly, the tide had to turn eventually.
Not only did the tide turn, but the waves came crashing down on Ryan Tannehill and the Dolphins offense.
Bill Belichick completely bottled up the Miami quarterback, holding him to an atrocious 11/20 for 100 yards and an interception. He also lost a fumble.
Last time I checked, that's not going to win you many games at Gillette Stadium.
Tannehill's lack of efficiency held his team back in a big way on Sunday, as the Fins had just 11 first downs compared to 26 accumulated by the Patriots.
New England held Miami to just 172 total yards of offense, fewer than the 175 yards that the Patriots gained on the ground alone.
Josh Gordon caught a couple of balls, while Tom Brady was able to get all of his receivers and backs involved in the passing game.
Now Tom gets Julian Edelman back from a 4-game suspension, and I can promise you that "Jules" is welcomed back with open arms.
While many expected the Patriots to get back on track at home against the Dolphins, the bigger question now lies within the Miami organization.
The good news is that they are still 3-1 and atop the AFC East. The bad news is that it is pretty clear that when push comes to shove, the Patriots are still the class of this division.
Some Exciting Shootouts Around the League
It started on Thursday night in La La Land when the Rams and Vikings put on a show for the world to see. Over 1,000 yards of total offense (1,002 to be exact) and 69 points.
For crying out loud, both QBs threw for more than 420 yards!
A total of five WRs had over 100 yards receiving, and each team logged 25 first downs. And if you thought this would be the only shootout of the week, boy, did you have another thing coming!
Bengals 37, Falcons 36
After 52 points were scored in the first half, we knew it would likely come down to whoever had the ball last.
That premonition proved true, as Andy Dalton hit A.J. Green in the corner of the end zone with just 7 seconds remaining on the game clock.
Despite throwing for 419 yards and 3 scores, Matt Ryan was upended at home by the visiting Bengals.
Texans 37, Colts 34
You already know how this one ended, as Ka'imi Fairbairn knocked in a 37-yarder as the overtime clock struck 0, avoiding seeing a game end in a tie for the third time this season.
Credit the Colts for at least making this thing interesting, as a portion of the stadium cleared out midway through the third quarter after the Texans got up 28-10.
Raiders 45, Browns 42
What an exhilarating finish it was in Oakland, especially for Raider Nation.
35 points were scored in the 4th quarter alone!
The climax came when Derek Carr connected with Jared Cook with just 30 showing on the clock, plus converted a do-or-die two-point conversion to tie the game at 42.
After trading defensive blows in OT, the Raiders kicked a 29-yard chip shot with under 2 minutes left, securing the first win for Mark Davis under the Jon Gruden era.
Mahomes Is the Truth
Monday Night was a big game in the AFC West. The Broncos had a chance to take command of the division at 3-1, as they would have owned the tiebreaker over Kansas City.
And with 12 minutes left in the game and Denver leading by 10 on their own field, it was looking like this was going to be the case.
But then Patrick Mahomes decided to silence Mile High Stadium and dishearten all the dedicated Broncos fans.
It wasn't just the spectacular left-handed throw or the ridiculous arm strength he displayed when tossing absolute fireballs when rolling out off his back foot.
It was how poised, calm, and collected he looked in the process that has me amped up about this dude's potential.
Just look at this video and watch the way he executed down the stretch.
If this isn't a superstar in the making, then I'm not sure what is!
Get Ready for Week 5!
As crazy and eventful as Week 4 in the NFL was, Week 5's schedule has "drama" written all over it.
It starts on Thursday when the Colts travel to Foxborough to play the Patriots, and it ends in the Big Easy on Monday Night with Drew Brees just 201 passing yards shy of the NFL record.
In between, there are all sorts of intriguing matchups, a couple of which I can't wait to see.
Will Jacksonville's beefed-up defense be able to make Patrick Mahomes look human? What's going to happen when the Vikings play the Eagles or when Green Bay faces Detroit in an NFC North clash?
One of our seasoned writers already took a peek at the Week 5 schedule and offered some picks, and I'll be back on Friday to do the same!
Just be prepared for loads of highlights and a handful of unexpected outcomes!