American League Cy Young Award Long Shots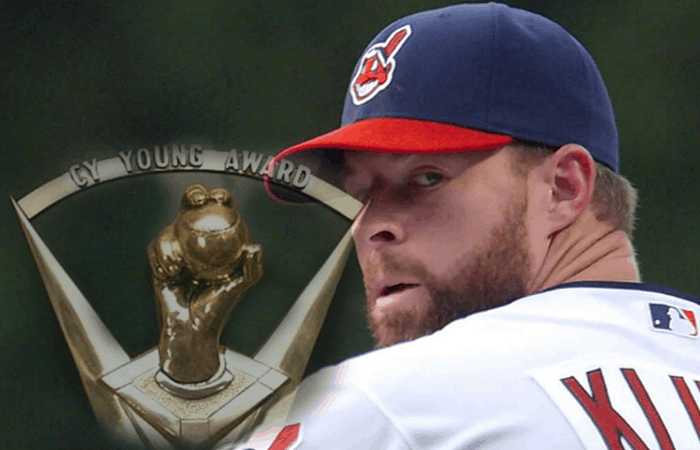 One month into the season, there doesn't seem like much doubt who the American League Cy Young Award would go to.
Chris Sale has been absolutely filthy in his first six starts with the Red Sox. His ERA is 1.38, he's averaging nearly 1.5 strikeouts per inning, he's walked just eight hitters and his WHIP is a microscopic 0.745. No wonder Sale tops the AL Cy Young odds at Bovada, paying just +175.
However, the Cy Young Award doesn't go to the pitcher with the best numbers in April. The baseball season is 162 games, and a lot can change before October. Sale could get injured, the Red Sox season could go off the rails (like that's ever happened before, right?), or the righthander might simply drop off his scintillating pace.
Here's a look at five sleepers who could end up challenging Sale for the Cy Young award, and who pay a lot better than +175 return.
Corey Kluber +700
If you are an Indians fan or have followed Kluber's career, you've probably picked up on the pattern.
The Cleveland ace is notoriously bad in the first month of the season, going 8-10 with a 4.04 ERA in his career in April. So even though Kluber has a 5.06 ERA through his first six starts of 2017, there likely isn't that much to be alarmed about. Actually, the fact he has three wins (he's 3-2) could be seen as a positive sign.
Kluber already has a Cy Young Award on his mantle, claiming the honor in 2014 when he went 18-9 with a 2.44 ERA. He's finished in the top five of the AL in ERA in two of the past three years, ranked in the top three of the league in complete games for the past three years, and was among the top three in wins twice since 2013.
Kluber has also been victimized by some bad luck this year, with opponents' BABIP (batting average on balls in play) on the high end at .320. His xFIP (expected fielding independent pitching) of 3.63 is a bit more reflective of how he's pitched so far this year, and he's striking out nearly 10 batters per 9 innings.
With a potent offense supporting him, you can expect Kluber to approach 20 wins this season as long as he stays healthy. That alone should get him some Cy Young consideration, and if his numbers improve the way they always do as the season goes along, his case will get even stronger.
Ervin Santana (+1200)
Sale is getting all the early pitching headlines in the American League because of his success so far in Boston, his eye-popping strikeout numbers and the fact that he came into the year as one of the Cy Young favorites.
But look at the American League pitching stats, and you'll find many of the categories led by Santana instead. The Twins veteran is 5-0 through six starts with a 0.66 ERA and 0.707 WHIP, including a complete-game shutout.
Oddsmakers are obviously still convinced that Santana can keep pitching anything close to this level, and they have their reasons. Santana is 138-116 with a 4.04 ERA over his 13-year major league career. His strikeout and walk ratios are similar to his career numbers, suggesting that an incredibly low BABIP against (.141 so far) has had everything to do with his early success. In other words, Santana may just be getting lucky.
However, Santana has a history of either being very good or very bad. In the good years, he's managed to win 17 games once and 16 games twice. It's possible that this is one of his very good years (it's actually a continuation of the second half of 2016, when he posted a 2.41 ERA and .213 opponent average against in his last 18 starts), and he's already one-quarter of the way towards the hallowed 20-win plateau.
James Paxton (+1200)
Several baseball writers highlighted Paxton as a pitcher who could enjoy a breakout year in 2017, with some even suggesting he could win the AL Cy Young Award. So far, the Mariners lefty has lived up to those expectations.
Paxton has come out of the gate with a 3-0 record and 1.43 ERA in his first six appearances. His peripheral numbers are rock solid as well: 10.75 strikeouts per 9 innings, a 4.09 strikeout-to-walk ratio, a .187 batting average allowed and a 0.98 WHIP. His FIP (fielding independent pitching) suggests Paxton isn't just benefitting from strong defense behind him, mirroring his ERA at 1.53.
Is it sustainable? Well, there's a reason that a lot of baseball scribers were so high on Paxton coming into this season. After a stint on the disabled list in 2016, Paxton made some adjustments to his mechanics in the minor leagues and returned to The Show averaging close to 98 miles per hour on his fastball (he'd averaged under 92 in spring training a few months earlier.) That improved velocity helped him rank fourth among AL starting pitchers on Fangraphs' second-half leaderboard.
Paxton has admittedly been injury prone in his career (three times on the disabled list in the last three years), but he also gets the benefit of pitching half of his games in the pitcher-friendly haven of Safeco Field. If the Mariners can give him enough run support, he could easily challenge the 20-win mark and be one of the top AL Cy Young contenders at season's end.
Lance McCullers +3300
Though McCullers is an uninspiring 2-1 with a 4.08 ERA through the first month of the campaign, there are plenty of promising signs.
His strikeout rate per 9 innings is a ridiculous 11.72, which would have ranked second in all of baseball last year. Missing bats is nothing new for the young Astros righty, who came into this year with the fourth-highest strikeout rate among AL starters who have thrown 200+ innings the last two seasons. But what is most encouraging is that he's maintained that high strikeout ratio while still managing to cut his walks per 9 innings nearly in half (from 5.00 last year to 2.8 this season).
McCullers' BABIP against is a seemingly unsustainable .353 (we say seemingly because opponents somehow hit .383 on balls in play last year), suggesting that his ERA and WHIP should get better soon. If they do, simply staying healthy (which he hasn't managed to do the past two years) could be the biggest obstacle between McCullers and Cy Young contention.
Michael Pineda +5000
Alright, want a real sleeper on the AL Cy Young betting odds? How about taking a shot at 50:1 return with the Yankees' Pineda, who has shown flashes of potential in the past but has put everything together through the first month of 2017.
The stuff has always been there. Pineda is averaging more than a strikeout per inning in his major league career, and his lifetime strikeout to walk rate is a very respectable 4.51. Yet, he entered this year with a career record of 32-37, including a 6-12 campaign in 2016.
The biggest knock on Pineda, even from his coaches, has been between the ears. He has always seemed to lose focus with two outs in innings. "We scratch our heads sometimes with Michael," manager Joe Girardi said a few months ago. "It's something that we continue to remind him, to finish innings."
Pineda has been doing that this year, going 3-1 with a 3.14 ERA while striking out 11.62 batters per 9 innings and walking just 1.26. After a disappointing first start of the season in which he allowed 4 earned runs in 3.2 innings versus the Rays, Pineda has rebounded to yield just six earned runs in his last 25 frames.
Pineda is also in a contract year, which could correct that whole 'lack of focus' thing. And the Yankees look like they're actually going to be pretty good this season, which would help pad Pineda's win total. At +5000 odds, Pineda seems worth at least a bit of your money.