5 Reasons Why Max Holloway Will Beat Jose Aldo at UFC 212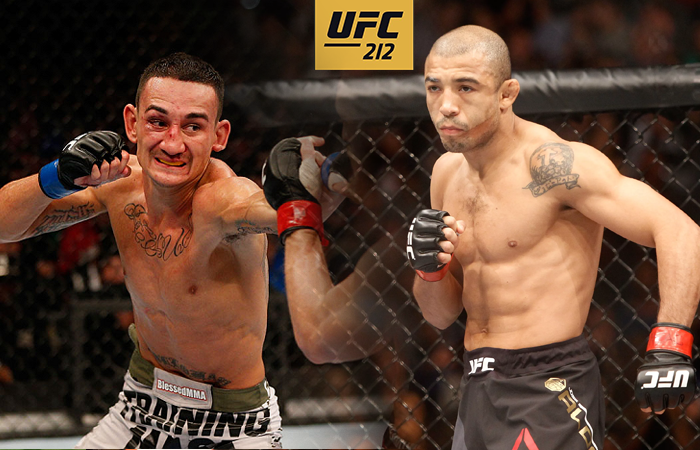 Bovada recently released their current odds for the main event of UFC 212 in Brazil next month. As expected, countryman and UFC featherweight (145-pound) champion Jose "Junior" Aldo opened as the favorite against interim featherweight champion, Max "Blessed" Holloway.
Aldo is still the favorite as of May 16 -140 to Holloway's +110. However, with his current win streak of ten fights, Holloway has more than made his case to be called the new face of the division. Below are five reasons you should put money down on that new face. Share your thoughts!
5. Holloway is Bucking the Norm
This point is the simplest one to make: The name not on Holloway's lips is that of Conor McGregor. While he has often left his fights in the hands of the judges (a no-no in the UFC) both he and McGregor will take on any name put in front of them. The difference is that for Holloway, the focus is on being champion, representing the UFC, his family/friends, and Hawaii.
He talked with his fists (with the only trash-talk ahead of this fight being directed at Aldo, who has the title.) By becoming champion, Holloway will inevitably make more profit from competing, but to be blunt, money is truly a second priority for him in a world of dogs barking for McGregor's attention. Holloway may have filmed a movie on the side, but Aldo remains the distracted one in this pairing (more on that later.)
4. Holloway Expects to be the Underdog
Unlike Aldo, Holloway didn't go without a loss for a decade. He has taken three "L's" over the course of his career, which may have prolonged his journey to the featherweight title (although he's only been finished once), but it has given him a laser-like focus on his goals.
Aldo is 26-2 heading into this fight though, and battling his home-country fans is a second fight all its own—but Holloway doesn't care.
Holloway said back in February:
"The way I look at it, if you're the best in the world, you fight the best in the world anywhere anytime. Things happen; injuries stopped me from fighting Feb. 11, which killed me. This is one of fights I wanted since was like 19 years old, watching the guy since WEC. Now we're here, we have the date, it's in his backyard, and I'm excited to prove to the world I'm one of the best."
3. Predictability / 2. Stats
Per a match-up preview from the UFC-partnered FightMetric, Holloway leads Aldo in significant strikes landed per minute (5.67 to 3.28,) takedown accuracy (80 percent to 72 percent,) and although he absorbs more strikes per minute, they are dead even in striking accuracy at 43 percent.
Holloway has a couple more things on his side heading into the octagon on June 3 as he has a four-inch height advantage (Aldo is 5'7" to Holloway's 5'11".) This will force Aldo to have to punch in an upward fashion for up to 25 minutes, possibly resulting in his punches being less forceful as he tires. Holloway also has a shorter average fight time (11:40 to 13:50) and has finished three of his last five fights, proving he is a head-hunter.
Additionally, Aldo has an obvious strategy of chopping his opponents down as if they were California Redwood trees with his leg kicks and then maintaining a distance. If the Hawaiian can avoid those kicks and at least control the pace of the stand-up action, Holloway should take the unanimous decision victory. A finish seems a little unlikely given Aldo's durability and history of title fights, of which Holloway only has one (UFC 206.)
1. Mindset
This is the longest part of this list as it is possibly the most important aspect of the bout and Holloway's path to victory.
Ahead of this match-up, let's just ask ourselves this one question: What does Jose Aldo have to prove anymore? The Brazilian legend went undefeated for a grand total of ten years before finally facing and losing to the "Notorious" McGregor (by knockout in just 13 seconds, a UFC record for fastest finish in a title fight.)
Even though McGregor is no longer a part of the featherweight division after surrendering his belt to focus on his lightweight (155-pound) belt and a long-awaited super-fight with boxing's Floyd "Money" Mayweather Jr, he is still in "Scarface's" head. His motivation for this fight may be to prove that he is the true champion at 145, but UFC 194 was to crown an undisputed champion and it wasn't Aldo. He knows that he was just "promoted" up from interim champion (following his UFC 200 win over Frankie "The Answer" Edgar.)
McGregor will always haunt Aldo as his biggest rival and the evidence of this and the fact that Aldo doesn't have anything left to prove is that while "Blessed" Holloway was busy being a silent assassin, racking up the finishes mentioned above, Aldo was expressing his thoughts on retirement after it was revealed that he would be getting a rematch with the Irishman he despises most.
Aldo said of McGregor and UFC President Dana White in late September of 2016:
"I don't believe in Dana saying that Conor would have to vacate one of the belts after UFC 205 because, based on what we're seeing, this type of decision is not in his hands anymore, Conor makes the calls now… and the biggest proof that who's in charge in the UFC now is Conor is that when I wanted to move up to fight Pettis, they said I'd have to vacate my belt and try this fight with no title whatsoever. But with him, they let him move up to the division above without losing his belt, and also let him do any fight he wants. I understand that he sells a lot, but it gets to a limit when it's no longer a sport; it becomes a circus. I don't want any type of fight with the UFC. The only thing I want is to go on with my life, and they will go on with theirs."
White basically responded by saying that he can't make anyone fight and that Aldo would be called with a solution following the UFC 205 press conference (Aldo had been offered a spot on the card, just not against McGregor.) Aldo reiterated his stance, essentially saying that his legacy as featherweight champion was complete. He only said that retirement was off the table after talking to friends and family (shortly before McGregor being stripped and Aldo was given the belt.)
Additionally, Aldo has set himself up for life outside of fighting by opening a hamburger restaurant. Even though he didn't retire, while he was doing and saying all of this outside of the cage, Holloway was putting away contenders. In all honesty, this contest feels like a mere formality to pass the proverbial torch.