Hide Bonus Offers
| | | | | |
| --- | --- | --- | --- | --- |
| #1 | Bovada Sports | 50% Up To $250 | Visit Site | Bovada Sports |
| #2 | BetUS | 125% Up To $2,500 | Visit Site | BetUS |
| #3 | MyBookie | 100% Up To $1,000 | Visit Site | MyBookie |
| #4 | Everygame | 100% Up To $500 | Visit Site | Everygame |
| #5 | BetOnline Sports | 60% Up To $1,000 | Visit Site | BetOnline Sports |
5 Reasons the Chargers Can Win the AFC West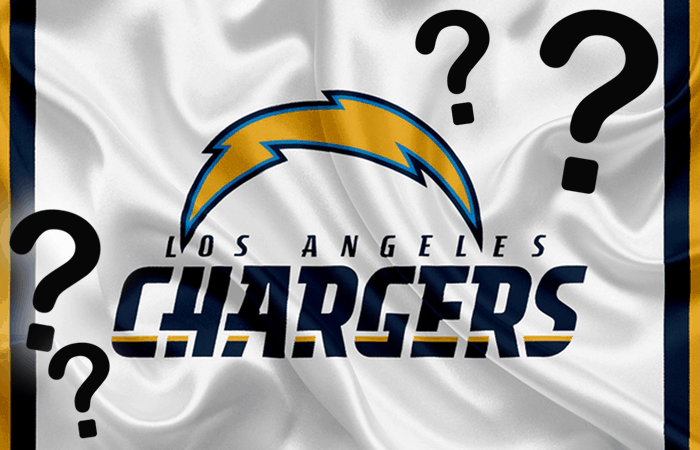 The Los Angeles Chargers are primed and ready to go. The roster is loaded, and the players are hungry. On paper, it should be a good year for Anthony Lynn's squad. But you never really know until the games play out.
It still sounds weird calling them the "Los Angeles" Chargers, but I'll have to start getting used to it. When I was attending San Diego State University between 2005-2010, I lived right next to Qualcomm Stadium, the rugged field that the Chargers played their home games on.
I have witnessed the heartbreak first-hand. I have seen the Bolts' season go up in flames right before their beloved fans' eyes. But guess what, Chargers nation?
This year might be different.
The AFC West looks to be a collection of teams who are on the rise, as lots of movement in and around the division has taken place. While there isn't a new coach or a new quarterback in LA, the Chargers have more than enough talent and leadership in the current locker room to get this thing done and win the division.
I'm going to give you 5 legitimate reasons why I think that's the case. I plan to keep things clear and organized so that you leave this article with no confusion.
The Chargers will win the AFC West this season, and here's why.
1) This Defense Is Stacked
There are a few teams in the NFL that probably think they have the best defense in the league. Jacksonville can certainly make a case, as could Philadelphia. But I happen to think that this Chargers defensive unit might top all 31 others in the National Football League.
I'll start on the outside of this defensive line because the tandem of Joey Bosa and Melvin Ingram is about as electric of a duo as you'll find across the entire league. Both men recorded double-digit sacks in 2017, and the scary part is, I can see them being even better in 2018.
They utilized their first 4 picks in the draft to beef up their defense, including adding a stud defensive back in Derwin James.
James figures to immediately step in as the starting free safety, while rookie linebackers Kyzir White and Uchenna Nwosu will look to add depth to the middle level of the defense.
Corners Jason Verrett and Casey Hayward form a formidable pair of shutdown defenders, so I really see no weaknesses amongst this group.
Last season, they were third in the NFL in points allowed (17.0 per game) and were also one of only three teams to hold the opposition to under 200 yards per game through the air.
Defensive Coordinator Gus Bradley did a fantastic job in his first year commanding the defense, and I only expect the unit to be even tougher in the second year under his watch.
If this team ends up having the utterly dominant defense I anticipate them having, just remember that you heard it here first.
2) Philip Rivers – His Drive and His Consistency
Chargers QB Philip Rivers will turn 37 the day before his team suits up to face the Bengals in Week 14. The guy has 7 children sitting at home with his lovely wife, Tiffany, and Philip has "millions" stored away in his bank account.
So why is this guy still playing? What is his motivation?
That's easy. He's here to continue chasing his dream of winning a Super Bowl title. Take a gander around the division at the other 3 starting QBs, and you'll see that none of them have the experience that Rivers has.
Quite frankly, as of right now, none of them are as good as Philip is.
Only Tom Brady threw for more yards in 2017, and Rivers was 5th in touchdown passes thrown. What's even better is that no starting QB was sacked less than Philip was a season ago. While some of that credit goes to the Chargers offensive line, a lot of that has to do with Philip's uncanny ability to be mobile in the pocket, despite not being the most athletic guy out there.
In order to win this division, you'll need a quarterback who you can trust. You need someone who can drive the ball down the field in crunch time and put points on the board. As far as the AFC West goes, the Chargers signal-caller is that guy.
Speaking of the other QBs in this division, that's a nice segue into reason #3!
3) This Division Is Good, but It's Not Great
The AFC West as a whole had a bit of a down year in 2017. While I think the Broncos and Raiders certainly made strides this offseason towards being relevant again, I'm not convinced that either squad won't experience some "humps and bumps" throughout 2018.
The Broncos defense is no longer the stout group it was once, and how Case Keenum responds in Mile High remains to be seen. Vance Joseph went 5-11 in his first year, and I think John Elway will have a short leash on his head coach this time around.
Everyone in Oakland has assumed that Jon Gruden has been sent from God to bring this team back to life, but there is still tons of work to be done for the Raiders franchise to get where it wants to go.
The Kansas City Chiefs have handed the keys over to Patrick Mahomes, and while I think the former Texas Tech QB has oodles of talent, I suspect it will take him some time to adjust to the speed of the NFL.
Not to mention that this defense lost their best cornerback (Marcus Peters), and longtime linebackers Tamba Hali and Derrick Johnson are no longer in KC to provide the young guys with leadership.
Bottom line, when I look around the division, nothing really scares me if I'm a Chargers fan.
I don't think Los Angeles will be handed this division, and I wouldn't be shocked to see the Chiefs or Raiders win 8 or 9 games.
But there is no doubt in my mind that the Chargers should win this division and host a home game in the playoffs. The fact that the other three teams are a work in progress is a big reason why.
4) The Schedule Is Favorable
Here I am, staring at the Chargers' 16-game regular-season schedule. What is hitting me in the face like a ton of bricks is that I don't see a single home game that the Chargers won't be favored in.
Every team in the league gets a home game against the other three teams in their respective division, but what about the other 5?
In the case of the Chargers, they'll see the 49ers, Titans, Cardinals, Bengals, and Ravens as their other 5 opponents at home. It's safe to say that these aren't the most frightening opponents they could have drawn, so I think the Chargers caught a bit of a break with the schedule.
Sure, traveling to Buffalo in Week 2 and flying cross-country to Pittsburgh in Week 13 won't be "gimmes," but if those are the toughest two games on their schedule, I kind of like their chances of snatching up at least 10 or 11 wins.
The way I see this division shaking out, that should be more than enough to take the cake.
5) Weapons on Offense
I've talked about how tough it's going to be to score points on this defense. I mentioned that Philip Rivers is the most dependable QB in the division. What I haven't brought up is the talent and speed around Rivers that will enable him to succeed and perform at a high level.
I hate the fact that tight end Hunter Henry is gone for the season, because he is a promising young player in this league. But let's not forget that Mike Williams will be back and healthy and playing a decent chunk of the snaps.
The Chargers selected the Clemson wideout with the 7th pick of the draft in 2017, but Williams was unfortunately hampered by a herniated disc in his lower back and appeared in only bits and pieces of 6 games.
Keenan Allen was an absolute stud last year, finishing 4th in receptions (102) and 3rd in receiving yards (1,393). More importantly, the star receiver for the Chargers was able to play in all 16 games after playing a total of just 9 in the previous two seasons combined.
Tyrell "the Gazelle" Williams will be there to stretch the defense and open up the middle of the field, which should help clear some room for #28. Melvin Gordon is coming off a year in which he rushed for over 1,100 yards and scored 12 touchdowns, including 4 of which that were through the air.
Melvin has proven he can be featured on all three downs after the former Wisconsin Badger hauled in 58 balls for 476 yards.
As long as this offensive line can stay healthy and be effective, look for their 22.2 points per game average to rise this coming season.
Closing Thoughts
The Los Angeles Chargers have everything in place to make a run at the Super Bowl this season. I'm not 100% sold that they are ready to supplant the New England Patriots as the class of the AFC, but I do think the Chargers have enough to wind up atop the AFC West.
It's not just because their defense is stacked or because they have the most reliable QB in the division. Along with the ammunition they have on offense, this roster is one of the more complete and respected groups in all of the league.
I unveiled the fact that their schedule is a little light, and you know about all the work that the Chiefs, Raiders, and Broncos have to do.
When it's all said and done, it's looking more and more like the Chargers will capture this division. What happens after that will be totally up in the air, but I could see Chargers fans being pretty excited about the outcome.